With all the research and methodologies I have tried over the last year I have become quite the nutrition aficionado and although my style of eating has changed dramatically, I still have not made the true lifestyle changes that will support real and lasting weight loss.  I do find it frustrating though that even when I am really strict about what I eat and exercise regularly I have trouble losing more than a few pounds and the minute I let up in the least it pops right back up again, like overnight.
Something is amiss, but I also accept that finding out what that is may be nearly impossible and that my only option is to buckle down and do what it takes, but that all seems so overwhelming.  So,   I am currently taking a break from trying to solve the weight loss problem and am just concentrating on one thing at a time.  See, I have a tendency to look too far into the future or see the picture as too big.  Then I get overwhelmed and end up saying "fuck it" and giving up on the whole thing.
So, for now I am concentrating on the triathlon that I am running on September 25th.  One step at a time.  I started with the swimming by taking swim lessons two nights a week.  When I was pretty sure that I could swim the half mile I needed to and had built some swimming confidence I added the running piece and last night I ran a full 5k without stopping.  I'm not setting any records but I didn't stop or feel that I needed to.
Now, onto the bike.  This weekend I will be purchasing my first bike and adding that into the mix.  One small step at a time.
I am trying to take this approach with more things in my life as this state of ineffectiveness infects almost everything I do.
Set small attainable goals and accomplish the task.
Today I am writing this blog post.   I am not transferring this into expectations that I will write a post every day or any time in the future.  Right now I am writing this and that is good enough for now.
Never in my life did I think that I would become so paralyzed in my own skin, but I am working on it (and working on it and working on it).  I was expressing my frustration at my continuing struggles at therapy the other day.  I have licked the depression and anxiety, poof… gone.   I have battled old demons, healed old wounds and gained unforeseen perspective.  I have finally grown up and faced the real world.  So why is everything still so hard?
She had a couple of words of wisdom.  First, I need to acknowledge how far I have come and accept that change is hard and doesn't take place over night.  She also explained that not being depressed is different from being happy and not being anxious is different than being calm and centered.  These things take work too and small steps is the only way to get there.  There is always more work to do.
So, I take small steps and am thankful each day for those that love me and allow me to love them back.
Now if only I could get Ian to stop shitting his pants.  ;)
This reading deals with our biggest flaw, the one thing that can undo us.
The Setup
This card will use the card determined in Reading #1 (for me, The Hermit) using numerology to find a corresponding fool in the deck.
These fools include the pages and knights of each suit as well as 0 The Fool and  XXI The World.
The Hermit corresponds to the Knight of Wands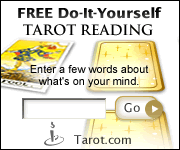 The Answer
You are a fool for the truth.  You are a slave to your never ending search for the true meaning in things.  People don't really get what your about.  This is a journey you must take by yourself.  Get away to sort things out and look out for those things that wil hold you back.
The Cards
I am going to examine both card and combine there meaning to get a little more insight.
The Hermit
My Take:  The Hermit represents looking inward for answers.  Taking time away to get a new perspective.  Seclusion in order to focus on accessing those parts of our mind not usually available to us.
The Card: Self imposed isolation.  Self examination in order to gain wisdom.  The hermit's lantern sheds light on the furthest recesses of his mind.   Sometimes this energy can turn into escapism.
Knight of Wands
My Take: Knights are not cards that generally show up in my readings so I am not really familiar with them.  This card seems rather aggressive.  An armored knight ride a fire breathing dragon and waves a fiery flag.    Words that come to mind: combative, pushing an agenda, keeping others at a distance.
The Card:  Knights are about doing.  This night is headstrong and impulsive.  He is extremely focused on his cause, a champion for his latest obsession.  But what cause he champions today could be very different from that which he champions tomorrow.  A task at hand requires intense focus and dedication to realize success.  Put the plans in motion.
Reading Analysis
It never ceases to amaze me how the cards can nail it time and time again.  I am a very self-reflective person, always striving to understand myself better.  I thrive in environments where I get to delve deeper and figure out the intricacies of how and why things work the way they do.  
I tend to prefer quiet solitude, almost to excess at times and I do use it to escape.  A few weeks ago, my therapist and I were discussing my tendency to run and hide when I start to feel that I am not performing to a certain standard or feel vulnerable.  This is a pattern for me that has repeated itself throughout my life, leaving me feeling like I can't trust my decisions or commit to anything in a really meaningful way.  There have been some exceptions and they usually involve places where I feel very successful.  But usually it ends up that these places that I am successful are simply really good hiding places.
A good example of this is my college experience.  When I started at the University of Washington, I was pre-engineering.  My class load was really tough and I didn't feel like I could keep all the balls in the air at a standard that was good enough.  I am an A student and getting BS just wasn't good enough.  I would go to my professors and they would tell me how great I was doing and that these were weed out classes and meant to be intimidating, but that I was doing very well and shouldn't worry.
But, I couldn't deal with it.  I found a way to justify to myself that I needed to choose a different major.  I chose well and have an amazing experience and my best friend as a result of this decision and I wouldn't necessarily take it back, but I ran away to a safe place where I knew I could be successful, and I was.  Very.  And then I ended up screwing that up too.
Even being a stay at home mom was an escape for me.  The world got to be too much and I retreated and what a safe, non-judgemental environment I have created for myself.  No one to answer to but myself, how convenient.
Good thing I'm in therapy right?
My weakness is that I get trapped in my head.  I over think things and freak out and run away and hide when I feel vulnerable.   My current cause – to figure myself out and slay the demons and grow into a better and more productive person who trusts herself and others more.   And in true knight of wands fashion, nothing can get in my way right now.  The difference is that I am determined to see this one through.  This has been really hard and extraordinarily scary, but I keep at it.
I have been thinking lately that a weekend away by myself might be a good idea and the Universe keeps pointing me in that same direction.  I think I will start to explore this in more detail.
A couple of weeks ago some dear friends of ours were visiting for dinner. As you do when visiting with other parents we were sharing our little worries and goings on with our kids. It just happened that I had also recently dealt with similar issues as my youngest is just a few months older than her youngest. I was able to share a couple of products and experiences that turned out to really work for her. These same products were passed onto me from other moms who had dealt with similar situations in their pasts.
I also have a few lines of wise words that were shared with me by teachers of classes I have taken that have shaped who I am as a parent. I find myself sharing these with others regularly.
This is how is goes in the world of parenting and these things have inspired me to start a series of articles called Mom Tips.  Although I will be sharing my mom tips, I would also love to hear yours.  You can share in this discussion by commenting on individual posts with ideas or questions about that particular topic. Or if you have a mom tip or would like to discuss a new topic, I would encourage you to contact me with your mom tip or question and If it is appropriate for my readers I will post it to the Mom Tips article series. Just use the contact me form and make sure to include your website URL so that if I use it I can give you proper credit.
I really look forward to sharing in an open dialog about products, tips and words of wisdom that make us all the fantastic parents that we are.
There are many times when the little pieces of wisdom learned from other parents, friends, teachers, grandparents, coworkers or whomever come screaming to the rescue. These bits of information that lie in the back of our minds are very valuable and should be openly shared and cherished between parents. It is our job as parents to support each other and we have so much knowledge and experience that we may never share with each other, but definitely show.