Well I am having a hard time figuring out if I chose the best or worst time to take this on.  Right now, life is simply lobbing me one stressful event after another.  The timing has definitely not been ideal for extreme weight loss, but it has been primed for personal growth and that sometimes is even more important.
The last several days my son has been very sick and Monday we spent the good part of the day and all evening in the ER.  He is getting better and is going to be just fine, but the stress has been profound.  Believe me, the last thing I want is excuses for why I can't succeed at this.
This is what I struggle with time and time again.  Life gets in the way, the stress gets to me and then I eat to make myself feel better and then I feel guilty and crappy about myself so I give up.
This cycle, I only lost half a pound.  I have hit my mark in that 163 pounds is this sticking point for me.  I have not been below it since my son was born three years ago.  I try and I try and I get to 163 and it just won't budge.  Well, here we are again after a stressful and disappointing week and I have to say I am not surprised.  I am trying very hard to look past that number and not feel defeated.
But a couple of really good things have come out of this cycle and right now I am celebrating the littlest of victories.  I am still here.  I haven't given up, I haven't blown my diet.   I am sticking to the plan, despite all the obstacles.  I will finish what I started and push past my fears.
I also started exercising again.  There are still many things that I can't do with my thumb as it is, but I went for a run and biked as well.  I also tried out some of the bodyweight exercise routines, which I totally love.  There were several of the exercises that I couldn't do as I am unable to put my full weight on that hand, but I either modified, substituted or skipped the moves I couldn't do and kept going.  Tonight I am going back to swim classes for the first time since the accident.
The biggie though has been gaining some control back over the food.  The fast days have been so pinnacle in this.  Yes, I get hungry but I embrace that and I have control of whether I eat or not.  And that gives me more control over the rest of the days when I have to choose what I will eat, whether I will stick to the plan or give into the little gremlins in my head.
Through all the last few weeks of craziness with family in and out of the house and two major medical events, I have stuck to the plan as much as I could.  There have been moments of weakness and moments of circumstance, but I didn't let them affect my resolve.  I just kept going.  This may not seem like much to you, but for me it is a pretty big deal.
I have two more cycles to go and I hope that I can get it together enough to lose a little weight in the process.  But even if I don't, I have gained a lot from this and I will be completing the program again in July before my husband and I take a trip to Sonoma.  So, I will have another chance to make it happen for me.
I have updated the Xtreme Fat Loss page with the latest.  Not much to look at though…
Don't let my lack of success deter you from this program.  My results have nothing to do with the program.  I have no doubt that it works and that you could achieve significant results.
Learn More at the Xtreme Fat Loss Diet Website
Don't let your fears or reservations stop you in achieving your goals.  When we fall all there is to do is to get up and keep going.
It's a funny thing about fear.  Sometimes when you say it out loud and face it directly it recedes and sometimes even disappears all together.  
I would like to thank everyone for the unexpected and very much appreciated outpouring of support.    Your words of  encouragement made a really bad day a whole lot better and gave me the confidence to push past it.  Thank-you.
I wish I could say my fear is gone, but alas that simply isn't how it is in this case.  But, by owning my weaknesses I have come to understand them a little better and can now move forward with my eyes open.
I wish I could snap my fingers and make the self doubt and mistrust go away, but life doesn't work that way no matter how much we wish it could be.  The only thing to do now is take one day at a time and enjoy the good ones and let the bad ones go.  I just need to keep moving and find a way to have some success.
I have several ways of going about this.  My freelance business is doing well and I am having success with my therapy.  The next step is giving over to my ability to be thin again.  
It is time to buckle down and really commit to some way of getting healthy.  I talk about this a lot, but each new thing lasts a couple of weeks and then dwindles slowly until it just stops all together.
So, I am committing to the Gabriel Method, which I believe addresses my personal health issues.  I have come up with a plan and although i am not starting completely over like I thought I would have to, I am starting fresh and considering this day 1.
I made myself a sort of sign that I taped to the kitchen cabinets.  On this piece of paper is my meals planned out for the week.  This is not 'eat this at this time' but really just a list of good healthy meals that I have planned out in advance and have available to me so when I go to think about what I want for lunch, I can look at the list and see several things to choose from, any of which would be just fine, but steering me away from the dangers of standing in front of the fridge or pantry, hungry and vulnerable.
I also have included a daily schedule of stuff that I need to do, like taking supplements, drinking water, eating a snack, doing visualization, eating the sun and taking a power nap as well as a list of things to remember.  
I will make a new one of these each week to help me remain focused.  
In order for these habits to truly take, I need to do the same set of things every day, not just when I feel like it.  I think that because this is not a diet with a regimented food and exercise plan that it is easy to take the eat what you want when you want for granted.  This doesn't work if you aren't listening to what it is your body wants.  
For example, the afternoon rolls around and I always crave sweets then, so even if it isn't what my body wants I still eat it without really even thinking about it.  Where as if I had just listened and tried a couple of techniques to give my body what it really does want, I might have been able to avoid eating that.  And if after all that I still really craved that sweet treat, then I could have eaten it and enjoyed without guilt, knowing that those cravings will go away on there own with time.
It is really a change in the way I think about it.  This is what happened when I finally quit smoking and I am positive that a fundamental shift in my thinking will be necessary with this as well.  
Much like when I quit smoking for the last time, I must give over to it and accept that this is the way things are going to be from now on, that I have made this decision and there is not turning back from it.
This reading deals with our biggest flaw, the one thing that can undo us.
The Setup
This card will use the card determined in Reading #1 (for me, The Hermit) using numerology to find a corresponding fool in the deck.
These fools include the pages and knights of each suit as well as 0 The Fool and  XXI The World.
The Hermit corresponds to the Knight of Wands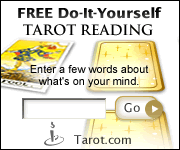 The Answer
You are a fool for the truth.  You are a slave to your never ending search for the true meaning in things.  People don't really get what your about.  This is a journey you must take by yourself.  Get away to sort things out and look out for those things that wil hold you back.
The Cards
I am going to examine both card and combine there meaning to get a little more insight.
The Hermit
My Take:  The Hermit represents looking inward for answers.  Taking time away to get a new perspective.  Seclusion in order to focus on accessing those parts of our mind not usually available to us.
The Card: Self imposed isolation.  Self examination in order to gain wisdom.  The hermit's lantern sheds light on the furthest recesses of his mind.   Sometimes this energy can turn into escapism.
Knight of Wands
My Take: Knights are not cards that generally show up in my readings so I am not really familiar with them.  This card seems rather aggressive.  An armored knight ride a fire breathing dragon and waves a fiery flag.    Words that come to mind: combative, pushing an agenda, keeping others at a distance.
The Card:  Knights are about doing.  This night is headstrong and impulsive.  He is extremely focused on his cause, a champion for his latest obsession.  But what cause he champions today could be very different from that which he champions tomorrow.  A task at hand requires intense focus and dedication to realize success.  Put the plans in motion.
Reading Analysis
It never ceases to amaze me how the cards can nail it time and time again.  I am a very self-reflective person, always striving to understand myself better.  I thrive in environments where I get to delve deeper and figure out the intricacies of how and why things work the way they do.  
I tend to prefer quiet solitude, almost to excess at times and I do use it to escape.  A few weeks ago, my therapist and I were discussing my tendency to run and hide when I start to feel that I am not performing to a certain standard or feel vulnerable.  This is a pattern for me that has repeated itself throughout my life, leaving me feeling like I can't trust my decisions or commit to anything in a really meaningful way.  There have been some exceptions and they usually involve places where I feel very successful.  But usually it ends up that these places that I am successful are simply really good hiding places.
A good example of this is my college experience.  When I started at the University of Washington, I was pre-engineering.  My class load was really tough and I didn't feel like I could keep all the balls in the air at a standard that was good enough.  I am an A student and getting BS just wasn't good enough.  I would go to my professors and they would tell me how great I was doing and that these were weed out classes and meant to be intimidating, but that I was doing very well and shouldn't worry.
But, I couldn't deal with it.  I found a way to justify to myself that I needed to choose a different major.  I chose well and have an amazing experience and my best friend as a result of this decision and I wouldn't necessarily take it back, but I ran away to a safe place where I knew I could be successful, and I was.  Very.  And then I ended up screwing that up too.
Even being a stay at home mom was an escape for me.  The world got to be too much and I retreated and what a safe, non-judgemental environment I have created for myself.  No one to answer to but myself, how convenient.
Good thing I'm in therapy right?
My weakness is that I get trapped in my head.  I over think things and freak out and run away and hide when I feel vulnerable.   My current cause – to figure myself out and slay the demons and grow into a better and more productive person who trusts herself and others more.   And in true knight of wands fashion, nothing can get in my way right now.  The difference is that I am determined to see this one through.  This has been really hard and extraordinarily scary, but I keep at it.
I have been thinking lately that a weekend away by myself might be a good idea and the Universe keeps pointing me in that same direction.  I think I will start to explore this in more detail.
I am so angry.
I am not sure I have ever been so angry.
My body is one big knot.  Each day, I wake with a new knotted up muscles.  Today it is in my right shoulder.  Yesterday it was on the left side of my neck.
Yoga last night helped temperarly.  My yoga bliss was a much needed reprieve, even if it only lasted  a couple of hours.  Today, the anger is back in full force.
I can feel it when I breathe, a hallow dullness in my chest, a slight dizziness, my head light, my thoughts muddied.
The tears come at the most inopportune times, when I most need them to stay stuffed down.  I teeter on the edge of control, trying to put on a happy face and keep moving for the sake of my family and many times not too successful.  My poor husband, I'm sorry.
This is a lesson in fear and weakness.  Do not let things build up without saying anything.  Years worth of frustration and bitterness are very hard to deal with all at once.