It has been an interesting couple of weeks since attending the forum.  I have been mourning a part of myself and learning to live in a world where that part me no longer exists.  Of course this is a good thing, but that certainly doesn't mean it has been easy.
I have caught myself falling back into my depression routines which is pretty frustrating.  I am also noticing new layers or levels of issues to deal with.  This is also a good thing as these are the real issues, the rackets I have built up that were hidden beneath my tortured soul persona.  The good news is that now that I am past all the bullshit  I can concentrate on going after the stuff really getting in the way.  It is like all that anger just wrapped me in a blanket of safety and now I am fully exposed, left to look for and examine the real issues I was just hiding from before.
My therapist is thrilled and I am working on being thrilled, but right now I just feel a little let down.  See there, that's a racket talking right there.
I have been finding it hard to write.  This post have been sitting in my draft posts in various stages of undone for about a week now.  I ended up having to write it by hand to break through the block and it hardly resembles what I meant to write when I started.  When I think about it, I wonder if much of my inspiration came from my angst and resentment and blame.  This is a new place to write from for me.  This is a new place to do everything from for me.
Although I see the future in a whole new brighter light from a place of knowing I am not only capable but also deserving, insecurity and fear are still rampant and restraining.
But alas,  life rolls along and time speeds past and there is much to be done.  School starts this week and a new stage of life beings for our family. Ada starts kindergarten on Thursday and Ian will be attending preschool two mornings a week starting next week.    This leads to many new challenges and some great opportunities as well.
I am not the most organized of people, another racket I run to avoid being responsible for my own life — See how those can get in the way?
So, this week I have set myself up to succeed and started a fresh school year with a fresh outlook.
Taking responsibility for my life means many things to me.  Much of the big stuff like the wall I put up between myself and others and how angry I was and generally nasty sometimes are gone – vanished like some sort of magic.  What's left are those things that can make a huge difference in my day to day life.  These include being organized and responsible for remembering what forms need to be filled out, that there is a field trip tomorrow and I need to send snacks to school on Wednesday.  It also means taking responsibility for my health and my body and finally doing what it takes to be a healthy, confident, beautiful woman.
Maybe we can throw in figuring out what I want to be when I grow up as well, but that is the big scary monster in the room right now and a lot of baggage lays between me and that goal, although I have been having some thoughts about what it might look like and that is a surprisingly big step for me.   In the meantime I can concentrate on getting the things I do have under my control under control.
I have already made some big strides.  Today (well actually yesterday but it took me too long to edit this) I have eaten great, exercised, cleaned the house and spent quality time with the kids, while still managing to get some work done.  It is possible to be productive and get everything done.  It's amazing how much time opens up when you stop worrying so much about how overwhelming it all is.
The challenge will be to keep at it for more than a couple of days.  This is another racket I run.  I have great intentions and a strong start, but the follow through tends to go by the wayside.  I have put many tools into place to assist me in overcoming this weakness and I will share them with you over the next couple of weeks as I discover the successes and failures.  I hope that maybe an idea will spark you to create a less overwhelming life for yourself as well.
This reading will look into this years financial outlook.
The Setup
For this reading I will use a cover and cross layout and will deal out three cover and cross pairs.  The cards in use include I-X of the Major Arcana cards and I-X of Coins.  Coins are the cards of money matters.
To Deal Out this spread, shuffle the Major Arcana cards and the Coin cards separately.  Deal out three cover cards from the Coins pile and then three cross cards that lay across the cover cards from the Major Arcana pile.
The Question
What is the financial outlook for this year?
The Spread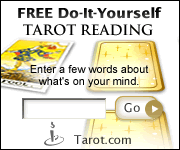 Cover:  IX Coins
Cross: IX Hermit
Cover: V Coins
Cross: VI Lovers
Cover: VII Coins
Cross: IV Emperor
The Answer
Pair 1: You will have enough to ease the pressure and pursue your goals.
Pair 2: You will feel your belt tighten and look for budget tightening measures.
Pair 3: Your earnings will maintain your desired lifestyle.
The Cards
IX Coins
My Take: A woman stands in a garden holding a dove, another flying overhead. Her dress suggests a traditional and conservative woman. Coins surround her head like a wreath. This feels like a card of adequate amounts, of building something comfortable.
The Card: You have worked hard and have created a peaceful and well deserved oasis for yourself. Be careful that you might be shutting out the rest of the world.
IX Hermit
My Take: The Hermit sits isolated looking inward for the answers. His light beacons for others to find him so that he may share what he learns. He is alone and withdrawn.
The Card: Self-imposed isolation. The hermit removes himself in order to gain perspective on his situation through meditation and self-reflection. The light from the lantern brings access to the deepest recesses of your mind. If you are using seclusion to escape, use the hermit energy to figure out why.
V Coins
My Take: It is snowing. A ragged woman begs for money, holding her baby close trying to keep it warm. She feels sad, reaching out to others to relieve her situation.
The Card:   Experience of misfortune, either financial or emotional.  You must be willing to do what it takes to get through this time and onto the next cycle of your life.  This is a temporary state.  Beware of a poor me attitude, your success or failure may depend on your attitude.
VI Lovers
My Take:  The couple is intertwine, joined in the intimate of ways.  Although this can obviously refer to positive sexual relations, it can also refer to two people being in sync with one another, working well as a team.  You must only be careful not to lose yourself in the other person.
The Card:  Any kind of relationship and the vulnerabilities that go along with it.  Being open, honest and vulnerable with another person.
VII Coins
My Take: This card shows a tree filled with coins with a woman sitting under it with he dog and some empty baskets.  The sun is out and she has a satisfied look on her face.  This card reminds me of the proverbial money tree, ripe and ready for harvesting.  Things are good and the money it there for the taking, just reach out and fill your baskets.  There is something slightly lonely about this card though.  She is far away from anything much and has only her dog for company.  There are two sides to every coin.
The Card:  The tree is ripe and ready but it is important to be patient and wait for just the right moment to optimize the harvest.  The woman ponders her situation, examining her next move.  Another interpretation might be that something that you have tended to and cared for is now ready to grow on it's own.  Your immediate attention is no longer needed.
IV Emperor
My Take:  The emperor is all about structure and order and having the tools available to you to accomplish the task at hand.  In this reading it seems appropriate that there would be enough money to create the structure and material world that is needed for you to feel secure and powerful.
The Card:  The emperor sees the need for structure and order in everything.  He yields the power to decide what projects to take on and/or who is worthy of his civic offerings.  He must be aware of the consequences of his decisions.  This card can refer to all things dealing with power.  Fathers or fatherly figures, government institutions, laws and regulations, tyranny and charity.
Reading Analysis
I like to think of multiple cover and cross pairs as a sort of timeline.  I asked about the next year so I see it as the first pair being about the current situation, the second about the middle of the year and the last as the end of the year.  
There are no surprises here.  All of my inputs say the same thing, that money is here, will be here and will keep coming.  There have been some signs along the way that there is a lot of money somewhere, but there has been no sign of any big windfall anywhere.  Karli has been doing very well for us and I have no doubt will continue to do so.
There seems to be a little stumble sometime this year, where we might need to address the budget and our expenditures some.  I will keep this in mind as I can see it being an issue as for the first time since I left work, we are finally in the black and have been spending a little willy nilly lately.  We'll have to make sure to keep that in check.
After examining each card individually, it is uncanny how the cards can address the questioned situation while still being very telling in other pertinent areas of our lives.  The cards speak of isolation, self-reflection, turning inward, pain, feeling sorry for yourself, reaching out for help and depending on those closest to us and then reestablishing order and looking closely at what the future looks like.  That sounds like a past present future reading for myself if I ever saw one.
This reading will include the I-X of Wands as well as the first 10 major arcana cards that I used in previous readings to ask about work related activities.
Layout: Cover and Cross
I am keeping the wands and major arcana cards separate, shuffling each pile while asking my question and then dealing the top wand and crossing it with the top major arcana card.
Question: What changes can I look for in my work life?
The Cards
Covers: IV Wands
Cross: I Magician
The Answer: Cooperation is paramount. You will seal a deal.
Examining the Cards
IV Wands
My take: There is a large door ajar, surrounded by four towering wands. There is forest in the foreground and sunshine streams through the open door. It's like seeing the forest through the trees. The door awaits, but you must make your way through the forest first. The light may represent an answer or resulting matter. The four wands surrounding the door? Maybe guarding it, providing safe passage through the doorway.*
The card: Safety, security, taking concrete action. The door and the pillars represent safety and stability. The number four traditionally represents stability. There are also very unreal elements to the card, the size of the doors and pillars, the red moon in the background. All ideas and creative endeavors must at some point become real by taking action or they will forever remain dreams. The time is now to open the door and take action to make your dreams a reality.
I Magician
My take: The magician sits in a chair with the four suits (wands, cups, swords, and coins) laid out in front of him. All the tools are present to accomplish the task. Things seem to magically happen the way they are supposed to, you are ready to take action.
The card: Education, teaching, common sense, taking action. The magician represents teachers, mentors and our inner voice. He guides us and inspires us and gives us the courage to set out on our personal journey. Often, like magic, this inspiration comes to us in a flash as if he touched our shoulder with his staff, imposing on us just the right amount of intervention. The four suits represented on this card stand for different approaches to tackling a task. The magicians influence helps us to combine these in just the right delicate combination.
Reading Synthesis
Well, it appears that the time to take action is coming shortly and that whether I know it or not, I have all the tools and support necessary to make my way through the door. I hope that the magician will touch me with inspiration and a flash of clarity when the time comes, because I am still lost. I do not see the clear path, it all seems very foggy still. I ask for clarity and courage.
* I should note that the "My take" sections are my impressions as I look at the card before reading the answers or about the card in the book. I am trying to learn the cards, to form relationships with them and commit their meanings to memory. My take may change and hopefully evolve as my readings go on and should not be taken on any authority.