This reading deals with our biggest flaw, the one thing that can undo us.
The Setup
This card will use the card determined in Reading #1 (for me, The Hermit) using numerology to find a corresponding fool in the deck.
These fools include the pages and knights of each suit as well as 0 The Fool and  XXI The World.
The Hermit corresponds to the Knight of Wands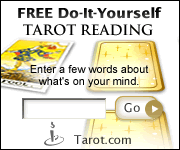 The Answer
You are a fool for the truth.  You are a slave to your never ending search for the true meaning in things.  People don't really get what your about.  This is a journey you must take by yourself.  Get away to sort things out and look out for those things that wil hold you back.
The Cards
I am going to examine both card and combine there meaning to get a little more insight.
The Hermit
My Take:  The Hermit represents looking inward for answers.  Taking time away to get a new perspective.  Seclusion in order to focus on accessing those parts of our mind not usually available to us.
The Card: Self imposed isolation.  Self examination in order to gain wisdom.  The hermit's lantern sheds light on the furthest recesses of his mind.   Sometimes this energy can turn into escapism.
Knight of Wands
My Take: Knights are not cards that generally show up in my readings so I am not really familiar with them.  This card seems rather aggressive.  An armored knight ride a fire breathing dragon and waves a fiery flag.    Words that come to mind: combative, pushing an agenda, keeping others at a distance.
The Card:  Knights are about doing.  This night is headstrong and impulsive.  He is extremely focused on his cause, a champion for his latest obsession.  But what cause he champions today could be very different from that which he champions tomorrow.  A task at hand requires intense focus and dedication to realize success.  Put the plans in motion.
Reading Analysis
It never ceases to amaze me how the cards can nail it time and time again.  I am a very self-reflective person, always striving to understand myself better.  I thrive in environments where I get to delve deeper and figure out the intricacies of how and why things work the way they do.  
I tend to prefer quiet solitude, almost to excess at times and I do use it to escape.  A few weeks ago, my therapist and I were discussing my tendency to run and hide when I start to feel that I am not performing to a certain standard or feel vulnerable.  This is a pattern for me that has repeated itself throughout my life, leaving me feeling like I can't trust my decisions or commit to anything in a really meaningful way.  There have been some exceptions and they usually involve places where I feel very successful.  But usually it ends up that these places that I am successful are simply really good hiding places.
A good example of this is my college experience.  When I started at the University of Washington, I was pre-engineering.  My class load was really tough and I didn't feel like I could keep all the balls in the air at a standard that was good enough.  I am an A student and getting BS just wasn't good enough.  I would go to my professors and they would tell me how great I was doing and that these were weed out classes and meant to be intimidating, but that I was doing very well and shouldn't worry.
But, I couldn't deal with it.  I found a way to justify to myself that I needed to choose a different major.  I chose well and have an amazing experience and my best friend as a result of this decision and I wouldn't necessarily take it back, but I ran away to a safe place where I knew I could be successful, and I was.  Very.  And then I ended up screwing that up too.
Even being a stay at home mom was an escape for me.  The world got to be too much and I retreated and what a safe, non-judgemental environment I have created for myself.  No one to answer to but myself, how convenient.
Good thing I'm in therapy right?
My weakness is that I get trapped in my head.  I over think things and freak out and run away and hide when I feel vulnerable.   My current cause – to figure myself out and slay the demons and grow into a better and more productive person who trusts herself and others more.   And in true knight of wands fashion, nothing can get in my way right now.  The difference is that I am determined to see this one through.  This has been really hard and extraordinarily scary, but I keep at it.
I have been thinking lately that a weekend away by myself might be a good idea and the Universe keeps pointing me in that same direction.  I think I will start to explore this in more detail.
Click here for a FREE Tarot Reading
This reading will look into this years financial outlook.
The Setup
For this reading I will use a cover and cross layout and will deal out three cover and cross pairs.  The cards in use include I-X of the Major Arcana cards and I-X of Coins.  Coins are the cards of money matters.
To Deal Out this spread, shuffle the Major Arcana cards and the Coin cards separately.  Deal out three cover cards from the Coins pile and then three cross cards that lay across the cover cards from the Major Arcana pile.
The Question
What is the financial outlook for this year?
The Spread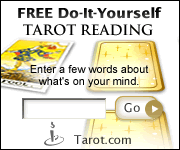 Cover:  IX Coins
Cross: IX Hermit
Cover: V Coins
Cross: VI Lovers
Cover: VII Coins
Cross: IV Emperor
The Answer
Pair 1: You will have enough to ease the pressure and pursue your goals.
Pair 2: You will feel your belt tighten and look for budget tightening measures.
Pair 3: Your earnings will maintain your desired lifestyle.
The Cards
IX Coins
My Take: A woman stands in a garden holding a dove, another flying overhead. Her dress suggests a traditional and conservative woman. Coins surround her head like a wreath. This feels like a card of adequate amounts, of building something comfortable.
The Card: You have worked hard and have created a peaceful and well deserved oasis for yourself. Be careful that you might be shutting out the rest of the world.
IX Hermit
My Take: The Hermit sits isolated looking inward for the answers. His light beacons for others to find him so that he may share what he learns. He is alone and withdrawn.
The Card: Self-imposed isolation. The hermit removes himself in order to gain perspective on his situation through meditation and self-reflection. The light from the lantern brings access to the deepest recesses of your mind. If you are using seclusion to escape, use the hermit energy to figure out why.
V Coins
My Take: It is snowing. A ragged woman begs for money, holding her baby close trying to keep it warm. She feels sad, reaching out to others to relieve her situation.
The Card:   Experience of misfortune, either financial or emotional.  You must be willing to do what it takes to get through this time and onto the next cycle of your life.  This is a temporary state.  Beware of a poor me attitude, your success or failure may depend on your attitude.
VI Lovers
My Take:  The couple is intertwine, joined in the intimate of ways.  Although this can obviously refer to positive sexual relations, it can also refer to two people being in sync with one another, working well as a team.  You must only be careful not to lose yourself in the other person.
The Card:  Any kind of relationship and the vulnerabilities that go along with it.  Being open, honest and vulnerable with another person.
VII Coins
My Take: This card shows a tree filled with coins with a woman sitting under it with he dog and some empty baskets.  The sun is out and she has a satisfied look on her face.  This card reminds me of the proverbial money tree, ripe and ready for harvesting.  Things are good and the money it there for the taking, just reach out and fill your baskets.  There is something slightly lonely about this card though.  She is far away from anything much and has only her dog for company.  There are two sides to every coin.
The Card:  The tree is ripe and ready but it is important to be patient and wait for just the right moment to optimize the harvest.  The woman ponders her situation, examining her next move.  Another interpretation might be that something that you have tended to and cared for is now ready to grow on it's own.  Your immediate attention is no longer needed.
IV Emperor
My Take:  The emperor is all about structure and order and having the tools available to you to accomplish the task at hand.  In this reading it seems appropriate that there would be enough money to create the structure and material world that is needed for you to feel secure and powerful.
The Card:  The emperor sees the need for structure and order in everything.  He yields the power to decide what projects to take on and/or who is worthy of his civic offerings.  He must be aware of the consequences of his decisions.  This card can refer to all things dealing with power.  Fathers or fatherly figures, government institutions, laws and regulations, tyranny and charity.
Reading Analysis
I like to think of multiple cover and cross pairs as a sort of timeline.  I asked about the next year so I see it as the first pair being about the current situation, the second about the middle of the year and the last as the end of the year.  
There are no surprises here.  All of my inputs say the same thing, that money is here, will be here and will keep coming.  There have been some signs along the way that there is a lot of money somewhere, but there has been no sign of any big windfall anywhere.  Karli has been doing very well for us and I have no doubt will continue to do so.
There seems to be a little stumble sometime this year, where we might need to address the budget and our expenditures some.  I will keep this in mind as I can see it being an issue as for the first time since I left work, we are finally in the black and have been spending a little willy nilly lately.  We'll have to make sure to keep that in check.
After examining each card individually, it is uncanny how the cards can address the questioned situation while still being very telling in other pertinent areas of our lives.  The cards speak of isolation, self-reflection, turning inward, pain, feeling sorry for yourself, reaching out for help and depending on those closest to us and then reestablishing order and looking closely at what the future looks like.  That sounds like a past present future reading for myself if I ever saw one.
Back in
Reading #1
I looked at what numerology had to say about who I am.  In this reading we will take a look at how others see me by relating that original card with a new set of cards.  
The Setup
This is a one card reading.  To find the card we will relate the cards below to my card from reading #1.
For this reading we will be using the following cards…
King and Queen of each suit
0 – The Fool
XXI – The World
My card from Reading #1 is The Hermit.
My card for this reading is the King of Wands
The Answer
You are of a studious nature.  You study everything around you, maybe too much sometimes.You assess and observe and take things apart and put them back together.  People see you as someone to ask if in need of information or assistance.  But sometimes the line can get long and you need a break.  Your life will be full of departures from the norm.  You may get too far away sometimes, but always return home.  
May the truth you seek, seek you out.
This is a great quote.  I hope my truth finds me soon.
The Card
King of Wands
My take: This is a firey red card.  His crown dominates the image, rimmed with sharp metal horns.  His eyes are striking and wise.  The checkered floor has referred to a chess board in other cards, maybe in this card it is the same, which would indicate an intellectual underpinning. The sky is all orange and swirly, the astological wheel above and behind him.  Four rods shoot fire into the sky.  There seems to be turbulence around him, yet he is very grounded.
The card: The king of wands makes a difference in the world and represents politicians and leaders of all kinds.  And as we see these type of people, the king is charismatic and controlling.  He must control his environment and seeks to convince the world to see things his way.
Reading Analysis
The answer for this question lies in the combination of the two cards (the hermit and the king of wands).  I am not one to see myself as someone to seek out for answers, but I do feel sometimes like everybody needs everything from me and that I don't always have what's needed from me to give out.  I definitely analyse and over analyse everything around me.  My head never shuts up.  I am working very hard to learn simply how to be present in my life and to stop thinking about everything all the time so much.  I could definitely use a break, that's for sure.
Looking at the King of Wands by itself, I can also see how people could perceive me as controlling and trying to convince everyone that my way is best, although I don't think this represents how I really am.  I do like to control my own environment, there is no question about that, and I have very strong opinions that I don't hesitate to share, but my goal is never to convince others to think like me or to control them in any way.  I just really can't help but put my two cents in.  I know I can be a little strong sometimes and I sincerely apologize if I made anyone feel at any time, like I thought I new best or better than they.
This reading will be using the major arcana and cup cards we have been examining lately to take a looker depth at one of my relationships.
The Layout
For this reading I will be using the .
The cards in play are…
I-X of Cups
I-X of Trumps (Major Arcana)
Shuffle the cups and major arcana cards separately while concentrating on the question. Deal the top two major arcana cards into positions 1 & 2 (see ). Deal the top four cups into positions 3 through 6.
Shuffle the remaining major arcana and cups cards together while concentrating on the question. Deal the top four cards into positions 7 through 10.
The question: How will my relationship with my new therapist go?
The Spread
1. Covers You (current situation) – I Magician
2. Crosses You (challenges) – V Faith
3. Above You (what is possible) – VIII Cups
4. Below You (how you got here) – I Cups
5. Behind You (recent past) – IV Cups
6. Before You (what's next) – III Cups
7. Who You Are – VII Chariot
8. Who They Want You to Be – IX Hermit
9. What You Want – II Priestess
10. What You Get – X Wheel
The Answer
You are taking a deliberate action. You have a strong desire to be in control. A magical moment is happening. You must commit fully and play by the rules for the relationship to last. You may be tempted to walk away.
This relationship formed suddenly. There is an instantaneous connection.
Just recently you listened to your gut. Coming up there is a celebration.
You make the moves and they want you to tell the truth. You want this to feel right and know that you made the right decision.
You will get out of this relationship what you put into it. It will have it's ups and down, but is an honest, real relationship.
Sounds like the relationship I would like to have with a therapist. It shouldn't always be easy, but it should be honest and the connection is essential.
The Cards
X Wheel – Covers You
My Take: A Magician sits in a throne. He holds an orb that shines a light upon a wand, cup, sword and coin in the shape of an infinity symbol. He has a very deliberate look on his face. It looks as if he is illuminating the fact that you have all the tools you need at your disposal and it is just up to you to act on it. You must make it happen yourself.
The Card: Education and training, transforming ideas into plans. The magician is a teacher and gives us invaluable advice about our path. This can represent either a person in your life that serves this purpose or it can refer to our inner inspiration that helps to to learn and gives us our flashes of genius. The four suit symbols represent different ways to approach something. The magician gives us the tools and helps us choose what mixture of these is the most appropriate for the situation.
V Faith – Crosses You
My Take: A man prays. There are many religious symbols in a glowing circle in front of him. This is a religious man, but their are many options available to him. I see this as the opportunity to explore a new way of thinking or belief system.
The Card: The faith card represents our ability to find meaning in things. To many this means religion, but it can also encompass all other points of view as well. We must beware of becoming to rigid or judgmental in our thinking.
VIII Cups – Above You – The best you can hope for given the current circumstances.
My Take: A figure walks up a set of steps to the far away moon. There are 8 cups at his feet and a black and white checkered floor. This cards always represents leaving something behind to me. You are choosing to climb the stairs and walk toward something new, but this also means leaving some things in your life behind.
The Card: Every time we choose one path, it means abandoning another. We look to the moon for new inspiration and leave the cups behind. The cups could represent and idea or project abandoned. It can also refer to a sense of restlessness of the unexplainable need to leave.
I Cups – Below You – How you got here
My take: A single cup sits on the water. The sky looks like sunrise. There is an intricate orb within the cup. One represents newness and cups represent relationships and emotions, so the one of cups means a new relationship to me.
The card: The potential of new relationships and/or emotions. The subconscious is handing you a new emotion, like a gift. A new emotion or relationship is about to begin.
IV Cups – Behind You – Recent past
My take: A figure sits naked in the grass, vulnerable and open to new possibilities. There are three cups on the ground and one in the sky, like it is being presented by the universe. He looks up to the cup in the sky, curious, but not yet ready to reach out an grab it as his hands are still hugging his knees. You are being presented with a new opportunity, but may not yet be fully ready to embrace it. Don't miss this open door by contemplating too long. WRONG
The Card: This is the grass is always greener card. You may look to better your situation or be discontent with your current circumstances.
III Cups – Before You – Coming soon
My take: The are mardigras beads and masks as well as three cups on a floor with a golden sun on it. Four columns are in the background. This is a card about celebrations and parties. Being with friends. The masks may indicate that you are not ready to reveal everything just yet.
The card: This card represents celebrations and good fortune. Doing something nice for ourselves. Gatherings of all kinds, both formal and casual. Beware of overindulgence.
VII Chariot – Who You Are
My take: A man rides his chariot over a crashing wave, his steeds galloping through the water. There is a steel structure in the background reminiscent of an oil rig. For me, this card speaks to forward motion. Setting the wheels in motion. Moving strongly toward the goal. We just need to remember to keep ourselves grounded in the real world (the metal structure).
The card: The horses represent unbridled energy that must be directed and balanced by the man (you). The man is strong, proud and adventurous, maybe even a bit arrogant. The power in this card is the confidence that you can overcome any obstacle to achieve your goal. The structure represents the beginnings of putting things into context.
IX Hermit – Who they want you to be
My take: A bearded man sits, eyes shut, on the edge of a cliff. He holds a lighted staff. Sometimes we must take a break and get away in order to see more clearly. We look inside ourselves for the answers. We must be careful not to retreat too far and use the light to lead us back.
The card: Removing oneself to meditate on the current circumstances and gain perspective from examining ourselves. The light shines deep into the recesses of our minds to shine light on it's mysteries. We need to remember though, that this step is part of the journey, not the end of the line.
II Priestess – What You Want
My take: The priestess is a mysterious card. She looks deep into the recesses of her subconscious for answers and represents our psychic connections. She seeks a deeper understanding of herself and her world.
The card: The priestess represents the path to our subconscious. The darkness of the card represents our fear of the knowledge our subconscious holds, or even the existence of it at all. The two pillars on the card represent the duality of our conscious existence, always categorizing things as one way or the other. Our subconscious cannot be directly confronted but must be approached through meditation and openness. Then and only then may we get a glimpse of what lays beyond.
X Wheel – What you get
My take: Although beautiful this card doesn't speak to me clearly. The wheel looks like the innards of a clock and so reads as the wheel of time. All things come and go and so goes the wheel. I have more to learn about this card for sure.
The card: The wheel represents our fate, those things we don't have control over. Change is coming. We must remember that although there are things in our life we can not control, there are many more that we can. We must not submit to the fates, not buck against them but find our way to our potential.
Reading Analysis:
- The magician could represent my therapist and my need for her to help me to wade through the clutter of my life, past present and future.
- Faith is the challenge that I face in this situation, so I will need to be open to new ways of thinking about things and look carefully for the meaning in things. I must be careful not to get stuck in my old beliefs.
- I am feeling a very strong urge to leave the past behind me and move forward on a new path. It is encouraging that this is in the what's possible position, which means I actually might find that new path.
- I got here because all of these emotions surfaced for me and I sought out this new relationship. It is possible that this whole thing this summer, was my subconscious telling me it is time to make some changes.
- Recently I decided that my current path was not satisfying. I do often question why it is that I can't be content with where I am. I have a great life. Why is it never enough?
- A party in my future? Hmmm.
- I do have confidence that I can accomplish my goals. I started this blog because I knew there must be more for me. It may not be an easy road, but I am confident that I can find my way.
- I relate greatly to the hermit. Numerologically it is the card that represents me and this makes sense as I am naturally a little introverted and introspective. In this context it represents what my therapist wants from me. In this I think it means I need to step back and gain some perspective.
- The end result of this is change. This reading has been full of the looking within cards, the priestess, the hermit, the wheel, the magician, faith, and the four of cups. The Wheel reminds me not to get too caught up in this, but that I have control over the outcome as well.
Note: The information in the "my take" and "reading analysis" sections are only my thoughts. I am learning and these may not fully represent the cards true meaning, just the feeling of card to me, which is a lot of what reading the tarot is about, but I write these before looking at the meaning of the card. Many of the cards that show up repeatedly in my readings are starting to solidify in their meanings for me and you will see that my descriptions of these cards are more consistent in my readings, but my take on cards that don't show up as often are still evolving and changing in my mind and their descriptions will change over time. In the analysis portion I am practicing applying the cards to the specific circumstance. Please take everything I say about the cards with a grain of salt.
This reading is based on numerology and identifies you as a card in the deck.
Add up the month, day and year of your birth…
June 1, 1973
6+1+1+9+7+3=27
Reduce to 1 number by adding again
2+7=9
IX Hermit
Me: A wise man sits in a meditative state far away from the rest of the world. He holds a staff with a brightly lit orb at the top like a beacon. He enjoys his solitude but his light calls to others to join him and learn from his wisdom. He must be careful not to stray to far.
Card: Self-imposed isolation. Examining actions and feelings in a rational manner in order to gain wisdom from them. The light signifies his ability to shine light on and darkest and most hidden parts of his mind. This introspection is a wonderful tool, but shouldn't be an end point. Risks falling into escape rather than exploration. Relies solely on himself to reach the goal.
Book: The card of people who have grown wise. The ability to understand things. Loners of the world. You enjoy getting away and being alone, not only to relax but to meditate and be introspective. Your job is to hold up the light for others to follow. You must not retreat into your hermitage perminantly, but come back to share what you've learned with others.
What it means: I can totally see this as me. This is something I am very aware of in myself. I really have to push myself, for the sake of myself, my friends and my family to be present and social and aware of the rest of the world. I am a little socially anxcious and find large groups extremely uncomfortable and small talk unbearable. I am constantly examining my life, my actions, the actions of other and how they relate to me, what they mean, how to fully take advantage of all situations to push me further down my path. I am aware and active in keeping myself here and not allowing myself to escape into my head more than is productive. Having meaning to my presence in this lifetime is very important to me. Although I am still looking, I know that my way of giving back and contributing will reveal itself. I always find it funny how I can be so rational and so free in my associations at the same time. I guess this kind of explains it.