The last set of cards to discover are the latter half of the Major Arcana Cards. These cards include…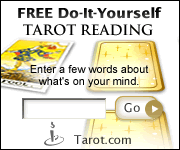 XX Judgement
XIX Sun
XVIII Moon
XVII Star
XVI Tower
XV Devil
XIV Temperance
XIII Death
XII Hanged Man
VIII or XI Strength (this card is swapped with Justice in some decks – for me it is VIII)
These cards deal with the inner workings of our hearts and souls and help us to discover and expand our spiritual and psychological breadth. While looking at my cards I find them especially beautiful — Alluring and dark, mysterious and light filled. Very cool.
The Setup
The Spirit card corresponds to the Key card discovered in Reading 1.
Key Card: IX The Hermit
Spirit Card: XII The Hanged Man
The Card
XII Hanged Man
You are driven. Outwardly the hermit and internally the hanging man, you are and independent spirit. You are self-motivated and directed and sometimes a little self-centered. You are you biggest ally and your worst enemy. You battle yourself, finding the slightest failure unforgivable and always striving to become better – a perfectionist to the core. You are consumed by your truth, always reinventing yourself. You just get how things work which enable you to think out of the box and have people hear you.
Analysis
This is actually pretty accurate, although I think that these tendencies work against me more often than for me. These traits, mixed with my upbringing have created many many problems in my life. I just need to learn how to use these skills for my benefit and learn to give myself a break now and then.
In the last reading the Pages and Knights warned me what to look out for, but they are also very good at delivering news about messages that may be coming.   This reading will examine what those messages might be and from whom?
The Layout
This card uses the Page and Knight of each suit, the Fool 0 and the World X
Shuffle the cards, concentrating on the question.  When you feel the cards are done, deal them out one at a time until you turn over the Fool or the World then stop.
The Question: What message will I receive?
The Spread
Page Swords
Knight Swords
XXI World
The Answer
A clear and definitive message is being sent right now that will renew your enthusiasm and motivation.
Wow, that would be nice!
The Cards
Page of Swords
My Take*: Young woman, strong eyes, fancy hat.  armored yet beautiful, hard yet refined.
The Card: Curious and fervently seeking knowledge yet scattered and unfocused.  An idea in its infancy.  Focus your energy on gaining knowledge about the situation through messages containing information.
Knight of Swords
My Take*: The knights horse is a pegasus taking flight.  This is echoed through the wings on his helmet.  This card is swift and a little reckless.
The Card: The winged horse represents the flight of the mind and the potential of the minds capabilities.   Intensely focused on the goal, so much so that tolerance and patience go out the window.  This is a card of action.  Patience and determined focus are needed for success.
XXI World
My Take: The coming together of all the elements to bring about the conclusion of something.  The culmination of lessons learned leading to a new cycle.
The Card: The end and the beginning.  We see things as they are.  Enlightenment.   Transformation. Wholeness.  Being aware of your limitations.
Analysis
This book
is fun and silly and sometimes enlightening in its reading, but lets not kid ourselves that it is the most serious or thorough of interpretations.
I do find these cards very interesting though.  If you look at them as a classic three card spread with past present and future represented then they are very encouraging.    I have always know there was great potential for me, but have never been able to focus enough to fully explore it.  I have been scattered and distracted.
All the work I have been doing has seemed to come together around this ability to focus and the meaning behind why I can't and what I can do to reprogram my way of thinking about my goals and success and/or failure.  The combination of my work at therapy and the upcoming Forum Advanced Course give me ample opportunity to improve this situation dramatically.
The goal is wholeness and transformation.  The presence of the World card leads me to believe that this goal is a real possibility.
* When I am first learning a card, the my take section is only based on what I can see in the card and not based in any foundation or previous knowledge.  Do not use these descriptions as being anywhere near the truth.
This reading deals with our biggest flaw, the one thing that can undo us.
The Setup
This card will use the card determined in Reading #1 (for me, The Hermit) using numerology to find a corresponding fool in the deck.
These fools include the pages and knights of each suit as well as 0 The Fool and  XXI The World.
The Hermit corresponds to the Knight of Wands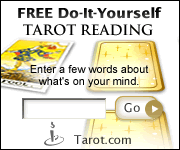 The Answer
You are a fool for the truth.  You are a slave to your never ending search for the true meaning in things.  People don't really get what your about.  This is a journey you must take by yourself.  Get away to sort things out and look out for those things that wil hold you back.
The Cards
I am going to examine both card and combine there meaning to get a little more insight.
The Hermit
My Take:  The Hermit represents looking inward for answers.  Taking time away to get a new perspective.  Seclusion in order to focus on accessing those parts of our mind not usually available to us.
The Card: Self imposed isolation.  Self examination in order to gain wisdom.  The hermit's lantern sheds light on the furthest recesses of his mind.   Sometimes this energy can turn into escapism.
Knight of Wands
My Take: Knights are not cards that generally show up in my readings so I am not really familiar with them.  This card seems rather aggressive.  An armored knight ride a fire breathing dragon and waves a fiery flag.    Words that come to mind: combative, pushing an agenda, keeping others at a distance.
The Card:  Knights are about doing.  This night is headstrong and impulsive.  He is extremely focused on his cause, a champion for his latest obsession.  But what cause he champions today could be very different from that which he champions tomorrow.  A task at hand requires intense focus and dedication to realize success.  Put the plans in motion.
Reading Analysis
It never ceases to amaze me how the cards can nail it time and time again.  I am a very self-reflective person, always striving to understand myself better.  I thrive in environments where I get to delve deeper and figure out the intricacies of how and why things work the way they do.  
I tend to prefer quiet solitude, almost to excess at times and I do use it to escape.  A few weeks ago, my therapist and I were discussing my tendency to run and hide when I start to feel that I am not performing to a certain standard or feel vulnerable.  This is a pattern for me that has repeated itself throughout my life, leaving me feeling like I can't trust my decisions or commit to anything in a really meaningful way.  There have been some exceptions and they usually involve places where I feel very successful.  But usually it ends up that these places that I am successful are simply really good hiding places.
A good example of this is my college experience.  When I started at the University of Washington, I was pre-engineering.  My class load was really tough and I didn't feel like I could keep all the balls in the air at a standard that was good enough.  I am an A student and getting BS just wasn't good enough.  I would go to my professors and they would tell me how great I was doing and that these were weed out classes and meant to be intimidating, but that I was doing very well and shouldn't worry.
But, I couldn't deal with it.  I found a way to justify to myself that I needed to choose a different major.  I chose well and have an amazing experience and my best friend as a result of this decision and I wouldn't necessarily take it back, but I ran away to a safe place where I knew I could be successful, and I was.  Very.  And then I ended up screwing that up too.
Even being a stay at home mom was an escape for me.  The world got to be too much and I retreated and what a safe, non-judgemental environment I have created for myself.  No one to answer to but myself, how convenient.
Good thing I'm in therapy right?
My weakness is that I get trapped in my head.  I over think things and freak out and run away and hide when I feel vulnerable.   My current cause – to figure myself out and slay the demons and grow into a better and more productive person who trusts herself and others more.   And in true knight of wands fashion, nothing can get in my way right now.  The difference is that I am determined to see this one through.  This has been really hard and extraordinarily scary, but I keep at it.
I have been thinking lately that a weekend away by myself might be a good idea and the Universe keeps pointing me in that same direction.  I think I will start to explore this in more detail.
25 Days of extreme measures, hopefully for extreme results.  Get all the gory details here.
---
This is a series of tarot reading using special combinations of cards to target different aspects of your life.  I call it a self inventory because is addresses all the different aspects of our lives.  Money, Job, Love, Strategy, Power, Creativity, Purpose, Dreams, Intentions etc.  I like to complete this series of readings every few years to get a good idea of where I am at.
---
A parent's best resource for tips and solutions to all those little issues and problems that come up when raising our kids is other parents.  Chances are that someone has already been right where your at and has tried many things before finding something that works.  We should support each other by sharing these tidbits of wisdom and this is what this series of articles is all about.
If you have mom tip (or dad tim, sorry about that) that you would like to share, please send it my way and if it is appropriate for my readers I would love to post it.  Make sure to include your URL so that I can give you credit and a link back.
---
I am not usually one to write about something personally unproven, especially when it comes to diet and health, but I really want to document this process so I don't forget everything I'm learning.
This is a really new program so there isn't a lot of information about it our there. I am very curious about the process and the outcomes and hope that sharing my experiences will be helpful to others exploring this approach.
It also includes incorporating a lot of new foods that I was generally unfamiliar with, so creating and sharing recipes will be fun.
For this reading I will use the first ten swords and the first ten major arcana cards to examine what the best strategy is to deal with a particular situation.  With the recent launch of
karinreece.com
and starting to build my business, it only makes sense that I ask what my best strategy for success is.
The Layout
This is a celtic cross reading. It will examine the best comprehensive strategy for the asked about situation.
I will be using the I-X Major Arcana Cards and I-X of Swords for this reading.
Shuffle the major arcana cards while focusing on the questions and then deal out the first two positions.
Shuffle the sword cards while focusing on the same question and deal out the top four cards into positions 3 through 6.
Combine the remaining swords and major arcana cards and shuffle them together, again concentrating on the sames question and deal out the top four cards from this pile into positions 7 through 10.
The Question:  What should my strategy be with regard to my new web development business.
The Spread
1. Covers You (current situation) – X Wheel
2. Crosses You (challenges) – IV Emperor
3. Above You (what is possible) – VIII Swords
4. Below You (how you got here) – X Swords
5. Behind You (recent past) – IX Swords
6. Before You (what's next) – II Swords
7. Who You Are – I Swords
8. Who They Want You to Be – III Swords
9. What You Want – III Empress
10. What You Get – VI Swords
The Answer
This situation requires your full attention and dedication of all your resources, which you should invest wholeheartedly.  Someone wants to assist you in your endeavor.  Be careful of giving over too much power as it may result in a sticky situation.
You experienced utter defeat in the past causing this to be a challenging situation for you.  Just recently your worst fears surfaced, but all will come together in the near future.
You will be successful in the end, but don't expect the full support of those around you.  You want to be profitable and reap the rewards of success.  This success will come by letting go of those things that haunt you from your past and turning to the unexpected for inspiration.
The Cards
X Wheel
My Take*:  The wheel of time keeps moving.  A feeling that fate has taken over.  Remember you have control over many things.  
The Card:  Change, the feeling that some cosmic machine controls our destiny.  Although there is much we can't control, there is also a lot that we do.  There are also things that seem out of our control, but which we actually can control.  Things are changing.
Analysis**:  This card covers you, representing the current state of the situation.  You may currently be feeling like the world is passing you by or simply pulling you along.  You must take control of those things within your power and let go of those you are powerless over.  Use creative means, think outside the box because change is certainly coming.
IV Emperor
My Take:  Order, rules, dominant figure, social justice, watches over and rules the situation, caring for and creating structure in society.
The Card:  Fatherhood, authority, laws and regulation.  Government, social justice, tyranny, social structure, power of life.  Examine the role of power over the situation.  Organization and structure.  Find your own power.
Analysis:  This card crosses you, representing the obstacles faced in the current situation.  Your obstacle is to create structure for yourself or others.  Hold true to your values, find your inner power and get organized.
VIII Swords
My Take:  A prison of your own making, it looks fragile like any sudden move may send those swords plunging in.  But the pattern on the sphere suggests strength and integrity.  The woman is naked, showing vulnerability.
The Card:  Restricted by your own assumptions you have created an inflexible mental map and are now trapped by it.  The bubble is strong, only to disappear when new perspective is gained.
Analysis:  This card is above you, showing what is possible if the circumstances remain as they are.  Reaching your potential will require stepping outside your comfort zone. Look at things from a different direction to gain perspective.
X Swords
My Take:  The man is bent over shielding himself from the descending swords.  The tattoo on his back is protection, but defeat has already occurred.  There is nothing left but to give in to it and move on.
The Card:  Anguish and pain, but relief as well.  The situation is not manageable.  Although things are dire, it is a positive card.  You are at the end and are ready for new opportunities and ready to see the potential.  The extremes of the conscious mind.
Analysis:  This card is below you and speaks to how you got to this point.  Sometime long ago you were utterly defeated and it is affecting this situation.  There is nothing you can do now, it's over.  Let it go and get ready for new opportunities to emerge.
IX Swords
My Take:  The fears we create in our heads, mostly unfounded, but real enough in our minds.
Card:  Stress, tension, anxiety caused by your own mental dealings.  Your mind is wreaking havoc on your emotions.  How we think directly effects our perceptions.  Think negative things and negative things will find you.
Analysis:  This card is behind you and represents the recent past.  You've been letting your fears get the best of you.  Recently your mind has you riddled with stress and anxiety.  Remember we manifest what our mind tells us we are.  Cut out the negative talk.
II Swords
My Take*:  I'm not really sure about this one.  Twos are about couplings, pairs and dichotomies.  Swords are about strategies, struggles, power and strength.  She is blind folded and the sky is stormy with the sun shining through an opening.
The Card:  Comparing, analyzing, contrasting an idea.  Beware of over-analyzing to death, causing the new idea to wither and die.  The blindfold allows the woman to focus without distractions.  You are at a turning point.  It can still go either way.  Don't over-think it.
Analysis:  You may not be able to see it but soon light will break through the darkness.  Soon you will face a Y in the road.  Analyze the choice, but don't wait too long to make up your mind.
I Swords
My Take:  Strength, ready to take flight yet grounded with a good foundation.  New opportunities will bring success.
The Card:  A new idea or aha moment.  New opportunities, freedom of thought even when the rest of us feels constrained.  Opportunity for change and growth.
Analysis:  You are strong and grounded, ready to take off on a new adventure.  You are the one with the big idea.  This is your adventure.
III Swords
My Take: Grief.  She's crying and holding her heart.  The three swords all point toward her heart, like they are piercing it.
The Card:  Heartbreak and disappointment caused by your experience with the situation being quite different thatn you expected.  These problems are mental rather than emotional.
Analysis:  Someone related to this situation is not going to live up to your expectations.  Beware not to set them too high.
III Empress
My Take:  Mother earth, abundance, reaping the benefits of the harvest.  Connecting with nature.  Being a caregiver.
The Card:  Mothering, nurturing, protecting, raising, growing.  Giving birth to and nurturing something. Landscaping.  The project must be carefully taken care of and protected.  Take better care of yourself.
Analysis:  You want to enjoy success and abundance.  You want this to be your baby, something you grow and care for.  You also want it to provide something just for you.
VI Swords
My Take*:  This card is a little spooky.  There is definitely a journey taking place.  Passing through an arch, a transition.  the boat is well protected and the man carries a lamp, lighting the way.  His mask may show that the purpose or end result of the trip may not be clear.
The Card:  Quiet, steady, cautious forward motion.  Proceed slowly and discretely.  No need to declare yourself openly.  You are even and solid and well positioned to access and influence your subconscious.  Think a little outside the box to accomplish the goal.
Analysis:  This card position represents that final outcome or what you will get if you remain on the same path. You are embarking on a journey into the unknown.  This may be scary, but you are well prepared.  Proceed cautiously and quietly.  It may be outside your normal thinking, but put your head down and proceed without announcing your intentions. You are on a journey to wholeness.
Reading analysis
I think this is a pretty insightful reading and a really positive sign for the work on my freelance business being a positive experience.  I always like it when a reading rings especially true and this one did just that.  It picked up on my recent anxiety.  A few weeks ago, I even have a full blown anxiety attack while working on a design project.  I have been curious why I have been so afraid to put myself out there and obviously something happened long ago that is setting that up.  Wish I knew what it was.
I think it is interesting that thinking in new ways, outside the box, outside your comfort zone, came up consistently throughout this reading.  This could mean several things, but really I think it is just speaking to the cocoon I have built around myself and that I am going to have to put myself out there in order to make this succeed and that can be a little uncomfortable for me.
It is just generally good to hear that things in my life are stabilizing and that I am finally in a place where I am ready to take on new challenges and embark on new journeys.  Very encouraging.
---
 *Please remember that the my take sections are my first impressions and feelings about a card.  Since I am exploring a new deck, this is the first time I have taken a good look at some of these cards.  They may or may not be reliable or true to the meaning of the card.  I like to take my feelings from a card and the cards intended meaning and combine them for a cohesive analysis.  In this way I am consistently improving on my knowledge and abilities.
** I have added a new section to my card analysis.  In this section I will combine my thoughts and the intended card meaning and apply them to the position within the reading.  This is a way to expand on the meaning of each individual card in the reading.
For this reading I will use the first ten sword cards and the first ten major arcana cards to examine how I am as a risk taker.   Swords generally deal with struggles, power and strategy and I hope to see how I might best manage the risk and anxieties in my life.  
The Layout
This reading uses a triple cover and cross layout.  I will use three basic cover and cross pairs using the I-X of Swords and the first ten major arcana cards, shuffled separately.
The basic cover and cross layout consists of one card upright (covers you) and one laying across that one (crosses you).  Just like a cross.  The cover card represents the current situation and the cross card represents the challenges you face.
Shuffle the sword cards while asking your question and deal up the first three cards in the covers position.  Then shuffle the major arcana cards while asking your question and deal up the first three cards in the cross position.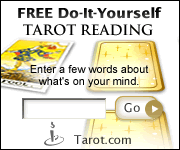 The Question: How can I ensure I take the right risks?
The Spread
Covers:  X Swords
Cross:  X Wheel
Covers:  IX Swords
Cross: IX Hermit
Covers: I Swords
Cross: VI Lovers
Interesting or coincidental that the first two are both nines and then both tens.  Hmmm.
The Answer
You are very capable of making a comeback.  Look to trusted friends for advice, but when the decisions need to me made, take some time to yourself and trust your own gut.  You will have the most success working with a partner.
The Cards
X Swords
My Take*:  A Man cowers under a ring of swords.  He is currently repelling the swords but that situation could change at any time.  He is naked and hides his head. Vulnerable is the word that comes to mind.
The Card:  You have completely lost yourself in the ruminations of your conscious mind.  The chattering monkey mind has obscured your perspective and the ability to see clearly and you are no longer able to manage things productively.  The good news is that there is nowhere to go but out of this situation now.  This is the end of the road and now you are able to see new opportunities and the potential for growth.
X World
My Take:  This card always reminds me of the Wheel of Time.  How no matter what happens time keeps moving on, with or without us.  It represents all the possibilities of the Universe and it is all up to us whether we seize those opportunities or let them pass us by.
The Card:  This card represents the feeling that our fate is determined by some mechanical or cosmic machine.  But no matter how many things are out of our control, there are many many things that we can control.  We just have to look at these things in new and creative ways.  It can represent feeling helpless to your circumstances and most definitely means that change is coming, usually for the better.  We must remember the control that we do have in our lives and not let ourselves believe too strongly in the power of those things outside ourselves.  
IX Swords
My Take:  Afraid of the things that go bump in the night.  A woman lays, afraid.  The swords are all gathered in a point right above her head.  A tree reaches out like a claw.  These are the scary thoughts that run around in our heads.  Being afraid of everything whether it is real or not or should be scary or not.  Letting our thoughts cripple us.
The Card:  Anxiety caused by the trappings of the mind.  How we think about things effects our perception of the world around us.  If we expect bad things to happen then they usually will.
IX Hermit
My Take:  This card is about looking deep within ourselves for the answers to our questions.   It's about removing ourselves from out surroundings in order to gain perspective on a situation.  
The Card:  Seclusion, meditation and removing of oneself to gain perspective.  Self imposed isolation and contemplation.   The lantern brings light into the farthest reaches of the mind.  Make sure that the isolation is for reflection and not simply to escape.
I Swords
My Take*:  An armored and winged woman is the hilt of this single sword.  Light radiates from behind the sword through a dappled cloud sky.  The tip of the sword runs through a golden triangle.  Ones are generally about new opportunities.   This card speaks to me of a renewal in strength.  The woman is ready to take flight like a regal bird, yet grounded by the golden triangle.
The Card:   A new idea or "Aha" moment.  A new  and clearer understanding of the world around us and our personal path.  Great opportunity for growth and change.
VI Lovers
My Take:   Intimate relationships.   Obtaining the ultimate closeness while still retaining your own identity.   
The Card:  Relationships, sharing of self, vulnerability, attraction of opposites.  All types of relationships are represented, not only love relationships.    Sharing of oneself can be frightening, but closeness and a breaking down of barriers can be achieved by being honest and up front.  Communication and understanding prevail. 
Reading Analysis
These three set reading tend to deal with past present and future and the first set seems to hold true with this.  I feel like the last year has been all about giving in and resigning to the situation so that I can finally see past all the anger and pain and fear and move on with my life in a more productive and genuine way.  It is time for me to break myself down and pick through all the pieces to determine who it is I really want to be.  This required getting rid of the negative influences in my life, renegotiating my boundaries and interactions with those closest to me and learning enough about myself to redefine who I am.  With this comes the ability to move forward in a new way that is very exciting and more than a bit scary.  
It is funny that they talked about the chattering monkeys.  My therapist referred to my constant ruminating as chattering monkeys as well.  A big part of this journey for me has been to differentiate between when the monkeys are working on something productive and when they are just being distracting and destructive.  I am working on this and also telling them that this isn't productive and diverting them onto more productive paths.  It seems to be working quite well.  Really dealing with depression, anxiety, fear, chattering monkeys or whatever else is all the same.  You have to look it straight in the eye, accept it and recognize it for what it is, then simply move on with your day.  There is little you can do about your physical reactions or mental wanderings, but you can identify it correctly and chose to live your life anyway.  And eventually the thoughts and physical sensations begin to subside, at least that has been my experience.
For a while now, I have felt really out of control, like the world was spinning out of control around me.  The Wheel card represents that.  But now, I am taking back the control that I do have, by choosing the people who influence my life, facing my fears and slaying the dragons, as I like to say, as well as trying to reconcile, resolve and/or let go of the things that haunt me from my past.
The nine of swords and Hermit pairing make perfect sense for the present with anxiety brought on by the workings of my mind and my resulting self imposed isolation.  I have been going through a lot and have closed rank as a way to cope and work through everything.  Only recently have I really started to reach out again and am beginning to attempt to clear away some of the rubble.  
This is where the risk this reading addresses really comes into play.  In the future set we have the one of swords about new inspirations and opportunities paired with the lovers which deals with open and honest communication and relationships.  To me this means that new opportunities lie in my relationships with others and with open and honest communications, being comfortable with my vulnerability and recreating the important relationships in my life in an honest and meaningful way.   It also may mean that a new relationship in my life will be a rewarding risk.  
Overall an honest and encouraging reading.
* Please keep in mind that I am learning and this is a new deck of cards for me.  The "My Take" statements are my first impression based on just looking at the card.  It is very likely that the first time the card comes up they won't be even remotely close.  Please don't hold it against me.  "The Card" statements are more accurate and based on the meanings that are presented with the card.
This is a numerology reading using the tarot card suit of swords.  The sword cards are all about the tools and strategies available to you to use while maneuvering through life.  By using the swords we will learn about success and conflict, power and vulnerabilities.
The Setup
For this reading I will be using the I-X of Swords and the initials of my first middle and last name.  I will do a reading with my married as well as maiden name.
K.H.G.
11 + 8 + 7 = 26 = 2 + 6 = 8
K.G.R.
11 + 7 + 18 = 36 = 3 + 6 = 9
The Question:  How successful will I be?
The Answer
8 of Swords – KHG
You have followed a path full of challenges and pain.  You will use this to build your success on.  You may sometimes feel as if there is no hope of escaping it, but if you hang in there only wonderful things will come.
9 of Swords – KGR
Your success  is dependent on overcoming your fears.  You must walk out of the darkness of your past into the success of your future.  You may be inspired by those thoughts that come to you in the middle of the night.
The Cards
VIII Swords
My Take
This celestial card contains eight swords pointing upward under a naked and vulnerable woman contained in a bubble.  She wants badly to escape the bubble and the pain that the blade tips represent.
The Card
This card represents someone who has created a complicated web of assumptions and visions of reality that now imprisons them.   The only thing that can break the bubble and make the swords go away is to challenge those assumptions and look at things from a different perspective.
IX Swords
My Take
A woman lays on the ground.  She looks very frightened.  A large tree hovers over her, it's branches reaching out like claws.  A fence surrounds her.  The swords line a pillar behind and above her.  I'm not sure what the swords represent, but it appears that she has identified what or who is chasing her.
The Card
The woman's mind has created a scary scene full of anxiety.  This is a creation of the mind and not the reality of the situation.  Our minds are a powerful thing and a preoccupation with the negative has overcome you.  Remember, think negative thoughts and bad things will happen.  You must be vigilant.
Reading Analysis
In the answer section, I can see a direct correlation to the time before I was married and the time after.   I experienced a lot of pain in my youth and made a lot of really bad decisions because of it, but I never gave up hope that there was a better life waiting for me out there and when the opportunity presented itself, I took it.  Now I have a great life, full of love and family.  Now it is about letting go of the past and all the fear and that is what I am doing right now.  I am fighting the demons head on in order to let them go.  I no longer want them to influence my daily life.  They must be integrated into my being and then released so that I can move forward and find that so promised success.  This is a process ridden with anxiety, but the light at the far end of the tunnel is so worth the struggle.
When looking at the cards individually, outside the context of this particular reading, we can see how powerful our fears and anxieties can be.  They can trap us and preoccupy us, holding us back from our potential.  I look forward to being free of those traps.
Wow, this is a tough one. I don't really have anything going on right now to profit from. I am starting to take on some freelance work, but nothing serious until the fall probably. Hmm, well I guess I will ask what is coming that would be financially beneficial to me.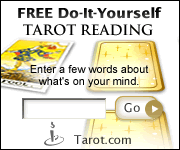 The Layout
This is a celtic cross reading.  This reading will take a comprehensive look at the financial future.
I will be using the I-X Major Arcana Cards and I-X of Coins for this reading.
Shuffle the major arcana cards while focusing on the questions and then deal out the first two positions.
Shuffle the coins cards while focusing on the same question and deal out the top four cards into positions 3 through 6.
Combine the remaining coins and major arcana cards and shuffle them together, again concentrating on the sames question and deal out the top four cards from this pile into positions 7 through 10.
The Question:  What opportunities are coming that I will profit from and how much will I profit from them?
The Spread
1. Covers You (current situation) – XI Justice (in some decks this is VIII and I have swapped them for the purpose of this self inventory)
2. Crosses You (challenges) – VII Chariot
3. Above You (what is possible) – IX Coins
4. Below You (how you got here) – VII Coins
5. Behind You (recent past) – III Coins
6. Before You (what's next) – VIII Coins
7. Who You Are – IV Emperor
8. Who They Want You to Be – II Priestess
9. What You Want – VI Lovers
10. What You Get – X Wheel
The Answer
Make sure you put the time in to thoroughly research the opportunity.  Crunch the numbers and weigh the possibilities.  The answer will not be completely clear, you must ultimately decide.  Look deeply for the answer.
You must enter into this opportunity with enthusiasm and energy.  Make full use of your resources and care well for those things trusted to you.  This has grown out of something you were formerly successful with.
Just recently money was handed out and will be repaid with interest in the near future.  You will remain in control of the situation while others hope that you will solve their problems.
Although you would like to be presented with an exciting offer right now, this is what is needed in your life right now and good or bad the risk is taken.
The Cards
XI Justice
My Take:  An Armored woman holds a set of scales.  She feels for what side is weighted more heavily.  She is without eyes to ensure her lack of bias.  The sky is dark and stormy, her sash blows in the wind.   She is armed against harm and unnerved by the turmoil around her.  It is a trying time and every angle and option must be adequately examined. 
The Card:  Your values and judgements will drive you to change the world around you for the better.  You believe in the underlying fairness as a part of what makes us human.  Be careful not to be too judgemental.  The scale has become one with the judge so that she is the one handing out justice. She has no eyes, showing her complete dedication to being evenhanded and unbiased.
VII Chariot
My Take:  This card always reminds me of charging forward.  The strength of this card is profound.  There is also a balance between riding the wave of life within the structure and constraints of our lives.   The power of the forward motion is hard to control and your inner strength is needed to keep it in check.  You have a firm foundation to build on and are ready to take the next step.
The Card:  You are ready to set off on your journey.  The horses represent the unbridled energy driving forward that must be guided and controlled by the charioteer (you).  You are confident in your abilities but must be careful of being arrogant.   But don't fret, you are correct that you are well prepared and aptly capable of taking this journey and surpassing any obstacles that come up.  You are beginning to lay the framework to build your future on.
IX Coins
My Take:  This seems like a peaceful card with the doves and all the flowers.  A young woman tending her garden, building a comfortable home life.  Her dress is very conservative and traditional which says to me that this deals with the more traditional roles and values of home life.  I can't help but feel something unsettling about her.  The coins surround her like an arch.  This card is saying to me that there is an investment in the traditional home.
The Card:  The lushness of the garden, the abundance of blooms indicates that you have done quite well creating a comfortable environment.  You have worked hard and enjoying the spoils.  This is a peaceful time.  Be careful not to retreat to far into your own world.
VII Coins
My Take:  The coins on the tree are like fruit, hanging low and ready for the taking.  She has traveled far to fill her baskets with the fruit.   The land is lush, the sun rising.  She rests before her harvest.  It feels like you have worked hard and now it is time to gather and save the money you've made.
The Card:  This card is about patience.  She is waiting to harvest the fruits of her labor but is waiting for the time of peak ripeness.  Timing can be everything in business.  This card could also mean that you have nurtured something and now it can grow on it's own.  The woman can also be seen as at a crossroads, deciding what the next move should be.
III Coins
My Take:  This cards speaks to me of artisan work.  A man is blowing glass.  Working with your hands.  Using your creativity and ingenuity.  He is confident in his task and a master of his trade.
The Card:  The glass blower is a master of his craft through hard work and experience and now deserves the respect he receives.  Taking raw materials and creating something beautiful and refined from it.  You have attained mastery in your field.
VIII Coins
My Take:  A man tinkers with a mechanical device.  There are extra parts, plans and books all around him indicating he is still learning and has not yet mastered his trade.  This work is slow and meticulous.  A detailed approach is necessary.  
The Card:  This is time to work slow and steady toward the goal.  This is not time for grandiose schemes.  Rewards will come from dedication and hard work.
IV Emperor
My Take:  Structure and order.  He is building the world he sees in his mind.  He is the master of his domain.  He takes great pride in and is very protective of the world he has created.  Beware of judgement and dominating behavior.
The Card:  Fatherhood, leadership, structure, order.   Social responsibility and tyranny.  This is the card of social constructs.  Although these powers can be misused they are integral and necessary in our lives.  Power is no inherently good or evil but inevitably a mix of both.  Take hold of your own power and use it wisely.  Look for the potential order in your task.
II Priestess
My Take:  This is the card of psychic abilities, of looking inward for answers.   Trust your gut, you know the answers you seek.
The Card:  You must be delicate in approaching the subconscious.  If you meditate and focus your energy on the answers you seek and are open to seeing what your intuition is trying to tell you, you may just get a glimpse.  The priestess' energy is a calming one, as one feels when they trust themselves.  You are reaching toward wholeness.
VI Lovers
My Take:  This is a passionate card.  The feelings of this are are intense.  The lovers are joined, almost becoming one, losing oneself in another.  
The Card:  A relationship of any kind, but mostly love relationships.  Sharing ourselves with others. Considering other points of view.  Be honest and above board, consider the other side in this situation.  The attraction of opposites.  The beginning of a new creative relationship.
X Wheel
My Take: This card shows a mechanical wheel with the signs of the zodiac all around.  This card always reminds me of the wheel of time in that it is always moving forward.  Time continues to go by no matter what is happening in our lives.  Change comes whether we like it or not.
The Card:  This card represents the feeling we have sometimes that our lives are being steered by some mechanism, that we have little control.  Although it may seem that we have no control sometime, there are always things in our lives that we can control with a little creativity and determination.  We must remember that this control and power we wield over our own lives is that which keeps from being vulnerable to others.  The wheel card can represent a feeling of helplessness but it also means that there is change coming, and that is a reason to feel hopeful.
Reading Analysis
The answer section of this makes me think of something I have been considering lately.  A month or so ago, I heard a story on NPR about micro philanthropy and the new ways that people are looking at philanthropy.  He discussed an organization called Kiva.  They enable individuals to provide micro-loans to business owners, individuals, and loan coops around the globe.  The payback rate on these loans are incredibly high and after hearing about it seemed like something I would like to check out.  I did a little due diligence and registered at the site, but haven't taken it much farther.  
From the cards here, it appears this might be something worthwhile for me to pursue.  It also makes sense as it talks about how, although I might like for there to be something big and exciting coming, that these things I can do to take care of myself and others may have a bigger impact.   There may not be a monetary profit, but I think I might be more in need of emotional profit anyway.  It will be good to help people help themselves.
The cards are also telling me that change is in the air, and I always view that as a positive thing.
I also feel there are some things to be said here about my freelancing business, but really, I'm just not in the mood to think about that right this minute, let alone discussing what may or may not get done in the future.
This reading will look into this years financial outlook.
The Setup
For this reading I will use a cover and cross layout and will deal out three cover and cross pairs.  The cards in use include I-X of the Major Arcana cards and I-X of Coins.  Coins are the cards of money matters.
To Deal Out this spread, shuffle the Major Arcana cards and the Coin cards separately.  Deal out three cover cards from the Coins pile and then three cross cards that lay across the cover cards from the Major Arcana pile.
The Question
What is the financial outlook for this year?
The Spread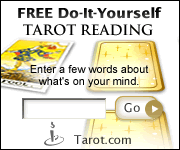 Cover:  IX Coins
Cross: IX Hermit
Cover: V Coins
Cross: VI Lovers
Cover: VII Coins
Cross: IV Emperor
The Answer
Pair 1: You will have enough to ease the pressure and pursue your goals.
Pair 2: You will feel your belt tighten and look for budget tightening measures.
Pair 3: Your earnings will maintain your desired lifestyle.
The Cards
IX Coins
My Take: A woman stands in a garden holding a dove, another flying overhead. Her dress suggests a traditional and conservative woman. Coins surround her head like a wreath. This feels like a card of adequate amounts, of building something comfortable.
The Card: You have worked hard and have created a peaceful and well deserved oasis for yourself. Be careful that you might be shutting out the rest of the world.
IX Hermit
My Take: The Hermit sits isolated looking inward for the answers. His light beacons for others to find him so that he may share what he learns. He is alone and withdrawn.
The Card: Self-imposed isolation. The hermit removes himself in order to gain perspective on his situation through meditation and self-reflection. The light from the lantern brings access to the deepest recesses of your mind. If you are using seclusion to escape, use the hermit energy to figure out why.
V Coins
My Take: It is snowing. A ragged woman begs for money, holding her baby close trying to keep it warm. She feels sad, reaching out to others to relieve her situation.
The Card:   Experience of misfortune, either financial or emotional.  You must be willing to do what it takes to get through this time and onto the next cycle of your life.  This is a temporary state.  Beware of a poor me attitude, your success or failure may depend on your attitude.
VI Lovers
My Take:  The couple is intertwine, joined in the intimate of ways.  Although this can obviously refer to positive sexual relations, it can also refer to two people being in sync with one another, working well as a team.  You must only be careful not to lose yourself in the other person.
The Card:  Any kind of relationship and the vulnerabilities that go along with it.  Being open, honest and vulnerable with another person.
VII Coins
My Take: This card shows a tree filled with coins with a woman sitting under it with he dog and some empty baskets.  The sun is out and she has a satisfied look on her face.  This card reminds me of the proverbial money tree, ripe and ready for harvesting.  Things are good and the money it there for the taking, just reach out and fill your baskets.  There is something slightly lonely about this card though.  She is far away from anything much and has only her dog for company.  There are two sides to every coin.
The Card:  The tree is ripe and ready but it is important to be patient and wait for just the right moment to optimize the harvest.  The woman ponders her situation, examining her next move.  Another interpretation might be that something that you have tended to and cared for is now ready to grow on it's own.  Your immediate attention is no longer needed.
IV Emperor
My Take:  The emperor is all about structure and order and having the tools available to you to accomplish the task at hand.  In this reading it seems appropriate that there would be enough money to create the structure and material world that is needed for you to feel secure and powerful.
The Card:  The emperor sees the need for structure and order in everything.  He yields the power to decide what projects to take on and/or who is worthy of his civic offerings.  He must be aware of the consequences of his decisions.  This card can refer to all things dealing with power.  Fathers or fatherly figures, government institutions, laws and regulations, tyranny and charity.
Reading Analysis
I like to think of multiple cover and cross pairs as a sort of timeline.  I asked about the next year so I see it as the first pair being about the current situation, the second about the middle of the year and the last as the end of the year.  
There are no surprises here.  All of my inputs say the same thing, that money is here, will be here and will keep coming.  There have been some signs along the way that there is a lot of money somewhere, but there has been no sign of any big windfall anywhere.  Karli has been doing very well for us and I have no doubt will continue to do so.
There seems to be a little stumble sometime this year, where we might need to address the budget and our expenditures some.  I will keep this in mind as I can see it being an issue as for the first time since I left work, we are finally in the black and have been spending a little willy nilly lately.  We'll have to make sure to keep that in check.
After examining each card individually, it is uncanny how the cards can address the questioned situation while still being very telling in other pertinent areas of our lives.  The cards speak of isolation, self-reflection, turning inward, pain, feeling sorry for yourself, reaching out for help and depending on those closest to us and then reestablishing order and looking closely at what the future looks like.  That sounds like a past present future reading for myself if I ever saw one.
This reading will address the role that money plays in my life.  It is a numerology reading using the Coins cards.
The Setup
For this reading I will be using the I-X of Coins.  These cards deal with all things related to money.
To select that card that represents my relationship with money we will add up the letters in the first and last name.  A = 1 Z = 26 and all in between as you might presume.
I am going to do both my married and maiden names to get a full picture.
Karin Reece
11+1+18+9+14 = 53 = 8
18+5+5+3+5 = 36 = 9
8+9 = 17 = 8
Karin Gallacher
11+1+18+9+14 = 53 = 8
7+1+12+12+1+3+8+5+18 = 67 = 13 = 4
8+4 = 12 = 3
The Answer
VIII Coins: Your money will come from the mastering of a profession, which will provide you a nice living. You spend your life perfecting your craft and will be rewarded for it. You do well with money and could make the making of money your craft.
III Coins: Your money will likely originate from others but you work very hard for it. You may be involved in a field where you require creative funding to finance your pursuits. This could include grants, stipends, freelancing or income from your family or patron of some sort. You contribute greatly to those who fund you and they are happy to do it.
The Cards
VIII of Coins
My Take: This card brings up imagery of a clock maker. A mad works on an intricate piece of machinery, carefully adding each piece in its place. There are shelves of books in the background indicating someone well studies. This card makes me think of mastery of a craft.
The Card: This card involves labor intensive projects requiring slow and steady work. This is not time for hasty decisions or quick movements. Buckle down and do the work. The plans on the table indicate that he is not yet an expert in his field. He should look to the books behind him and his tarot deck for guidance.
III of Coins
My Take: The man in this picture appears to be blowing glass. He is an artisan and a free spirit.
The Card: This man has mastered his craft. The creation of art from raw materials.
Reading Analysis
This reading makes some sense I guess. I am a kept woman after all (hee hee). No really, although I have had a traditional career (or at least the start of one), it was never where my heart lie. I have always known that I would spend my life learning and continuing to master some skill. At this point what that is just appears to be illusive. I have always wanted to get my PhD and become a professor. I also love Yoga and think often about teaching, talk about a lifetime of mastering. Now, i just need to learn to get over my self doubt long enough to pick something, maybe neither of these are it, but something, I just need to find it and then commit. Whoo, scary.