Although the
Gabriel Method
didn't "work" for me, the underlying principles are very sound and I don't think it had anything to do with The Gabriel Method itself.  It was all me.  I had some serious emotional issues to deal with and large mental blocks standing in my way.  I couldn't even see that it was possible for me, let alone dedicate myself to the process of actually losing the weight.
Jon taught me to look at more than just the food an exercise and I understand more clearly the mental sides of things.  It also led me in the right direction to find the information I needed.
I also learned that I need more structure.  At least when starting out, I need to be told what to do and when.   I need a plan that I can look at and see what is coming next and not think too many steps ahead.  I get overwhelmed by the big picture and then give up because it looks too daunting.
With that bit of knowledge I went to work on that stuff and just kept improving my diet and reading and reading about metabolism and the mind body connection.  I also concentrated on working out to feel good and improve my fitness level for my triathlon this summer.  I have been running (something I swore I would never be able to do again), biking and have just started swim classes.   The swim classes rock and I would totally recommend taking an adult swim class for anyone who is looking to get into swimming for fitness.  I have only been to two classes and my crawl and back stroke are already completely transformed.
I have also made major breakthroughs on the psychological side and am glad to say that I have finally made the mental shift.  I can see the thin and fit me and can't wait to get there.  And let me just tell you, what I thought was standing in my way had nothing to do with it.  I dug deep and with the help of my therapist have cleared away some serious stuff.
I found this picture of myself from when I was 21.  I had just met my husband and was in the best shape of my life.  I had just come off of a summer as the horseback riding director at a girl scout camp where I had hiked about 8 miles a day and spent the majority of my day on horseback or running around an arena teaching others on there horses.  I lifted saddles and hay bales and swam across the lake and back twice a week.  I had never been so active, or so confident.  This is an image of myself that I can get behind.
That image is now taped to my head board so that I see her/me right before I go to sleep and first thing when I wake up.
I am very excited about this mental shift and what it means for me finally getting some results.  With that in mind, I am starting a brand new program next week that is going to really give my body an Xtreme shake up.  I think this is just what my body needs right now.  I have also chosen a long-term program that I am really happy with that I will continue with once the shake up is complete.
I look forward to sharing more information about both these programs with you.
Before I get started there are a couple of things I need to say about Landmark for preface and transparency.
I have taken the first two Landmark curriculum classes.  The Forum and The Advanced Course.  I also signed up for and completed the first work day of the third and final course (Self Expression and Leadership Program – SELP) before ending my relationship with Landmark.
I got it.  Landmark transformed me just as promised.
I think that Landmark has a lot to offer just about everyone.
Ok, now that that is out of the way I also have to say that I strongly disagree with many of their practices.
The teachings are incredible and if you can give yourself over to the process then amazing things can happen in your life.
I have found and asked for forgiveness
I have released a ton of my baggage and see my past for what it was and not what I made it into.
I have new clarity on why I have acted the way I have, chosen the relationships I have chosen and made the choices I have made.
I can see what is holding me back and where my failures have come from.
I have learned how to express gratitude and ask for help.
I am more comfortable with discomfort.
My fear is subsiding.
I have joy in my life.
I have a new level of confidence  and know that I am fully prepared for whatever lies ahead and that what lies ahead is whatever I dream it could be.
So so much more.
You would think with all that and more I would be shouting from the rooftops that everyone should absolutely stop whatever they are doing right now and sign up to take these courses.  Unfortunately every time I speak of Landmark I have to add a ton of caveats about the downsides of this company.
Along side a very good curriculum is a very poor marketing plan.  They are constantly pushing you to bring people to the program.   And the further you get in the better the curriculum gets and the more they push bringing people in.   It is distracting and unnecessary and I have told them so.
I spent a lot of time during the Advanced course being angry about this, but I also try to remind myself that everything they do is orchestrated to bring up certain emotions and help you face your fears.  And the expectation of bringing people to the program definitely did that for me, ultimately helping me break my cycle with expectation and failure.  So, it's not all bad.
But, I think all that could be accomplished without pressuring me to market the program for them.  I had serious work to do and all that bullshit was distracting from that.
The thing I don't think they realize is that our stories are their best marketing tool and if they just gave us room to tell our stories to those we think might benefit from their program without any pressure or deception they might open up new space for themselves and be able to take their company to the next level.  Seems like they need to take some of their own advice.
If you are considering taking these classes please be aware of these tactics and just put them aside.  If you just let it go, give yourself over to the process and don't take it too seriously there are tremendous benefits to be gained from taking this challenge on.
Always best to know what your getting into, I think.
In the last reading the Pages and Knights warned me what to look out for, but they are also very good at delivering news about messages that may be coming.   This reading will examine what those messages might be and from whom?
The Layout
This card uses the Page and Knight of each suit, the Fool 0 and the World X
Shuffle the cards, concentrating on the question.  When you feel the cards are done, deal them out one at a time until you turn over the Fool or the World then stop.
The Question: What message will I receive?
The Spread
Page Swords
Knight Swords
XXI World
The Answer
A clear and definitive message is being sent right now that will renew your enthusiasm and motivation.
Wow, that would be nice!
The Cards
Page of Swords
My Take*: Young woman, strong eyes, fancy hat.  armored yet beautiful, hard yet refined.
The Card: Curious and fervently seeking knowledge yet scattered and unfocused.  An idea in its infancy.  Focus your energy on gaining knowledge about the situation through messages containing information.
Knight of Swords
My Take*: The knights horse is a pegasus taking flight.  This is echoed through the wings on his helmet.  This card is swift and a little reckless.
The Card: The winged horse represents the flight of the mind and the potential of the minds capabilities.   Intensely focused on the goal, so much so that tolerance and patience go out the window.  This is a card of action.  Patience and determined focus are needed for success.
XXI World
My Take: The coming together of all the elements to bring about the conclusion of something.  The culmination of lessons learned leading to a new cycle.
The Card: The end and the beginning.  We see things as they are.  Enlightenment.   Transformation. Wholeness.  Being aware of your limitations.
Analysis
This book
is fun and silly and sometimes enlightening in its reading, but lets not kid ourselves that it is the most serious or thorough of interpretations.
I do find these cards very interesting though.  If you look at them as a classic three card spread with past present and future represented then they are very encouraging.    I have always know there was great potential for me, but have never been able to focus enough to fully explore it.  I have been scattered and distracted.
All the work I have been doing has seemed to come together around this ability to focus and the meaning behind why I can't and what I can do to reprogram my way of thinking about my goals and success and/or failure.  The combination of my work at therapy and the upcoming Forum Advanced Course give me ample opportunity to improve this situation dramatically.
The goal is wholeness and transformation.  The presence of the World card leads me to believe that this goal is a real possibility.
* When I am first learning a card, the my take section is only based on what I can see in the card and not based in any foundation or previous knowledge.  Do not use these descriptions as being anywhere near the truth.
Every year (for the past 15) over the Memorial Day weekend, a large group of friends from college go camping (if you can really call it that) at Banks Lake in eastern Washington.  This year we had the best weather ever, 80s and sunny and perfect every day.  It has never been better.
The problem with this was that I knew it was coming.  Karli is kinda weather obsessed so we were watching the weather starting like 2 weeks before hand.  How could knowing we were going to have beautiful weather the whole weekend be bad?  It meant I needed to buy a bathing suit.
Now, buying a bathing suit is awful when you feel great about yourself.  I haven't even thought of putting on a bathing suit in years and the idea of walking around in front of anyone showing any amount of skin was terrifying.
I probably tried on 40 suits in several different stores and had two pretty severe break downs due to the stress of it all.  This was not a small feat for me.  But, in the end I did find one that didn't make me feel totally humiliated. I still had no plans to let anyone see me in it and proceeded to buy cover-ups and shorts and skirts and tanks to keep me covered up.
But you know what, when it came down to it, I got over it and by Monday I was floating around in an inner-tube drinking my beer not feeling self conscious at all.  Huge breakthrough for me.
I think I made a large move toward being comfortable in my body as it is and starting to love myself in it.   This is the first step of success in The Gabriel Method
.
This may seem like a baby step, but for me it was  a giant leap.
Buy the Gabriel Method Book Now!
After the events of the past week I have come to determine that my frustration over my lack of measurable progress (a.k.a. weight loss) really comes down to the fact that I am jumping the gun.  As long as I have all this emotional baggage the weight will not come off, no matter what I do.  
I just went back and read the emotional obesity chapters of the book and all of it applied to me.    He asks several questions to help you identify whether this issue is holding you back and if it is insists that it be addressed before you ever even discuss eating habits, cravings exercise and past successes and failures.  After the emotional issues have been addressed and resolved then a plan can be put into place to address the rest of it.
The questions go something like this…
Does being thin feel safe to you?
Can you imagine yourself thin?
If someone gives you a compliment on your appearance, does it make you feel happy and confident or threatened and uneasy?
The last two definitely apply to me and the first one just confuses me so I'm guessing that means I can count that one too.  Since I started this whole thing the body visualization has always been the hardest for me.  I just can't see myself as that thin person.  The thing that weirds me out about that is that I used to be thin, at times very thin.  So you wouldn't think that imagining myself like that again would be so difficult.  The brain is a bazaar entity.
I have been noticing over the last couple of weeks (and I think where that desperate sad post from last week came from) that even though I am mentally really dedicated to this and have logically set up my environment for success, I find every way and excuse I can to sabotage the process.
I "forget" to take my supplements
I sneak food.  I will scarf down a burger or milkshake, candy or doughnut and then hide the evidence.
I will make up any excuse I can to avoid exercising, even going to yoga, which I love, or a hike with the dog, which is empowering, relaxing and really rewarding.  If there is some reason I can come up with I will take it.
I tell myself that just going to sleep (without the CD) will feel good and make me more motivated the next day.
I even avoided reading the emotional section of the book with any focus or meaning.  I just skimmed through it.  Today I read every word.
When I have talked to my therapist about my weight, she always says don't worry about it now, you have enough on your plate.   Do the emotional work and then deal with the weight.
Another advisor of mine reminded me that I simply need to find out why it is that I don't feel worthy and correct that and then everything will fall into place as it should.  It is only me that is holding me back.
With the Life Path Integration therapy we are doing it is even possible that we will be able to target whatever the emotional trigger might be and fix it.  It always amazes me how the universe will provide you with all the tools you need if you just listen closely enough.  Many things have been coming to me from many different directions lately and thankfully I am aware enough to be grabbing them.
Karli has also encouraged me to give the emotional stuff more time and stop worrying so much about the physical stuff.  Now that I am feeling better and motivated and productive for the first time in a long time, I am finding it very hard not to want to tackle everything all at once, to take on more than I can handle.  I feel like I am fighting in every direction and that I may simply just need to give into the process.  Pretty hard to do for a total control freak.
I am so grateful that my husband is supportive of me through all this.  He has had his moments of frustration and worry and even a few in anger and hurtfulness, as is only natural when you spouse is going through something like this.  He tries his best to encourage me and prod me to work a little harder.  
Every logical part of me thinks it's fantastic that I have a husband who loves me the way I am and truly cares about my well being.  But emotionally I think I kinda resent him for it and rebel against it.  This is hard to say, a sort of it's not you it's me scenario, but I think I might have to tell him to stop with the encouragement, because just like when we were trying to quit smoking, the gentle nudges and reminders, the words of encouragement in my head remind me that I am failing rather than reminding me that I can succeed.  This is something I need to work on, but in the meantime, I think we just need to drop the whole thing for a while, let me heal what's broken without any added pressure.
Jon says in his book that while he was gaining the weight, his wife never said a word about it and that when he was ready, he felt he was better prepared to lose the weight because of that.
So, I concentrate on the emotional part and keep preparing my body from a biochemical standpoint so that I will be that much more ahead of the game once I can really target my eating and exercise habits.  I just feel like I need to stop putting so much pressure on myself.   
To all of you looking to the Gabriel Method as a magic pill, I am sorry.  I don't have instant results to report, or really any weight loss at all.  I can tell you that it is helping me to change my life, to learn about myself and face my fears and tackle the emotional crap that has had me by the throat for most of my life.   It is also helping me learn what it feels like to be a healthy person, teaching my body that it feels good to be nourished and that eating foods that mess with your chemistry makes you tired and cranky and feel generally icky.
This is my first step and the thought that on the other side of this journey I could be not only thinner and more fit, but also a more whole and emotional healthy person is very exciting to me.
I am going to keep taking the supplements and integrating healthy foods into my diet, but I am throwing out the schedule and week 1 week 2 month 1 stuff for a while until I can answer the questions above with confidence and positivity.  Fixing myself needs to be my priority right now.  I have made huge progress, I just need to finish it before I start worrying about pounds and waist measurements and scheduled regimented programs.  
I'm ok if I stay this weight forever, as long as I don't gain any more.  (those of you who have read the book will understand the meaning and gravity of this statement)
So here is the new plan (because I wouldn't really be me if I didn't have one)…
Keep working hard at therapy and stop distracting us with day to day bullshit.  I have demons to fight so let's get on with it.
Listen to the CD every night, no excuses, no exceptions
Start reading about past life regression
Read the book No Boundary by Ken Wilber (Jon mentions it in a section of the book that really resonates with me)
Actively radiate love, forgiveness and appreciation
Accept the negative and accept myself and my body just as they are.  This includes no scales.
Buy the Gabriel Method Book Now!
After over a week of rededicating myself to
The Gabriel Method
, I am feeling better and better about it.
The one thing that I have really determined is that the visualisation CD is central to this.  I was really tired one night and really just wanted to snuggle in my soft clean sheets and go right to sleep so I skipped the CD.
The next day I felt a significant difference in my attitude and motivation.   I ate fast food for lunch and really craved some chocolate in the afternoon and was generally not as productive throughout the day.  Now, I am not going back to bad days and good days because that is really unproductive, but on other days when I had listened to the CD the night before, I had no problem making good choices and following through on my plans for the day. 
It has become pretty clear to me that listening to the CD every night, at least in the beginning, is integral to my success.
I am also noticing that when I make poor food choices my body lets me know about it.  Yesterday I had an amazing day out with a good friend.  We went to breakfast and I couldn't resist having eggs benedict, my absolute favorite.  It was fine and I am not going to feel guilty about splurging, but I could tell that my body wasn't very pleased with me about it.  So I had a smoothy with whey for lunch which amazingly lasted me till dinner.  After dinner I had a brownie for dessert, which I was really looking forward to but didn't really do anything for me.  Good to note.  This morning, I woke up feeling nauseous.  Telling, right?
I just need to keep these things in mind when I make decisions about what I am going to eat.  I'd say the eggs benedict was totally worth it, but the brownie definitely wasn't.  
My major accomplishment for the week was that I was really motivated to stay active and accomplish my daily list.  Almost every day I checked everything off my list, including the cleaning list (and we all know how bad I am at getting that list done).   I also really looked forward to doing something active each day.  I went to yoga on both Monday and Wednesday this week and I took Pella for a long walk on Tuesday and Thursday.  
Ever since we moved here 8 years ago, I have been thinking that walking up to the water reservoir, around and back would be a great walk and quite a workout.  There are some very steep hills and beautiful views at the top.  It is trails most of the way and not a lot of road time.  We don't have sidewalks where I live so walking on the road can be a little perilous.   
I have always had an excuse as to why it was too far or too hilly or too hard and I have never done it.  This week, I did it.  It was one hour there and back and I felt fantastic.  It was a great workout with several spots that were perfectly suited to a quick sprint to get those flight instincts activated.  It was awesome!
Buy the Book Now!
For this reading I will use the first ten swords and the first ten major arcana cards to examine what the best strategy is to deal with a particular situation.  With the recent launch of
karinreece.com
and starting to build my business, it only makes sense that I ask what my best strategy for success is.
The Layout
This is a celtic cross reading. It will examine the best comprehensive strategy for the asked about situation.
I will be using the I-X Major Arcana Cards and I-X of Swords for this reading.
Shuffle the major arcana cards while focusing on the questions and then deal out the first two positions.
Shuffle the sword cards while focusing on the same question and deal out the top four cards into positions 3 through 6.
Combine the remaining swords and major arcana cards and shuffle them together, again concentrating on the sames question and deal out the top four cards from this pile into positions 7 through 10.
The Question:  What should my strategy be with regard to my new web development business.
The Spread
1. Covers You (current situation) – X Wheel
2. Crosses You (challenges) – IV Emperor
3. Above You (what is possible) – VIII Swords
4. Below You (how you got here) – X Swords
5. Behind You (recent past) – IX Swords
6. Before You (what's next) – II Swords
7. Who You Are – I Swords
8. Who They Want You to Be – III Swords
9. What You Want – III Empress
10. What You Get – VI Swords
The Answer
This situation requires your full attention and dedication of all your resources, which you should invest wholeheartedly.  Someone wants to assist you in your endeavor.  Be careful of giving over too much power as it may result in a sticky situation.
You experienced utter defeat in the past causing this to be a challenging situation for you.  Just recently your worst fears surfaced, but all will come together in the near future.
You will be successful in the end, but don't expect the full support of those around you.  You want to be profitable and reap the rewards of success.  This success will come by letting go of those things that haunt you from your past and turning to the unexpected for inspiration.
The Cards
X Wheel
My Take*:  The wheel of time keeps moving.  A feeling that fate has taken over.  Remember you have control over many things.  
The Card:  Change, the feeling that some cosmic machine controls our destiny.  Although there is much we can't control, there is also a lot that we do.  There are also things that seem out of our control, but which we actually can control.  Things are changing.
Analysis**:  This card covers you, representing the current state of the situation.  You may currently be feeling like the world is passing you by or simply pulling you along.  You must take control of those things within your power and let go of those you are powerless over.  Use creative means, think outside the box because change is certainly coming.
IV Emperor
My Take:  Order, rules, dominant figure, social justice, watches over and rules the situation, caring for and creating structure in society.
The Card:  Fatherhood, authority, laws and regulation.  Government, social justice, tyranny, social structure, power of life.  Examine the role of power over the situation.  Organization and structure.  Find your own power.
Analysis:  This card crosses you, representing the obstacles faced in the current situation.  Your obstacle is to create structure for yourself or others.  Hold true to your values, find your inner power and get organized.
VIII Swords
My Take:  A prison of your own making, it looks fragile like any sudden move may send those swords plunging in.  But the pattern on the sphere suggests strength and integrity.  The woman is naked, showing vulnerability.
The Card:  Restricted by your own assumptions you have created an inflexible mental map and are now trapped by it.  The bubble is strong, only to disappear when new perspective is gained.
Analysis:  This card is above you, showing what is possible if the circumstances remain as they are.  Reaching your potential will require stepping outside your comfort zone. Look at things from a different direction to gain perspective.
X Swords
My Take:  The man is bent over shielding himself from the descending swords.  The tattoo on his back is protection, but defeat has already occurred.  There is nothing left but to give in to it and move on.
The Card:  Anguish and pain, but relief as well.  The situation is not manageable.  Although things are dire, it is a positive card.  You are at the end and are ready for new opportunities and ready to see the potential.  The extremes of the conscious mind.
Analysis:  This card is below you and speaks to how you got to this point.  Sometime long ago you were utterly defeated and it is affecting this situation.  There is nothing you can do now, it's over.  Let it go and get ready for new opportunities to emerge.
IX Swords
My Take:  The fears we create in our heads, mostly unfounded, but real enough in our minds.
Card:  Stress, tension, anxiety caused by your own mental dealings.  Your mind is wreaking havoc on your emotions.  How we think directly effects our perceptions.  Think negative things and negative things will find you.
Analysis:  This card is behind you and represents the recent past.  You've been letting your fears get the best of you.  Recently your mind has you riddled with stress and anxiety.  Remember we manifest what our mind tells us we are.  Cut out the negative talk.
II Swords
My Take*:  I'm not really sure about this one.  Twos are about couplings, pairs and dichotomies.  Swords are about strategies, struggles, power and strength.  She is blind folded and the sky is stormy with the sun shining through an opening.
The Card:  Comparing, analyzing, contrasting an idea.  Beware of over-analyzing to death, causing the new idea to wither and die.  The blindfold allows the woman to focus without distractions.  You are at a turning point.  It can still go either way.  Don't over-think it.
Analysis:  You may not be able to see it but soon light will break through the darkness.  Soon you will face a Y in the road.  Analyze the choice, but don't wait too long to make up your mind.
I Swords
My Take:  Strength, ready to take flight yet grounded with a good foundation.  New opportunities will bring success.
The Card:  A new idea or aha moment.  New opportunities, freedom of thought even when the rest of us feels constrained.  Opportunity for change and growth.
Analysis:  You are strong and grounded, ready to take off on a new adventure.  You are the one with the big idea.  This is your adventure.
III Swords
My Take: Grief.  She's crying and holding her heart.  The three swords all point toward her heart, like they are piercing it.
The Card:  Heartbreak and disappointment caused by your experience with the situation being quite different thatn you expected.  These problems are mental rather than emotional.
Analysis:  Someone related to this situation is not going to live up to your expectations.  Beware not to set them too high.
III Empress
My Take:  Mother earth, abundance, reaping the benefits of the harvest.  Connecting with nature.  Being a caregiver.
The Card:  Mothering, nurturing, protecting, raising, growing.  Giving birth to and nurturing something. Landscaping.  The project must be carefully taken care of and protected.  Take better care of yourself.
Analysis:  You want to enjoy success and abundance.  You want this to be your baby, something you grow and care for.  You also want it to provide something just for you.
VI Swords
My Take*:  This card is a little spooky.  There is definitely a journey taking place.  Passing through an arch, a transition.  the boat is well protected and the man carries a lamp, lighting the way.  His mask may show that the purpose or end result of the trip may not be clear.
The Card:  Quiet, steady, cautious forward motion.  Proceed slowly and discretely.  No need to declare yourself openly.  You are even and solid and well positioned to access and influence your subconscious.  Think a little outside the box to accomplish the goal.
Analysis:  This card position represents that final outcome or what you will get if you remain on the same path. You are embarking on a journey into the unknown.  This may be scary, but you are well prepared.  Proceed cautiously and quietly.  It may be outside your normal thinking, but put your head down and proceed without announcing your intentions. You are on a journey to wholeness.
Reading analysis
I think this is a pretty insightful reading and a really positive sign for the work on my freelance business being a positive experience.  I always like it when a reading rings especially true and this one did just that.  It picked up on my recent anxiety.  A few weeks ago, I even have a full blown anxiety attack while working on a design project.  I have been curious why I have been so afraid to put myself out there and obviously something happened long ago that is setting that up.  Wish I knew what it was.
I think it is interesting that thinking in new ways, outside the box, outside your comfort zone, came up consistently throughout this reading.  This could mean several things, but really I think it is just speaking to the cocoon I have built around myself and that I am going to have to put myself out there in order to make this succeed and that can be a little uncomfortable for me.
It is just generally good to hear that things in my life are stabilizing and that I am finally in a place where I am ready to take on new challenges and embark on new journeys.  Very encouraging.
---
 *Please remember that the my take sections are my first impressions and feelings about a card.  Since I am exploring a new deck, this is the first time I have taken a good look at some of these cards.  They may or may not be reliable or true to the meaning of the card.  I like to take my feelings from a card and the cards intended meaning and combine them for a cohesive analysis.  In this way I am consistently improving on my knowledge and abilities.
** I have added a new section to my card analysis.  In this section I will combine my thoughts and the intended card meaning and apply them to the position within the reading.  This is a way to expand on the meaning of each individual card in the reading.
This is a numerology reading using the tarot card suit of swords.  The sword cards are all about the tools and strategies available to you to use while maneuvering through life.  By using the swords we will learn about success and conflict, power and vulnerabilities.
The Setup
For this reading I will be using the I-X of Swords and the initials of my first middle and last name.  I will do a reading with my married as well as maiden name.
K.H.G.
11 + 8 + 7 = 26 = 2 + 6 = 8
K.G.R.
11 + 7 + 18 = 36 = 3 + 6 = 9
The Question:  How successful will I be?
The Answer
8 of Swords – KHG
You have followed a path full of challenges and pain.  You will use this to build your success on.  You may sometimes feel as if there is no hope of escaping it, but if you hang in there only wonderful things will come.
9 of Swords – KGR
Your success  is dependent on overcoming your fears.  You must walk out of the darkness of your past into the success of your future.  You may be inspired by those thoughts that come to you in the middle of the night.
The Cards
VIII Swords
My Take
This celestial card contains eight swords pointing upward under a naked and vulnerable woman contained in a bubble.  She wants badly to escape the bubble and the pain that the blade tips represent.
The Card
This card represents someone who has created a complicated web of assumptions and visions of reality that now imprisons them.   The only thing that can break the bubble and make the swords go away is to challenge those assumptions and look at things from a different perspective.
IX Swords
My Take
A woman lays on the ground.  She looks very frightened.  A large tree hovers over her, it's branches reaching out like claws.  A fence surrounds her.  The swords line a pillar behind and above her.  I'm not sure what the swords represent, but it appears that she has identified what or who is chasing her.
The Card
The woman's mind has created a scary scene full of anxiety.  This is a creation of the mind and not the reality of the situation.  Our minds are a powerful thing and a preoccupation with the negative has overcome you.  Remember, think negative thoughts and bad things will happen.  You must be vigilant.
Reading Analysis
In the answer section, I can see a direct correlation to the time before I was married and the time after.   I experienced a lot of pain in my youth and made a lot of really bad decisions because of it, but I never gave up hope that there was a better life waiting for me out there and when the opportunity presented itself, I took it.  Now I have a great life, full of love and family.  Now it is about letting go of the past and all the fear and that is what I am doing right now.  I am fighting the demons head on in order to let them go.  I no longer want them to influence my daily life.  They must be integrated into my being and then released so that I can move forward and find that so promised success.  This is a process ridden with anxiety, but the light at the far end of the tunnel is so worth the struggle.
When looking at the cards individually, outside the context of this particular reading, we can see how powerful our fears and anxieties can be.  They can trap us and preoccupy us, holding us back from our potential.  I look forward to being free of those traps.
Wow, this is a tough one. I don't really have anything going on right now to profit from. I am starting to take on some freelance work, but nothing serious until the fall probably. Hmm, well I guess I will ask what is coming that would be financially beneficial to me.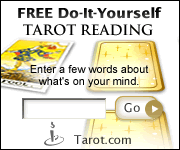 The Layout
This is a celtic cross reading.  This reading will take a comprehensive look at the financial future.
I will be using the I-X Major Arcana Cards and I-X of Coins for this reading.
Shuffle the major arcana cards while focusing on the questions and then deal out the first two positions.
Shuffle the coins cards while focusing on the same question and deal out the top four cards into positions 3 through 6.
Combine the remaining coins and major arcana cards and shuffle them together, again concentrating on the sames question and deal out the top four cards from this pile into positions 7 through 10.
The Question:  What opportunities are coming that I will profit from and how much will I profit from them?
The Spread
1. Covers You (current situation) – XI Justice (in some decks this is VIII and I have swapped them for the purpose of this self inventory)
2. Crosses You (challenges) – VII Chariot
3. Above You (what is possible) – IX Coins
4. Below You (how you got here) – VII Coins
5. Behind You (recent past) – III Coins
6. Before You (what's next) – VIII Coins
7. Who You Are – IV Emperor
8. Who They Want You to Be – II Priestess
9. What You Want – VI Lovers
10. What You Get – X Wheel
The Answer
Make sure you put the time in to thoroughly research the opportunity.  Crunch the numbers and weigh the possibilities.  The answer will not be completely clear, you must ultimately decide.  Look deeply for the answer.
You must enter into this opportunity with enthusiasm and energy.  Make full use of your resources and care well for those things trusted to you.  This has grown out of something you were formerly successful with.
Just recently money was handed out and will be repaid with interest in the near future.  You will remain in control of the situation while others hope that you will solve their problems.
Although you would like to be presented with an exciting offer right now, this is what is needed in your life right now and good or bad the risk is taken.
The Cards
XI Justice
My Take:  An Armored woman holds a set of scales.  She feels for what side is weighted more heavily.  She is without eyes to ensure her lack of bias.  The sky is dark and stormy, her sash blows in the wind.   She is armed against harm and unnerved by the turmoil around her.  It is a trying time and every angle and option must be adequately examined. 
The Card:  Your values and judgements will drive you to change the world around you for the better.  You believe in the underlying fairness as a part of what makes us human.  Be careful not to be too judgemental.  The scale has become one with the judge so that she is the one handing out justice. She has no eyes, showing her complete dedication to being evenhanded and unbiased.
VII Chariot
My Take:  This card always reminds me of charging forward.  The strength of this card is profound.  There is also a balance between riding the wave of life within the structure and constraints of our lives.   The power of the forward motion is hard to control and your inner strength is needed to keep it in check.  You have a firm foundation to build on and are ready to take the next step.
The Card:  You are ready to set off on your journey.  The horses represent the unbridled energy driving forward that must be guided and controlled by the charioteer (you).  You are confident in your abilities but must be careful of being arrogant.   But don't fret, you are correct that you are well prepared and aptly capable of taking this journey and surpassing any obstacles that come up.  You are beginning to lay the framework to build your future on.
IX Coins
My Take:  This seems like a peaceful card with the doves and all the flowers.  A young woman tending her garden, building a comfortable home life.  Her dress is very conservative and traditional which says to me that this deals with the more traditional roles and values of home life.  I can't help but feel something unsettling about her.  The coins surround her like an arch.  This card is saying to me that there is an investment in the traditional home.
The Card:  The lushness of the garden, the abundance of blooms indicates that you have done quite well creating a comfortable environment.  You have worked hard and enjoying the spoils.  This is a peaceful time.  Be careful not to retreat to far into your own world.
VII Coins
My Take:  The coins on the tree are like fruit, hanging low and ready for the taking.  She has traveled far to fill her baskets with the fruit.   The land is lush, the sun rising.  She rests before her harvest.  It feels like you have worked hard and now it is time to gather and save the money you've made.
The Card:  This card is about patience.  She is waiting to harvest the fruits of her labor but is waiting for the time of peak ripeness.  Timing can be everything in business.  This card could also mean that you have nurtured something and now it can grow on it's own.  The woman can also be seen as at a crossroads, deciding what the next move should be.
III Coins
My Take:  This cards speaks to me of artisan work.  A man is blowing glass.  Working with your hands.  Using your creativity and ingenuity.  He is confident in his task and a master of his trade.
The Card:  The glass blower is a master of his craft through hard work and experience and now deserves the respect he receives.  Taking raw materials and creating something beautiful and refined from it.  You have attained mastery in your field.
VIII Coins
My Take:  A man tinkers with a mechanical device.  There are extra parts, plans and books all around him indicating he is still learning and has not yet mastered his trade.  This work is slow and meticulous.  A detailed approach is necessary.  
The Card:  This is time to work slow and steady toward the goal.  This is not time for grandiose schemes.  Rewards will come from dedication and hard work.
IV Emperor
My Take:  Structure and order.  He is building the world he sees in his mind.  He is the master of his domain.  He takes great pride in and is very protective of the world he has created.  Beware of judgement and dominating behavior.
The Card:  Fatherhood, leadership, structure, order.   Social responsibility and tyranny.  This is the card of social constructs.  Although these powers can be misused they are integral and necessary in our lives.  Power is no inherently good or evil but inevitably a mix of both.  Take hold of your own power and use it wisely.  Look for the potential order in your task.
II Priestess
My Take:  This is the card of psychic abilities, of looking inward for answers.   Trust your gut, you know the answers you seek.
The Card:  You must be delicate in approaching the subconscious.  If you meditate and focus your energy on the answers you seek and are open to seeing what your intuition is trying to tell you, you may just get a glimpse.  The priestess' energy is a calming one, as one feels when they trust themselves.  You are reaching toward wholeness.
VI Lovers
My Take:  This is a passionate card.  The feelings of this are are intense.  The lovers are joined, almost becoming one, losing oneself in another.  
The Card:  A relationship of any kind, but mostly love relationships.  Sharing ourselves with others. Considering other points of view.  Be honest and above board, consider the other side in this situation.  The attraction of opposites.  The beginning of a new creative relationship.
X Wheel
My Take: This card shows a mechanical wheel with the signs of the zodiac all around.  This card always reminds me of the wheel of time in that it is always moving forward.  Time continues to go by no matter what is happening in our lives.  Change comes whether we like it or not.
The Card:  This card represents the feeling we have sometimes that our lives are being steered by some mechanism, that we have little control.  Although it may seem that we have no control sometime, there are always things in our lives that we can control with a little creativity and determination.  We must remember that this control and power we wield over our own lives is that which keeps from being vulnerable to others.  The wheel card can represent a feeling of helplessness but it also means that there is change coming, and that is a reason to feel hopeful.
Reading Analysis
The answer section of this makes me think of something I have been considering lately.  A month or so ago, I heard a story on NPR about micro philanthropy and the new ways that people are looking at philanthropy.  He discussed an organization called Kiva.  They enable individuals to provide micro-loans to business owners, individuals, and loan coops around the globe.  The payback rate on these loans are incredibly high and after hearing about it seemed like something I would like to check out.  I did a little due diligence and registered at the site, but haven't taken it much farther.  
From the cards here, it appears this might be something worthwhile for me to pursue.  It also makes sense as it talks about how, although I might like for there to be something big and exciting coming, that these things I can do to take care of myself and others may have a bigger impact.   There may not be a monetary profit, but I think I might be more in need of emotional profit anyway.  It will be good to help people help themselves.
The cards are also telling me that change is in the air, and I always view that as a positive thing.
I also feel there are some things to be said here about my freelancing business, but really, I'm just not in the mood to think about that right this minute, let alone discussing what may or may not get done in the future.