For this reading I will use the first ten swords and the first ten major arcana cards to examine what the best strategy is to deal with a particular situation.  With the recent launch of
karinreece.com
and starting to build my business, it only makes sense that I ask what my best strategy for success is.
The Layout
This is a celtic cross reading. It will examine the best comprehensive strategy for the asked about situation.
I will be using the I-X Major Arcana Cards and I-X of Swords for this reading.
Shuffle the major arcana cards while focusing on the questions and then deal out the first two positions.
Shuffle the sword cards while focusing on the same question and deal out the top four cards into positions 3 through 6.
Combine the remaining swords and major arcana cards and shuffle them together, again concentrating on the sames question and deal out the top four cards from this pile into positions 7 through 10.
The Question:  What should my strategy be with regard to my new web development business.
The Spread
1. Covers You (current situation) – X Wheel
2. Crosses You (challenges) – IV Emperor
3. Above You (what is possible) – VIII Swords
4. Below You (how you got here) – X Swords
5. Behind You (recent past) – IX Swords
6. Before You (what's next) – II Swords
7. Who You Are – I Swords
8. Who They Want You to Be – III Swords
9. What You Want – III Empress
10. What You Get – VI Swords
The Answer
This situation requires your full attention and dedication of all your resources, which you should invest wholeheartedly.  Someone wants to assist you in your endeavor.  Be careful of giving over too much power as it may result in a sticky situation.
You experienced utter defeat in the past causing this to be a challenging situation for you.  Just recently your worst fears surfaced, but all will come together in the near future.
You will be successful in the end, but don't expect the full support of those around you.  You want to be profitable and reap the rewards of success.  This success will come by letting go of those things that haunt you from your past and turning to the unexpected for inspiration.
The Cards
X Wheel
My Take*:  The wheel of time keeps moving.  A feeling that fate has taken over.  Remember you have control over many things.  
The Card:  Change, the feeling that some cosmic machine controls our destiny.  Although there is much we can't control, there is also a lot that we do.  There are also things that seem out of our control, but which we actually can control.  Things are changing.
Analysis**:  This card covers you, representing the current state of the situation.  You may currently be feeling like the world is passing you by or simply pulling you along.  You must take control of those things within your power and let go of those you are powerless over.  Use creative means, think outside the box because change is certainly coming.
IV Emperor
My Take:  Order, rules, dominant figure, social justice, watches over and rules the situation, caring for and creating structure in society.
The Card:  Fatherhood, authority, laws and regulation.  Government, social justice, tyranny, social structure, power of life.  Examine the role of power over the situation.  Organization and structure.  Find your own power.
Analysis:  This card crosses you, representing the obstacles faced in the current situation.  Your obstacle is to create structure for yourself or others.  Hold true to your values, find your inner power and get organized.
VIII Swords
My Take:  A prison of your own making, it looks fragile like any sudden move may send those swords plunging in.  But the pattern on the sphere suggests strength and integrity.  The woman is naked, showing vulnerability.
The Card:  Restricted by your own assumptions you have created an inflexible mental map and are now trapped by it.  The bubble is strong, only to disappear when new perspective is gained.
Analysis:  This card is above you, showing what is possible if the circumstances remain as they are.  Reaching your potential will require stepping outside your comfort zone. Look at things from a different direction to gain perspective.
X Swords
My Take:  The man is bent over shielding himself from the descending swords.  The tattoo on his back is protection, but defeat has already occurred.  There is nothing left but to give in to it and move on.
The Card:  Anguish and pain, but relief as well.  The situation is not manageable.  Although things are dire, it is a positive card.  You are at the end and are ready for new opportunities and ready to see the potential.  The extremes of the conscious mind.
Analysis:  This card is below you and speaks to how you got to this point.  Sometime long ago you were utterly defeated and it is affecting this situation.  There is nothing you can do now, it's over.  Let it go and get ready for new opportunities to emerge.
IX Swords
My Take:  The fears we create in our heads, mostly unfounded, but real enough in our minds.
Card:  Stress, tension, anxiety caused by your own mental dealings.  Your mind is wreaking havoc on your emotions.  How we think directly effects our perceptions.  Think negative things and negative things will find you.
Analysis:  This card is behind you and represents the recent past.  You've been letting your fears get the best of you.  Recently your mind has you riddled with stress and anxiety.  Remember we manifest what our mind tells us we are.  Cut out the negative talk.
II Swords
My Take*:  I'm not really sure about this one.  Twos are about couplings, pairs and dichotomies.  Swords are about strategies, struggles, power and strength.  She is blind folded and the sky is stormy with the sun shining through an opening.
The Card:  Comparing, analyzing, contrasting an idea.  Beware of over-analyzing to death, causing the new idea to wither and die.  The blindfold allows the woman to focus without distractions.  You are at a turning point.  It can still go either way.  Don't over-think it.
Analysis:  You may not be able to see it but soon light will break through the darkness.  Soon you will face a Y in the road.  Analyze the choice, but don't wait too long to make up your mind.
I Swords
My Take:  Strength, ready to take flight yet grounded with a good foundation.  New opportunities will bring success.
The Card:  A new idea or aha moment.  New opportunities, freedom of thought even when the rest of us feels constrained.  Opportunity for change and growth.
Analysis:  You are strong and grounded, ready to take off on a new adventure.  You are the one with the big idea.  This is your adventure.
III Swords
My Take: Grief.  She's crying and holding her heart.  The three swords all point toward her heart, like they are piercing it.
The Card:  Heartbreak and disappointment caused by your experience with the situation being quite different thatn you expected.  These problems are mental rather than emotional.
Analysis:  Someone related to this situation is not going to live up to your expectations.  Beware not to set them too high.
III Empress
My Take:  Mother earth, abundance, reaping the benefits of the harvest.  Connecting with nature.  Being a caregiver.
The Card:  Mothering, nurturing, protecting, raising, growing.  Giving birth to and nurturing something. Landscaping.  The project must be carefully taken care of and protected.  Take better care of yourself.
Analysis:  You want to enjoy success and abundance.  You want this to be your baby, something you grow and care for.  You also want it to provide something just for you.
VI Swords
My Take*:  This card is a little spooky.  There is definitely a journey taking place.  Passing through an arch, a transition.  the boat is well protected and the man carries a lamp, lighting the way.  His mask may show that the purpose or end result of the trip may not be clear.
The Card:  Quiet, steady, cautious forward motion.  Proceed slowly and discretely.  No need to declare yourself openly.  You are even and solid and well positioned to access and influence your subconscious.  Think a little outside the box to accomplish the goal.
Analysis:  This card position represents that final outcome or what you will get if you remain on the same path. You are embarking on a journey into the unknown.  This may be scary, but you are well prepared.  Proceed cautiously and quietly.  It may be outside your normal thinking, but put your head down and proceed without announcing your intentions. You are on a journey to wholeness.
Reading analysis
I think this is a pretty insightful reading and a really positive sign for the work on my freelance business being a positive experience.  I always like it when a reading rings especially true and this one did just that.  It picked up on my recent anxiety.  A few weeks ago, I even have a full blown anxiety attack while working on a design project.  I have been curious why I have been so afraid to put myself out there and obviously something happened long ago that is setting that up.  Wish I knew what it was.
I think it is interesting that thinking in new ways, outside the box, outside your comfort zone, came up consistently throughout this reading.  This could mean several things, but really I think it is just speaking to the cocoon I have built around myself and that I am going to have to put myself out there in order to make this succeed and that can be a little uncomfortable for me.
It is just generally good to hear that things in my life are stabilizing and that I am finally in a place where I am ready to take on new challenges and embark on new journeys.  Very encouraging.
---
 *Please remember that the my take sections are my first impressions and feelings about a card.  Since I am exploring a new deck, this is the first time I have taken a good look at some of these cards.  They may or may not be reliable or true to the meaning of the card.  I like to take my feelings from a card and the cards intended meaning and combine them for a cohesive analysis.  In this way I am consistently improving on my knowledge and abilities.
** I have added a new section to my card analysis.  In this section I will combine my thoughts and the intended card meaning and apply them to the position within the reading.  This is a way to expand on the meaning of each individual card in the reading.
One of the biggest parts of
my new years resolutions
is to be healthier and finally lose this damn baby weight.  I can not tell you how sick and tired I am carrying around this extra 30 pounds.  There is no more time for excuses and although the weight isn't flying off as quickly as I would like, I am dedicated to integrating exercise into my daily life, if for no other reason than it makes me feel really good and gets me out of the house by myself most days.
There is definitely something to be said for the peaceful, all consuming loudness of being alone with my mp3 player.  It's almost as good as the silence below the bath water.  Very restorative and the sweat and chemical release is great too.
I am also counting and logging my daily food and exercise, but I will cover all that in another post.
For me, saying things out loud helps me to keep myself accountable.  With that, here is my exercise routine.
Finding the right environment
The first thing I did was change what gym I went to, or really changed gyms so that I would start going.  My old gym was one of those neighborhood jobbies and although the equipment was really nice and it was never busy, it also wasn't very inspiring and they didn't offer any classes.
I was also paying an extreme amount for two yoga classes a week at an Iyengar studio near my house.    Although I really enjoyed these classes, I just wasn't sure that Iyengar was the style of yoga I wanted to pursue long term.  Also, although challenging I didn't feel like it was really contributing to my weight loss, which at some point just needed to take priority.
So, I joined a gym very close to my house (one of the major chains) that offered  yoga and other classes included in the price.  In the end we are paying a little more for the gym but a lot less for yoga and in this economy and with my weight loss goals for the year, I think this is the best fit.
I do miss taking yoga classes at a studio.  It is a totally different experience and much more serious and I fully plan on finding a studio to join after I have reached my weight loss goals that is more aligned with the style of yoga I would like to pursue going forward.
Vinyasa Yoga Classes
I attend 2 Vinyasa power yoga classes a week and would like to add in one more on Sunday mornings, but realistically this will most likely be an on and off thing as weekends are really family time and that needs to take priority.  But, if we are just sitting around doing nothing on a Sunday morning, then I will try to hit this class once in a while.
I have done a bunch of research about how many calories are burned during a vinyasa yoga class.  I found varying numbers from 300 to 500 calories and hour.   It would be significantly more if this were a hot class, but alas it is not.   The class I take is 90 minutes and so I usually log 500 calories for the class.
Cardio 
My cardio machine of choice is the treadmill, but I would really like to add in some biking as well.  Maybe even a spinning class one morning a week if I can ever get Ian to stay in the child care room there.  
Anyway, I have been good about getting two additional hour long cardio workouts per week, but this really needs to be three.  Maybe as the weather gets nicer, I can take this one outside –  A long walk with the dog or a heavy duty landscaping work day or a bike ride on the Burke.
I do interval workouts alternating between running, walking, hills and sprints.   An hour gets me about 450 calories, but this should increase as my abilities increase and I can up the intensity.
10 minute mini workouts
My next step is to add a quick 10 minute mini workout at some point each day.  This is an opportunity for me to target a certain area or get in an extra strength builder or do some of the yoga poses that I no longer get to do taking an all levels gym based yoga class (mostly inversions).
Some of my options for this are….
Tony Horton's 10 Minute Trainer
–  I have these videos but I haven't really used them much.  They do seem like a great way to get pretty intense 10 minute workouts that cover a diverse spectrum of exercise.  I like how Tony Horton doesn't use the same old same old techniques, but incorporates yoga, pilates and multi-dimentional exercises into his workouts.    It may just be time to pull these videos out.
Bosu Ball Daily Dose – I really like the Bosu ball and am looking for more ways to use it.  The Daily Dose is a set of three exercises repeated in circuit and can be modified to increase or decrease the intensity.  It's pretty fun and a good workout.
Core Workout – I really like the Tony Horton's 10 Minute Trainer
 Core workout.   There is also a bosu ball core workout that looks interesting.   And although I am really not into the design on this site – it makes me a little dizzy, they do seem to have lots of core exercise examples.
Quick Yoga Series – I am really missing head stand (Salamba Sirsasana), shoulder stand (Salamba Sarvangasana) and plow pose (halasana).  These were some of my favorites, but in the gym class environment it just isn't possible to do these poses, so I am going to try and incorporate them often, hopefully daily at some point.
Just a note, my old yoga instructor said that it is very important to do shoulder stand after you have done headstand – something about balancing things out and such.  They go hand in hand I guess.
Combining these with a forward bend, a mild back bend and a twist would make a lovely little restorative sequence.
So to get down and dirty with my year long resolutions, by the end of the year I would like to be consistently taking 2 yoga classes a week and a spinning class.  Ian starts preschool in the fall so that will open up a morning a week to take a spinning class.  I would also like to be doing 2 additional cardio workouts and 5 mini workouts a week.  
With all that said,  I also want to keep in mind this years overall goal of not getting overwhelmed by the enormity of the task at hand.  I will push myself strongly, but also be forgiving.  If I get overwhelmed or start feeling bad about my results or not going to the gym some night, I will give it up and that just simply can not happen.  So as I have been telling myself over and over and over and over again lately "remain calm and think positively" and hopefully I will learn that it is ok to give myself a break sometimes.
Wow, this is a tough one. I don't really have anything going on right now to profit from. I am starting to take on some freelance work, but nothing serious until the fall probably. Hmm, well I guess I will ask what is coming that would be financially beneficial to me.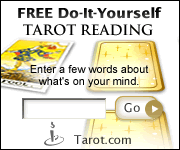 The Layout
This is a celtic cross reading.  This reading will take a comprehensive look at the financial future.
I will be using the I-X Major Arcana Cards and I-X of Coins for this reading.
Shuffle the major arcana cards while focusing on the questions and then deal out the first two positions.
Shuffle the coins cards while focusing on the same question and deal out the top four cards into positions 3 through 6.
Combine the remaining coins and major arcana cards and shuffle them together, again concentrating on the sames question and deal out the top four cards from this pile into positions 7 through 10.
The Question:  What opportunities are coming that I will profit from and how much will I profit from them?
The Spread
1. Covers You (current situation) – XI Justice (in some decks this is VIII and I have swapped them for the purpose of this self inventory)
2. Crosses You (challenges) – VII Chariot
3. Above You (what is possible) – IX Coins
4. Below You (how you got here) – VII Coins
5. Behind You (recent past) – III Coins
6. Before You (what's next) – VIII Coins
7. Who You Are – IV Emperor
8. Who They Want You to Be – II Priestess
9. What You Want – VI Lovers
10. What You Get – X Wheel
The Answer
Make sure you put the time in to thoroughly research the opportunity.  Crunch the numbers and weigh the possibilities.  The answer will not be completely clear, you must ultimately decide.  Look deeply for the answer.
You must enter into this opportunity with enthusiasm and energy.  Make full use of your resources and care well for those things trusted to you.  This has grown out of something you were formerly successful with.
Just recently money was handed out and will be repaid with interest in the near future.  You will remain in control of the situation while others hope that you will solve their problems.
Although you would like to be presented with an exciting offer right now, this is what is needed in your life right now and good or bad the risk is taken.
The Cards
XI Justice
My Take:  An Armored woman holds a set of scales.  She feels for what side is weighted more heavily.  She is without eyes to ensure her lack of bias.  The sky is dark and stormy, her sash blows in the wind.   She is armed against harm and unnerved by the turmoil around her.  It is a trying time and every angle and option must be adequately examined. 
The Card:  Your values and judgements will drive you to change the world around you for the better.  You believe in the underlying fairness as a part of what makes us human.  Be careful not to be too judgemental.  The scale has become one with the judge so that she is the one handing out justice. She has no eyes, showing her complete dedication to being evenhanded and unbiased.
VII Chariot
My Take:  This card always reminds me of charging forward.  The strength of this card is profound.  There is also a balance between riding the wave of life within the structure and constraints of our lives.   The power of the forward motion is hard to control and your inner strength is needed to keep it in check.  You have a firm foundation to build on and are ready to take the next step.
The Card:  You are ready to set off on your journey.  The horses represent the unbridled energy driving forward that must be guided and controlled by the charioteer (you).  You are confident in your abilities but must be careful of being arrogant.   But don't fret, you are correct that you are well prepared and aptly capable of taking this journey and surpassing any obstacles that come up.  You are beginning to lay the framework to build your future on.
IX Coins
My Take:  This seems like a peaceful card with the doves and all the flowers.  A young woman tending her garden, building a comfortable home life.  Her dress is very conservative and traditional which says to me that this deals with the more traditional roles and values of home life.  I can't help but feel something unsettling about her.  The coins surround her like an arch.  This card is saying to me that there is an investment in the traditional home.
The Card:  The lushness of the garden, the abundance of blooms indicates that you have done quite well creating a comfortable environment.  You have worked hard and enjoying the spoils.  This is a peaceful time.  Be careful not to retreat to far into your own world.
VII Coins
My Take:  The coins on the tree are like fruit, hanging low and ready for the taking.  She has traveled far to fill her baskets with the fruit.   The land is lush, the sun rising.  She rests before her harvest.  It feels like you have worked hard and now it is time to gather and save the money you've made.
The Card:  This card is about patience.  She is waiting to harvest the fruits of her labor but is waiting for the time of peak ripeness.  Timing can be everything in business.  This card could also mean that you have nurtured something and now it can grow on it's own.  The woman can also be seen as at a crossroads, deciding what the next move should be.
III Coins
My Take:  This cards speaks to me of artisan work.  A man is blowing glass.  Working with your hands.  Using your creativity and ingenuity.  He is confident in his task and a master of his trade.
The Card:  The glass blower is a master of his craft through hard work and experience and now deserves the respect he receives.  Taking raw materials and creating something beautiful and refined from it.  You have attained mastery in your field.
VIII Coins
My Take:  A man tinkers with a mechanical device.  There are extra parts, plans and books all around him indicating he is still learning and has not yet mastered his trade.  This work is slow and meticulous.  A detailed approach is necessary.  
The Card:  This is time to work slow and steady toward the goal.  This is not time for grandiose schemes.  Rewards will come from dedication and hard work.
IV Emperor
My Take:  Structure and order.  He is building the world he sees in his mind.  He is the master of his domain.  He takes great pride in and is very protective of the world he has created.  Beware of judgement and dominating behavior.
The Card:  Fatherhood, leadership, structure, order.   Social responsibility and tyranny.  This is the card of social constructs.  Although these powers can be misused they are integral and necessary in our lives.  Power is no inherently good or evil but inevitably a mix of both.  Take hold of your own power and use it wisely.  Look for the potential order in your task.
II Priestess
My Take:  This is the card of psychic abilities, of looking inward for answers.   Trust your gut, you know the answers you seek.
The Card:  You must be delicate in approaching the subconscious.  If you meditate and focus your energy on the answers you seek and are open to seeing what your intuition is trying to tell you, you may just get a glimpse.  The priestess' energy is a calming one, as one feels when they trust themselves.  You are reaching toward wholeness.
VI Lovers
My Take:  This is a passionate card.  The feelings of this are are intense.  The lovers are joined, almost becoming one, losing oneself in another.  
The Card:  A relationship of any kind, but mostly love relationships.  Sharing ourselves with others. Considering other points of view.  Be honest and above board, consider the other side in this situation.  The attraction of opposites.  The beginning of a new creative relationship.
X Wheel
My Take: This card shows a mechanical wheel with the signs of the zodiac all around.  This card always reminds me of the wheel of time in that it is always moving forward.  Time continues to go by no matter what is happening in our lives.  Change comes whether we like it or not.
The Card:  This card represents the feeling we have sometimes that our lives are being steered by some mechanism, that we have little control.  Although it may seem that we have no control sometime, there are always things in our lives that we can control with a little creativity and determination.  We must remember that this control and power we wield over our own lives is that which keeps from being vulnerable to others.  The wheel card can represent a feeling of helplessness but it also means that there is change coming, and that is a reason to feel hopeful.
Reading Analysis
The answer section of this makes me think of something I have been considering lately.  A month or so ago, I heard a story on NPR about micro philanthropy and the new ways that people are looking at philanthropy.  He discussed an organization called Kiva.  They enable individuals to provide micro-loans to business owners, individuals, and loan coops around the globe.  The payback rate on these loans are incredibly high and after hearing about it seemed like something I would like to check out.  I did a little due diligence and registered at the site, but haven't taken it much farther.  
From the cards here, it appears this might be something worthwhile for me to pursue.  It also makes sense as it talks about how, although I might like for there to be something big and exciting coming, that these things I can do to take care of myself and others may have a bigger impact.   There may not be a monetary profit, but I think I might be more in need of emotional profit anyway.  It will be good to help people help themselves.
The cards are also telling me that change is in the air, and I always view that as a positive thing.
I also feel there are some things to be said here about my freelancing business, but really, I'm just not in the mood to think about that right this minute, let alone discussing what may or may not get done in the future.
This morning we sat as a family and watched the inauguration of Barack Obama as President of the United States of America.
Although words are not coming easily to me at this point, I am full. Full of hope for the future. Full of pride in my country. Full of love for everyone and everything.
I know I am not alone in my deep reflection on this moving experience. It amazes me and fills me with joy that such an inspirational and capable man has come to power at a time when we need it so badly. All things happen for a reason at the time it is most needed and I think that is the case here.
I was impressed with the strength of his speech, the message he sent to the world and most importantly his message to us, the American people. These are tough times for this country and we must all stand together and get ready to work hard beside each other building a new America.
You can't help but feel there was a fundamental shift that occurred this morning and I can't help but notice that I feel fundamentally different because of it.
Dear Mr. President: Be strong and follow your heart. Your judgement is sound and good and should be trusted as well as critically questioned. Surround yourself with smart and experienced people you trust and listen heartfully to them, but don't let them sway you from the task at hand. We need you now to show us the way. Tell us what you need from us and we will be there, standing next to you. We need change, need to take responsibility for our actions and contributions to both the good and bad that is this time in this country, need to be inspired and led by you. You will be great and my hopeful and positive thoughts will be with you every step of the way.
For my own selfish reasons and for my personal purpose of always wanting to remember this day, I have quoted the text of President Barack Obama's inaugural speech below.
Barack Obama's Inaugural Address

Following is the prepared text of President-elect Barack Obama's Inaugural Address, as provided by the Presidential Inaugural Committee:

My fellow citizens:

I stand here today humbled by the task before us, grateful for the trust you have bestowed, mindful of the sacrifices borne by our ancestors. I thank President Bush for his service to our nation, as well as the generosity and cooperation he has shown throughout this transition.

Forty-four Americans have now taken the presidential oath. The words have been spoken during rising tides of prosperity and the still waters of peace. Yet, every so often the oath is taken amidst gathering clouds and raging storms. At these moments, America has carried on not simply because of the skill or vision of those in high office, but because We the People have remained faithful to the ideals of our forbearers, and true to our founding documents.

So it has been. So it must be with this generation of Americans.

That we are in the midst of crisis is now well understood. Our nation is at war, against a far-reaching network of violence and hatred. Our economy is badly weakened, a consequence of greed and irresponsibility on the part of some, but also our collective failure to make hard choices and prepare the nation for a new age. Homes have been lost; jobs shed; businesses shuttered. Our health care is too costly; our schools fail too many; and each day brings further evidence that the ways we use energy strengthen our adversaries and threaten our planet.

These are the indicators of crisis, subject to data and statistics. Less measurable but no less profound is a sapping of confidence across our land – a nagging fear that America's decline is inevitable, and that the next generation must lower its sights.

Today I say to you that the challenges we face are real. They are serious and they are many. They will not be met easily or in a short span of time. But know this, America – they will be met.

On this day, we gather because we have chosen hope over fear, unity of purpose over conflict and discord.

On this day, we come to proclaim an end to the petty grievances and false promises, the recriminations and worn out dogmas, that for far too long have strangled our politics.

We remain a young nation, but in the words of Scripture, the time has come to set aside childish things. The time has come to reaffirm our enduring spirit; to choose our better history; to carry forward that precious gift, that noble idea, passed on from generation to generation: the God-given promise that all are equal, all are free, and all deserve a chance to pursue their full measure of happiness.

In reaffirming the greatness of our nation, we understand that greatness is never a given. It must be earned. Our journey has never been one of short-cuts or settling for less. It has not been the path for the faint-hearted – for those who prefer leisure over work, or seek only the pleasures of riches and fame. Rather, it has been the risk-takers, the doers, the makers of things – some celebrated but more often men and women obscure in their labor, who have carried us up the long, rugged path towards prosperity and freedom.

For us, they packed up their few worldly possessions and traveled across oceans in search of a new life.

For us, they toiled in sweatshops and settled the West; endured the lash of the whip and plowed the hard earth.

For us, they fought and died, in places like Concord and Gettysburg; Normandy and Khe Sanh.

Time and again these men and women struggled and sacrificed and worked till their hands were raw so that we might live a better life. They saw America as bigger than the sum of our individual ambitions; greater than all the differences of birth or wealth or faction.

This is the journey we continue today. We remain the most prosperous, powerful nation on Earth. Our workers are no less productive than when this crisis began. Our minds are no less inventive, our goods and services no less needed than they were last week or last month or last year. Our capacity remains undiminished. But our time of standing pat, of protecting narrow interests and putting off unpleasant decisions – that time has surely passed. Starting today, we must pick ourselves up, dust ourselves off, and begin again the work of remaking America.

For everywhere we look, there is work to be done. The state of the economy calls for action, bold and swift, and we will act – not only to create new jobs, but to lay a new foundation for growth. We will build the roads and bridges, the electric grids and digital lines that feed our commerce and bind us together. We will restore science to its rightful place, and wield technology's wonders to raise health care's quality and lower its cost. We will harness the sun and the winds and the soil to fuel our cars and run our factories. And we will transform our schools and colleges and universities to meet the demands of a new age. All this we can do. And all this we will do.

Now, there are some who question the scale of our ambitions – who suggest that our system cannot tolerate too many big plans. Their memories are short. For they have forgotten what this country has already done; what free men and women can achieve when imagination is joined to common purpose, and necessity to courage.

What the cynics fail to understand is that the ground has shifted beneath them – that the stale political arguments that have consumed us for so long no longer apply. The question we ask today is not whether our government is too big or too small, but whether it works – whether it helps families find jobs at a decent wage, care they can afford, a retirement that is dignified. Where the answer is yes, we intend to move forward. Where the answer is no, programs will end. And those of us who manage the public's dollars will be held to account – to spend wisely, reform bad habits, and do our business in the light of day – because only then can we restore the vital trust between a people and their government.

Nor is the question before us whether the market is a force for good or ill. Its power to generate wealth and expand freedom is unmatched, but this crisis has reminded us that without a watchful eye, the market can spin out of control – and that a nation cannot prosper long when it favors only the prosperous. The success of our economy has always depended not just on the size of our Gross Domestic Product, but on the reach of our prosperity; on our ability to extend opportunity to every willing heart – not out of charity, but because it is the surest route to our common good.

As for our common defense, we reject as false the choice between our safety and our ideals. Our Founding Fathers, faced with perils we can scarcely imagine, drafted a charter to assure the rule of law and the rights of man, a charter expanded by the blood of generations. Those ideals still light the world, and we will not give them up for expedience's sake. And so to all other peoples and governments who are watching today, from the grandest capitals to the small village where my father was born: know that America is a friend of each nation and every man, woman, and child who seeks a future of peace and dignity, and that we are ready to lead once more.

Recall that earlier generations faced down fascism and communism not just with missiles and tanks, but with sturdy alliances and enduring convictions. They understood that our power alone cannot protect us, nor does it entitle us to do as we please. Instead, they knew that our power grows through its prudent use; our security emanates from the justness of our cause, the force of our example, the tempering qualities of humility and restraint.

We are the keepers of this legacy. Guided by these principles once more, we can meet those new threats that demand even greater effort – even greater cooperation and understanding between nations. We will begin to responsibly leave Iraq to its people, and forge a hard-earned peace in Afghanistan. With old friends and former foes, we will work tirelessly to lessen the nuclear threat, and roll back the specter of a warming planet. We will not apologize for our way of life, nor will we waver in its defense, and for those who seek to advance their aims by inducing terror and slaughtering innocents, we say to you now that our spirit is stronger and cannot be broken; you cannot outlast us, and we will defeat you.

For we know that our patchwork heritage is a strength, not a weakness. We are a nation of Christians and Muslims, Jews and Hindus – and non-believers. We are shaped by every language and culture, drawn from every end of this Earth; and because we have tasted the bitter swill of civil war and segregation, and emerged from that dark chapter stronger and more united, we cannot help but believe that the old hatreds shall someday pass; that the lines of tribe shall soon dissolve; that as the world grows smaller, our common humanity shall reveal itself; and that America must play its role in ushering in a new era of peace.

To the Muslim world, we seek a new way forward, based on mutual interest and mutual respect. To those leaders around the globe who seek to sow conflict, or blame their society's ills on the West – know that your people will judge you on what you can build, not what you destroy. To those who cling to power through corruption and deceit and the silencing of dissent, know that you are on the wrong side of history; but that we will extend a hand if you are willing to unclench your fist.

To the people of poor nations, we pledge to work alongside you to make your farms flourish and let clean waters flow; to nourish starved bodies and feed hungry minds. And to those nations like ours that enjoy relative plenty, we say we can no longer afford indifference to suffering outside our borders; nor can we consume the world's resources without regard to effect. For the world has changed, and we must change with it.

As we consider the road that unfolds before us, we remember with humble gratitude those brave Americans who, at this very hour, patrol far-off deserts and distant mountains. They have something to tell us today, just as the fallen heroes who lie in Arlington whisper through the ages. We honor them not only because they are guardians of our liberty, but because they embody the spirit of service; a willingness to find meaning in something greater than themselves. And yet, at this moment – a moment that will define a generation – it is precisely this spirit that must inhabit us all.

For as much as government can do and must do, it is ultimately the faith and determination of the American people upon which this nation relies. It is the kindness to take in a stranger when the levees break, the selflessness of workers who would rather cut their hours than see a friend lose their job which sees us through our darkest hours. It is the firefighter's courage to storm a stairway filled with smoke, but also a parent's willingness to nurture a child, that finally decides our fate.

Our challenges may be new. The instruments with which we meet them may be new. But those values upon which our success depends – hard work and honesty, courage and fair play, tolerance and curiosity, loyalty and patriotism – these things are old. These things are true. They have been the quiet force of progress throughout our history. What is demanded then is a return to these truths. What is required of us now is a new era of responsibility – a recognition, on the part of every American, that we have duties to ourselves, our nation, and the world, duties that we do not grudgingly accept but rather seize gladly, firm in the knowledge that there is nothing so satisfying to the spirit, so defining of our character, than giving our all to a difficult task.

This is the price and the promise of citizenship.

This is the source of our confidence – the knowledge that God calls on us to shape an uncertain destiny.

This is the meaning of our liberty and our creed – why men and women and children of every race and every faith can join in celebration across this magnificent mall, and why a man whose father less than sixty years ago might not have been served at a local restaurant can now stand before you to take a most sacred oath.

So let us mark this day with remembrance, of who we are and how far we have traveled. In the year of America's birth, in the coldest of months, a small band of patriots huddled by dying campfires on the shores of an icy river. The capital was abandoned. The enemy was advancing. The snow was stained with blood. At a moment when the outcome of our revolution was most in doubt, the father of our nation ordered these words be read to the people:

"Let it be told to the future world…that in the depth of winter, when nothing but hope and virtue could survive…that the city and the country, alarmed at one common danger, came forth to meet [it]."

America. In the face of our common dangers, in this winter of our hardship, let us remember these timeless words. With hope and virtue, let us brave once more the icy currents, and endure what storms may come. Let it be said by our children's children that when we were tested we refused to let this journey end, that we did not turn back nor did we falter; and with eyes fixed on the horizon and God's grace upon us, we carried forth that great gift of freedom and delivered it safely to future generations.
If your read my post, you have probably figured out that I have having some sort of psychotic break. No no, just kidding. But, I am going through a pretty difficult time. The whole reason I started this blog was to work out why I am feeling so lost and figure out who I am in this new life that I chose.
A couple of weeks ago, a minor incident caused a huge upset in my life. My disappointment and hurt feelings transformed into misdirected and overinflated anger and caused me to stop for a minute and consider what was really going on.
What I said in the post about not letting things build up because years of frustration and pain are really hard to deal with all at once is so true as I feel that much of the intensity of what is happening with me right now comes directly from hiding from myself and my issues for so long. But, there is more than that at work.
Over the last couple of weeks I have done some serious soul searching and have determined a couple of things.
1. It is time for me to find a good therapist. I spent a couple of years when I was younger in therapy to deal with my issues surrounding my parents divorce and also to try and eliminate some pretty self destructive behavior. Although this was crucial to my current success in life, what I learned to do was to set the bad feelings aside and concentrate on the good feelings.
This is sort of the foundation of cognitive-behavioral therapy, which is one of the most common forms and although I can not be certain, I assume the type of therapy I received so many years ago. They take the negative behaviors and circumstances and change the way the you look at them and think about them in a more positive way.
"The objectives of CBT typically are to identify irrational or maladaptive thoughts, assumptions and beliefs that are related to debilitating negative emotions and to identify how they are dysfunctional, inaccurate, or simply not helpful. This is done in an effort to reject the distorted cognitions and to replace them with more realistic and self-helping alternatives." – Wikipedia
This is extremely effective in increasing a person's ability to function in the real world and lead a productive and positive life and may definitely be enough for many, if not most, people. And, as I said, I owe a lot to this type of therapy, which enabled me to put aside the anger and hurt and move on with my life.
But what I am feeling now is like I put all those feelings and consequently most of the negative feelings I have had throughout the subsequent years into a drawer and closing it, seeking to avoid slipping into those hurt feelings and negative emotions, no matter what they involve. The drawer squeaks open now and then and I shove a couple more things in and then close the drawer again.
Well, now the drawer is so full that it won't close any more. It is now time for me to figure out how to empty out the drawer and deal with, live with, or get rid of whatever is in there.
I have been working on finding a therapist since the day, but this is definitely easier said than done. Finding someone who resonates with your belief system (no christian counseling please – geez, is everyone pushing their christianity these days – oops angry words), fits in with your schedule and within your network and actually has time to see you is really difficult. Be patient and active, that's the mantra.
2. I am very much trying to own my emotions and to truly feel them, even if they are not entirely rational. Feelings are real, in any state and they shouldn't be pushed aside. I am very overwhelmed by the emotional state I am in right now, but am crying when I need to cry and expressing my feelings either out loud or with words so that I can embrace all that is me.
Remaining in control and not starting down a destructive path is very important, but so is feeling all of this in a safe supportive environment. I want to feel whole and happy and motivated and inspired.
3. It is time for me to embrace who I am. I am a little quirky, a little introverted, and a lot of other really great things too. I am who I am and although life is a journey of change and hopefully improvement, I am proud of the person that I am. It takes great strength to come from where I was to where I am and I need to stop trying to be what everyone else expects of me and just be me.
In that vain, I am going to stop pussy footing around on this blog and just say what I have to say. That's what this was supposed to be about after all, yet I have found myself tempering myself as to appear in a certain manner and by doing that, not really representing myself.
4. It is time to get my shit together and my life somewhat organized and working more smoothly. I am never going to find the time or energy to do whatever great things my future holds for me if I can't even handle what I have now. Now, I know that more time will naturally come and that I can't underestimate the demands of two kids 4 and 1, but there are self defeating patterns that I have propagated throughout my daily existence and it is time for those things to change. A little determination is in order and I am tired of feeling hopeless. Get moving.
When it comes right down to it, it is about feeling comfortable in my own skin. That is what I am working toward.
This is a classic Celtic cross spread using the major arcana and wands cards we have been using so far to get a little more detail about the state of my career.
The Layout
The Celtic cross layout is one of the most classic and popular layouts. It generally give you a good overview of the past, present, future and how you can expect things to go.
Here is the general layout
       3         10
 5     1     6    9
       2          8
       4          7
Shuffle the wands and the major arcana cards separately while asking your question.
Deal the top two major arcana cards into positions one and two. These two cards are a cover and cross duo (this is really hard to represent without creating a separate image), but use your imagination.
Deal the top four wands into positions 3 thru 6.
Shuffle the remaining cards together, again asking your question, until the cards are finished and then deal the top four cards into positions 7 thru 10.
Here is some detail about what each position means.
1. Covers You – The current situation
2. Crosses You – The challenge you will need to confront and overcome
3. Above You – The best you can hope for, given the current conditions
4. Below You – The past foundation that needs to be considered
5. Behind You – Something that just happened the is influencing the situation
6. Before You – Something that is just about to happen that is influencing the situation
7. Who You Are
8. Who they want you to be – represents all the people around you and what they want for you.
9. What You Want
10. What you get – The end result, the answer.
The Question: What can I expect from my career this year?
The Spread
1. Covers You – IV Emperor
2. Crosses You – XI Justice
3. Above You – III Wands
4. Below You – X Wands
5. Behind You – IV Wands
6. Before You – VIII Wands
7. Who You Are – V Wands
8. Who They Want You to Be – II Priestess
9. What You Want – VII Chariot
10. What You Get – VI Wands
The Answer
Right now you are dealing with strong personalities, high expectations and power plays. Be strong and resolved. You need to make your own decisions. Your challenge is to set the right priorities and then go for it.
Success lies in joint undertakings. You must overcome past defeats and get out from under the things that burden you. Just recently, you cemented a deal. Just coming up, you are tying up loose ends.
You are the one on the front lines, you have good skills. Others want you to give input and read their minds. You want to be recognized. You have the opportunity for career advancement.
The Cards
IV Emperor – Covers You (the current situation)
My take: Order, ruling over things. Things are laid out before you in a straightforward manner.
The card: Fathering, law and order, social responsibility, power and structure. You have great power, use it carefully and thoughtfully. Be careful not to misuse it as you may be seen as tyrannical.
XI Justice – Crosses You (the challenge you must face and overcome)
My take: The scales are balanced. The skies are dark, she is blinded and armored. Whatever is in the scales shines brightly. You may not see what you are seeking, but all is as it should be?
The card: Fairness, being too judgmental, fighting for those less fortunate. The blindness indicates an unbiased approach to situation.
III Wands – Above You (the most you can hope for if circumstances don't change)
My take: A man sits waiting on a rock as a ship sails in through the sky. The man is naked and vulnerable, yet surrounded by three rods, protectively. Something speeds toward you. You have the strength to handle it, but you must be patient.
The card: Waiting for signs of success and a return of your investment of energy. Beware not to become to wrapped up in initial success. There is still much work to do. The man is naked to show the purity of his intentions. You have chosen the path and set the wheels in motion and now must wait to see what happens next.
X Wands – Below You (past foundation)
My take: A naked man is crouched, 10 rods hovering above him. Very strong force of power. A triangle is at the top of the card, shining light down . His head is bowed as if in prayer or submission. Surrendering to situation, knowing you have done what you can and now it must play out on it's own.
The card: The man is weighed down by the obstacles, problems and crumbling of his idea. This plan may have run it's course and it is now time to look forward to new ideas. Beware of becoming a slave to your own ambition.
IV Wands – Behind You (just happened)
My take: The door is ajar, seen through the woods. Four towering wands surround the door. A fiercely bright light is just beyond the door. It's so close you can taste it. You have all the strength you need, just reach our and take what's yours.
The card: Stability, solid foundation. All plans and good ideas must eventually be acted upon or they just disappear. It is time to take action.
VIII Wands – Before You (coming soon)
My take: Eight wands fly through the air along with 8 doves. Things are in motion. Spirits are high and all is flowing well.
The card: High energy. Everything is clicking in high gear. You are inspired and can see your path clearly.
V Wands – Who you are
My take: Battle, Men with wands fight, stand guarded and ready against attack. You are armed and ready for the battle ahead.
The Card: There are several possible meanings to this card depending on the context. Most obvious is that there is a battle. Others include that the group is armed and ready to fight together, or they are ready to work creatively together. Each man is isolated from the rest of the group, indicating that the group is either fighting or working together from their own isolation.
II Priestess – What you are to others.
My take: She is mystical, psychic. She looks for higher meaning in things and finds comfort in the mystery of life.
The Card: The ability to tap into the subconscious and yet stay grounded in the present. It's a delicate balance. A withdraw from the norm of the day to day.
VIII Chariot – What You Want
My take: This is a swift moving card. There is a man in a chariot with two white steeds and they are riding a wave. There is a huge steel contraption in the background reminiscent of an oil rig. This grounds the card and takes away some of the otherworldly qualities. I feels of being swept forward and taken for a ride. But, you must make sure to remain grounded in real and secure things.
The Card: Confidence, willpower, pride, arrogance, youthful energy, anger, insecurity. The path has been contemplated and chosen and now it is time to set forth. The road is not set in stone and you must keep your eye on the ball and not be distracted by the emotional forces acting here. With the right focus and dedication, you have the willpower, energy and confidence to fully succeed. The oil rig represents the beginnings of creating our mental framework, of pulling up ideas and thoughts from our subconscious and beginning to turn those into tangible attainable products of the real world.
VI Wands – What You Get – Then end result or answer
My take: A man stands on a balcony, 5 wands holding him up, his arms held up in victory, a bright light shining from the top of the remaining wand, which he holds firmly. This is reminiscent or roman times. This man looks like a leader and definitely a victor.
The card: Victory, plain and simple. A moment of elation and enjoyment of your accomplishment is in order. Just be aware that this feeling is temporary and the wheel of fortune will soon begin to move again.
Reading Analysis
Well, it seems like things are going to start moving and that success is definately possible and even probable. There is a group aspect to what I will be doing, but maybe not directly. It indicates that the decision has been made and now it is time to move on it. This still confuses me as I don't know what decision has been made. A couple of things have happened over the last week or so. A friend of mine mentioned a part time web gig for a friend of hers that does cranial sacrum work and then I got this sinus infection (ouch and sucky) and did a bunch of research on holistic ways of approaching sinus infections, and from several other directions I am getting bombarded by the alternative medicine thing. I have a horticulture degree and herbology and holistic medicine have always been great interests of mine. It is worth looking into and exploring, but I can hardly say that I know for sure about that. If I know anything for sure, it is that I would really like to be a yoga instructor and that I don't want to do the web thing forever. With the yoga thing, i am a good year away from even having that discussion with my instructor so I can't see that this is it. The only thing I can think of is that the events of the last week or so have put something I'm not quite aware of into motion. I'm going with that.