This reading deals with our biggest flaw, the one thing that can undo us.
The Setup
This card will use the card determined in Reading #1 (for me, The Hermit) using numerology to find a corresponding fool in the deck.
These fools include the pages and knights of each suit as well as 0 The Fool and  XXI The World.
The Hermit corresponds to the Knight of Wands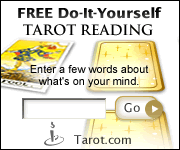 The Answer
You are a fool for the truth.  You are a slave to your never ending search for the true meaning in things.  People don't really get what your about.  This is a journey you must take by yourself.  Get away to sort things out and look out for those things that wil hold you back.
The Cards
I am going to examine both card and combine there meaning to get a little more insight.
The Hermit
My Take:  The Hermit represents looking inward for answers.  Taking time away to get a new perspective.  Seclusion in order to focus on accessing those parts of our mind not usually available to us.
The Card: Self imposed isolation.  Self examination in order to gain wisdom.  The hermit's lantern sheds light on the furthest recesses of his mind.   Sometimes this energy can turn into escapism.
Knight of Wands
My Take: Knights are not cards that generally show up in my readings so I am not really familiar with them.  This card seems rather aggressive.  An armored knight ride a fire breathing dragon and waves a fiery flag.    Words that come to mind: combative, pushing an agenda, keeping others at a distance.
The Card:  Knights are about doing.  This night is headstrong and impulsive.  He is extremely focused on his cause, a champion for his latest obsession.  But what cause he champions today could be very different from that which he champions tomorrow.  A task at hand requires intense focus and dedication to realize success.  Put the plans in motion.
Reading Analysis
It never ceases to amaze me how the cards can nail it time and time again.  I am a very self-reflective person, always striving to understand myself better.  I thrive in environments where I get to delve deeper and figure out the intricacies of how and why things work the way they do.  
I tend to prefer quiet solitude, almost to excess at times and I do use it to escape.  A few weeks ago, my therapist and I were discussing my tendency to run and hide when I start to feel that I am not performing to a certain standard or feel vulnerable.  This is a pattern for me that has repeated itself throughout my life, leaving me feeling like I can't trust my decisions or commit to anything in a really meaningful way.  There have been some exceptions and they usually involve places where I feel very successful.  But usually it ends up that these places that I am successful are simply really good hiding places.
A good example of this is my college experience.  When I started at the University of Washington, I was pre-engineering.  My class load was really tough and I didn't feel like I could keep all the balls in the air at a standard that was good enough.  I am an A student and getting BS just wasn't good enough.  I would go to my professors and they would tell me how great I was doing and that these were weed out classes and meant to be intimidating, but that I was doing very well and shouldn't worry.
But, I couldn't deal with it.  I found a way to justify to myself that I needed to choose a different major.  I chose well and have an amazing experience and my best friend as a result of this decision and I wouldn't necessarily take it back, but I ran away to a safe place where I knew I could be successful, and I was.  Very.  And then I ended up screwing that up too.
Even being a stay at home mom was an escape for me.  The world got to be too much and I retreated and what a safe, non-judgemental environment I have created for myself.  No one to answer to but myself, how convenient.
Good thing I'm in therapy right?
My weakness is that I get trapped in my head.  I over think things and freak out and run away and hide when I feel vulnerable.   My current cause – to figure myself out and slay the demons and grow into a better and more productive person who trusts herself and others more.   And in true knight of wands fashion, nothing can get in my way right now.  The difference is that I am determined to see this one through.  This has been really hard and extraordinarily scary, but I keep at it.
I have been thinking lately that a weekend away by myself might be a good idea and the Universe keeps pointing me in that same direction.  I think I will start to explore this in more detail.
So Dr. Laura is on Larry King right now discussing her new book "In Praise of Stay at Home Moms".  I have to say that I am a little confused about what to say about this.
I am more than slightly uncomfortable with the fact that Dr. Laura is the new spokesperson for stay at home moms.  Her traditional value system and outdated theories certainly don't represent me as a stay at home mom.
But with that said, I am glad that someone is speaking to and about stay at home moms.  I have said before that I feel very fortunate to be in the position to stay at home with my kids and I do, but it was a choice that we made for our family because we felt that was what was best for our family.
This was a very significant sacrifice for us and  we struggled financially for a long time.  But with careful planning, stategic budgeting and a lot of self control, we have been able to not only survive, but thrive in our situation. Karli has worked so hard to advance his carreer so that we can build our life and provide for our kids.
And now that the kids are getting  a little older there is an opportunity for me to remake myself professionally as well.  I put my career on hold to stay at home and it is undeniable that I would have been very successful by now in that career.  But, that doesn't mean that I can never work or build a new career for myself.  It just looks a little different now and for me that is the best thing that could have happened.  I feel like I am going to get my cake and eat it too –  a professional life that fits my lifestyle and the family life that we have chosen to build for ourselves.
Choosing to stay home has been the most rewarding and challenging thing I have ever done.  It isn't easy and I am certainly not lazy or stupid.    I have heard that this is a common perception, but I have never experienced that.  I work very hard and give of myself on an emotional level that I think is hard to understand or relate to unless you do stay at home.  But I also reap the biggest rewards and I think my kids do as well.
But, I also don't think it is productive to perpetuate the divide between stay at home and working moms.  We all work very hard to care for our children in the way that works best for our families.   My closest girl friends work outside the home and I have a great deal of respect for them and there choices just as they have respect for mine.
We often joke that we couldn't imagine how hard it must be to do it the other way around and I think that says that we have made the right choices for us.  Moms should support and respect each other, no matter what our circumstances are.
On somewhat of a side note…
A while back my step sister in law (is that the way I say it?) posted the article below on facebook.  I felt this was a pretty good representation and until now forgot how much I wanted to share this with you all.  Now seems like an appropriate time.  Click on the image to make it big enough to read.
As stay at home parents we are in a unique situation.  Our job takes place in our homes without the presence of bosses or coworkers.  Yes, we have friends and family, but really the only people who we really interact with in our jobs are our kids.  And the only outside person who really sees us in our jobs is our spouse.
This creates a lack of job performance recognition.  I have been feeling undervalued lately.  This is a rough time for us and although we are very lucky and blessed in our life, we are struggling right now.   
Although it is a lot of pressure, all the responsibility for lifting me up and making me feel valued and validated falls on my husband and this is a little much for him, I think.  Unfortunately, there is no one else to help carry this burden.  It is his to bear, and I am sorry for that.
I tried to give him an analogy to help him to understand.  I asked him to imagine that he went to work every day and no one there ever said he was doing a good job.  It would be awful for him, and I think that it helped him to see the reality of the situation.  This is our job and validation for being good at our job is just as important for us as it is for anyone else.
Unfortunately, now that I have spoken about it, we now struggle with how to provide me with the support I need without his compliments or statements sounding contrived and trite.  
The great thing is that we can have this conversation at all.  I feel very fortunate that I feel safe enough and loved enough that I can say that I need more from him.  That says a lot about the strength of our relationship.  Many don't have this situation and live alone with all this.
There is this catch 22 about being a stay at home parent.   At least for me, i feel guilty if I complain at all.  I made this choice and I am very grateful for it, but that doesn't mean that I don't have hard days, days that I wish I could crawl into bed and not get out till next week.  When you have a job outside the home, you come home and discuss the things that are going well and the things that are hard at work.  But when I do, i feel guilty.  I feel guilty for not enjoying every moment with my children, guilty for complaining about a choice that has been a huge sacrifice for our family, guilty for wanting more for myself.  And in response I usually get the suggestion that I go back to work.
I don't need to go back to work, I need two days by a pool with a foofy umbrella drink or ten.
It is impossible for those not staying home to fully understand the joys and trials that we face every day. There are moments of pure bliss and moments when you feel like you have completely lost all value and substance.  It is equally impossible for us to fully understand the stresses that working moms face trying to be and do it all and not feel like they are doing any of it very well.
The hard fact is that being a parent is hard.  It just is.
We need to support one another, husband and wife, parent and child, friend and friend.  We need to be compassionate and lift each other up and be there for each other, even if we aren't all the same or make the same choices or parent the same way.  
Hugs and kisses and flowers and all that crap.