I know that I have mentioned this maybe even several times in the past, but I just can't get over how powerful it is when the same information comes at me from several unrelated sources.  This always confirms for me that I am on the right track.  Lately this phenomena is happening everywhere I look and so gives me confidence that although I sometimes feel like I am dangling from a hook, struggling to find solid ground as life zooms past me, everything is happening as it should and it helps me to trust myself and allow myself to be present to the changes happening in my life.
Funny, that word changes.  In the forum they teach us to differentiate between changes and transformations.  Change is something gradual that you must apply will power and constant attention to to make it happen.  Transformation is instant, more like an immediate shift that sends you in a new direction.  These are the more powerful mechanisms for making significant differences in our lives and I have seen this in several areas of my life and now finally with my health.
I first saw this in action when I quit smoking.  We had heard of this book (The Easy Way to Stop Smoking
) that supposedly could help you quit smoking with little effort or withdrawals. Now, I had been a smoker for over 15 years and had quit and started countless times. My problem was that I liked smoking, no I loved smoking.   But, I hated being a smoker.   There is a very distinct difference there that I think most smokers can relate to.
So, we had heard stories of several people who had read this book and then simply stopped smoking forever. At this point what did I have to lose, so I gave it a try. Basically the book tells it like it is, separating you from your addiction and helping you to see how it is standing in the way and certainly not serving in any way at all. But the funny thing is that it is really more about the act of reading the book than even what the book says.   At the end they have this list of questions and if you can answer yes to any of them you need to start the book over.   It took reading the book twice to get through the list, but then I put down the cigarettes and haven't had another since and it wasn't even hard, like at all.    My best friend even looked at me the other night and said she can no longer even imagine me as a smoker.  Amazing.
Do you need to quit? Get the Book
!
The point is that it was my first introduction to the instant transformation I am talking about. It wasn't hard to quit like it had been the many other times I had tried. It was like something shifted and I just didn't need it any more. Quite the transformation.
Back when I was depressed and having regular debilitating panic attacks my therapist would tell me to differentiate and identify the depression and anxiety as separate from myself. "That's the depression talking".   It was amazing how quickly I started to feel better once I started doing this. I kept telling myself that it was just anxiety and depression and that what it was saying was not true and that I could keep going even though I thought my heart would explode out of my chest and it eventually just disappeared.  In the moment that I realized that I wasn't the awful person my depression told me I was, it just dissipated and I started feeling better and soon I was better.
At The Forum I learned to separate my stories from my actual experiences and found forgiveness and peace with my past.
Do you see a pattern here?
Well now it has reached my battle with my weight. I was noticing last week that my whole outlook was starting to change. But this didn't happen slowly over time with a lot of will power.   Yes, I have been thinking a lot about it and have made some changes to my diet and have obviously been working on the emotional aspects, but I was feeling really frustrated that it didn't seem how much I worked at it, I still wanted to the sweets and junk food and couldn't keep myself from eating it.  And I still had no desire to work out at all.
I hit my peak of frustration as I scarfed down a brownie on the way to therapy last Monday.   Two bites and I was feeling nauseous, yet I still ate the whole damn thing.  What is going on?
So I was talking to my therapist about it and she taught me how to differentiate this as well.  There is was again.  She recommended stopping when I felt these cravings and looking at them from another angle, identifying the intensity of the craving by giving it a number 1-10.   Then if you decide the number is high enough and eat the craved food, then identify how much satisfaction you got from eating it by giving it a number 1-10.
During this therapy session, something just clicked and since then I have been following her advice,  which has unfortunately taken the joy out of several sweat treats I was really looking forward to, and yet again transformation has happened.  Not perfection or magical weight loss, but a totally different outlook that seemed like it came out of nowhere.
I have been almost jonesing for exercise and food has lost its power over me. I am even down to just one Diet Coke a day, a miracle in and of itself.
It is just a craving and separate from myself.   That craving has nothing to do with my body's need for sustenance or nutrition or even something yummy to eat — it is emotional and completely separate.
I think this is part of the message the Jon Gabriel is trying to convey to us.   Just give your body what it needs and realize that you are emotionally separate from your need to eat and your body will start asking for what it needs and giving back what you want from it.
The real test will be how this plays out over the next couple of months.  Please let the weight loss finally come.   I create this possibility for myself and for all of you too.
Buy the Gabriel Method Book Now!
.
Last week I spent three very long grueling days transforming my life.  It may seem a lot to ask to completely transform your life in three measly days, but it happened.  They said to commit to the process and it would happen, and it did.
I saw some amazing things.   I watched men open up and accept their vulnerabilities even though they were completely closed off when they arrived and women face their fears and insecurities head on with bravery and grace.  I have never been part of something so intimate with a group of 130 people, all of whom supported and surrounded each other with love through a very trying couple of days.
I went to the Landmark Forum really unsure of what it was I was supposed to gain from it.  A lot of people go to have breakthroughs in their relationships with parents, children, friends and/or spouses or with their health or business.  I needed all of those things and so didn't enter with a specific goal in mind.  I just knew that my life wasn't working the way it was and after seeing the change in a friend of mine who recently went through it, I knew I wanted some of whatever he was taking.
What I ended up learning is that all those areas of my life that needed changing were all tied up in the same underlying issues.  I needed to take responsibility for my own life.  I had blamed my parents for everything bad that had ever happened to me and even for my persistent unhappiness.  This impacted every area of my life and held me back from getting anything done.  I learned to differentiate between the actual events that happened and my interpretations and stories that I built up in my head as a result.
It's not that bad things didn't happen, they did.  But my parents were just doing the best they could with what they had to work with.  They had their own shit to deal with and their own demons haunting them.   But, the feelings of not being worthy and not being good enough were completely separate and only the stories that I had created.  This realization alone lifted 10 tons off me.  I didn't have to let my stories control me any longer.
This was a lot easier said than done for me.   Let me just say before I go any further that I had a certain type of experience and everyone else there had their own experience.  Please don't be scared off by the following information.  I am an extreme case, not everyone had the issues to deal with that I did or the built up emotions to clear.  Each experience is as different as the individual.
OK, here we go.  I started crying Friday morning and didn't stop until late Saturday afternoon.  I kept apologizing and laughing with the people around me because I couldn't get the tears to stop, they just ran in a steady stream down my face no matter what I did.  I would get a small break and then she would mention the word empowerment or opportunity and there they would go again.  I never dreamed it would be so difficult for me to grasp onto the possibility that I deserved to be a powerful person with unlimited possibilities.  My mind and body fought this process tooth and nail, yet I persevered.
But after speaking with my Mom on Saturday afternoon, I got up and shared this very powerful conversation with the group.  I was almost giddy and no longer crying.   By taking responsibility for my own life and releasing the anger and resentment, I had cleared up a ton of space in my life that was formerly filled with nothing but garbage.
I even came home with the full intention of calling my dad, who I haven't spoken to in 17 years.  A lot of work finally got me to a point that I have forgiven him and realize that his actions can no longer have any impact on my life.  I even think I might want to have some sort of relationship with him, if that is possible.
So I woke up Sunday morning and got sick three times, then I dialed the phone with the full intention of speaking to him when he picked up the phone.  I was going to tell him that I am doing great and that I accept him for who he is and forgive him.  I was also going to take responsibility for the fact that I made some decisions I am not that proud of and didn't treat my parents very well, but that all that is in the past I am hoping that we can start over and get to know each other.
Unfortunately, the phone was disconnected.  God, I was pissed.   All these years and all this pain and I finally get to this point in my life and he wasn't there.   I didn't need to puke any more, but was I mad.  I marched in there and got up and told what had happened.  Our leader Angie did an amazing job of bringing me down and reminding me that what happened was the phone was disconnected and that was it.  " He wasn't there" and "I have spent so much of my life wasting time getting to this moment" was all my stories.
For all I know, he got a cell phone or didn't pay his phone bill.  I really don't know anything about his situation, but I do know that I called and intended to talk to him and that means that I am officially "in the game" and she congratulated me on that.  She also mentioned that I needed to stop holding all my emotional stuff in my physical body and that I might be amazed what physical problems I have disappear now.  Hmm, haven't I heard that somewhere before?
That was when it happened for me, my transformation.   I have spent my entire life completely wrapped up in my stories.  So much so that they appeared to be all there was.    I was terrified if I even let up for a second that I would just crumble into little pieces on the floor and there would be nothing left of me.  But that was just another story,  I am better than ever and still me, just a little more emotionally light.
When I got home on Sunday night, I was bigger than life.  I almost felt high, ready to conquer the world.  Just sitting with my husband caused him to panic a little.  It was just me with him, fully  myself and present and that is surely something he is not used and maybe has never even seen with me.
At the Landmark Forum, I created the possibility for my self and my life of being whole and present and responsible for my life and my actions.  In doing so, things started happening right away.  At dinner on Sunday night with my cohorts at the Forum, I was fully present and confident when speaking about my business, free of thoughts of not being good enough or worthy of success, and almost everyone at the table asked me for my information (definitely time to order business cards).  On the way home that night, I was telling the young woman I drove home about the experience and she jumped in with the information that her boss needed some advice on his website.   The following day, I responded to two inquiries for small websites and received an email from a designer friend of mine asking if I wanted to work on a project with her.
Even if none of these interactions turns into anything my outlook on my business has changed completely, and this wasn't even something I was looking for out of attending this workshop.   I know now that I have something good to offer and that a potential client choosing to do business somewhere else doesn't mean I'm a failure.  It just means they decided to go with somebody else.  I just have to put myself out there and be present and genuine in the moment.  And of course build kick ass websites.
This week I have been with my children fully and openly, I think for the first time ever.   I was so concerned with my own stuff that I don't really think that I could be present to their lives.  I realized that they are not extensions or reflections of me or my parenting.  They are their own little beings and my job isn't to mold them to force them to be a certain way, but to be with them and stand up for them and be present, I mean really present to their unfolding and growth.   This is a pretty powerful thing and has changed the way I will interact with my children forever.  The whole first day, Ada kept looking at me like an alien had taken over her mother.  The second day, she just hugged me and hugged me and hugged me.   The tears come just thinking about it.
Now, a week later, life has returned to somewhat normal and I sit comfortably in this warm pool of uncertainty, something that would have thrown me into a panic attack just a week ago.   Clearing up all this garbage from the past leaves a lot of clarity and even more empty space, something a little unnerving at first.   What happens next is yet to be seen, but I look forward to tomorrow and for now that is enough.
With all that said, there were a few things about the Landmark Forum that bothered me a bit.  They get really into selling your friends on the forum.  They do this in a fashion that makes you think that this is not what they are doing, but they are.  I think that the final night would have been a lot more meaningful and even a more powerful sales tool if they had concentrated more on what people got out of it and less on why your guests should sign up for it.
I knew this was coming, although it was more than I even thought it would be, and prepped my guests for it.  One of the issues I had was that I never asked for help or support and therefore made it virtually impossible for anyone to feel like they could support me in a meaningful way.  So, it was important for me to ask for my mom and friends to be there for me and for me it was nothing more than that.  Of course, I feel that they may get something out of taking the workshop, but they are grown ups and fully capable to discerning that for themselves.
I have read a lot of "cult" comments on the internet and people saying it was fun, but not life changing and people put off by the enthusiasm of the staff, but I too am a grown up and capable of thinking for myself and making my own decisions and my advice would be like with most things in life, you take what you need and leave what you don't.  Like I mentioned at the beginning, there were all kinds of people there from high school students to stay at home moms, from teachers to CEOs, everyone there for there own reasons and getting only what they got from it.
I found it really interesting that a lot of the concepts were similar to ideas I have been getting from all different directions.   Lately it seems that everywhere I look, even in completely unrelated places, the same information is coming to me.   For me that means that I should be listening.
My experience was very intense and extremely rewarding.  I have a new outlook on life and a whole lot less crap to carry around with me.  All in all a good thing and I am looking forward to the advanced course in October.
Well, nothing earth shattering here but I thought it might be time that I post some photos. This is really hard for me, putting myself out there for the world to look at, but what the hey — here we go.
As I have said many times, I am not all of a suddenly skinny nor have I dropped three pant sizes, but I do feel different and my body is starting to change and I think that the pictures show some of that.
Get The Gabriel Method Book Now!
It's funny how many things are pointing me in the right direction.  Hmm that's funny.  I tend to write in stream of consciousness and then come back and edit and rewrite.  What I meant to say was "the same direction" but what I wrote was "the right direction".  Guess that tells me something in and of itself.
Lately it seems like my whole life is interconnected like a big web instead of being all these disconnected legs like it used to be.  Information from all different directions is correlating and relating in uncanny ways.
We talk about something at therapy and then I come home and read a totally unrelated novel before bed and the  story relates directly.
I read something in The Gabriel Method
book and then later find an author in my The Mystery Of 2012
book talking about something directly related.
Conversations are overlapping.  I am having a lot of those moments where you say "Wow, I was just talking/thinking/reading about that earlier".
I think that this is an excellent sign that I am moving in the right direction and doing the right things.  I believe that when the universe speaks so directly to you it is very wise to listen carefully and to learn more.
Over this last week I have been noticing some subtle, yet important, changes in the way I feel. Because the emotional and self perception issues are so huge for me, I have vowed not to weigh myself or even measure myself until October. I am letting go of numbered results and concentrating on how I feel and healing myself.
Over the Memorial Day Weekend I had a big breakthrough on becoming comfortable with my body as it is.  I even stated out loud that I would be fine to stay this way forever as long as I didn't gain any more,  a very important step according to Jon.  I have listened to the CD before going to sleep every night except one over the last two weeks and have changed the way I do the visualizations.
When I visualize the following days, I concentrate mostly on being happy.  I say "Tomorrow I am going to be happy".  I say this several times and then I see myself doing any really important things I have to get done the next day as well as the habit I am working on right now.  Right now that is remembering to take my supplements.  I also try to fit in the love, appreciation and forgiveness visualizations that Jon describes whenever I can or is appropriate.  As I result I have been feeling a lightness around me, happier, more patient, more feelings.  I even feel more productive in a different way than usual and I find it hard to explain.
I got the idea to change the focus of my visualizations from a book I am reading right now on the 2012 prophesies (The Mystery Of 2012
).   The book is a compilation of essays and book excerpts by many of the people who are studying these prophesies.   All angles are covered, everything from physics, astronomy and archaeology to spiritual and astrological perspectives.  
Although some of the articles are quite dense and others are a little far fetched, it has been really interesting to explore this time we live in as a time of significant change.  One of the essays that is about spirituality talks about being happy versus being good and how being happy and radiating unconditional love into the world (things Jon also encourages) can transform us not only as individuals but also as a global society.    Here are several quotes from the essay "Wild Love Sets Us Free" by Gill Edwards
that helped me change my perspective a little and concentrate my energy more on joy and love and less on being good or bad.   I am hoping I will get a chance to read more from her.
Most of us have internalized a cold, critical, repressive inner voice…that tells us how to behave, constantly criticizes us, keeps our noses to the grindstone, and squashes or denies our true feelings…  To the extent that we give our power to this inner judge, we are tamed and locked away.  We feel trapped and disempowered…The inevitable result is anxiety, depression, physical illness, dysfunctional relationships, or a pervasive joylessness that we cannot explain. — The Mystery of 2012 p. 245
This just struck me like a brick to the head.
Whenever we split the world into good and bad, conflict and neurosis are inevitable.  Our energy becomes split or divided.  Whenever we pride ourselves on saying "no" to a cream cake, working through our lunch break, or pleasing our partner at the expense of our own feelings, we are bowing to the old cosmology.  Trying to be good stems from a dualistic way of thinking.  It is based upon judgement, or conditional love.  It fuels self-righteousness, which means someone is "in the right" and someone else is "in the wrong"–some part of self is right (the judge within) and another part is bad and wrong (our feelings, thoughts and desires).  This inner conflict will be mirrored in conflict with others.  Splitting ourselves internally leads to projecting our shadow onto others…This dynamic creates a huge proportion of the misery in the world and blocks our natural ability to love with an open heart and speak honestly without blame or defensiveness. — The Mystery of 2012 p. 248-9
She goes onto discuss how this can effect us as a whole society and even globally. Our outlook and attitude effects the world around us. Why not give love and positive creative energy to the universe rather than negative unproductive energy. Maybe if I learn to love unconditionally and be truly happy I will also be able to improve the communication in my marriage and be more patient with my kids, have more tolerance with others and less judgement bringing positivity not only to myself but to everyone I interact with.
When we aim to be happy…we give off vibrations of self-love, self-worth, and appreciation, and our relationships mirror this by becoming deeper, happier and more authentic. In other words, much of what we have been taught about "what love means"–self-sacrifice, putting others first, being loyal to others at the expense of our own feelingz or authenticity, or feeling entitlex to have others behave as we wish them to–actually leads us away from loving relationships and into the twilight prison of codependency. It leads us toward tame love, which constantly slips into toxic cycles of control and sacrifice, blame and guilt. Tame love splinters our awareness and strangles our potential. It holds us hostage… — The Mystery of 2012 p. 250-1
I started to think that creating a life that not only makes me happy, but also makes my family and friends happy and leads to living an authentic and giving life, may lie in my happiness, that I have the ability to create change and improvements by loving myself and radiating love outward.
Instead of seeing life as a harsh training school for wayward souls, or a karmic wheel from which we might eventually escape (if we are good or lucky enough), or merely a statistical accident with no inherent meaning or purpose, we instead see life as a wondrous gift. We are not here to be good or perfect. We are not here to prove ourselves worthy. We are not here to serve others (at our own expense) or to save the world. We do not have to earn or deserve love. We do not have to "behave well" or conform to external rules and expectations. In a loving universe, we can relax. We are safe. We are worthy. We are loved without condition. We are cosmic voyagers on a magnificent adventure in physical reality and…we can have, do, or be anything we wish. No limits. No strings attached… The key to doing so is unconditional love–for self, others, and the world. — The Mystery of 2012 p. 256-7
It sounds a little idealistic, even to me, but that is a world I would like to live in. A peaceful, loving, accepting world where we live together with respect and love for one another.
Buy the Gabriel Method Book Now!
This reading deals with our biggest flaw, the one thing that can undo us.
The Setup
This card will use the card determined in Reading #1 (for me, The Hermit) using numerology to find a corresponding fool in the deck.
These fools include the pages and knights of each suit as well as 0 The Fool and  XXI The World.
The Hermit corresponds to the Knight of Wands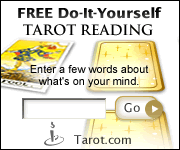 The Answer
You are a fool for the truth.  You are a slave to your never ending search for the true meaning in things.  People don't really get what your about.  This is a journey you must take by yourself.  Get away to sort things out and look out for those things that wil hold you back.
The Cards
I am going to examine both card and combine there meaning to get a little more insight.
The Hermit
My Take:  The Hermit represents looking inward for answers.  Taking time away to get a new perspective.  Seclusion in order to focus on accessing those parts of our mind not usually available to us.
The Card: Self imposed isolation.  Self examination in order to gain wisdom.  The hermit's lantern sheds light on the furthest recesses of his mind.   Sometimes this energy can turn into escapism.
Knight of Wands
My Take: Knights are not cards that generally show up in my readings so I am not really familiar with them.  This card seems rather aggressive.  An armored knight ride a fire breathing dragon and waves a fiery flag.    Words that come to mind: combative, pushing an agenda, keeping others at a distance.
The Card:  Knights are about doing.  This night is headstrong and impulsive.  He is extremely focused on his cause, a champion for his latest obsession.  But what cause he champions today could be very different from that which he champions tomorrow.  A task at hand requires intense focus and dedication to realize success.  Put the plans in motion.
Reading Analysis
It never ceases to amaze me how the cards can nail it time and time again.  I am a very self-reflective person, always striving to understand myself better.  I thrive in environments where I get to delve deeper and figure out the intricacies of how and why things work the way they do.  
I tend to prefer quiet solitude, almost to excess at times and I do use it to escape.  A few weeks ago, my therapist and I were discussing my tendency to run and hide when I start to feel that I am not performing to a certain standard or feel vulnerable.  This is a pattern for me that has repeated itself throughout my life, leaving me feeling like I can't trust my decisions or commit to anything in a really meaningful way.  There have been some exceptions and they usually involve places where I feel very successful.  But usually it ends up that these places that I am successful are simply really good hiding places.
A good example of this is my college experience.  When I started at the University of Washington, I was pre-engineering.  My class load was really tough and I didn't feel like I could keep all the balls in the air at a standard that was good enough.  I am an A student and getting BS just wasn't good enough.  I would go to my professors and they would tell me how great I was doing and that these were weed out classes and meant to be intimidating, but that I was doing very well and shouldn't worry.
But, I couldn't deal with it.  I found a way to justify to myself that I needed to choose a different major.  I chose well and have an amazing experience and my best friend as a result of this decision and I wouldn't necessarily take it back, but I ran away to a safe place where I knew I could be successful, and I was.  Very.  And then I ended up screwing that up too.
Even being a stay at home mom was an escape for me.  The world got to be too much and I retreated and what a safe, non-judgemental environment I have created for myself.  No one to answer to but myself, how convenient.
Good thing I'm in therapy right?
My weakness is that I get trapped in my head.  I over think things and freak out and run away and hide when I feel vulnerable.   My current cause – to figure myself out and slay the demons and grow into a better and more productive person who trusts herself and others more.   And in true knight of wands fashion, nothing can get in my way right now.  The difference is that I am determined to see this one through.  This has been really hard and extraordinarily scary, but I keep at it.
I have been thinking lately that a weekend away by myself might be a good idea and the Universe keeps pointing me in that same direction.  I think I will start to explore this in more detail.
A while back a dear friend of mine from my former life reached out to me on facebook.  After reading my blog, he mentioned how much I had changed and how somehow I was still that girl he used to know.  I have to admit I am curious what exactly he meant by that.  
What a unique perspective he has.  To have known me so well at a time when I was so young, so broken, so sad.  I hope that the things he remembers about me are the good things and that those might not have changed and that he can forgive me.  
Seeing all these people on facebook from a time in my life I now refer to as the dark years has brought up a bit of stuff for me.  It reminds me from time to time of the mistakes I made, the people I hurt and the pain I felt.  But, the vast majority of the memories are of small moments, kindness, good times, adventures, lessons learned and love.  It makes me nervous to reach out to those who may only remember my transgressions or worse, not remember at all.
Thank you for influencing me and helping  me and loving me and leaving me.  Each one of you contributed to my ability to come out the other side, prepared me for all the joys and challenges that lay before me.  I learned so much from you and the glimmers of light find a warm home in my memory and heart.
A rescued eyelash
A mixed tape from a foreign land
A safe place when I needed one
A back rub, bubble bath and talks into the wee hours of the night
A hero in my darkest place
A car dance and a sing along
A fit of giggles to rival no others
A strong and kind voice when I really needed one.
To each of you who crossed my path, entered my life, spent time with me, held my hand and left or were left behind.  Thank-you and I'm Sorry.
I took on the responsibilities and consequences of adulthood very early. I thought for a while that this made me grown up. But in reality am I still just a whiny spoiled child?
They talk about the entitlement issues with today's youth and I see all the problems this causes and try very hard with my own children to instill a sense of responsibility and understanding of where things come from and working hard for the things that we have. I also want them to know that working hard is rewarding in and of itself. I feel that we model this the best we can to them and that this will become more and more important as they grow up.
But I can also relate to that entitlement. Not in that I shouldn't have to work hard for it, but shouldn't I be able to follow my dreams too? Must I sacrifice everything? Is there a middle ground?
I think that finding that middle ground is what being a grown up is about. Finding a place where I know myself well, do something I love and still have the energy and commitment to provide a healthy and happy upbringing for my children. This is my quest.
But will I ever be satisfied? Is satisfaction the goal? Oh, I don't know.
Well, I have had another very emotional day.  It's amazing what small things can bring me to my knees these days.  Just yesterday,  I was feeling so good.  I was feeling strong, I was sleeping well (well better anyway), I was having fun with the kids, I felt in control and like progress was being made.  And today, I am back to a puddle of tears and anxiety.
Why is it that I allow something so inconsequential to get me so riled up?  Probably because it isn't inconsequential.  Not because of the specific situation but because of the feelings of loss that it brings up in me.  Loss is a very sad emotion.  It's one that I'm not sure I have ever fully addressed.
The good thing is that I am feeling the sadness, boy am I feeling it.  And it is all muddled with anger and resentment and the need to slug someone in the gut.  The problem with this kind of emotion is that it interferes with everything.
It seeps into all the little crevices of your life and start to mess with you.  It's just wrong.  But it needs to be done.  Opening a nest of pent up emotion is a scary thing and not always the most pleasant for those that you love, but it needs to be dealt with.  I have no choice to but face it all and look it directly in the eye.  Be brave.  Be brave.  Be brave.
I also know what needs to be done to put all this current messy business behind me as well, but doing it is also pretty scary business.  I am wired for flight and turning to face my fears is not something I do with ease.  I am a person who has walked through life in fear.    Not any more.
Sometimes what needs to be done, just needs to be done.  Sometimes there is no salvaging it.  And sometimes, even if you could salvage it, that isn't the right or best thing to do.  I am done with situations that are not healthy for me.  I am done pushing my true self aside to please others.  I am done feeling bad about who I am.  I'm just done.  I want it over with.  I am ready to move on.  Too bad that all comes with a bunch of ugly consequences.
Just for the record, this has nothing to do with my marriage.  Karli is my rock and I would be huddled in a corner right now if it weren't for him.  He is everything a husband should be and so much more.  I wish everyone had the opportunity to walk through life with their soul mate.
Someone told me something really important once and I repeat it to myself often.
I have everything that I need and I am getting better and better every day.
I am grateful and hopeful and full of love.
If your read my post, you have probably figured out that I have having some sort of psychotic break. No no, just kidding. But, I am going through a pretty difficult time. The whole reason I started this blog was to work out why I am feeling so lost and figure out who I am in this new life that I chose.
A couple of weeks ago, a minor incident caused a huge upset in my life. My disappointment and hurt feelings transformed into misdirected and overinflated anger and caused me to stop for a minute and consider what was really going on.
What I said in the post about not letting things build up because years of frustration and pain are really hard to deal with all at once is so true as I feel that much of the intensity of what is happening with me right now comes directly from hiding from myself and my issues for so long. But, there is more than that at work.
Over the last couple of weeks I have done some serious soul searching and have determined a couple of things.
1. It is time for me to find a good therapist. I spent a couple of years when I was younger in therapy to deal with my issues surrounding my parents divorce and also to try and eliminate some pretty self destructive behavior. Although this was crucial to my current success in life, what I learned to do was to set the bad feelings aside and concentrate on the good feelings.
This is sort of the foundation of cognitive-behavioral therapy, which is one of the most common forms and although I can not be certain, I assume the type of therapy I received so many years ago. They take the negative behaviors and circumstances and change the way the you look at them and think about them in a more positive way.
"The objectives of CBT typically are to identify irrational or maladaptive thoughts, assumptions and beliefs that are related to debilitating negative emotions and to identify how they are dysfunctional, inaccurate, or simply not helpful. This is done in an effort to reject the distorted cognitions and to replace them with more realistic and self-helping alternatives." – Wikipedia
This is extremely effective in increasing a person's ability to function in the real world and lead a productive and positive life and may definitely be enough for many, if not most, people. And, as I said, I owe a lot to this type of therapy, which enabled me to put aside the anger and hurt and move on with my life.
But what I am feeling now is like I put all those feelings and consequently most of the negative feelings I have had throughout the subsequent years into a drawer and closing it, seeking to avoid slipping into those hurt feelings and negative emotions, no matter what they involve. The drawer squeaks open now and then and I shove a couple more things in and then close the drawer again.
Well, now the drawer is so full that it won't close any more. It is now time for me to figure out how to empty out the drawer and deal with, live with, or get rid of whatever is in there.
I have been working on finding a therapist since the day, but this is definitely easier said than done. Finding someone who resonates with your belief system (no christian counseling please – geez, is everyone pushing their christianity these days – oops angry words), fits in with your schedule and within your network and actually has time to see you is really difficult. Be patient and active, that's the mantra.
2. I am very much trying to own my emotions and to truly feel them, even if they are not entirely rational. Feelings are real, in any state and they shouldn't be pushed aside. I am very overwhelmed by the emotional state I am in right now, but am crying when I need to cry and expressing my feelings either out loud or with words so that I can embrace all that is me.
Remaining in control and not starting down a destructive path is very important, but so is feeling all of this in a safe supportive environment. I want to feel whole and happy and motivated and inspired.
3. It is time for me to embrace who I am. I am a little quirky, a little introverted, and a lot of other really great things too. I am who I am and although life is a journey of change and hopefully improvement, I am proud of the person that I am. It takes great strength to come from where I was to where I am and I need to stop trying to be what everyone else expects of me and just be me.
In that vain, I am going to stop pussy footing around on this blog and just say what I have to say. That's what this was supposed to be about after all, yet I have found myself tempering myself as to appear in a certain manner and by doing that, not really representing myself.
4. It is time to get my shit together and my life somewhat organized and working more smoothly. I am never going to find the time or energy to do whatever great things my future holds for me if I can't even handle what I have now. Now, I know that more time will naturally come and that I can't underestimate the demands of two kids 4 and 1, but there are self defeating patterns that I have propagated throughout my daily existence and it is time for those things to change. A little determination is in order and I am tired of feeling hopeless. Get moving.
When it comes right down to it, it is about feeling comfortable in my own skin. That is what I am working toward.