Wow, this is a tough one. I don't really have anything going on right now to profit from. I am starting to take on some freelance work, but nothing serious until the fall probably. Hmm, well I guess I will ask what is coming that would be financially beneficial to me.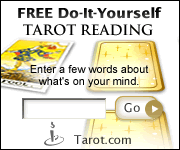 The Layout
This is a celtic cross reading.  This reading will take a comprehensive look at the financial future.
I will be using the I-X Major Arcana Cards and I-X of Coins for this reading.
Shuffle the major arcana cards while focusing on the questions and then deal out the first two positions.
Shuffle the coins cards while focusing on the same question and deal out the top four cards into positions 3 through 6.
Combine the remaining coins and major arcana cards and shuffle them together, again concentrating on the sames question and deal out the top four cards from this pile into positions 7 through 10.
The Question:  What opportunities are coming that I will profit from and how much will I profit from them?
The Spread
1. Covers You (current situation) – XI Justice (in some decks this is VIII and I have swapped them for the purpose of this self inventory)
2. Crosses You (challenges) – VII Chariot
3. Above You (what is possible) – IX Coins
4. Below You (how you got here) – VII Coins
5. Behind You (recent past) – III Coins
6. Before You (what's next) – VIII Coins
7. Who You Are – IV Emperor
8. Who They Want You to Be – II Priestess
9. What You Want – VI Lovers
10. What You Get – X Wheel
The Answer
Make sure you put the time in to thoroughly research the opportunity.  Crunch the numbers and weigh the possibilities.  The answer will not be completely clear, you must ultimately decide.  Look deeply for the answer.
You must enter into this opportunity with enthusiasm and energy.  Make full use of your resources and care well for those things trusted to you.  This has grown out of something you were formerly successful with.
Just recently money was handed out and will be repaid with interest in the near future.  You will remain in control of the situation while others hope that you will solve their problems.
Although you would like to be presented with an exciting offer right now, this is what is needed in your life right now and good or bad the risk is taken.
The Cards
XI Justice
My Take:  An Armored woman holds a set of scales.  She feels for what side is weighted more heavily.  She is without eyes to ensure her lack of bias.  The sky is dark and stormy, her sash blows in the wind.   She is armed against harm and unnerved by the turmoil around her.  It is a trying time and every angle and option must be adequately examined. 
The Card:  Your values and judgements will drive you to change the world around you for the better.  You believe in the underlying fairness as a part of what makes us human.  Be careful not to be too judgemental.  The scale has become one with the judge so that she is the one handing out justice. She has no eyes, showing her complete dedication to being evenhanded and unbiased.
VII Chariot
My Take:  This card always reminds me of charging forward.  The strength of this card is profound.  There is also a balance between riding the wave of life within the structure and constraints of our lives.   The power of the forward motion is hard to control and your inner strength is needed to keep it in check.  You have a firm foundation to build on and are ready to take the next step.
The Card:  You are ready to set off on your journey.  The horses represent the unbridled energy driving forward that must be guided and controlled by the charioteer (you).  You are confident in your abilities but must be careful of being arrogant.   But don't fret, you are correct that you are well prepared and aptly capable of taking this journey and surpassing any obstacles that come up.  You are beginning to lay the framework to build your future on.
IX Coins
My Take:  This seems like a peaceful card with the doves and all the flowers.  A young woman tending her garden, building a comfortable home life.  Her dress is very conservative and traditional which says to me that this deals with the more traditional roles and values of home life.  I can't help but feel something unsettling about her.  The coins surround her like an arch.  This card is saying to me that there is an investment in the traditional home.
The Card:  The lushness of the garden, the abundance of blooms indicates that you have done quite well creating a comfortable environment.  You have worked hard and enjoying the spoils.  This is a peaceful time.  Be careful not to retreat to far into your own world.
VII Coins
My Take:  The coins on the tree are like fruit, hanging low and ready for the taking.  She has traveled far to fill her baskets with the fruit.   The land is lush, the sun rising.  She rests before her harvest.  It feels like you have worked hard and now it is time to gather and save the money you've made.
The Card:  This card is about patience.  She is waiting to harvest the fruits of her labor but is waiting for the time of peak ripeness.  Timing can be everything in business.  This card could also mean that you have nurtured something and now it can grow on it's own.  The woman can also be seen as at a crossroads, deciding what the next move should be.
III Coins
My Take:  This cards speaks to me of artisan work.  A man is blowing glass.  Working with your hands.  Using your creativity and ingenuity.  He is confident in his task and a master of his trade.
The Card:  The glass blower is a master of his craft through hard work and experience and now deserves the respect he receives.  Taking raw materials and creating something beautiful and refined from it.  You have attained mastery in your field.
VIII Coins
My Take:  A man tinkers with a mechanical device.  There are extra parts, plans and books all around him indicating he is still learning and has not yet mastered his trade.  This work is slow and meticulous.  A detailed approach is necessary.  
The Card:  This is time to work slow and steady toward the goal.  This is not time for grandiose schemes.  Rewards will come from dedication and hard work.
IV Emperor
My Take:  Structure and order.  He is building the world he sees in his mind.  He is the master of his domain.  He takes great pride in and is very protective of the world he has created.  Beware of judgement and dominating behavior.
The Card:  Fatherhood, leadership, structure, order.   Social responsibility and tyranny.  This is the card of social constructs.  Although these powers can be misused they are integral and necessary in our lives.  Power is no inherently good or evil but inevitably a mix of both.  Take hold of your own power and use it wisely.  Look for the potential order in your task.
II Priestess
My Take:  This is the card of psychic abilities, of looking inward for answers.   Trust your gut, you know the answers you seek.
The Card:  You must be delicate in approaching the subconscious.  If you meditate and focus your energy on the answers you seek and are open to seeing what your intuition is trying to tell you, you may just get a glimpse.  The priestess' energy is a calming one, as one feels when they trust themselves.  You are reaching toward wholeness.
VI Lovers
My Take:  This is a passionate card.  The feelings of this are are intense.  The lovers are joined, almost becoming one, losing oneself in another.  
The Card:  A relationship of any kind, but mostly love relationships.  Sharing ourselves with others. Considering other points of view.  Be honest and above board, consider the other side in this situation.  The attraction of opposites.  The beginning of a new creative relationship.
X Wheel
My Take: This card shows a mechanical wheel with the signs of the zodiac all around.  This card always reminds me of the wheel of time in that it is always moving forward.  Time continues to go by no matter what is happening in our lives.  Change comes whether we like it or not.
The Card:  This card represents the feeling we have sometimes that our lives are being steered by some mechanism, that we have little control.  Although it may seem that we have no control sometime, there are always things in our lives that we can control with a little creativity and determination.  We must remember that this control and power we wield over our own lives is that which keeps from being vulnerable to others.  The wheel card can represent a feeling of helplessness but it also means that there is change coming, and that is a reason to feel hopeful.
Reading Analysis
The answer section of this makes me think of something I have been considering lately.  A month or so ago, I heard a story on NPR about micro philanthropy and the new ways that people are looking at philanthropy.  He discussed an organization called Kiva.  They enable individuals to provide micro-loans to business owners, individuals, and loan coops around the globe.  The payback rate on these loans are incredibly high and after hearing about it seemed like something I would like to check out.  I did a little due diligence and registered at the site, but haven't taken it much farther.  
From the cards here, it appears this might be something worthwhile for me to pursue.  It also makes sense as it talks about how, although I might like for there to be something big and exciting coming, that these things I can do to take care of myself and others may have a bigger impact.   There may not be a monetary profit, but I think I might be more in need of emotional profit anyway.  It will be good to help people help themselves.
The cards are also telling me that change is in the air, and I always view that as a positive thing.
I also feel there are some things to be said here about my freelancing business, but really, I'm just not in the mood to think about that right this minute, let alone discussing what may or may not get done in the future.
This reading will be using the major arcana and cup cards we have been examining lately to take a looker depth at one of my relationships.
The Layout
For this reading I will be using the .
The cards in play are…
I-X of Cups
I-X of Trumps (Major Arcana)
Shuffle the cups and major arcana cards separately while concentrating on the question. Deal the top two major arcana cards into positions 1 & 2 (see ). Deal the top four cups into positions 3 through 6.
Shuffle the remaining major arcana and cups cards together while concentrating on the question. Deal the top four cards into positions 7 through 10.
The question: How will my relationship with my new therapist go?
The Spread
1. Covers You (current situation) – I Magician
2. Crosses You (challenges) – V Faith
3. Above You (what is possible) – VIII Cups
4. Below You (how you got here) – I Cups
5. Behind You (recent past) – IV Cups
6. Before You (what's next) – III Cups
7. Who You Are – VII Chariot
8. Who They Want You to Be – IX Hermit
9. What You Want – II Priestess
10. What You Get – X Wheel
The Answer
You are taking a deliberate action. You have a strong desire to be in control. A magical moment is happening. You must commit fully and play by the rules for the relationship to last. You may be tempted to walk away.
This relationship formed suddenly. There is an instantaneous connection.
Just recently you listened to your gut. Coming up there is a celebration.
You make the moves and they want you to tell the truth. You want this to feel right and know that you made the right decision.
You will get out of this relationship what you put into it. It will have it's ups and down, but is an honest, real relationship.
Sounds like the relationship I would like to have with a therapist. It shouldn't always be easy, but it should be honest and the connection is essential.
The Cards
X Wheel – Covers You
My Take: A Magician sits in a throne. He holds an orb that shines a light upon a wand, cup, sword and coin in the shape of an infinity symbol. He has a very deliberate look on his face. It looks as if he is illuminating the fact that you have all the tools you need at your disposal and it is just up to you to act on it. You must make it happen yourself.
The Card: Education and training, transforming ideas into plans. The magician is a teacher and gives us invaluable advice about our path. This can represent either a person in your life that serves this purpose or it can refer to our inner inspiration that helps to to learn and gives us our flashes of genius. The four suit symbols represent different ways to approach something. The magician gives us the tools and helps us choose what mixture of these is the most appropriate for the situation.
V Faith – Crosses You
My Take: A man prays. There are many religious symbols in a glowing circle in front of him. This is a religious man, but their are many options available to him. I see this as the opportunity to explore a new way of thinking or belief system.
The Card: The faith card represents our ability to find meaning in things. To many this means religion, but it can also encompass all other points of view as well. We must beware of becoming to rigid or judgmental in our thinking.
VIII Cups – Above You – The best you can hope for given the current circumstances.
My Take: A figure walks up a set of steps to the far away moon. There are 8 cups at his feet and a black and white checkered floor. This cards always represents leaving something behind to me. You are choosing to climb the stairs and walk toward something new, but this also means leaving some things in your life behind.
The Card: Every time we choose one path, it means abandoning another. We look to the moon for new inspiration and leave the cups behind. The cups could represent and idea or project abandoned. It can also refer to a sense of restlessness of the unexplainable need to leave.
I Cups – Below You – How you got here
My take: A single cup sits on the water. The sky looks like sunrise. There is an intricate orb within the cup. One represents newness and cups represent relationships and emotions, so the one of cups means a new relationship to me.
The card: The potential of new relationships and/or emotions. The subconscious is handing you a new emotion, like a gift. A new emotion or relationship is about to begin.
IV Cups – Behind You – Recent past
My take: A figure sits naked in the grass, vulnerable and open to new possibilities. There are three cups on the ground and one in the sky, like it is being presented by the universe. He looks up to the cup in the sky, curious, but not yet ready to reach out an grab it as his hands are still hugging his knees. You are being presented with a new opportunity, but may not yet be fully ready to embrace it. Don't miss this open door by contemplating too long. WRONG
The Card: This is the grass is always greener card. You may look to better your situation or be discontent with your current circumstances.
III Cups – Before You – Coming soon
My take: The are mardigras beads and masks as well as three cups on a floor with a golden sun on it. Four columns are in the background. This is a card about celebrations and parties. Being with friends. The masks may indicate that you are not ready to reveal everything just yet.
The card: This card represents celebrations and good fortune. Doing something nice for ourselves. Gatherings of all kinds, both formal and casual. Beware of overindulgence.
VII Chariot – Who You Are
My take: A man rides his chariot over a crashing wave, his steeds galloping through the water. There is a steel structure in the background reminiscent of an oil rig. For me, this card speaks to forward motion. Setting the wheels in motion. Moving strongly toward the goal. We just need to remember to keep ourselves grounded in the real world (the metal structure).
The card: The horses represent unbridled energy that must be directed and balanced by the man (you). The man is strong, proud and adventurous, maybe even a bit arrogant. The power in this card is the confidence that you can overcome any obstacle to achieve your goal. The structure represents the beginnings of putting things into context.
IX Hermit – Who they want you to be
My take: A bearded man sits, eyes shut, on the edge of a cliff. He holds a lighted staff. Sometimes we must take a break and get away in order to see more clearly. We look inside ourselves for the answers. We must be careful not to retreat too far and use the light to lead us back.
The card: Removing oneself to meditate on the current circumstances and gain perspective from examining ourselves. The light shines deep into the recesses of our minds to shine light on it's mysteries. We need to remember though, that this step is part of the journey, not the end of the line.
II Priestess – What You Want
My take: The priestess is a mysterious card. She looks deep into the recesses of her subconscious for answers and represents our psychic connections. She seeks a deeper understanding of herself and her world.
The card: The priestess represents the path to our subconscious. The darkness of the card represents our fear of the knowledge our subconscious holds, or even the existence of it at all. The two pillars on the card represent the duality of our conscious existence, always categorizing things as one way or the other. Our subconscious cannot be directly confronted but must be approached through meditation and openness. Then and only then may we get a glimpse of what lays beyond.
X Wheel – What you get
My take: Although beautiful this card doesn't speak to me clearly. The wheel looks like the innards of a clock and so reads as the wheel of time. All things come and go and so goes the wheel. I have more to learn about this card for sure.
The card: The wheel represents our fate, those things we don't have control over. Change is coming. We must remember that although there are things in our life we can not control, there are many more that we can. We must not submit to the fates, not buck against them but find our way to our potential.
Reading Analysis:
– The magician could represent my therapist and my need for her to help me to wade through the clutter of my life, past present and future.
– Faith is the challenge that I face in this situation, so I will need to be open to new ways of thinking about things and look carefully for the meaning in things. I must be careful not to get stuck in my old beliefs.
– I am feeling a very strong urge to leave the past behind me and move forward on a new path. It is encouraging that this is in the what's possible position, which means I actually might find that new path.
– I got here because all of these emotions surfaced for me and I sought out this new relationship. It is possible that this whole thing this summer, was my subconscious telling me it is time to make some changes.
– Recently I decided that my current path was not satisfying. I do often question why it is that I can't be content with where I am. I have a great life. Why is it never enough?
– A party in my future? Hmmm.
– I do have confidence that I can accomplish my goals. I started this blog because I knew there must be more for me. It may not be an easy road, but I am confident that I can find my way.
– I relate greatly to the hermit. Numerologically it is the card that represents me and this makes sense as I am naturally a little introverted and introspective. In this context it represents what my therapist wants from me. In this I think it means I need to step back and gain some perspective.
– The end result of this is change. This reading has been full of the looking within cards, the priestess, the hermit, the wheel, the magician, faith, and the four of cups. The Wheel reminds me not to get too caught up in this, but that I have control over the outcome as well.
Note: The information in the "my take" and "reading analysis" sections are only my thoughts. I am learning and these may not fully represent the cards true meaning, just the feeling of card to me, which is a lot of what reading the tarot is about, but I write these before looking at the meaning of the card. Many of the cards that show up repeatedly in my readings are starting to solidify in their meanings for me and you will see that my descriptions of these cards are more consistent in my readings, but my take on cards that don't show up as often are still evolving and changing in my mind and their descriptions will change over time. In the analysis portion I am practicing applying the cards to the specific circumstance. Please take everything I say about the cards with a grain of salt.
This is a classic Celtic cross spread using the major arcana and wands cards we have been using so far to get a little more detail about the state of my career.
The Layout
The Celtic cross layout is one of the most classic and popular layouts. It generally give you a good overview of the past, present, future and how you can expect things to go.
Here is the general layout
       3         10
 5     1     6    9
       2          8
       4          7
Shuffle the wands and the major arcana cards separately while asking your question.
Deal the top two major arcana cards into positions one and two. These two cards are a cover and cross duo (this is really hard to represent without creating a separate image), but use your imagination.
Deal the top four wands into positions 3 thru 6.
Shuffle the remaining cards together, again asking your question, until the cards are finished and then deal the top four cards into positions 7 thru 10.
Here is some detail about what each position means.
1. Covers You – The current situation
2. Crosses You – The challenge you will need to confront and overcome
3. Above You – The best you can hope for, given the current conditions
4. Below You – The past foundation that needs to be considered
5. Behind You – Something that just happened the is influencing the situation
6. Before You – Something that is just about to happen that is influencing the situation
7. Who You Are
8. Who they want you to be – represents all the people around you and what they want for you.
9. What You Want
10. What you get – The end result, the answer.
The Question: What can I expect from my career this year?
The Spread
1. Covers You – IV Emperor
2. Crosses You – XI Justice
3. Above You – III Wands
4. Below You – X Wands
5. Behind You – IV Wands
6. Before You – VIII Wands
7. Who You Are – V Wands
8. Who They Want You to Be – II Priestess
9. What You Want – VII Chariot
10. What You Get – VI Wands
The Answer
Right now you are dealing with strong personalities, high expectations and power plays. Be strong and resolved. You need to make your own decisions. Your challenge is to set the right priorities and then go for it.
Success lies in joint undertakings. You must overcome past defeats and get out from under the things that burden you. Just recently, you cemented a deal. Just coming up, you are tying up loose ends.
You are the one on the front lines, you have good skills. Others want you to give input and read their minds. You want to be recognized. You have the opportunity for career advancement.
The Cards
IV Emperor – Covers You (the current situation)
My take: Order, ruling over things. Things are laid out before you in a straightforward manner.
The card: Fathering, law and order, social responsibility, power and structure. You have great power, use it carefully and thoughtfully. Be careful not to misuse it as you may be seen as tyrannical.
XI Justice – Crosses You (the challenge you must face and overcome)
My take: The scales are balanced. The skies are dark, she is blinded and armored. Whatever is in the scales shines brightly. You may not see what you are seeking, but all is as it should be?
The card: Fairness, being too judgmental, fighting for those less fortunate. The blindness indicates an unbiased approach to situation.
III Wands – Above You (the most you can hope for if circumstances don't change)
My take: A man sits waiting on a rock as a ship sails in through the sky. The man is naked and vulnerable, yet surrounded by three rods, protectively. Something speeds toward you. You have the strength to handle it, but you must be patient.
The card: Waiting for signs of success and a return of your investment of energy. Beware not to become to wrapped up in initial success. There is still much work to do. The man is naked to show the purity of his intentions. You have chosen the path and set the wheels in motion and now must wait to see what happens next.
X Wands – Below You (past foundation)
My take: A naked man is crouched, 10 rods hovering above him. Very strong force of power. A triangle is at the top of the card, shining light down . His head is bowed as if in prayer or submission. Surrendering to situation, knowing you have done what you can and now it must play out on it's own.
The card: The man is weighed down by the obstacles, problems and crumbling of his idea. This plan may have run it's course and it is now time to look forward to new ideas. Beware of becoming a slave to your own ambition.
IV Wands – Behind You (just happened)
My take: The door is ajar, seen through the woods. Four towering wands surround the door. A fiercely bright light is just beyond the door. It's so close you can taste it. You have all the strength you need, just reach our and take what's yours.
The card: Stability, solid foundation. All plans and good ideas must eventually be acted upon or they just disappear. It is time to take action.
VIII Wands – Before You (coming soon)
My take: Eight wands fly through the air along with 8 doves. Things are in motion. Spirits are high and all is flowing well.
The card: High energy. Everything is clicking in high gear. You are inspired and can see your path clearly.
V Wands – Who you are
My take: Battle, Men with wands fight, stand guarded and ready against attack. You are armed and ready for the battle ahead.
The Card: There are several possible meanings to this card depending on the context. Most obvious is that there is a battle. Others include that the group is armed and ready to fight together, or they are ready to work creatively together. Each man is isolated from the rest of the group, indicating that the group is either fighting or working together from their own isolation.
II Priestess – What you are to others.
My take: She is mystical, psychic. She looks for higher meaning in things and finds comfort in the mystery of life.
The Card: The ability to tap into the subconscious and yet stay grounded in the present. It's a delicate balance. A withdraw from the norm of the day to day.
VIII Chariot – What You Want
My take: This is a swift moving card. There is a man in a chariot with two white steeds and they are riding a wave. There is a huge steel contraption in the background reminiscent of an oil rig. This grounds the card and takes away some of the otherworldly qualities. I feels of being swept forward and taken for a ride. But, you must make sure to remain grounded in real and secure things.
The Card: Confidence, willpower, pride, arrogance, youthful energy, anger, insecurity. The path has been contemplated and chosen and now it is time to set forth. The road is not set in stone and you must keep your eye on the ball and not be distracted by the emotional forces acting here. With the right focus and dedication, you have the willpower, energy and confidence to fully succeed. The oil rig represents the beginnings of creating our mental framework, of pulling up ideas and thoughts from our subconscious and beginning to turn those into tangible attainable products of the real world.
VI Wands – What You Get – Then end result or answer
My take: A man stands on a balcony, 5 wands holding him up, his arms held up in victory, a bright light shining from the top of the remaining wand, which he holds firmly. This is reminiscent or roman times. This man looks like a leader and definitely a victor.
The card: Victory, plain and simple. A moment of elation and enjoyment of your accomplishment is in order. Just be aware that this feeling is temporary and the wheel of fortune will soon begin to move again.
Reading Analysis
Well, it seems like things are going to start moving and that success is definately possible and even probable. There is a group aspect to what I will be doing, but maybe not directly. It indicates that the decision has been made and now it is time to move on it. This still confuses me as I don't know what decision has been made. A couple of things have happened over the last week or so. A friend of mine mentioned a part time web gig for a friend of hers that does cranial sacrum work and then I got this sinus infection (ouch and sucky) and did a bunch of research on holistic ways of approaching sinus infections, and from several other directions I am getting bombarded by the alternative medicine thing. I have a horticulture degree and herbology and holistic medicine have always been great interests of mine. It is worth looking into and exploring, but I can hardly say that I know for sure about that. If I know anything for sure, it is that I would really like to be a yoga instructor and that I don't want to do the web thing forever. With the yoga thing, i am a good year away from even having that discussion with my instructor so I can't see that this is it. The only thing I can think of is that the events of the last week or so have put something I'm not quite aware of into motion. I'm going with that.