I know that I have mentioned this maybe even several times in the past, but I just can't get over how powerful it is when the same information comes at me from several unrelated sources.  This always confirms for me that I am on the right track.  Lately this phenomena is happening everywhere I look and so gives me confidence that although I sometimes feel like I am dangling from a hook, struggling to find solid ground as life zooms past me, everything is happening as it should and it helps me to trust myself and allow myself to be present to the changes happening in my life.
Funny, that word changes.  In the forum they teach us to differentiate between changes and transformations.  Change is something gradual that you must apply will power and constant attention to to make it happen.  Transformation is instant, more like an immediate shift that sends you in a new direction.  These are the more powerful mechanisms for making significant differences in our lives and I have seen this in several areas of my life and now finally with my health.
I first saw this in action when I quit smoking.  We had heard of this book (The Easy Way to Stop Smoking
) that supposedly could help you quit smoking with little effort or withdrawals. Now, I had been a smoker for over 15 years and had quit and started countless times. My problem was that I liked smoking, no I loved smoking.   But, I hated being a smoker.   There is a very distinct difference there that I think most smokers can relate to.
So, we had heard stories of several people who had read this book and then simply stopped smoking forever. At this point what did I have to lose, so I gave it a try. Basically the book tells it like it is, separating you from your addiction and helping you to see how it is standing in the way and certainly not serving in any way at all. But the funny thing is that it is really more about the act of reading the book than even what the book says.   At the end they have this list of questions and if you can answer yes to any of them you need to start the book over.   It took reading the book twice to get through the list, but then I put down the cigarettes and haven't had another since and it wasn't even hard, like at all.    My best friend even looked at me the other night and said she can no longer even imagine me as a smoker.  Amazing.
Do you need to quit? Get the Book
!
The point is that it was my first introduction to the instant transformation I am talking about. It wasn't hard to quit like it had been the many other times I had tried. It was like something shifted and I just didn't need it any more. Quite the transformation.
Back when I was depressed and having regular debilitating panic attacks my therapist would tell me to differentiate and identify the depression and anxiety as separate from myself. "That's the depression talking".   It was amazing how quickly I started to feel better once I started doing this. I kept telling myself that it was just anxiety and depression and that what it was saying was not true and that I could keep going even though I thought my heart would explode out of my chest and it eventually just disappeared.  In the moment that I realized that I wasn't the awful person my depression told me I was, it just dissipated and I started feeling better and soon I was better.
At The Forum I learned to separate my stories from my actual experiences and found forgiveness and peace with my past.
Do you see a pattern here?
Well now it has reached my battle with my weight. I was noticing last week that my whole outlook was starting to change. But this didn't happen slowly over time with a lot of will power.   Yes, I have been thinking a lot about it and have made some changes to my diet and have obviously been working on the emotional aspects, but I was feeling really frustrated that it didn't seem how much I worked at it, I still wanted to the sweets and junk food and couldn't keep myself from eating it.  And I still had no desire to work out at all.
I hit my peak of frustration as I scarfed down a brownie on the way to therapy last Monday.   Two bites and I was feeling nauseous, yet I still ate the whole damn thing.  What is going on?
So I was talking to my therapist about it and she taught me how to differentiate this as well.  There is was again.  She recommended stopping when I felt these cravings and looking at them from another angle, identifying the intensity of the craving by giving it a number 1-10.   Then if you decide the number is high enough and eat the craved food, then identify how much satisfaction you got from eating it by giving it a number 1-10.
During this therapy session, something just clicked and since then I have been following her advice,  which has unfortunately taken the joy out of several sweat treats I was really looking forward to, and yet again transformation has happened.  Not perfection or magical weight loss, but a totally different outlook that seemed like it came out of nowhere.
I have been almost jonesing for exercise and food has lost its power over me. I am even down to just one Diet Coke a day, a miracle in and of itself.
It is just a craving and separate from myself.   That craving has nothing to do with my body's need for sustenance or nutrition or even something yummy to eat — it is emotional and completely separate.
I think this is part of the message the Jon Gabriel is trying to convey to us.   Just give your body what it needs and realize that you are emotionally separate from your need to eat and your body will start asking for what it needs and giving back what you want from it.
The real test will be how this plays out over the next couple of months.  Please let the weight loss finally come.   I create this possibility for myself and for all of you too.
Buy the Gabriel Method Book Now!
.
Last week I spent three very long grueling days transforming my life.  It may seem a lot to ask to completely transform your life in three measly days, but it happened.  They said to commit to the process and it would happen, and it did.
I saw some amazing things.   I watched men open up and accept their vulnerabilities even though they were completely closed off when they arrived and women face their fears and insecurities head on with bravery and grace.  I have never been part of something so intimate with a group of 130 people, all of whom supported and surrounded each other with love through a very trying couple of days.
I went to the Landmark Forum really unsure of what it was I was supposed to gain from it.  A lot of people go to have breakthroughs in their relationships with parents, children, friends and/or spouses or with their health or business.  I needed all of those things and so didn't enter with a specific goal in mind.  I just knew that my life wasn't working the way it was and after seeing the change in a friend of mine who recently went through it, I knew I wanted some of whatever he was taking.
What I ended up learning is that all those areas of my life that needed changing were all tied up in the same underlying issues.  I needed to take responsibility for my own life.  I had blamed my parents for everything bad that had ever happened to me and even for my persistent unhappiness.  This impacted every area of my life and held me back from getting anything done.  I learned to differentiate between the actual events that happened and my interpretations and stories that I built up in my head as a result.
It's not that bad things didn't happen, they did.  But my parents were just doing the best they could with what they had to work with.  They had their own shit to deal with and their own demons haunting them.   But, the feelings of not being worthy and not being good enough were completely separate and only the stories that I had created.  This realization alone lifted 10 tons off me.  I didn't have to let my stories control me any longer.
This was a lot easier said than done for me.   Let me just say before I go any further that I had a certain type of experience and everyone else there had their own experience.  Please don't be scared off by the following information.  I am an extreme case, not everyone had the issues to deal with that I did or the built up emotions to clear.  Each experience is as different as the individual.
OK, here we go.  I started crying Friday morning and didn't stop until late Saturday afternoon.  I kept apologizing and laughing with the people around me because I couldn't get the tears to stop, they just ran in a steady stream down my face no matter what I did.  I would get a small break and then she would mention the word empowerment or opportunity and there they would go again.  I never dreamed it would be so difficult for me to grasp onto the possibility that I deserved to be a powerful person with unlimited possibilities.  My mind and body fought this process tooth and nail, yet I persevered.
But after speaking with my Mom on Saturday afternoon, I got up and shared this very powerful conversation with the group.  I was almost giddy and no longer crying.   By taking responsibility for my own life and releasing the anger and resentment, I had cleared up a ton of space in my life that was formerly filled with nothing but garbage.
I even came home with the full intention of calling my dad, who I haven't spoken to in 17 years.  A lot of work finally got me to a point that I have forgiven him and realize that his actions can no longer have any impact on my life.  I even think I might want to have some sort of relationship with him, if that is possible.
So I woke up Sunday morning and got sick three times, then I dialed the phone with the full intention of speaking to him when he picked up the phone.  I was going to tell him that I am doing great and that I accept him for who he is and forgive him.  I was also going to take responsibility for the fact that I made some decisions I am not that proud of and didn't treat my parents very well, but that all that is in the past I am hoping that we can start over and get to know each other.
Unfortunately, the phone was disconnected.  God, I was pissed.   All these years and all this pain and I finally get to this point in my life and he wasn't there.   I didn't need to puke any more, but was I mad.  I marched in there and got up and told what had happened.  Our leader Angie did an amazing job of bringing me down and reminding me that what happened was the phone was disconnected and that was it.  " He wasn't there" and "I have spent so much of my life wasting time getting to this moment" was all my stories.
For all I know, he got a cell phone or didn't pay his phone bill.  I really don't know anything about his situation, but I do know that I called and intended to talk to him and that means that I am officially "in the game" and she congratulated me on that.  She also mentioned that I needed to stop holding all my emotional stuff in my physical body and that I might be amazed what physical problems I have disappear now.  Hmm, haven't I heard that somewhere before?
That was when it happened for me, my transformation.   I have spent my entire life completely wrapped up in my stories.  So much so that they appeared to be all there was.    I was terrified if I even let up for a second that I would just crumble into little pieces on the floor and there would be nothing left of me.  But that was just another story,  I am better than ever and still me, just a little more emotionally light.
When I got home on Sunday night, I was bigger than life.  I almost felt high, ready to conquer the world.  Just sitting with my husband caused him to panic a little.  It was just me with him, fully  myself and present and that is surely something he is not used and maybe has never even seen with me.
At the Landmark Forum, I created the possibility for my self and my life of being whole and present and responsible for my life and my actions.  In doing so, things started happening right away.  At dinner on Sunday night with my cohorts at the Forum, I was fully present and confident when speaking about my business, free of thoughts of not being good enough or worthy of success, and almost everyone at the table asked me for my information (definitely time to order business cards).  On the way home that night, I was telling the young woman I drove home about the experience and she jumped in with the information that her boss needed some advice on his website.   The following day, I responded to two inquiries for small websites and received an email from a designer friend of mine asking if I wanted to work on a project with her.
Even if none of these interactions turns into anything my outlook on my business has changed completely, and this wasn't even something I was looking for out of attending this workshop.   I know now that I have something good to offer and that a potential client choosing to do business somewhere else doesn't mean I'm a failure.  It just means they decided to go with somebody else.  I just have to put myself out there and be present and genuine in the moment.  And of course build kick ass websites.
This week I have been with my children fully and openly, I think for the first time ever.   I was so concerned with my own stuff that I don't really think that I could be present to their lives.  I realized that they are not extensions or reflections of me or my parenting.  They are their own little beings and my job isn't to mold them to force them to be a certain way, but to be with them and stand up for them and be present, I mean really present to their unfolding and growth.   This is a pretty powerful thing and has changed the way I will interact with my children forever.  The whole first day, Ada kept looking at me like an alien had taken over her mother.  The second day, she just hugged me and hugged me and hugged me.   The tears come just thinking about it.
Now, a week later, life has returned to somewhat normal and I sit comfortably in this warm pool of uncertainty, something that would have thrown me into a panic attack just a week ago.   Clearing up all this garbage from the past leaves a lot of clarity and even more empty space, something a little unnerving at first.   What happens next is yet to be seen, but I look forward to tomorrow and for now that is enough.
With all that said, there were a few things about the Landmark Forum that bothered me a bit.  They get really into selling your friends on the forum.  They do this in a fashion that makes you think that this is not what they are doing, but they are.  I think that the final night would have been a lot more meaningful and even a more powerful sales tool if they had concentrated more on what people got out of it and less on why your guests should sign up for it.
I knew this was coming, although it was more than I even thought it would be, and prepped my guests for it.  One of the issues I had was that I never asked for help or support and therefore made it virtually impossible for anyone to feel like they could support me in a meaningful way.  So, it was important for me to ask for my mom and friends to be there for me and for me it was nothing more than that.  Of course, I feel that they may get something out of taking the workshop, but they are grown ups and fully capable to discerning that for themselves.
I have read a lot of "cult" comments on the internet and people saying it was fun, but not life changing and people put off by the enthusiasm of the staff, but I too am a grown up and capable of thinking for myself and making my own decisions and my advice would be like with most things in life, you take what you need and leave what you don't.  Like I mentioned at the beginning, there were all kinds of people there from high school students to stay at home moms, from teachers to CEOs, everyone there for there own reasons and getting only what they got from it.
I found it really interesting that a lot of the concepts were similar to ideas I have been getting from all different directions.   Lately it seems that everywhere I look, even in completely unrelated places, the same information is coming to me.   For me that means that I should be listening.
My experience was very intense and extremely rewarding.  I have a new outlook on life and a whole lot less crap to carry around with me.  All in all a good thing and I am looking forward to the advanced course in October.
After the events of the past week I have come to determine that my frustration over my lack of measurable progress (a.k.a. weight loss) really comes down to the fact that I am jumping the gun.  As long as I have all this emotional baggage the weight will not come off, no matter what I do.  
I just went back and read the emotional obesity chapters of the book and all of it applied to me.    He asks several questions to help you identify whether this issue is holding you back and if it is insists that it be addressed before you ever even discuss eating habits, cravings exercise and past successes and failures.  After the emotional issues have been addressed and resolved then a plan can be put into place to address the rest of it.
The questions go something like this…
Does being thin feel safe to you?
Can you imagine yourself thin?
If someone gives you a compliment on your appearance, does it make you feel happy and confident or threatened and uneasy?
The last two definitely apply to me and the first one just confuses me so I'm guessing that means I can count that one too.  Since I started this whole thing the body visualization has always been the hardest for me.  I just can't see myself as that thin person.  The thing that weirds me out about that is that I used to be thin, at times very thin.  So you wouldn't think that imagining myself like that again would be so difficult.  The brain is a bazaar entity.
I have been noticing over the last couple of weeks (and I think where that desperate sad post from last week came from) that even though I am mentally really dedicated to this and have logically set up my environment for success, I find every way and excuse I can to sabotage the process.
I "forget" to take my supplements
I sneak food.  I will scarf down a burger or milkshake, candy or doughnut and then hide the evidence.
I will make up any excuse I can to avoid exercising, even going to yoga, which I love, or a hike with the dog, which is empowering, relaxing and really rewarding.  If there is some reason I can come up with I will take it.
I tell myself that just going to sleep (without the CD) will feel good and make me more motivated the next day.
I even avoided reading the emotional section of the book with any focus or meaning.  I just skimmed through it.  Today I read every word.
When I have talked to my therapist about my weight, she always says don't worry about it now, you have enough on your plate.   Do the emotional work and then deal with the weight.
Another advisor of mine reminded me that I simply need to find out why it is that I don't feel worthy and correct that and then everything will fall into place as it should.  It is only me that is holding me back.
With the Life Path Integration therapy we are doing it is even possible that we will be able to target whatever the emotional trigger might be and fix it.  It always amazes me how the universe will provide you with all the tools you need if you just listen closely enough.  Many things have been coming to me from many different directions lately and thankfully I am aware enough to be grabbing them.
Karli has also encouraged me to give the emotional stuff more time and stop worrying so much about the physical stuff.  Now that I am feeling better and motivated and productive for the first time in a long time, I am finding it very hard not to want to tackle everything all at once, to take on more than I can handle.  I feel like I am fighting in every direction and that I may simply just need to give into the process.  Pretty hard to do for a total control freak.
I am so grateful that my husband is supportive of me through all this.  He has had his moments of frustration and worry and even a few in anger and hurtfulness, as is only natural when you spouse is going through something like this.  He tries his best to encourage me and prod me to work a little harder.  
Every logical part of me thinks it's fantastic that I have a husband who loves me the way I am and truly cares about my well being.  But emotionally I think I kinda resent him for it and rebel against it.  This is hard to say, a sort of it's not you it's me scenario, but I think I might have to tell him to stop with the encouragement, because just like when we were trying to quit smoking, the gentle nudges and reminders, the words of encouragement in my head remind me that I am failing rather than reminding me that I can succeed.  This is something I need to work on, but in the meantime, I think we just need to drop the whole thing for a while, let me heal what's broken without any added pressure.
Jon says in his book that while he was gaining the weight, his wife never said a word about it and that when he was ready, he felt he was better prepared to lose the weight because of that.
So, I concentrate on the emotional part and keep preparing my body from a biochemical standpoint so that I will be that much more ahead of the game once I can really target my eating and exercise habits.  I just feel like I need to stop putting so much pressure on myself.   
To all of you looking to the Gabriel Method as a magic pill, I am sorry.  I don't have instant results to report, or really any weight loss at all.  I can tell you that it is helping me to change my life, to learn about myself and face my fears and tackle the emotional crap that has had me by the throat for most of my life.   It is also helping me learn what it feels like to be a healthy person, teaching my body that it feels good to be nourished and that eating foods that mess with your chemistry makes you tired and cranky and feel generally icky.
This is my first step and the thought that on the other side of this journey I could be not only thinner and more fit, but also a more whole and emotional healthy person is very exciting to me.
I am going to keep taking the supplements and integrating healthy foods into my diet, but I am throwing out the schedule and week 1 week 2 month 1 stuff for a while until I can answer the questions above with confidence and positivity.  Fixing myself needs to be my priority right now.  I have made huge progress, I just need to finish it before I start worrying about pounds and waist measurements and scheduled regimented programs.  
I'm ok if I stay this weight forever, as long as I don't gain any more.  (those of you who have read the book will understand the meaning and gravity of this statement)
So here is the new plan (because I wouldn't really be me if I didn't have one)…
Keep working hard at therapy and stop distracting us with day to day bullshit.  I have demons to fight so let's get on with it.
Listen to the CD every night, no excuses, no exceptions
Start reading about past life regression
Read the book No Boundary by Ken Wilber (Jon mentions it in a section of the book that really resonates with me)
Actively radiate love, forgiveness and appreciation
Accept the negative and accept myself and my body just as they are.  This includes no scales.
Buy the Gabriel Method Book Now!
It's a funny thing about fear.  Sometimes when you say it out loud and face it directly it recedes and sometimes even disappears all together.  
I would like to thank everyone for the unexpected and very much appreciated outpouring of support.    Your words of  encouragement made a really bad day a whole lot better and gave me the confidence to push past it.  Thank-you.
I wish I could say my fear is gone, but alas that simply isn't how it is in this case.  But, by owning my weaknesses I have come to understand them a little better and can now move forward with my eyes open.
I wish I could snap my fingers and make the self doubt and mistrust go away, but life doesn't work that way no matter how much we wish it could be.  The only thing to do now is take one day at a time and enjoy the good ones and let the bad ones go.  I just need to keep moving and find a way to have some success.
I have several ways of going about this.  My freelance business is doing well and I am having success with my therapy.  The next step is giving over to my ability to be thin again.  
It is time to buckle down and really commit to some way of getting healthy.  I talk about this a lot, but each new thing lasts a couple of weeks and then dwindles slowly until it just stops all together.
So, I am committing to the Gabriel Method, which I believe addresses my personal health issues.  I have come up with a plan and although i am not starting completely over like I thought I would have to, I am starting fresh and considering this day 1.
I made myself a sort of sign that I taped to the kitchen cabinets.  On this piece of paper is my meals planned out for the week.  This is not 'eat this at this time' but really just a list of good healthy meals that I have planned out in advance and have available to me so when I go to think about what I want for lunch, I can look at the list and see several things to choose from, any of which would be just fine, but steering me away from the dangers of standing in front of the fridge or pantry, hungry and vulnerable.
I also have included a daily schedule of stuff that I need to do, like taking supplements, drinking water, eating a snack, doing visualization, eating the sun and taking a power nap as well as a list of things to remember.  
I will make a new one of these each week to help me remain focused.  
In order for these habits to truly take, I need to do the same set of things every day, not just when I feel like it.  I think that because this is not a diet with a regimented food and exercise plan that it is easy to take the eat what you want when you want for granted.  This doesn't work if you aren't listening to what it is your body wants.  
For example, the afternoon rolls around and I always crave sweets then, so even if it isn't what my body wants I still eat it without really even thinking about it.  Where as if I had just listened and tried a couple of techniques to give my body what it really does want, I might have been able to avoid eating that.  And if after all that I still really craved that sweet treat, then I could have eaten it and enjoyed without guilt, knowing that those cravings will go away on there own with time.
It is really a change in the way I think about it.  This is what happened when I finally quit smoking and I am positive that a fundamental shift in my thinking will be necessary with this as well.  
Much like when I quit smoking for the last time, I must give over to it and accept that this is the way things are going to be from now on, that I have made this decision and there is not turning back from it.
For this reading I will use the first ten swords and the first ten major arcana cards to examine what the best strategy is to deal with a particular situation.  With the recent launch of
karinreece.com
and starting to build my business, it only makes sense that I ask what my best strategy for success is.
The Layout
This is a celtic cross reading. It will examine the best comprehensive strategy for the asked about situation.
I will be using the I-X Major Arcana Cards and I-X of Swords for this reading.
Shuffle the major arcana cards while focusing on the questions and then deal out the first two positions.
Shuffle the sword cards while focusing on the same question and deal out the top four cards into positions 3 through 6.
Combine the remaining swords and major arcana cards and shuffle them together, again concentrating on the sames question and deal out the top four cards from this pile into positions 7 through 10.
The Question:  What should my strategy be with regard to my new web development business.
The Spread
1. Covers You (current situation) – X Wheel
2. Crosses You (challenges) – IV Emperor
3. Above You (what is possible) – VIII Swords
4. Below You (how you got here) – X Swords
5. Behind You (recent past) – IX Swords
6. Before You (what's next) – II Swords
7. Who You Are – I Swords
8. Who They Want You to Be – III Swords
9. What You Want – III Empress
10. What You Get – VI Swords
The Answer
This situation requires your full attention and dedication of all your resources, which you should invest wholeheartedly.  Someone wants to assist you in your endeavor.  Be careful of giving over too much power as it may result in a sticky situation.
You experienced utter defeat in the past causing this to be a challenging situation for you.  Just recently your worst fears surfaced, but all will come together in the near future.
You will be successful in the end, but don't expect the full support of those around you.  You want to be profitable and reap the rewards of success.  This success will come by letting go of those things that haunt you from your past and turning to the unexpected for inspiration.
The Cards
X Wheel
My Take*:  The wheel of time keeps moving.  A feeling that fate has taken over.  Remember you have control over many things.  
The Card:  Change, the feeling that some cosmic machine controls our destiny.  Although there is much we can't control, there is also a lot that we do.  There are also things that seem out of our control, but which we actually can control.  Things are changing.
Analysis**:  This card covers you, representing the current state of the situation.  You may currently be feeling like the world is passing you by or simply pulling you along.  You must take control of those things within your power and let go of those you are powerless over.  Use creative means, think outside the box because change is certainly coming.
IV Emperor
My Take:  Order, rules, dominant figure, social justice, watches over and rules the situation, caring for and creating structure in society.
The Card:  Fatherhood, authority, laws and regulation.  Government, social justice, tyranny, social structure, power of life.  Examine the role of power over the situation.  Organization and structure.  Find your own power.
Analysis:  This card crosses you, representing the obstacles faced in the current situation.  Your obstacle is to create structure for yourself or others.  Hold true to your values, find your inner power and get organized.
VIII Swords
My Take:  A prison of your own making, it looks fragile like any sudden move may send those swords plunging in.  But the pattern on the sphere suggests strength and integrity.  The woman is naked, showing vulnerability.
The Card:  Restricted by your own assumptions you have created an inflexible mental map and are now trapped by it.  The bubble is strong, only to disappear when new perspective is gained.
Analysis:  This card is above you, showing what is possible if the circumstances remain as they are.  Reaching your potential will require stepping outside your comfort zone. Look at things from a different direction to gain perspective.
X Swords
My Take:  The man is bent over shielding himself from the descending swords.  The tattoo on his back is protection, but defeat has already occurred.  There is nothing left but to give in to it and move on.
The Card:  Anguish and pain, but relief as well.  The situation is not manageable.  Although things are dire, it is a positive card.  You are at the end and are ready for new opportunities and ready to see the potential.  The extremes of the conscious mind.
Analysis:  This card is below you and speaks to how you got to this point.  Sometime long ago you were utterly defeated and it is affecting this situation.  There is nothing you can do now, it's over.  Let it go and get ready for new opportunities to emerge.
IX Swords
My Take:  The fears we create in our heads, mostly unfounded, but real enough in our minds.
Card:  Stress, tension, anxiety caused by your own mental dealings.  Your mind is wreaking havoc on your emotions.  How we think directly effects our perceptions.  Think negative things and negative things will find you.
Analysis:  This card is behind you and represents the recent past.  You've been letting your fears get the best of you.  Recently your mind has you riddled with stress and anxiety.  Remember we manifest what our mind tells us we are.  Cut out the negative talk.
II Swords
My Take*:  I'm not really sure about this one.  Twos are about couplings, pairs and dichotomies.  Swords are about strategies, struggles, power and strength.  She is blind folded and the sky is stormy with the sun shining through an opening.
The Card:  Comparing, analyzing, contrasting an idea.  Beware of over-analyzing to death, causing the new idea to wither and die.  The blindfold allows the woman to focus without distractions.  You are at a turning point.  It can still go either way.  Don't over-think it.
Analysis:  You may not be able to see it but soon light will break through the darkness.  Soon you will face a Y in the road.  Analyze the choice, but don't wait too long to make up your mind.
I Swords
My Take:  Strength, ready to take flight yet grounded with a good foundation.  New opportunities will bring success.
The Card:  A new idea or aha moment.  New opportunities, freedom of thought even when the rest of us feels constrained.  Opportunity for change and growth.
Analysis:  You are strong and grounded, ready to take off on a new adventure.  You are the one with the big idea.  This is your adventure.
III Swords
My Take: Grief.  She's crying and holding her heart.  The three swords all point toward her heart, like they are piercing it.
The Card:  Heartbreak and disappointment caused by your experience with the situation being quite different thatn you expected.  These problems are mental rather than emotional.
Analysis:  Someone related to this situation is not going to live up to your expectations.  Beware not to set them too high.
III Empress
My Take:  Mother earth, abundance, reaping the benefits of the harvest.  Connecting with nature.  Being a caregiver.
The Card:  Mothering, nurturing, protecting, raising, growing.  Giving birth to and nurturing something. Landscaping.  The project must be carefully taken care of and protected.  Take better care of yourself.
Analysis:  You want to enjoy success and abundance.  You want this to be your baby, something you grow and care for.  You also want it to provide something just for you.
VI Swords
My Take*:  This card is a little spooky.  There is definitely a journey taking place.  Passing through an arch, a transition.  the boat is well protected and the man carries a lamp, lighting the way.  His mask may show that the purpose or end result of the trip may not be clear.
The Card:  Quiet, steady, cautious forward motion.  Proceed slowly and discretely.  No need to declare yourself openly.  You are even and solid and well positioned to access and influence your subconscious.  Think a little outside the box to accomplish the goal.
Analysis:  This card position represents that final outcome or what you will get if you remain on the same path. You are embarking on a journey into the unknown.  This may be scary, but you are well prepared.  Proceed cautiously and quietly.  It may be outside your normal thinking, but put your head down and proceed without announcing your intentions. You are on a journey to wholeness.
Reading analysis
I think this is a pretty insightful reading and a really positive sign for the work on my freelance business being a positive experience.  I always like it when a reading rings especially true and this one did just that.  It picked up on my recent anxiety.  A few weeks ago, I even have a full blown anxiety attack while working on a design project.  I have been curious why I have been so afraid to put myself out there and obviously something happened long ago that is setting that up.  Wish I knew what it was.
I think it is interesting that thinking in new ways, outside the box, outside your comfort zone, came up consistently throughout this reading.  This could mean several things, but really I think it is just speaking to the cocoon I have built around myself and that I am going to have to put myself out there in order to make this succeed and that can be a little uncomfortable for me.
It is just generally good to hear that things in my life are stabilizing and that I am finally in a place where I am ready to take on new challenges and embark on new journeys.  Very encouraging.
---
 *Please remember that the my take sections are my first impressions and feelings about a card.  Since I am exploring a new deck, this is the first time I have taken a good look at some of these cards.  They may or may not be reliable or true to the meaning of the card.  I like to take my feelings from a card and the cards intended meaning and combine them for a cohesive analysis.  In this way I am consistently improving on my knowledge and abilities.
** I have added a new section to my card analysis.  In this section I will combine my thoughts and the intended card meaning and apply them to the position within the reading.  This is a way to expand on the meaning of each individual card in the reading.
This is a numerology reading using the tarot card suit of swords.  The sword cards are all about the tools and strategies available to you to use while maneuvering through life.  By using the swords we will learn about success and conflict, power and vulnerabilities.
The Setup
For this reading I will be using the I-X of Swords and the initials of my first middle and last name.  I will do a reading with my married as well as maiden name.
K.H.G.
11 + 8 + 7 = 26 = 2 + 6 = 8
K.G.R.
11 + 7 + 18 = 36 = 3 + 6 = 9
The Question:  How successful will I be?
The Answer
8 of Swords – KHG
You have followed a path full of challenges and pain.  You will use this to build your success on.  You may sometimes feel as if there is no hope of escaping it, but if you hang in there only wonderful things will come.
9 of Swords – KGR
Your success  is dependent on overcoming your fears.  You must walk out of the darkness of your past into the success of your future.  You may be inspired by those thoughts that come to you in the middle of the night.
The Cards
VIII Swords
My Take
This celestial card contains eight swords pointing upward under a naked and vulnerable woman contained in a bubble.  She wants badly to escape the bubble and the pain that the blade tips represent.
The Card
This card represents someone who has created a complicated web of assumptions and visions of reality that now imprisons them.   The only thing that can break the bubble and make the swords go away is to challenge those assumptions and look at things from a different perspective.
IX Swords
My Take
A woman lays on the ground.  She looks very frightened.  A large tree hovers over her, it's branches reaching out like claws.  A fence surrounds her.  The swords line a pillar behind and above her.  I'm not sure what the swords represent, but it appears that she has identified what or who is chasing her.
The Card
The woman's mind has created a scary scene full of anxiety.  This is a creation of the mind and not the reality of the situation.  Our minds are a powerful thing and a preoccupation with the negative has overcome you.  Remember, think negative thoughts and bad things will happen.  You must be vigilant.
Reading Analysis
In the answer section, I can see a direct correlation to the time before I was married and the time after.   I experienced a lot of pain in my youth and made a lot of really bad decisions because of it, but I never gave up hope that there was a better life waiting for me out there and when the opportunity presented itself, I took it.  Now I have a great life, full of love and family.  Now it is about letting go of the past and all the fear and that is what I am doing right now.  I am fighting the demons head on in order to let them go.  I no longer want them to influence my daily life.  They must be integrated into my being and then released so that I can move forward and find that so promised success.  This is a process ridden with anxiety, but the light at the far end of the tunnel is so worth the struggle.
When looking at the cards individually, outside the context of this particular reading, we can see how powerful our fears and anxieties can be.  They can trap us and preoccupy us, holding us back from our potential.  I look forward to being free of those traps.
This reading will look into this years financial outlook.
The Setup
For this reading I will use a cover and cross layout and will deal out three cover and cross pairs.  The cards in use include I-X of the Major Arcana cards and I-X of Coins.  Coins are the cards of money matters.
To Deal Out this spread, shuffle the Major Arcana cards and the Coin cards separately.  Deal out three cover cards from the Coins pile and then three cross cards that lay across the cover cards from the Major Arcana pile.
The Question
What is the financial outlook for this year?
The Spread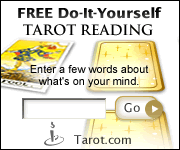 Cover:  IX Coins
Cross: IX Hermit
Cover: V Coins
Cross: VI Lovers
Cover: VII Coins
Cross: IV Emperor
The Answer
Pair 1: You will have enough to ease the pressure and pursue your goals.
Pair 2: You will feel your belt tighten and look for budget tightening measures.
Pair 3: Your earnings will maintain your desired lifestyle.
The Cards
IX Coins
My Take: A woman stands in a garden holding a dove, another flying overhead. Her dress suggests a traditional and conservative woman. Coins surround her head like a wreath. This feels like a card of adequate amounts, of building something comfortable.
The Card: You have worked hard and have created a peaceful and well deserved oasis for yourself. Be careful that you might be shutting out the rest of the world.
IX Hermit
My Take: The Hermit sits isolated looking inward for the answers. His light beacons for others to find him so that he may share what he learns. He is alone and withdrawn.
The Card: Self-imposed isolation. The hermit removes himself in order to gain perspective on his situation through meditation and self-reflection. The light from the lantern brings access to the deepest recesses of your mind. If you are using seclusion to escape, use the hermit energy to figure out why.
V Coins
My Take: It is snowing. A ragged woman begs for money, holding her baby close trying to keep it warm. She feels sad, reaching out to others to relieve her situation.
The Card:   Experience of misfortune, either financial or emotional.  You must be willing to do what it takes to get through this time and onto the next cycle of your life.  This is a temporary state.  Beware of a poor me attitude, your success or failure may depend on your attitude.
VI Lovers
My Take:  The couple is intertwine, joined in the intimate of ways.  Although this can obviously refer to positive sexual relations, it can also refer to two people being in sync with one another, working well as a team.  You must only be careful not to lose yourself in the other person.
The Card:  Any kind of relationship and the vulnerabilities that go along with it.  Being open, honest and vulnerable with another person.
VII Coins
My Take: This card shows a tree filled with coins with a woman sitting under it with he dog and some empty baskets.  The sun is out and she has a satisfied look on her face.  This card reminds me of the proverbial money tree, ripe and ready for harvesting.  Things are good and the money it there for the taking, just reach out and fill your baskets.  There is something slightly lonely about this card though.  She is far away from anything much and has only her dog for company.  There are two sides to every coin.
The Card:  The tree is ripe and ready but it is important to be patient and wait for just the right moment to optimize the harvest.  The woman ponders her situation, examining her next move.  Another interpretation might be that something that you have tended to and cared for is now ready to grow on it's own.  Your immediate attention is no longer needed.
IV Emperor
My Take:  The emperor is all about structure and order and having the tools available to you to accomplish the task at hand.  In this reading it seems appropriate that there would be enough money to create the structure and material world that is needed for you to feel secure and powerful.
The Card:  The emperor sees the need for structure and order in everything.  He yields the power to decide what projects to take on and/or who is worthy of his civic offerings.  He must be aware of the consequences of his decisions.  This card can refer to all things dealing with power.  Fathers or fatherly figures, government institutions, laws and regulations, tyranny and charity.
Reading Analysis
I like to think of multiple cover and cross pairs as a sort of timeline.  I asked about the next year so I see it as the first pair being about the current situation, the second about the middle of the year and the last as the end of the year.  
There are no surprises here.  All of my inputs say the same thing, that money is here, will be here and will keep coming.  There have been some signs along the way that there is a lot of money somewhere, but there has been no sign of any big windfall anywhere.  Karli has been doing very well for us and I have no doubt will continue to do so.
There seems to be a little stumble sometime this year, where we might need to address the budget and our expenditures some.  I will keep this in mind as I can see it being an issue as for the first time since I left work, we are finally in the black and have been spending a little willy nilly lately.  We'll have to make sure to keep that in check.
After examining each card individually, it is uncanny how the cards can address the questioned situation while still being very telling in other pertinent areas of our lives.  The cards speak of isolation, self-reflection, turning inward, pain, feeling sorry for yourself, reaching out for help and depending on those closest to us and then reestablishing order and looking closely at what the future looks like.  That sounds like a past present future reading for myself if I ever saw one.
This is a classic Celtic cross spread using the major arcana and wands cards we have been using so far to get a little more detail about the state of my career.
The Layout
The Celtic cross layout is one of the most classic and popular layouts. It generally give you a good overview of the past, present, future and how you can expect things to go.
Here is the general layout
       3         10
 5     1     6    9
       2          8
       4          7
Shuffle the wands and the major arcana cards separately while asking your question.
Deal the top two major arcana cards into positions one and two. These two cards are a cover and cross duo (this is really hard to represent without creating a separate image), but use your imagination.
Deal the top four wands into positions 3 thru 6.
Shuffle the remaining cards together, again asking your question, until the cards are finished and then deal the top four cards into positions 7 thru 10.
Here is some detail about what each position means.
1. Covers You – The current situation
2. Crosses You – The challenge you will need to confront and overcome
3. Above You – The best you can hope for, given the current conditions
4. Below You – The past foundation that needs to be considered
5. Behind You – Something that just happened the is influencing the situation
6. Before You – Something that is just about to happen that is influencing the situation
7. Who You Are
8. Who they want you to be – represents all the people around you and what they want for you.
9. What You Want
10. What you get – The end result, the answer.
The Question: What can I expect from my career this year?
The Spread
1. Covers You – IV Emperor
2. Crosses You – XI Justice
3. Above You – III Wands
4. Below You – X Wands
5. Behind You – IV Wands
6. Before You – VIII Wands
7. Who You Are – V Wands
8. Who They Want You to Be – II Priestess
9. What You Want – VII Chariot
10. What You Get – VI Wands
The Answer
Right now you are dealing with strong personalities, high expectations and power plays. Be strong and resolved. You need to make your own decisions. Your challenge is to set the right priorities and then go for it.
Success lies in joint undertakings. You must overcome past defeats and get out from under the things that burden you. Just recently, you cemented a deal. Just coming up, you are tying up loose ends.
You are the one on the front lines, you have good skills. Others want you to give input and read their minds. You want to be recognized. You have the opportunity for career advancement.
The Cards
IV Emperor – Covers You (the current situation)
My take: Order, ruling over things. Things are laid out before you in a straightforward manner.
The card: Fathering, law and order, social responsibility, power and structure. You have great power, use it carefully and thoughtfully. Be careful not to misuse it as you may be seen as tyrannical.
XI Justice – Crosses You (the challenge you must face and overcome)
My take: The scales are balanced. The skies are dark, she is blinded and armored. Whatever is in the scales shines brightly. You may not see what you are seeking, but all is as it should be?
The card: Fairness, being too judgmental, fighting for those less fortunate. The blindness indicates an unbiased approach to situation.
III Wands – Above You (the most you can hope for if circumstances don't change)
My take: A man sits waiting on a rock as a ship sails in through the sky. The man is naked and vulnerable, yet surrounded by three rods, protectively. Something speeds toward you. You have the strength to handle it, but you must be patient.
The card: Waiting for signs of success and a return of your investment of energy. Beware not to become to wrapped up in initial success. There is still much work to do. The man is naked to show the purity of his intentions. You have chosen the path and set the wheels in motion and now must wait to see what happens next.
X Wands – Below You (past foundation)
My take: A naked man is crouched, 10 rods hovering above him. Very strong force of power. A triangle is at the top of the card, shining light down . His head is bowed as if in prayer or submission. Surrendering to situation, knowing you have done what you can and now it must play out on it's own.
The card: The man is weighed down by the obstacles, problems and crumbling of his idea. This plan may have run it's course and it is now time to look forward to new ideas. Beware of becoming a slave to your own ambition.
IV Wands – Behind You (just happened)
My take: The door is ajar, seen through the woods. Four towering wands surround the door. A fiercely bright light is just beyond the door. It's so close you can taste it. You have all the strength you need, just reach our and take what's yours.
The card: Stability, solid foundation. All plans and good ideas must eventually be acted upon or they just disappear. It is time to take action.
VIII Wands – Before You (coming soon)
My take: Eight wands fly through the air along with 8 doves. Things are in motion. Spirits are high and all is flowing well.
The card: High energy. Everything is clicking in high gear. You are inspired and can see your path clearly.
V Wands – Who you are
My take: Battle, Men with wands fight, stand guarded and ready against attack. You are armed and ready for the battle ahead.
The Card: There are several possible meanings to this card depending on the context. Most obvious is that there is a battle. Others include that the group is armed and ready to fight together, or they are ready to work creatively together. Each man is isolated from the rest of the group, indicating that the group is either fighting or working together from their own isolation.
II Priestess – What you are to others.
My take: She is mystical, psychic. She looks for higher meaning in things and finds comfort in the mystery of life.
The Card: The ability to tap into the subconscious and yet stay grounded in the present. It's a delicate balance. A withdraw from the norm of the day to day.
VIII Chariot – What You Want
My take: This is a swift moving card. There is a man in a chariot with two white steeds and they are riding a wave. There is a huge steel contraption in the background reminiscent of an oil rig. This grounds the card and takes away some of the otherworldly qualities. I feels of being swept forward and taken for a ride. But, you must make sure to remain grounded in real and secure things.
The Card: Confidence, willpower, pride, arrogance, youthful energy, anger, insecurity. The path has been contemplated and chosen and now it is time to set forth. The road is not set in stone and you must keep your eye on the ball and not be distracted by the emotional forces acting here. With the right focus and dedication, you have the willpower, energy and confidence to fully succeed. The oil rig represents the beginnings of creating our mental framework, of pulling up ideas and thoughts from our subconscious and beginning to turn those into tangible attainable products of the real world.
VI Wands – What You Get – Then end result or answer
My take: A man stands on a balcony, 5 wands holding him up, his arms held up in victory, a bright light shining from the top of the remaining wand, which he holds firmly. This is reminiscent or roman times. This man looks like a leader and definitely a victor.
The card: Victory, plain and simple. A moment of elation and enjoyment of your accomplishment is in order. Just be aware that this feeling is temporary and the wheel of fortune will soon begin to move again.
Reading Analysis
Well, it seems like things are going to start moving and that success is definately possible and even probable. There is a group aspect to what I will be doing, but maybe not directly. It indicates that the decision has been made and now it is time to move on it. This still confuses me as I don't know what decision has been made. A couple of things have happened over the last week or so. A friend of mine mentioned a part time web gig for a friend of hers that does cranial sacrum work and then I got this sinus infection (ouch and sucky) and did a bunch of research on holistic ways of approaching sinus infections, and from several other directions I am getting bombarded by the alternative medicine thing. I have a horticulture degree and herbology and holistic medicine have always been great interests of mine. It is worth looking into and exploring, but I can hardly say that I know for sure about that. If I know anything for sure, it is that I would really like to be a yoga instructor and that I don't want to do the web thing forever. With the yoga thing, i am a good year away from even having that discussion with my instructor so I can't see that this is it. The only thing I can think of is that the events of the last week or so have put something I'm not quite aware of into motion. I'm going with that.