This reading deals with our biggest flaw, the one thing that can undo us.
The Setup
This card will use the card determined in Reading #1 (for me, The Hermit) using numerology to find a corresponding fool in the deck.
These fools include the pages and knights of each suit as well as 0 The Fool and  XXI The World.
The Hermit corresponds to the Knight of Wands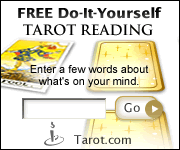 The Answer
You are a fool for the truth.  You are a slave to your never ending search for the true meaning in things.  People don't really get what your about.  This is a journey you must take by yourself.  Get away to sort things out and look out for those things that wil hold you back.
The Cards
I am going to examine both card and combine there meaning to get a little more insight.
The Hermit
My Take:  The Hermit represents looking inward for answers.  Taking time away to get a new perspective.  Seclusion in order to focus on accessing those parts of our mind not usually available to us.
The Card: Self imposed isolation.  Self examination in order to gain wisdom.  The hermit's lantern sheds light on the furthest recesses of his mind.   Sometimes this energy can turn into escapism.
Knight of Wands
My Take: Knights are not cards that generally show up in my readings so I am not really familiar with them.  This card seems rather aggressive.  An armored knight ride a fire breathing dragon and waves a fiery flag.    Words that come to mind: combative, pushing an agenda, keeping others at a distance.
The Card:  Knights are about doing.  This night is headstrong and impulsive.  He is extremely focused on his cause, a champion for his latest obsession.  But what cause he champions today could be very different from that which he champions tomorrow.  A task at hand requires intense focus and dedication to realize success.  Put the plans in motion.
Reading Analysis
It never ceases to amaze me how the cards can nail it time and time again.  I am a very self-reflective person, always striving to understand myself better.  I thrive in environments where I get to delve deeper and figure out the intricacies of how and why things work the way they do.  
I tend to prefer quiet solitude, almost to excess at times and I do use it to escape.  A few weeks ago, my therapist and I were discussing my tendency to run and hide when I start to feel that I am not performing to a certain standard or feel vulnerable.  This is a pattern for me that has repeated itself throughout my life, leaving me feeling like I can't trust my decisions or commit to anything in a really meaningful way.  There have been some exceptions and they usually involve places where I feel very successful.  But usually it ends up that these places that I am successful are simply really good hiding places.
A good example of this is my college experience.  When I started at the University of Washington, I was pre-engineering.  My class load was really tough and I didn't feel like I could keep all the balls in the air at a standard that was good enough.  I am an A student and getting BS just wasn't good enough.  I would go to my professors and they would tell me how great I was doing and that these were weed out classes and meant to be intimidating, but that I was doing very well and shouldn't worry.
But, I couldn't deal with it.  I found a way to justify to myself that I needed to choose a different major.  I chose well and have an amazing experience and my best friend as a result of this decision and I wouldn't necessarily take it back, but I ran away to a safe place where I knew I could be successful, and I was.  Very.  And then I ended up screwing that up too.
Even being a stay at home mom was an escape for me.  The world got to be too much and I retreated and what a safe, non-judgemental environment I have created for myself.  No one to answer to but myself, how convenient.
Good thing I'm in therapy right?
My weakness is that I get trapped in my head.  I over think things and freak out and run away and hide when I feel vulnerable.   My current cause – to figure myself out and slay the demons and grow into a better and more productive person who trusts herself and others more.   And in true knight of wands fashion, nothing can get in my way right now.  The difference is that I am determined to see this one through.  This has been really hard and extraordinarily scary, but I keep at it.
I have been thinking lately that a weekend away by myself might be a good idea and the Universe keeps pointing me in that same direction.  I think I will start to explore this in more detail.
This is a numerology reading using the tarot card suit of swords.  The sword cards are all about the tools and strategies available to you to use while maneuvering through life.  By using the swords we will learn about success and conflict, power and vulnerabilities.
The Setup
For this reading I will be using the I-X of Swords and the initials of my first middle and last name.  I will do a reading with my married as well as maiden name.
K.H.G.
11 + 8 + 7 = 26 = 2 + 6 = 8
K.G.R.
11 + 7 + 18 = 36 = 3 + 6 = 9
The Question:  How successful will I be?
The Answer
8 of Swords – KHG
You have followed a path full of challenges and pain.  You will use this to build your success on.  You may sometimes feel as if there is no hope of escaping it, but if you hang in there only wonderful things will come.
9 of Swords – KGR
Your success  is dependent on overcoming your fears.  You must walk out of the darkness of your past into the success of your future.  You may be inspired by those thoughts that come to you in the middle of the night.
The Cards
VIII Swords
My Take
This celestial card contains eight swords pointing upward under a naked and vulnerable woman contained in a bubble.  She wants badly to escape the bubble and the pain that the blade tips represent.
The Card
This card represents someone who has created a complicated web of assumptions and visions of reality that now imprisons them.   The only thing that can break the bubble and make the swords go away is to challenge those assumptions and look at things from a different perspective.
IX Swords
My Take
A woman lays on the ground.  She looks very frightened.  A large tree hovers over her, it's branches reaching out like claws.  A fence surrounds her.  The swords line a pillar behind and above her.  I'm not sure what the swords represent, but it appears that she has identified what or who is chasing her.
The Card
The woman's mind has created a scary scene full of anxiety.  This is a creation of the mind and not the reality of the situation.  Our minds are a powerful thing and a preoccupation with the negative has overcome you.  Remember, think negative thoughts and bad things will happen.  You must be vigilant.
Reading Analysis
In the answer section, I can see a direct correlation to the time before I was married and the time after.   I experienced a lot of pain in my youth and made a lot of really bad decisions because of it, but I never gave up hope that there was a better life waiting for me out there and when the opportunity presented itself, I took it.  Now I have a great life, full of love and family.  Now it is about letting go of the past and all the fear and that is what I am doing right now.  I am fighting the demons head on in order to let them go.  I no longer want them to influence my daily life.  They must be integrated into my being and then released so that I can move forward and find that so promised success.  This is a process ridden with anxiety, but the light at the far end of the tunnel is so worth the struggle.
When looking at the cards individually, outside the context of this particular reading, we can see how powerful our fears and anxieties can be.  They can trap us and preoccupy us, holding us back from our potential.  I look forward to being free of those traps.
This reading will address the role that money plays in my life.  It is a numerology reading using the Coins cards.
The Setup
For this reading I will be using the I-X of Coins.  These cards deal with all things related to money.
To select that card that represents my relationship with money we will add up the letters in the first and last name.  A = 1 Z = 26 and all in between as you might presume.
I am going to do both my married and maiden names to get a full picture.
Karin Reece
11+1+18+9+14 = 53 = 8
18+5+5+3+5 = 36 = 9
8+9 = 17 = 8
Karin Gallacher
11+1+18+9+14 = 53 = 8
7+1+12+12+1+3+8+5+18 = 67 = 13 = 4
8+4 = 12 = 3
The Answer
VIII Coins: Your money will come from the mastering of a profession, which will provide you a nice living. You spend your life perfecting your craft and will be rewarded for it. You do well with money and could make the making of money your craft.
III Coins: Your money will likely originate from others but you work very hard for it. You may be involved in a field where you require creative funding to finance your pursuits. This could include grants, stipends, freelancing or income from your family or patron of some sort. You contribute greatly to those who fund you and they are happy to do it.
The Cards
VIII of Coins
My Take: This card brings up imagery of a clock maker. A mad works on an intricate piece of machinery, carefully adding each piece in its place. There are shelves of books in the background indicating someone well studies. This card makes me think of mastery of a craft.
The Card: This card involves labor intensive projects requiring slow and steady work. This is not time for hasty decisions or quick movements. Buckle down and do the work. The plans on the table indicate that he is not yet an expert in his field. He should look to the books behind him and his tarot deck for guidance.
III of Coins
My Take: The man in this picture appears to be blowing glass. He is an artisan and a free spirit.
The Card: This man has mastered his craft. The creation of art from raw materials.
Reading Analysis
This reading makes some sense I guess. I am a kept woman after all (hee hee). No really, although I have had a traditional career (or at least the start of one), it was never where my heart lie. I have always known that I would spend my life learning and continuing to master some skill. At this point what that is just appears to be illusive. I have always wanted to get my PhD and become a professor. I also love Yoga and think often about teaching, talk about a lifetime of mastering. Now, i just need to learn to get over my self doubt long enough to pick something, maybe neither of these are it, but something, I just need to find it and then commit. Whoo, scary.
Back in
Reading #1
I looked at what numerology had to say about who I am.  In this reading we will take a look at how others see me by relating that original card with a new set of cards.  
The Setup
This is a one card reading.  To find the card we will relate the cards below to my card from reading #1.
For this reading we will be using the following cards…
King and Queen of each suit
0 – The Fool
XXI – The World
My card from Reading #1 is The Hermit.
My card for this reading is the King of Wands
The Answer
You are of a studious nature.  You study everything around you, maybe too much sometimes.You assess and observe and take things apart and put them back together.  People see you as someone to ask if in need of information or assistance.  But sometimes the line can get long and you need a break.  Your life will be full of departures from the norm.  You may get too far away sometimes, but always return home.  
May the truth you seek, seek you out.
This is a great quote.  I hope my truth finds me soon.
The Card
King of Wands
My take: This is a firey red card.  His crown dominates the image, rimmed with sharp metal horns.  His eyes are striking and wise.  The checkered floor has referred to a chess board in other cards, maybe in this card it is the same, which would indicate an intellectual underpinning. The sky is all orange and swirly, the astological wheel above and behind him.  Four rods shoot fire into the sky.  There seems to be turbulence around him, yet he is very grounded.
The card: The king of wands makes a difference in the world and represents politicians and leaders of all kinds.  And as we see these type of people, the king is charismatic and controlling.  He must control his environment and seeks to convince the world to see things his way.
Reading Analysis
The answer for this question lies in the combination of the two cards (the hermit and the king of wands).  I am not one to see myself as someone to seek out for answers, but I do feel sometimes like everybody needs everything from me and that I don't always have what's needed from me to give out.  I definitely analyse and over analyse everything around me.  My head never shuts up.  I am working very hard to learn simply how to be present in my life and to stop thinking about everything all the time so much.  I could definitely use a break, that's for sure.
Looking at the King of Wands by itself, I can also see how people could perceive me as controlling and trying to convince everyone that my way is best, although I don't think this represents how I really am.  I do like to control my own environment, there is no question about that, and I have very strong opinions that I don't hesitate to share, but my goal is never to convince others to think like me or to control them in any way.  I just really can't help but put my two cents in.  I know I can be a little strong sometimes and I sincerely apologize if I made anyone feel at any time, like I thought I new best or better than they.
I was looking through my google webmaster tools last night and at the top of my search list was "numerology obama". Cool, what a good idea. So here is a numerological overview for Obama.
Birthdate: 8-4-1961
8+4+1+9+6+1=29=2+9=11
Numerology states that Obama's path of life or birth force is 11.
Inspiration is the key word associated with the number 7 birth force.
11 is a master number, which is a big deal in the numerolgical world.  He belongs in the public eye.  He is intuitive and intelligent with success coming from your leadership and influence of society.  He inspires others through his example and would make a great  teacher, writer, reformer, psychologist or peacemaker.  There are very high expectations for him.  He must beware of selfishness, indifference and conceit.
Although I feel that the master number 11 is aptly placed in the able hands of Mr. Obama, there is also the option that this is a 2 (1+1), so I will cover that as well.  The number two is all about cooperation.  This person works well in partnerships and groups and is kind and thoughtful.  This person is a diplomat and peacemaker and is very detail oriented, but prefers to stay in the background.  I guess that last one rules Obama as a 2.
This explains why so many are drawn to him and why he has come so quickly to where he is today.  Let's hope he can live up to all those expectations.
And where is Obama now in this life journey?
According to Numerology, Barack Obama is in the first year of his fourth attainment. An attainment can tell us about the upcoming events in our lives. There are four attainments in life, each telling us what experiences we will have during that period of our lives.
To find the number for Obama's fourth attainment we use his birth date again.
Birth Month # 8
Birth Year # +8
equals = 16 = 1+6 = 7
Knowledge, philosphy, analysis, seclusion and understanding.  Interest in the deeper meaning in things.  Education and the increase of knowledge.  This gain in knowledge will bring success.  It is time for deep inquiry.
And what are 2008 and 2009 going to be all about?
2+8=10=1
2+9 = 11 (usually you would reduce again, but 11 is a special number)
2008 is a 1 year. This indicated all things new. Pioneering and new discoveries are prevalent. Activity is high.
2009 is an 11 year. This indicates an increased interest in religion and spirituality. Inventions and idealism are abundant.
hmmmm. This explains the call for change, but the latter makes me a little nervous with the extreme right having so much power. Things look good for Obama, but it doesn't look like the christian right are going anywhere any time soon.
We are now moving away from Wands and onto Cups.  Cups deal with personal relationships and emotions.  The next several readings will deal with the people around me and my relationships with them.
For this first Cups reading we will use the I-X of Cups and return to numerology to select the card.   I will be using my first name and "adding up" the letters in my name to determine what card represents how I am doing in my personal relationships.
Karin
11+1+18+9+14 = 53 = 5 + 3 = 8
VIII Cups
The Answer
You tend to get involved in structured, open-ended relationships.  You like a structured framework around your relationship, allowing you to speak your mind.  Your best friends will be like thinkers and people who you feel you can share all your secrets.
Sidenote:  Your future involves making a departure of some sort.  You will travel to see someone at a distance.
The Card
*My take:  A figure climbs a set of pillars resembling stairs.  Eight cups are laid out on the floor below.  The "stairs" seem to be leading to the moon.  The sky is dark and starry.  You are departing, leaving on a journey, whether physical, psychological or emotional.  The cups, representing the people in your life are waiting at home, supportive and grounding.
The card: Following a new path always requires abandoning something.  The eight cups represent that that you are abandoning, whether it be a project, relationship or situation.  The moon represents an intuitive leap.  The man is nude, indicating a primal connection to his intuition.  Basically this means that your current path has come to it's logical conclusion and now it is time to look to the moon (your intuition) for you new path.
Reading Analysis
Well, my life now is revolving around my new path and trusting my intuition to lead me to it, so this card makes sense, but what it has to do with the current state of my personal relationships, I'm not sure.  I have a feeling that the path that is coming to an end has to do with me only taking care of my kids.  Maybe by taking this new path, I am leaving behind some of the focus on everyone else around me and turning some of the focus on myself.   I can't help but feel a little guilty about this.  This new path will definitely be a departure from my current existence.  In the answer it discusses what I seek out in friendship and that is generally a correct assessment.
* Please remember that I am learning and so the "My take" sections are my impressions after looking at the card.  These will change and come together with the real meanings as we go.  My goal is to come to a general meaning that resonates with me and coordinates with the card's meaning.
This reading is based on numerology and identifies you as a card in the deck.
Add up the month, day and year of your birth…
June 1, 1973
6+1+1+9+7+3=27
Reduce to 1 number by adding again
2+7=9
IX Hermit
Me: A wise man sits in a meditative state far away from the rest of the world. He holds a staff with a brightly lit orb at the top like a beacon. He enjoys his solitude but his light calls to others to join him and learn from his wisdom. He must be careful not to stray to far.
Card: Self-imposed isolation. Examining actions and feelings in a rational manner in order to gain wisdom from them. The light signifies his ability to shine light on and darkest and most hidden parts of his mind. This introspection is a wonderful tool, but shouldn't be an end point. Risks falling into escape rather than exploration. Relies solely on himself to reach the goal.
Book: The card of people who have grown wise. The ability to understand things. Loners of the world. You enjoy getting away and being alone, not only to relax but to meditate and be introspective. Your job is to hold up the light for others to follow. You must not retreat into your hermitage perminantly, but come back to share what you've learned with others.
What it means: I can totally see this as me. This is something I am very aware of in myself. I really have to push myself, for the sake of myself, my friends and my family to be present and social and aware of the rest of the world. I am a little socially anxcious and find large groups extremely uncomfortable and small talk unbearable. I am constantly examining my life, my actions, the actions of other and how they relate to me, what they mean, how to fully take advantage of all situations to push me further down my path. I am aware and active in keeping myself here and not allowing myself to escape into my head more than is productive. Having meaning to my presence in this lifetime is very important to me. Although I am still looking, I know that my way of giving back and contributing will reveal itself. I always find it funny how I can be so rational and so free in my associations at the same time. I guess this kind of explains it.