The last set of cards to discover are the latter half of the Major Arcana Cards. These cards include…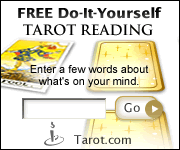 XX Judgement
XIX Sun
XVIII Moon
XVII Star
XVI Tower
XV Devil
XIV Temperance
XIII Death
XII Hanged Man
VIII or XI Strength (this card is swapped with Justice in some decks – for me it is VIII)
These cards deal with the inner workings of our hearts and souls and help us to discover and expand our spiritual and psychological breadth. While looking at my cards I find them especially beautiful — Alluring and dark, mysterious and light filled. Very cool.
The Setup
The Spirit card corresponds to the Key card discovered in Reading 1.
Key Card: IX The Hermit
Spirit Card: XII The Hanged Man
The Card
XII Hanged Man
You are driven. Outwardly the hermit and internally the hanging man, you are and independent spirit. You are self-motivated and directed and sometimes a little self-centered. You are you biggest ally and your worst enemy. You battle yourself, finding the slightest failure unforgivable and always striving to become better – a perfectionist to the core. You are consumed by your truth, always reinventing yourself. You just get how things work which enable you to think out of the box and have people hear you.
Analysis
This is actually pretty accurate, although I think that these tendencies work against me more often than for me. These traits, mixed with my upbringing have created many many problems in my life. I just need to learn how to use these skills for my benefit and learn to give myself a break now and then.
For this reading I will use the first ten swords and the first ten major arcana cards to examine what the best strategy is to deal with a particular situation.  With the recent launch of
karinreece.com
and starting to build my business, it only makes sense that I ask what my best strategy for success is.
The Layout
This is a celtic cross reading. It will examine the best comprehensive strategy for the asked about situation.
I will be using the I-X Major Arcana Cards and I-X of Swords for this reading.
Shuffle the major arcana cards while focusing on the questions and then deal out the first two positions.
Shuffle the sword cards while focusing on the same question and deal out the top four cards into positions 3 through 6.
Combine the remaining swords and major arcana cards and shuffle them together, again concentrating on the sames question and deal out the top four cards from this pile into positions 7 through 10.
The Question:  What should my strategy be with regard to my new web development business.
The Spread
1. Covers You (current situation) – X Wheel
2. Crosses You (challenges) – IV Emperor
3. Above You (what is possible) – VIII Swords
4. Below You (how you got here) – X Swords
5. Behind You (recent past) – IX Swords
6. Before You (what's next) – II Swords
7. Who You Are – I Swords
8. Who They Want You to Be – III Swords
9. What You Want – III Empress
10. What You Get – VI Swords
The Answer
This situation requires your full attention and dedication of all your resources, which you should invest wholeheartedly.  Someone wants to assist you in your endeavor.  Be careful of giving over too much power as it may result in a sticky situation.
You experienced utter defeat in the past causing this to be a challenging situation for you.  Just recently your worst fears surfaced, but all will come together in the near future.
You will be successful in the end, but don't expect the full support of those around you.  You want to be profitable and reap the rewards of success.  This success will come by letting go of those things that haunt you from your past and turning to the unexpected for inspiration.
The Cards
X Wheel
My Take*:  The wheel of time keeps moving.  A feeling that fate has taken over.  Remember you have control over many things.  
The Card:  Change, the feeling that some cosmic machine controls our destiny.  Although there is much we can't control, there is also a lot that we do.  There are also things that seem out of our control, but which we actually can control.  Things are changing.
Analysis**:  This card covers you, representing the current state of the situation.  You may currently be feeling like the world is passing you by or simply pulling you along.  You must take control of those things within your power and let go of those you are powerless over.  Use creative means, think outside the box because change is certainly coming.
IV Emperor
My Take:  Order, rules, dominant figure, social justice, watches over and rules the situation, caring for and creating structure in society.
The Card:  Fatherhood, authority, laws and regulation.  Government, social justice, tyranny, social structure, power of life.  Examine the role of power over the situation.  Organization and structure.  Find your own power.
Analysis:  This card crosses you, representing the obstacles faced in the current situation.  Your obstacle is to create structure for yourself or others.  Hold true to your values, find your inner power and get organized.
VIII Swords
My Take:  A prison of your own making, it looks fragile like any sudden move may send those swords plunging in.  But the pattern on the sphere suggests strength and integrity.  The woman is naked, showing vulnerability.
The Card:  Restricted by your own assumptions you have created an inflexible mental map and are now trapped by it.  The bubble is strong, only to disappear when new perspective is gained.
Analysis:  This card is above you, showing what is possible if the circumstances remain as they are.  Reaching your potential will require stepping outside your comfort zone. Look at things from a different direction to gain perspective.
X Swords
My Take:  The man is bent over shielding himself from the descending swords.  The tattoo on his back is protection, but defeat has already occurred.  There is nothing left but to give in to it and move on.
The Card:  Anguish and pain, but relief as well.  The situation is not manageable.  Although things are dire, it is a positive card.  You are at the end and are ready for new opportunities and ready to see the potential.  The extremes of the conscious mind.
Analysis:  This card is below you and speaks to how you got to this point.  Sometime long ago you were utterly defeated and it is affecting this situation.  There is nothing you can do now, it's over.  Let it go and get ready for new opportunities to emerge.
IX Swords
My Take:  The fears we create in our heads, mostly unfounded, but real enough in our minds.
Card:  Stress, tension, anxiety caused by your own mental dealings.  Your mind is wreaking havoc on your emotions.  How we think directly effects our perceptions.  Think negative things and negative things will find you.
Analysis:  This card is behind you and represents the recent past.  You've been letting your fears get the best of you.  Recently your mind has you riddled with stress and anxiety.  Remember we manifest what our mind tells us we are.  Cut out the negative talk.
II Swords
My Take*:  I'm not really sure about this one.  Twos are about couplings, pairs and dichotomies.  Swords are about strategies, struggles, power and strength.  She is blind folded and the sky is stormy with the sun shining through an opening.
The Card:  Comparing, analyzing, contrasting an idea.  Beware of over-analyzing to death, causing the new idea to wither and die.  The blindfold allows the woman to focus without distractions.  You are at a turning point.  It can still go either way.  Don't over-think it.
Analysis:  You may not be able to see it but soon light will break through the darkness.  Soon you will face a Y in the road.  Analyze the choice, but don't wait too long to make up your mind.
I Swords
My Take:  Strength, ready to take flight yet grounded with a good foundation.  New opportunities will bring success.
The Card:  A new idea or aha moment.  New opportunities, freedom of thought even when the rest of us feels constrained.  Opportunity for change and growth.
Analysis:  You are strong and grounded, ready to take off on a new adventure.  You are the one with the big idea.  This is your adventure.
III Swords
My Take: Grief.  She's crying and holding her heart.  The three swords all point toward her heart, like they are piercing it.
The Card:  Heartbreak and disappointment caused by your experience with the situation being quite different thatn you expected.  These problems are mental rather than emotional.
Analysis:  Someone related to this situation is not going to live up to your expectations.  Beware not to set them too high.
III Empress
My Take:  Mother earth, abundance, reaping the benefits of the harvest.  Connecting with nature.  Being a caregiver.
The Card:  Mothering, nurturing, protecting, raising, growing.  Giving birth to and nurturing something. Landscaping.  The project must be carefully taken care of and protected.  Take better care of yourself.
Analysis:  You want to enjoy success and abundance.  You want this to be your baby, something you grow and care for.  You also want it to provide something just for you.
VI Swords
My Take*:  This card is a little spooky.  There is definitely a journey taking place.  Passing through an arch, a transition.  the boat is well protected and the man carries a lamp, lighting the way.  His mask may show that the purpose or end result of the trip may not be clear.
The Card:  Quiet, steady, cautious forward motion.  Proceed slowly and discretely.  No need to declare yourself openly.  You are even and solid and well positioned to access and influence your subconscious.  Think a little outside the box to accomplish the goal.
Analysis:  This card position represents that final outcome or what you will get if you remain on the same path. You are embarking on a journey into the unknown.  This may be scary, but you are well prepared.  Proceed cautiously and quietly.  It may be outside your normal thinking, but put your head down and proceed without announcing your intentions. You are on a journey to wholeness.
Reading analysis
I think this is a pretty insightful reading and a really positive sign for the work on my freelance business being a positive experience.  I always like it when a reading rings especially true and this one did just that.  It picked up on my recent anxiety.  A few weeks ago, I even have a full blown anxiety attack while working on a design project.  I have been curious why I have been so afraid to put myself out there and obviously something happened long ago that is setting that up.  Wish I knew what it was.
I think it is interesting that thinking in new ways, outside the box, outside your comfort zone, came up consistently throughout this reading.  This could mean several things, but really I think it is just speaking to the cocoon I have built around myself and that I am going to have to put myself out there in order to make this succeed and that can be a little uncomfortable for me.
It is just generally good to hear that things in my life are stabilizing and that I am finally in a place where I am ready to take on new challenges and embark on new journeys.  Very encouraging.
---
 *Please remember that the my take sections are my first impressions and feelings about a card.  Since I am exploring a new deck, this is the first time I have taken a good look at some of these cards.  They may or may not be reliable or true to the meaning of the card.  I like to take my feelings from a card and the cards intended meaning and combine them for a cohesive analysis.  In this way I am consistently improving on my knowledge and abilities.
** I have added a new section to my card analysis.  In this section I will combine my thoughts and the intended card meaning and apply them to the position within the reading.  This is a way to expand on the meaning of each individual card in the reading.
For this reading I will use the first ten sword cards and the first ten major arcana cards to examine how I am as a risk taker.   Swords generally deal with struggles, power and strategy and I hope to see how I might best manage the risk and anxieties in my life.  
The Layout
This reading uses a triple cover and cross layout.  I will use three basic cover and cross pairs using the I-X of Swords and the first ten major arcana cards, shuffled separately.
The basic cover and cross layout consists of one card upright (covers you) and one laying across that one (crosses you).  Just like a cross.  The cover card represents the current situation and the cross card represents the challenges you face.
Shuffle the sword cards while asking your question and deal up the first three cards in the covers position.  Then shuffle the major arcana cards while asking your question and deal up the first three cards in the cross position.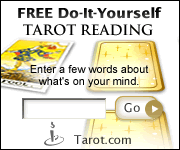 The Question: How can I ensure I take the right risks?
The Spread
Covers:  X Swords
Cross:  X Wheel
Covers:  IX Swords
Cross: IX Hermit
Covers: I Swords
Cross: VI Lovers
Interesting or coincidental that the first two are both nines and then both tens.  Hmmm.
The Answer
You are very capable of making a comeback.  Look to trusted friends for advice, but when the decisions need to me made, take some time to yourself and trust your own gut.  You will have the most success working with a partner.
The Cards
X Swords
My Take*:  A Man cowers under a ring of swords.  He is currently repelling the swords but that situation could change at any time.  He is naked and hides his head. Vulnerable is the word that comes to mind.
The Card:  You have completely lost yourself in the ruminations of your conscious mind.  The chattering monkey mind has obscured your perspective and the ability to see clearly and you are no longer able to manage things productively.  The good news is that there is nowhere to go but out of this situation now.  This is the end of the road and now you are able to see new opportunities and the potential for growth.
X World
My Take:  This card always reminds me of the Wheel of Time.  How no matter what happens time keeps moving on, with or without us.  It represents all the possibilities of the Universe and it is all up to us whether we seize those opportunities or let them pass us by.
The Card:  This card represents the feeling that our fate is determined by some mechanical or cosmic machine.  But no matter how many things are out of our control, there are many many things that we can control.  We just have to look at these things in new and creative ways.  It can represent feeling helpless to your circumstances and most definitely means that change is coming, usually for the better.  We must remember the control that we do have in our lives and not let ourselves believe too strongly in the power of those things outside ourselves.  
IX Swords
My Take:  Afraid of the things that go bump in the night.  A woman lays, afraid.  The swords are all gathered in a point right above her head.  A tree reaches out like a claw.  These are the scary thoughts that run around in our heads.  Being afraid of everything whether it is real or not or should be scary or not.  Letting our thoughts cripple us.
The Card:  Anxiety caused by the trappings of the mind.  How we think about things effects our perception of the world around us.  If we expect bad things to happen then they usually will.
IX Hermit
My Take:  This card is about looking deep within ourselves for the answers to our questions.   It's about removing ourselves from out surroundings in order to gain perspective on a situation.  
The Card:  Seclusion, meditation and removing of oneself to gain perspective.  Self imposed isolation and contemplation.   The lantern brings light into the farthest reaches of the mind.  Make sure that the isolation is for reflection and not simply to escape.
I Swords
My Take*:  An armored and winged woman is the hilt of this single sword.  Light radiates from behind the sword through a dappled cloud sky.  The tip of the sword runs through a golden triangle.  Ones are generally about new opportunities.   This card speaks to me of a renewal in strength.  The woman is ready to take flight like a regal bird, yet grounded by the golden triangle.
The Card:   A new idea or "Aha" moment.  A new  and clearer understanding of the world around us and our personal path.  Great opportunity for growth and change.
VI Lovers
My Take:   Intimate relationships.   Obtaining the ultimate closeness while still retaining your own identity.   
The Card:  Relationships, sharing of self, vulnerability, attraction of opposites.  All types of relationships are represented, not only love relationships.    Sharing of oneself can be frightening, but closeness and a breaking down of barriers can be achieved by being honest and up front.  Communication and understanding prevail. 
Reading Analysis
These three set reading tend to deal with past present and future and the first set seems to hold true with this.  I feel like the last year has been all about giving in and resigning to the situation so that I can finally see past all the anger and pain and fear and move on with my life in a more productive and genuine way.  It is time for me to break myself down and pick through all the pieces to determine who it is I really want to be.  This required getting rid of the negative influences in my life, renegotiating my boundaries and interactions with those closest to me and learning enough about myself to redefine who I am.  With this comes the ability to move forward in a new way that is very exciting and more than a bit scary.  
It is funny that they talked about the chattering monkeys.  My therapist referred to my constant ruminating as chattering monkeys as well.  A big part of this journey for me has been to differentiate between when the monkeys are working on something productive and when they are just being distracting and destructive.  I am working on this and also telling them that this isn't productive and diverting them onto more productive paths.  It seems to be working quite well.  Really dealing with depression, anxiety, fear, chattering monkeys or whatever else is all the same.  You have to look it straight in the eye, accept it and recognize it for what it is, then simply move on with your day.  There is little you can do about your physical reactions or mental wanderings, but you can identify it correctly and chose to live your life anyway.  And eventually the thoughts and physical sensations begin to subside, at least that has been my experience.
For a while now, I have felt really out of control, like the world was spinning out of control around me.  The Wheel card represents that.  But now, I am taking back the control that I do have, by choosing the people who influence my life, facing my fears and slaying the dragons, as I like to say, as well as trying to reconcile, resolve and/or let go of the things that haunt me from my past.
The nine of swords and Hermit pairing make perfect sense for the present with anxiety brought on by the workings of my mind and my resulting self imposed isolation.  I have been going through a lot and have closed rank as a way to cope and work through everything.  Only recently have I really started to reach out again and am beginning to attempt to clear away some of the rubble.  
This is where the risk this reading addresses really comes into play.  In the future set we have the one of swords about new inspirations and opportunities paired with the lovers which deals with open and honest communication and relationships.  To me this means that new opportunities lie in my relationships with others and with open and honest communications, being comfortable with my vulnerability and recreating the important relationships in my life in an honest and meaningful way.   It also may mean that a new relationship in my life will be a rewarding risk.  
Overall an honest and encouraging reading.
* Please keep in mind that I am learning and this is a new deck of cards for me.  The "My Take" statements are my first impression based on just looking at the card.  It is very likely that the first time the card comes up they won't be even remotely close.  Please don't hold it against me.  "The Card" statements are more accurate and based on the meanings that are presented with the card.
This reading will look into this years financial outlook.
The Setup
For this reading I will use a cover and cross layout and will deal out three cover and cross pairs.  The cards in use include I-X of the Major Arcana cards and I-X of Coins.  Coins are the cards of money matters.
To Deal Out this spread, shuffle the Major Arcana cards and the Coin cards separately.  Deal out three cover cards from the Coins pile and then three cross cards that lay across the cover cards from the Major Arcana pile.
The Question
What is the financial outlook for this year?
The Spread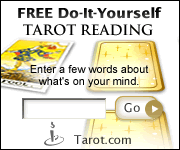 Cover:  IX Coins
Cross: IX Hermit
Cover: V Coins
Cross: VI Lovers
Cover: VII Coins
Cross: IV Emperor
The Answer
Pair 1: You will have enough to ease the pressure and pursue your goals.
Pair 2: You will feel your belt tighten and look for budget tightening measures.
Pair 3: Your earnings will maintain your desired lifestyle.
The Cards
IX Coins
My Take: A woman stands in a garden holding a dove, another flying overhead. Her dress suggests a traditional and conservative woman. Coins surround her head like a wreath. This feels like a card of adequate amounts, of building something comfortable.
The Card: You have worked hard and have created a peaceful and well deserved oasis for yourself. Be careful that you might be shutting out the rest of the world.
IX Hermit
My Take: The Hermit sits isolated looking inward for the answers. His light beacons for others to find him so that he may share what he learns. He is alone and withdrawn.
The Card: Self-imposed isolation. The hermit removes himself in order to gain perspective on his situation through meditation and self-reflection. The light from the lantern brings access to the deepest recesses of your mind. If you are using seclusion to escape, use the hermit energy to figure out why.
V Coins
My Take: It is snowing. A ragged woman begs for money, holding her baby close trying to keep it warm. She feels sad, reaching out to others to relieve her situation.
The Card:   Experience of misfortune, either financial or emotional.  You must be willing to do what it takes to get through this time and onto the next cycle of your life.  This is a temporary state.  Beware of a poor me attitude, your success or failure may depend on your attitude.
VI Lovers
My Take:  The couple is intertwine, joined in the intimate of ways.  Although this can obviously refer to positive sexual relations, it can also refer to two people being in sync with one another, working well as a team.  You must only be careful not to lose yourself in the other person.
The Card:  Any kind of relationship and the vulnerabilities that go along with it.  Being open, honest and vulnerable with another person.
VII Coins
My Take: This card shows a tree filled with coins with a woman sitting under it with he dog and some empty baskets.  The sun is out and she has a satisfied look on her face.  This card reminds me of the proverbial money tree, ripe and ready for harvesting.  Things are good and the money it there for the taking, just reach out and fill your baskets.  There is something slightly lonely about this card though.  She is far away from anything much and has only her dog for company.  There are two sides to every coin.
The Card:  The tree is ripe and ready but it is important to be patient and wait for just the right moment to optimize the harvest.  The woman ponders her situation, examining her next move.  Another interpretation might be that something that you have tended to and cared for is now ready to grow on it's own.  Your immediate attention is no longer needed.
IV Emperor
My Take:  The emperor is all about structure and order and having the tools available to you to accomplish the task at hand.  In this reading it seems appropriate that there would be enough money to create the structure and material world that is needed for you to feel secure and powerful.
The Card:  The emperor sees the need for structure and order in everything.  He yields the power to decide what projects to take on and/or who is worthy of his civic offerings.  He must be aware of the consequences of his decisions.  This card can refer to all things dealing with power.  Fathers or fatherly figures, government institutions, laws and regulations, tyranny and charity.
Reading Analysis
I like to think of multiple cover and cross pairs as a sort of timeline.  I asked about the next year so I see it as the first pair being about the current situation, the second about the middle of the year and the last as the end of the year.  
There are no surprises here.  All of my inputs say the same thing, that money is here, will be here and will keep coming.  There have been some signs along the way that there is a lot of money somewhere, but there has been no sign of any big windfall anywhere.  Karli has been doing very well for us and I have no doubt will continue to do so.
There seems to be a little stumble sometime this year, where we might need to address the budget and our expenditures some.  I will keep this in mind as I can see it being an issue as for the first time since I left work, we are finally in the black and have been spending a little willy nilly lately.  We'll have to make sure to keep that in check.
After examining each card individually, it is uncanny how the cards can address the questioned situation while still being very telling in other pertinent areas of our lives.  The cards speak of isolation, self-reflection, turning inward, pain, feeling sorry for yourself, reaching out for help and depending on those closest to us and then reestablishing order and looking closely at what the future looks like.  That sounds like a past present future reading for myself if I ever saw one.
This reading will be using the major arcana and cup cards we have been examining lately to take a looker depth at one of my relationships.
The Layout
For this reading I will be using the .
The cards in play are…
I-X of Cups
I-X of Trumps (Major Arcana)
Shuffle the cups and major arcana cards separately while concentrating on the question. Deal the top two major arcana cards into positions 1 & 2 (see ). Deal the top four cups into positions 3 through 6.
Shuffle the remaining major arcana and cups cards together while concentrating on the question. Deal the top four cards into positions 7 through 10.
The question: How will my relationship with my new therapist go?
The Spread
1. Covers You (current situation) – I Magician
2. Crosses You (challenges) – V Faith
3. Above You (what is possible) – VIII Cups
4. Below You (how you got here) – I Cups
5. Behind You (recent past) – IV Cups
6. Before You (what's next) – III Cups
7. Who You Are – VII Chariot
8. Who They Want You to Be – IX Hermit
9. What You Want – II Priestess
10. What You Get – X Wheel
The Answer
You are taking a deliberate action. You have a strong desire to be in control. A magical moment is happening. You must commit fully and play by the rules for the relationship to last. You may be tempted to walk away.
This relationship formed suddenly. There is an instantaneous connection.
Just recently you listened to your gut. Coming up there is a celebration.
You make the moves and they want you to tell the truth. You want this to feel right and know that you made the right decision.
You will get out of this relationship what you put into it. It will have it's ups and down, but is an honest, real relationship.
Sounds like the relationship I would like to have with a therapist. It shouldn't always be easy, but it should be honest and the connection is essential.
The Cards
X Wheel – Covers You
My Take: A Magician sits in a throne. He holds an orb that shines a light upon a wand, cup, sword and coin in the shape of an infinity symbol. He has a very deliberate look on his face. It looks as if he is illuminating the fact that you have all the tools you need at your disposal and it is just up to you to act on it. You must make it happen yourself.
The Card: Education and training, transforming ideas into plans. The magician is a teacher and gives us invaluable advice about our path. This can represent either a person in your life that serves this purpose or it can refer to our inner inspiration that helps to to learn and gives us our flashes of genius. The four suit symbols represent different ways to approach something. The magician gives us the tools and helps us choose what mixture of these is the most appropriate for the situation.
V Faith – Crosses You
My Take: A man prays. There are many religious symbols in a glowing circle in front of him. This is a religious man, but their are many options available to him. I see this as the opportunity to explore a new way of thinking or belief system.
The Card: The faith card represents our ability to find meaning in things. To many this means religion, but it can also encompass all other points of view as well. We must beware of becoming to rigid or judgmental in our thinking.
VIII Cups – Above You – The best you can hope for given the current circumstances.
My Take: A figure walks up a set of steps to the far away moon. There are 8 cups at his feet and a black and white checkered floor. This cards always represents leaving something behind to me. You are choosing to climb the stairs and walk toward something new, but this also means leaving some things in your life behind.
The Card: Every time we choose one path, it means abandoning another. We look to the moon for new inspiration and leave the cups behind. The cups could represent and idea or project abandoned. It can also refer to a sense of restlessness of the unexplainable need to leave.
I Cups – Below You – How you got here
My take: A single cup sits on the water. The sky looks like sunrise. There is an intricate orb within the cup. One represents newness and cups represent relationships and emotions, so the one of cups means a new relationship to me.
The card: The potential of new relationships and/or emotions. The subconscious is handing you a new emotion, like a gift. A new emotion or relationship is about to begin.
IV Cups – Behind You – Recent past
My take: A figure sits naked in the grass, vulnerable and open to new possibilities. There are three cups on the ground and one in the sky, like it is being presented by the universe. He looks up to the cup in the sky, curious, but not yet ready to reach out an grab it as his hands are still hugging his knees. You are being presented with a new opportunity, but may not yet be fully ready to embrace it. Don't miss this open door by contemplating too long. WRONG
The Card: This is the grass is always greener card. You may look to better your situation or be discontent with your current circumstances.
III Cups – Before You – Coming soon
My take: The are mardigras beads and masks as well as three cups on a floor with a golden sun on it. Four columns are in the background. This is a card about celebrations and parties. Being with friends. The masks may indicate that you are not ready to reveal everything just yet.
The card: This card represents celebrations and good fortune. Doing something nice for ourselves. Gatherings of all kinds, both formal and casual. Beware of overindulgence.
VII Chariot – Who You Are
My take: A man rides his chariot over a crashing wave, his steeds galloping through the water. There is a steel structure in the background reminiscent of an oil rig. For me, this card speaks to forward motion. Setting the wheels in motion. Moving strongly toward the goal. We just need to remember to keep ourselves grounded in the real world (the metal structure).
The card: The horses represent unbridled energy that must be directed and balanced by the man (you). The man is strong, proud and adventurous, maybe even a bit arrogant. The power in this card is the confidence that you can overcome any obstacle to achieve your goal. The structure represents the beginnings of putting things into context.
IX Hermit – Who they want you to be
My take: A bearded man sits, eyes shut, on the edge of a cliff. He holds a lighted staff. Sometimes we must take a break and get away in order to see more clearly. We look inside ourselves for the answers. We must be careful not to retreat too far and use the light to lead us back.
The card: Removing oneself to meditate on the current circumstances and gain perspective from examining ourselves. The light shines deep into the recesses of our minds to shine light on it's mysteries. We need to remember though, that this step is part of the journey, not the end of the line.
II Priestess – What You Want
My take: The priestess is a mysterious card. She looks deep into the recesses of her subconscious for answers and represents our psychic connections. She seeks a deeper understanding of herself and her world.
The card: The priestess represents the path to our subconscious. The darkness of the card represents our fear of the knowledge our subconscious holds, or even the existence of it at all. The two pillars on the card represent the duality of our conscious existence, always categorizing things as one way or the other. Our subconscious cannot be directly confronted but must be approached through meditation and openness. Then and only then may we get a glimpse of what lays beyond.
X Wheel – What you get
My take: Although beautiful this card doesn't speak to me clearly. The wheel looks like the innards of a clock and so reads as the wheel of time. All things come and go and so goes the wheel. I have more to learn about this card for sure.
The card: The wheel represents our fate, those things we don't have control over. Change is coming. We must remember that although there are things in our life we can not control, there are many more that we can. We must not submit to the fates, not buck against them but find our way to our potential.
Reading Analysis:
– The magician could represent my therapist and my need for her to help me to wade through the clutter of my life, past present and future.
– Faith is the challenge that I face in this situation, so I will need to be open to new ways of thinking about things and look carefully for the meaning in things. I must be careful not to get stuck in my old beliefs.
– I am feeling a very strong urge to leave the past behind me and move forward on a new path. It is encouraging that this is in the what's possible position, which means I actually might find that new path.
– I got here because all of these emotions surfaced for me and I sought out this new relationship. It is possible that this whole thing this summer, was my subconscious telling me it is time to make some changes.
– Recently I decided that my current path was not satisfying. I do often question why it is that I can't be content with where I am. I have a great life. Why is it never enough?
– A party in my future? Hmmm.
– I do have confidence that I can accomplish my goals. I started this blog because I knew there must be more for me. It may not be an easy road, but I am confident that I can find my way.
– I relate greatly to the hermit. Numerologically it is the card that represents me and this makes sense as I am naturally a little introverted and introspective. In this context it represents what my therapist wants from me. In this I think it means I need to step back and gain some perspective.
– The end result of this is change. This reading has been full of the looking within cards, the priestess, the hermit, the wheel, the magician, faith, and the four of cups. The Wheel reminds me not to get too caught up in this, but that I have control over the outcome as well.
Note: The information in the "my take" and "reading analysis" sections are only my thoughts. I am learning and these may not fully represent the cards true meaning, just the feeling of card to me, which is a lot of what reading the tarot is about, but I write these before looking at the meaning of the card. Many of the cards that show up repeatedly in my readings are starting to solidify in their meanings for me and you will see that my descriptions of these cards are more consistent in my readings, but my take on cards that don't show up as often are still evolving and changing in my mind and their descriptions will change over time. In the analysis portion I am practicing applying the cards to the specific circumstance. Please take everything I say about the cards with a grain of salt.