So Dr. Laura is on Larry King right now discussing her new book "In Praise of Stay at Home Moms".  I have to say that I am a little confused about what to say about this.
I am more than slightly uncomfortable with the fact that Dr. Laura is the new spokesperson for stay at home moms.  Her traditional value system and outdated theories certainly don't represent me as a stay at home mom.
But with that said, I am glad that someone is speaking to and about stay at home moms.  I have said before that I feel very fortunate to be in the position to stay at home with my kids and I do, but it was a choice that we made for our family because we felt that was what was best for our family.
This was a very significant sacrifice for us and  we struggled financially for a long time.  But with careful planning, stategic budgeting and a lot of self control, we have been able to not only survive, but thrive in our situation. Karli has worked so hard to advance his carreer so that we can build our life and provide for our kids.
And now that the kids are getting  a little older there is an opportunity for me to remake myself professionally as well.  I put my career on hold to stay at home and it is undeniable that I would have been very successful by now in that career.  But, that doesn't mean that I can never work or build a new career for myself.  It just looks a little different now and for me that is the best thing that could have happened.  I feel like I am going to get my cake and eat it too –  a professional life that fits my lifestyle and the family life that we have chosen to build for ourselves.
Choosing to stay home has been the most rewarding and challenging thing I have ever done.  It isn't easy and I am certainly not lazy or stupid.    I have heard that this is a common perception, but I have never experienced that.  I work very hard and give of myself on an emotional level that I think is hard to understand or relate to unless you do stay at home.  But I also reap the biggest rewards and I think my kids do as well.
But, I also don't think it is productive to perpetuate the divide between stay at home and working moms.  We all work very hard to care for our children in the way that works best for our families.   My closest girl friends work outside the home and I have a great deal of respect for them and there choices just as they have respect for mine.
We often joke that we couldn't imagine how hard it must be to do it the other way around and I think that says that we have made the right choices for us.  Moms should support and respect each other, no matter what our circumstances are.
On somewhat of a side note…
A while back my step sister in law (is that the way I say it?) posted the article below on facebook.  I felt this was a pretty good representation and until now forgot how much I wanted to share this with you all.  Now seems like an appropriate time.  Click on the image to make it big enough to read.
A couple of weeks ago some dear friends of ours were visiting for dinner. As you do when visiting with other parents we were sharing our little worries and goings on with our kids. It just happened that I had also recently dealt with similar issues as my youngest is just a few months older than her youngest. I was able to share a couple of products and experiences that turned out to really work for her. These same products were passed onto me from other moms who had dealt with similar situations in their pasts.
I also have a few lines of wise words that were shared with me by teachers of classes I have taken that have shaped who I am as a parent. I find myself sharing these with others regularly.
This is how is goes in the world of parenting and these things have inspired me to start a series of articles called Mom Tips.  Although I will be sharing my mom tips, I would also love to hear yours.  You can share in this discussion by commenting on individual posts with ideas or questions about that particular topic. Or if you have a mom tip or would like to discuss a new topic, I would encourage you to contact me with your mom tip or question and If it is appropriate for my readers I will post it to the Mom Tips article series. Just use the contact me form and make sure to include your website URL so that if I use it I can give you proper credit.
I really look forward to sharing in an open dialog about products, tips and words of wisdom that make us all the fantastic parents that we are.
There are many times when the little pieces of wisdom learned from other parents, friends, teachers, grandparents, coworkers or whomever come screaming to the rescue. These bits of information that lie in the back of our minds are very valuable and should be openly shared and cherished between parents. It is our job as parents to support each other and we have so much knowledge and experience that we may never share with each other, but definitely show.
Ok, Ok.  I know.  Here is another one of those recipes that came out of the what's in the pantry moment, but surprisingly it is really warm and comfy and the kids could not get enough of it, so I thought I would share.
I promise I cook more than these wacky on a whim recipes, but they seem fun to share and I'm not going to share all my best stuff, gotta come to dinner for the really good stuff.  Who knows, someday I may want to write a cookbook.
Ooey Gooey Mexi Casserole
6 servings
2 c.  cooked brown rice
2 T   light ranch dressing
1/4 c   fat free sour cream
1 can   fat free refried beans
1 can  diced green chilies
1/2 lb pork loin roast
3 T   taco seasoning
2/3   cup enchilada sauce
3/4   cup cheddar cheese, shredded
While the rice is cooking, prepare taco meat.   See my taco seasoning recipe for guidance if you need it.
Spread the rice on the bottom of a baking dish.
Mix the ranch dressing and sour cream together and then spread over the rice.   It will be a very thin layer.
This recipe will repeat the spread this out over…  routine several times and sometimes it is easier said than done.  I find that if I spoon out small spoonfuls out across the pan and then squish down or spread as best I can that it works out just fine.  With this dish it simply just doesn't make much difference how pretty it looks because it isn't really going to hold its form very well out of the pan anyway.
Spread the refried beans over the rice and sour cream mix.
Sprinkle/spread the green chilies
Spread out the taco meat
Pour the enchilada sauce over the top and sprinkle with cheese.
Bake at 375F for 30 minutes or so until heated through. It may bubble around the edges, but also may not, depending on what size of pan you use and how the sauce gets distributed.
Wow, this is a tough one. I don't really have anything going on right now to profit from. I am starting to take on some freelance work, but nothing serious until the fall probably. Hmm, well I guess I will ask what is coming that would be financially beneficial to me.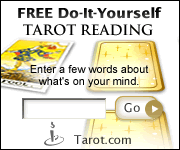 The Layout
This is a celtic cross reading.  This reading will take a comprehensive look at the financial future.
I will be using the I-X Major Arcana Cards and I-X of Coins for this reading.
Shuffle the major arcana cards while focusing on the questions and then deal out the first two positions.
Shuffle the coins cards while focusing on the same question and deal out the top four cards into positions 3 through 6.
Combine the remaining coins and major arcana cards and shuffle them together, again concentrating on the sames question and deal out the top four cards from this pile into positions 7 through 10.
The Question:  What opportunities are coming that I will profit from and how much will I profit from them?
The Spread
1. Covers You (current situation) – XI Justice (in some decks this is VIII and I have swapped them for the purpose of this self inventory)
2. Crosses You (challenges) – VII Chariot
3. Above You (what is possible) – IX Coins
4. Below You (how you got here) – VII Coins
5. Behind You (recent past) – III Coins
6. Before You (what's next) – VIII Coins
7. Who You Are – IV Emperor
8. Who They Want You to Be – II Priestess
9. What You Want – VI Lovers
10. What You Get – X Wheel
The Answer
Make sure you put the time in to thoroughly research the opportunity.  Crunch the numbers and weigh the possibilities.  The answer will not be completely clear, you must ultimately decide.  Look deeply for the answer.
You must enter into this opportunity with enthusiasm and energy.  Make full use of your resources and care well for those things trusted to you.  This has grown out of something you were formerly successful with.
Just recently money was handed out and will be repaid with interest in the near future.  You will remain in control of the situation while others hope that you will solve their problems.
Although you would like to be presented with an exciting offer right now, this is what is needed in your life right now and good or bad the risk is taken.
The Cards
XI Justice
My Take:  An Armored woman holds a set of scales.  She feels for what side is weighted more heavily.  She is without eyes to ensure her lack of bias.  The sky is dark and stormy, her sash blows in the wind.   She is armed against harm and unnerved by the turmoil around her.  It is a trying time and every angle and option must be adequately examined. 
The Card:  Your values and judgements will drive you to change the world around you for the better.  You believe in the underlying fairness as a part of what makes us human.  Be careful not to be too judgemental.  The scale has become one with the judge so that she is the one handing out justice. She has no eyes, showing her complete dedication to being evenhanded and unbiased.
VII Chariot
My Take:  This card always reminds me of charging forward.  The strength of this card is profound.  There is also a balance between riding the wave of life within the structure and constraints of our lives.   The power of the forward motion is hard to control and your inner strength is needed to keep it in check.  You have a firm foundation to build on and are ready to take the next step.
The Card:  You are ready to set off on your journey.  The horses represent the unbridled energy driving forward that must be guided and controlled by the charioteer (you).  You are confident in your abilities but must be careful of being arrogant.   But don't fret, you are correct that you are well prepared and aptly capable of taking this journey and surpassing any obstacles that come up.  You are beginning to lay the framework to build your future on.
IX Coins
My Take:  This seems like a peaceful card with the doves and all the flowers.  A young woman tending her garden, building a comfortable home life.  Her dress is very conservative and traditional which says to me that this deals with the more traditional roles and values of home life.  I can't help but feel something unsettling about her.  The coins surround her like an arch.  This card is saying to me that there is an investment in the traditional home.
The Card:  The lushness of the garden, the abundance of blooms indicates that you have done quite well creating a comfortable environment.  You have worked hard and enjoying the spoils.  This is a peaceful time.  Be careful not to retreat to far into your own world.
VII Coins
My Take:  The coins on the tree are like fruit, hanging low and ready for the taking.  She has traveled far to fill her baskets with the fruit.   The land is lush, the sun rising.  She rests before her harvest.  It feels like you have worked hard and now it is time to gather and save the money you've made.
The Card:  This card is about patience.  She is waiting to harvest the fruits of her labor but is waiting for the time of peak ripeness.  Timing can be everything in business.  This card could also mean that you have nurtured something and now it can grow on it's own.  The woman can also be seen as at a crossroads, deciding what the next move should be.
III Coins
My Take:  This cards speaks to me of artisan work.  A man is blowing glass.  Working with your hands.  Using your creativity and ingenuity.  He is confident in his task and a master of his trade.
The Card:  The glass blower is a master of his craft through hard work and experience and now deserves the respect he receives.  Taking raw materials and creating something beautiful and refined from it.  You have attained mastery in your field.
VIII Coins
My Take:  A man tinkers with a mechanical device.  There are extra parts, plans and books all around him indicating he is still learning and has not yet mastered his trade.  This work is slow and meticulous.  A detailed approach is necessary.  
The Card:  This is time to work slow and steady toward the goal.  This is not time for grandiose schemes.  Rewards will come from dedication and hard work.
IV Emperor
My Take:  Structure and order.  He is building the world he sees in his mind.  He is the master of his domain.  He takes great pride in and is very protective of the world he has created.  Beware of judgement and dominating behavior.
The Card:  Fatherhood, leadership, structure, order.   Social responsibility and tyranny.  This is the card of social constructs.  Although these powers can be misused they are integral and necessary in our lives.  Power is no inherently good or evil but inevitably a mix of both.  Take hold of your own power and use it wisely.  Look for the potential order in your task.
II Priestess
My Take:  This is the card of psychic abilities, of looking inward for answers.   Trust your gut, you know the answers you seek.
The Card:  You must be delicate in approaching the subconscious.  If you meditate and focus your energy on the answers you seek and are open to seeing what your intuition is trying to tell you, you may just get a glimpse.  The priestess' energy is a calming one, as one feels when they trust themselves.  You are reaching toward wholeness.
VI Lovers
My Take:  This is a passionate card.  The feelings of this are are intense.  The lovers are joined, almost becoming one, losing oneself in another.  
The Card:  A relationship of any kind, but mostly love relationships.  Sharing ourselves with others. Considering other points of view.  Be honest and above board, consider the other side in this situation.  The attraction of opposites.  The beginning of a new creative relationship.
X Wheel
My Take: This card shows a mechanical wheel with the signs of the zodiac all around.  This card always reminds me of the wheel of time in that it is always moving forward.  Time continues to go by no matter what is happening in our lives.  Change comes whether we like it or not.
The Card:  This card represents the feeling we have sometimes that our lives are being steered by some mechanism, that we have little control.  Although it may seem that we have no control sometime, there are always things in our lives that we can control with a little creativity and determination.  We must remember that this control and power we wield over our own lives is that which keeps from being vulnerable to others.  The wheel card can represent a feeling of helplessness but it also means that there is change coming, and that is a reason to feel hopeful.
Reading Analysis
The answer section of this makes me think of something I have been considering lately.  A month or so ago, I heard a story on NPR about micro philanthropy and the new ways that people are looking at philanthropy.  He discussed an organization called Kiva.  They enable individuals to provide micro-loans to business owners, individuals, and loan coops around the globe.  The payback rate on these loans are incredibly high and after hearing about it seemed like something I would like to check out.  I did a little due diligence and registered at the site, but haven't taken it much farther.  
From the cards here, it appears this might be something worthwhile for me to pursue.  It also makes sense as it talks about how, although I might like for there to be something big and exciting coming, that these things I can do to take care of myself and others may have a bigger impact.   There may not be a monetary profit, but I think I might be more in need of emotional profit anyway.  It will be good to help people help themselves.
The cards are also telling me that change is in the air, and I always view that as a positive thing.
I also feel there are some things to be said here about my freelancing business, but really, I'm just not in the mood to think about that right this minute, let alone discussing what may or may not get done in the future.
You may have noticed that this blog has been a little dormant lately.  This has a little to do with the holidays and the continuous stream of family visits, but I think I have been feeling a little blocked up because I have been avoiding writing this post, which I sketched out several weeks ago, but has been sitting unattended in my notebook since then.  It's amazing the things you will do while avoiding.  The house is clean and I am getting really good at Zen Gems. 
Why avoid it though?  Maybe because if I actually say it out loud, I will finally have to follow through and hold myself accountable?  That's a tough one, you see I tend to talk big and fail to follow through.  I want this to stop and that is why I am sucking it up, taking a deep breath and writing it all down for the world to see and hold me accountable for.
This is going to get a little lengthy and I apologize for that ahead of time.  You can stop reading now if you want because this post is really for me anyway.
A few notes before I get into the nitty gritty.  The goals on this list are intended to be year long goals not to be implemented immediately but taken one step at a time and built upon as the year progresses.  This is a year of change and forward movement for me though and I fully intend on working on each and every one of the items on this list.
This really isn't a post about my new year's resolution as much as laying out my goals for this year, but if I had to sum it up into one resolution, I would say that it is to not get overwhelmed and paralyzed by the enormity of it all.  I think I tend to look at the big picture too much and it just freaks me out and keeps me from being effective at the step by step, day by day stuff.  So, my goal is to get organized, get motivated and tackle one thing at a time.
Ok, so here we go.
In my old book club, I had the pleasure of knowing a well known hypnotherapist and a really great woman Diane Sewell. A few weeks ago, she sent out an email (I assume to her mailing list) that really inspired me to take this year's goal setting seriously.  Here is her list of 10 things you can do to be successful and get off on the right foot in 2009.
How You Think is Everything:  Always be positive.  Think success and not failure.   Also beware of negative environments.
Decide Upon Your True Dreams and Goals:  Write down your specific goals and develop a plan to reach them.
Take Action:   Goals are nothing without action.  Don't be afraid to get started.  Just do it.
Never Stop Learning:   Go back to school or read books.  Get training and acquire skills.
Be Persistent and Work Hard:   Success is a marathon, not a sprint.  Never give up.
Learn to Analyze Details:   Get all the facts, all the input.  Learn from your mistakes.
Focus Your Time and Money:   Don't let other people or things distract you.
Don't be Afraid to Innovate; Be Different:   Following the herd is a sure way to mediocrity.
Deal and Communicate with People Effectively:   No person is an island.  Learn to understand and motivate others.
Be Honest and Dependable; Take Responsibility:   Otherwise, #'s 1-9 don't matter.

– Diane Sewell, Master Hypnotist and Weight Loss Expert
In the past year I have struggled and worked very hard to improve my mental and emotional states as well as remove the negative environments that were contributing to my depression and life paralysis.  Now, I look at my future as a clean slate, a place to start and it is time for me to take control, set goals and direct my own future.
I have an affirmation that I say all the time.  I say it when I am feeling overwhelmed or sad or stressed, during Savasana, before I go to sleep – really any time that it seems appropriate to do so.  It calms and focuses me.    It goes something like this.
I am whole, I am happy, I am healthy, I am beautiful
With all this in mind, I have laid out this years goals into those four categories and listed them out below.  Some of the items are pretty simple and straight forward, but many will required detailed plans to accomplish.  Over the next couple of weeks, I will be posting these plans as well and will link to them from the appropriate items below.
These lists are not in any particular order.  Just as they came to me.
I Am Whole
Things that are healing and contribute to my overall mental health and fulfillment
What are my true dreams?
Work hard and accomplish enough that by the end of the year I am attending therapy once a month rather than every week.
Complete and full 21 day manifestation. 
Read my tarot cards once a week for insight, guidance and awareness.
Be contributing $500 per month to the family budget by the end of the year.  
Find or create a mommy support network.
Create and maintain a comforting and manageable home environment
Be the best mom that I can that day, every day.
Start writing my book.
I Am Happy
Things that are simply for my and my family's pleasure.  The things that just make life more fun.
Have one great family adventure every month.
Take time for fun just for me – book club, girls nights etc.
Find a babysitter
Have more sex
Kiss my husband passionately every day
Give myself a break sometimes
Laugh out loud with my kids every day
I Am Healthy 
Things to improve both my body and mind
Achieve a slim, fit and healthy body – this means to me…  Look and feel great naked and goal weight of 135.
Experiment and incorporate more healthy foods into diet
Sleep better
Walk the dog more
Garden and landscaping projects
Generally by more active and productive – just get up and do it, when you think about doing it.
Reduce TV watching by 1 hour per day
Be reasonable with the puzzles and online games – have a picture and a crossword puzzle printed out to work on during downtime.  Online games only during designated relax time.  Get a grip.
Complete PHP certification
I Am Beautiful
This is as much mental as physical for me.  I want to feel beautiful in my own personal and distinct way.
I am terrible at  forming good habits and have neglected much of the womanly maintenance over the years.  As many moms can probably relate – I have let myself go a little.
Now, I am not really into a lot of the girly stuff and looking perfect all the time doesn't even reach my radar, but it is important that I begin to feel good about myself again and keeping up with some physical improvements will generally lead to that I think.  You'll notice, this is pretty basic stuff here.
Wash my face every night
Shave my legs once a week (I have very blond fine hair so this is all I need to do), even in the winter.
buy some quality makeup
Get a haircut regularly
Lotion all over, every day
Figure out my own personal style
Buy new clothes that fit well and make me feel good about myself.  Don't just buy what's cheapest.
Look in the mirror and say you are beautiful inside and out, every day
Karli has been home for four days for the Labor Day weekend and although I absolutely love having him around as much as possible, it just destroys the kids to have that many days in a row that feel like a weekend.
During the week we get into the normal routine and things are very predictable and structured. Daddy is only around for the first and last part of the day and they get a little bit of play time with him during that time. He loves to play with them, he's way better and getting down on the floor and really playing than I am, and they look forward to this all day.
So this makes him fun Bobby and when he is home all day they just seem to be more amped up the whole time, like there is something new and exciting around every corner. I also think poor Karli feels like he has to be on all the time too, which isn't the way it should be either.
Of course, I am not complaining at all. Having Karli home is wonderful and it is so nice to have another set of hands and to be able to do fun things as a family and to get projects done that I simply can't do by myself.
But the weekend is winding down and my poor kids are about to implode. Ada is a whiny mess and Ian is all amped up one minute and crying in a puddle the next. I wish there was a way that fun and family time wasn't so exhausting for them, and for us too.