Well I am having a hard time figuring out if I chose the best or worst time to take this on.  Right now, life is simply lobbing me one stressful event after another.  The timing has definitely not been ideal for extreme weight loss, but it has been primed for personal growth and that sometimes is even more important.
The last several days my son has been very sick and Monday we spent the good part of the day and all evening in the ER.  He is getting better and is going to be just fine, but the stress has been profound.  Believe me, the last thing I want is excuses for why I can't succeed at this.
This is what I struggle with time and time again.  Life gets in the way, the stress gets to me and then I eat to make myself feel better and then I feel guilty and crappy about myself so I give up.
This cycle, I only lost half a pound.  I have hit my mark in that 163 pounds is this sticking point for me.  I have not been below it since my son was born three years ago.  I try and I try and I get to 163 and it just won't budge.  Well, here we are again after a stressful and disappointing week and I have to say I am not surprised.  I am trying very hard to look past that number and not feel defeated.
But a couple of really good things have come out of this cycle and right now I am celebrating the littlest of victories.  I am still here.  I haven't given up, I haven't blown my diet.   I am sticking to the plan, despite all the obstacles.  I will finish what I started and push past my fears.
I also started exercising again.  There are still many things that I can't do with my thumb as it is, but I went for a run and biked as well.  I also tried out some of the bodyweight exercise routines, which I totally love.  There were several of the exercises that I couldn't do as I am unable to put my full weight on that hand, but I either modified, substituted or skipped the moves I couldn't do and kept going.  Tonight I am going back to swim classes for the first time since the accident.
The biggie though has been gaining some control back over the food.  The fast days have been so pinnacle in this.  Yes, I get hungry but I embrace that and I have control of whether I eat or not.  And that gives me more control over the rest of the days when I have to choose what I will eat, whether I will stick to the plan or give into the little gremlins in my head.
Through all the last few weeks of craziness with family in and out of the house and two major medical events, I have stuck to the plan as much as I could.  There have been moments of weakness and moments of circumstance, but I didn't let them affect my resolve.  I just kept going.  This may not seem like much to you, but for me it is a pretty big deal.
I have two more cycles to go and I hope that I can get it together enough to lose a little weight in the process.  But even if I don't, I have gained a lot from this and I will be completing the program again in July before my husband and I take a trip to Sonoma.  So, I will have another chance to make it happen for me.
I have updated the Xtreme Fat Loss page with the latest.  Not much to look at though…
Don't let my lack of success deter you from this program.  My results have nothing to do with the program.  I have no doubt that it works and that you could achieve significant results.
Learn More at the Xtreme Fat Loss Diet Website
Don't let your fears or reservations stop you in achieving your goals.  When we fall all there is to do is to get up and keep going.
Today's email from Isabel De Los Rios and
The Diet Solution
touched on something that rings close to me and that I think is really important.  The mental and emotional side of losing weight.  Anyone who ignores this is only destined to fail.  Yes, you may lose some weight now, maybe even a lot of weight, but if you don't feel that you deserve it, see yourself as a thin person who is happy and active and whole or if you continue with the negative talk, it is very likely you will gain all the weight back and more.
This is something I have really struggled with.  In The Gabriel Method Jon talks a lot about envisioning yourself as a thin happy person.   I have had such a hard time with this.  Not only could I not see myself thin, but I didn't believe I could ever be thin again or even that I deserved to be.  This is the exact reason I took a break from actively trying to lose weight and concentrated on getting my head straight while continuing to improve my eating habits (nutrition and portion control) as well as learning to like exercising because it makes me feel good and not to punish myself for being overweight.
Isabel gets this too and the first chapter of The Diet Solution is dedicated to this.  Today she sent an email that talked directly to this part of the weight loss journey with some really good ideas for changing these patterns.
The strategy that touched me the most was that we should be talking to ourselves like we talk to our children.  Isn't that so powerful?
We fill our children with love and support, we tell them they can do anything they put their minds to, that if they work hard and show passion they can achieve anything.  And when they are scared or nervous or feel insecure, we give them the best, most heartfelt pep talks.  We hold them close and tell them how proud we are of them and how we know that they are capable and brave.
But when we feel those same things, we turn on ourselves.  I would fill my head with doubt and fear, blame and anger.  I would tell myself how lazy and stupid I was for not being able to do it.  I would get angry at anyone who tried to encourage me or support me, because I didn't really deserve it anyway.  Sound familiar?
Well, I'm done with that.  I deserve to accomplish anything in my life that I set my mind to.  I deserve to be happy and healthy and loved and supported.  I deserve these things just as much as my children do and I can see that thin, healthy, happy, fulfilled person now and I'm going after it.  And you can too.
Every day I am more and more impressed with Isabel.  I really encourage you to check out The Diet Solution.
This is the email she sent today in it's entirety.  I hope it is ok that I shared it this way, I just felt it would be important for you to read.
Hey Karin,

I was remembering back several years ago when I used to do one on one client coaching, I had a great call with a client. It was actually her last coaching call with me and I wanted to be sure that I left her with all the "tools" she needed to maintain and continue her incredible weight loss success.

Me: "What do you think will be the most difficult challenge for you moving forward?"

I was expecting an answer like traveling, going out to dinner, maybe even cravings, but that was not the case.

Client: "Isabel, the absolute hardest thing for me is the mental part of losing weight. I see how successful I've been and I clearly see the results in the mirror, but I still find myself doing a lot of negative self talk. It's almost like I know I'm going to blow it, just like I have so many other times."

WOW! Talk about honesty. And I know she is not the only person who is going through the same thing. I can remember years ago when I first lost all of my weight, I would get compliments from people and I would always thing to myself, "Yeah, whatever, let's see how long this really lasts."

But there is a reason why the FIRST chapter in the Diet Solution Program Manual is about MENTAL PREPARATION because this is an ESSENTIAL first step. It doesn't matter how good the information is, how easy I have made it for you, or how delicious the food is. If you're going to talk yourself out of your own success all day, then you might as well just throw in the towel now (in this case, walk away from the computer and stop reading).

So how exactly did I overcome this common hurdle? Here are some strategies I use even today in my life that keep me focused, motivated and always working towards my goal.

1. I start each and every morning with a gratitude list. This is non-negotiable! It takes me no more than 3 minutes and it changes my spirits for the entire day. How's setting aside 3-5 minutes for a joyous rest of the day? Worth it, right? I write "I am so grateful for…" and then just write, write and write. For me that list always includes my family, my health and my work. I wouldn't start any day without this!

2. I go to sleep each night playing my personal mind movie in my head as I go to sleep. What is a personal mind movie? Basically, it's you imagining yourself looking, feeling and doing whatever it is you would do if you achieved your health and weight loss goals. Imagine yourself in a particular outfit, at a party getting compliments, participating in some awesome athletic event. Athletes have actually used this strategy for decades with much success. This approach helps me to fall asleep happy and is much better than lying there thinking about all the things I have to do the next day or harping on stressful events. I sleep so much better at night like this!

3. Only talk to yourself as you would a small child (This one is my favorite and given to me by my best friend Jackie). Would you tell your children all day long that they were never going to achieve their goals, that they should stop trying or that they shouldn't even try in the first place? No, I sure hope you wouldn't. You would encourage them, give them hope, and tell them that anything is possible with hard work. Treat yourself, in your own mind, the way you would want to speak to your children or better yet, the way you would want others to speak to your children or speak to you.

Karin, keep your eye on the prize because the prize of the body you are dreaming about is within your reach! If I can do it, so can YOU! Tell yourself how awesome you are and how this time you are changing your life and there is no looking back.

Speaking of keeping your eye on the prize, I just got the most wonderful celebration email from my friend Joel Marion. He had set his goal to help as many people around the world achieve their own weight loss goals and getting his information out to every person that was ready to take his Xtreme weight loss challenge.

He has accomplished just that and is celebrating the Xtreme Fat Loss Diet system officially becoming the #1 Bestselling e-book on the internet right now!

To celebrate this monumental event in Joel's life, he's decided to keep the $30 OFF offer open for a couple more days.

If you haven't secured your discounted copy, THIS IS THE TIME TO DO IT! (before Saturday).

I couldn't be happier or more proud of him, and if you are one of the 20,000 people that has decided to take him up on his offer, I am proud of you too!

Take a look at Joel's celebration page here:

The Xtreme Fat Loss Diet
And join me as we give Joel a big round of applause. Bravo…(clap, clap, clap).

Keep your eye on your own prize…and you will get there!

In health and happiness,

Isabel De Los Rios
Certified Nutritionist
Certified Exercise Specialist
Author of www.TheDietSolutionProgram.com

PS – If you enjoyed today's newsletter, feel free to forward this email on to any of your friends, family, or co-workers that would also enjoy the information.
Have a really great day and remember to care for yourself, you deserve it.
With New Years here and resolutions on everyone's mind and such, I thought this might be a good time to share how I quit smoking.  Why I think that it is important to share how I quit smoking is that it was easy, really easy.   It has also been a while now, so I know for sure that it worked and I am never going back. I never even had a moment of withdrawl and when I put the last one out I never looked back.
This isn't to say that I don't think about smoking or see someone smoking and wish I could have one, because I do.  I almost see this as a plus.  I know so many people who quit that can't stand to be around anyone who smokes or smell cigarettes at all.  I actually enjoy the smell of cigarettes, like the comfort of an old friend and I can happily stand and talk with people smoking.  And, even though it smells good and sounds like a great idea, I have no problems just saying "No thanks, I don't smoke".
This didn't happen exactly overnight, but almost.  There was a time or two at the very beginning where I was out and drinking with friends where I caved and had a smoke.  But, I regretted it and it didn't even really do anything for me and I had no problem never having another.
If you are still a smoker then you are probably thinking right now that I must have been a casual smoker or just be one of those people that can just turn it off.  This couldn't be farther from the truth.
I became a smoker when I was fifteen years old.  This is not when I started experimenting or casualy smoking, this is when I became a smoker.  I would say that I smoked on average about 1/2 a pack a day when I started out and I peaked at about 1 1/2 packs a day, which I sustained for many years.  After college, I cut back down to a 1/2 pack a day and kept at that for many more years.   Overall, I was a smoker for close to 20 years.
I tried to quit many times and not once was successful for any significant period of time.  The only time I went more than a couple of weeks was when I was pregnant and that was only because it was for my child and not me.  I had a tremendous amount of shame associated with being a smoker and was really motivated to quit, but I also loved it and cherished the process and the time and the act of smoking.  I loved smoking and deep down I'm not sure I really wanted to quit, but I knew that I had to – for me and for my kids.  
But I had no idea how I was possibly going to make it happen.  I was scared that I would never be able to kick it for good and that every day for the rest of my life I would deal with wanting to have a smoke.
Then I heard about this book.  I had heard of people who had had success with it and then I read many of the gazillion reviews on Amazon and said why not try one more thing.  I really didn't think it was going to work, nothing had before.
So I read it and then I read it again and that was it.  I was no longer a smoker.
Sounds crazy, I know.  But it works.
What book you ask?
This book helped me to quit smoking for good without withdrawal or regret.  I am so happy to be free of such a huge burden.
Do understand that there is no method here or new information.  Don't look for the magic pill.  Just read the book and do what it says.  That's it.
I encourage anyone who wants to quit smoking to read this book.  Just click on the link above and check out the amazon reviews and then judge for yourself.
It has been an interesting couple of weeks since attending the forum.  I have been mourning a part of myself and learning to live in a world where that part me no longer exists.  Of course this is a good thing, but that certainly doesn't mean it has been easy.
I have caught myself falling back into my depression routines which is pretty frustrating.  I am also noticing new layers or levels of issues to deal with.  This is also a good thing as these are the real issues, the rackets I have built up that were hidden beneath my tortured soul persona.  The good news is that now that I am past all the bullshit  I can concentrate on going after the stuff really getting in the way.  It is like all that anger just wrapped me in a blanket of safety and now I am fully exposed, left to look for and examine the real issues I was just hiding from before.
My therapist is thrilled and I am working on being thrilled, but right now I just feel a little let down.  See there, that's a racket talking right there.
I have been finding it hard to write.  This post have been sitting in my draft posts in various stages of undone for about a week now.  I ended up having to write it by hand to break through the block and it hardly resembles what I meant to write when I started.  When I think about it, I wonder if much of my inspiration came from my angst and resentment and blame.  This is a new place to write from for me.  This is a new place to do everything from for me.
Although I see the future in a whole new brighter light from a place of knowing I am not only capable but also deserving, insecurity and fear are still rampant and restraining.
But alas,  life rolls along and time speeds past and there is much to be done.  School starts this week and a new stage of life beings for our family. Ada starts kindergarten on Thursday and Ian will be attending preschool two mornings a week starting next week.    This leads to many new challenges and some great opportunities as well.
I am not the most organized of people, another racket I run to avoid being responsible for my own life — See how those can get in the way?
So, this week I have set myself up to succeed and started a fresh school year with a fresh outlook.
Taking responsibility for my life means many things to me.  Much of the big stuff like the wall I put up between myself and others and how angry I was and generally nasty sometimes are gone – vanished like some sort of magic.  What's left are those things that can make a huge difference in my day to day life.  These include being organized and responsible for remembering what forms need to be filled out, that there is a field trip tomorrow and I need to send snacks to school on Wednesday.  It also means taking responsibility for my health and my body and finally doing what it takes to be a healthy, confident, beautiful woman.
Maybe we can throw in figuring out what I want to be when I grow up as well, but that is the big scary monster in the room right now and a lot of baggage lays between me and that goal, although I have been having some thoughts about what it might look like and that is a surprisingly big step for me.   In the meantime I can concentrate on getting the things I do have under my control under control.
I have already made some big strides.  Today (well actually yesterday but it took me too long to edit this) I have eaten great, exercised, cleaned the house and spent quality time with the kids, while still managing to get some work done.  It is possible to be productive and get everything done.  It's amazing how much time opens up when you stop worrying so much about how overwhelming it all is.
The challenge will be to keep at it for more than a couple of days.  This is another racket I run.  I have great intentions and a strong start, but the follow through tends to go by the wayside.  I have put many tools into place to assist me in overcoming this weakness and I will share them with you over the next couple of weeks as I discover the successes and failures.  I hope that maybe an idea will spark you to create a less overwhelming life for yourself as well.
Last week I spent three very long grueling days transforming my life.  It may seem a lot to ask to completely transform your life in three measly days, but it happened.  They said to commit to the process and it would happen, and it did.
I saw some amazing things.   I watched men open up and accept their vulnerabilities even though they were completely closed off when they arrived and women face their fears and insecurities head on with bravery and grace.  I have never been part of something so intimate with a group of 130 people, all of whom supported and surrounded each other with love through a very trying couple of days.
I went to the Landmark Forum really unsure of what it was I was supposed to gain from it.  A lot of people go to have breakthroughs in their relationships with parents, children, friends and/or spouses or with their health or business.  I needed all of those things and so didn't enter with a specific goal in mind.  I just knew that my life wasn't working the way it was and after seeing the change in a friend of mine who recently went through it, I knew I wanted some of whatever he was taking.
What I ended up learning is that all those areas of my life that needed changing were all tied up in the same underlying issues.  I needed to take responsibility for my own life.  I had blamed my parents for everything bad that had ever happened to me and even for my persistent unhappiness.  This impacted every area of my life and held me back from getting anything done.  I learned to differentiate between the actual events that happened and my interpretations and stories that I built up in my head as a result.
It's not that bad things didn't happen, they did.  But my parents were just doing the best they could with what they had to work with.  They had their own shit to deal with and their own demons haunting them.   But, the feelings of not being worthy and not being good enough were completely separate and only the stories that I had created.  This realization alone lifted 10 tons off me.  I didn't have to let my stories control me any longer.
This was a lot easier said than done for me.   Let me just say before I go any further that I had a certain type of experience and everyone else there had their own experience.  Please don't be scared off by the following information.  I am an extreme case, not everyone had the issues to deal with that I did or the built up emotions to clear.  Each experience is as different as the individual.
OK, here we go.  I started crying Friday morning and didn't stop until late Saturday afternoon.  I kept apologizing and laughing with the people around me because I couldn't get the tears to stop, they just ran in a steady stream down my face no matter what I did.  I would get a small break and then she would mention the word empowerment or opportunity and there they would go again.  I never dreamed it would be so difficult for me to grasp onto the possibility that I deserved to be a powerful person with unlimited possibilities.  My mind and body fought this process tooth and nail, yet I persevered.
But after speaking with my Mom on Saturday afternoon, I got up and shared this very powerful conversation with the group.  I was almost giddy and no longer crying.   By taking responsibility for my own life and releasing the anger and resentment, I had cleared up a ton of space in my life that was formerly filled with nothing but garbage.
I even came home with the full intention of calling my dad, who I haven't spoken to in 17 years.  A lot of work finally got me to a point that I have forgiven him and realize that his actions can no longer have any impact on my life.  I even think I might want to have some sort of relationship with him, if that is possible.
So I woke up Sunday morning and got sick three times, then I dialed the phone with the full intention of speaking to him when he picked up the phone.  I was going to tell him that I am doing great and that I accept him for who he is and forgive him.  I was also going to take responsibility for the fact that I made some decisions I am not that proud of and didn't treat my parents very well, but that all that is in the past I am hoping that we can start over and get to know each other.
Unfortunately, the phone was disconnected.  God, I was pissed.   All these years and all this pain and I finally get to this point in my life and he wasn't there.   I didn't need to puke any more, but was I mad.  I marched in there and got up and told what had happened.  Our leader Angie did an amazing job of bringing me down and reminding me that what happened was the phone was disconnected and that was it.  " He wasn't there" and "I have spent so much of my life wasting time getting to this moment" was all my stories.
For all I know, he got a cell phone or didn't pay his phone bill.  I really don't know anything about his situation, but I do know that I called and intended to talk to him and that means that I am officially "in the game" and she congratulated me on that.  She also mentioned that I needed to stop holding all my emotional stuff in my physical body and that I might be amazed what physical problems I have disappear now.  Hmm, haven't I heard that somewhere before?
That was when it happened for me, my transformation.   I have spent my entire life completely wrapped up in my stories.  So much so that they appeared to be all there was.    I was terrified if I even let up for a second that I would just crumble into little pieces on the floor and there would be nothing left of me.  But that was just another story,  I am better than ever and still me, just a little more emotionally light.
When I got home on Sunday night, I was bigger than life.  I almost felt high, ready to conquer the world.  Just sitting with my husband caused him to panic a little.  It was just me with him, fully  myself and present and that is surely something he is not used and maybe has never even seen with me.
At the Landmark Forum, I created the possibility for my self and my life of being whole and present and responsible for my life and my actions.  In doing so, things started happening right away.  At dinner on Sunday night with my cohorts at the Forum, I was fully present and confident when speaking about my business, free of thoughts of not being good enough or worthy of success, and almost everyone at the table asked me for my information (definitely time to order business cards).  On the way home that night, I was telling the young woman I drove home about the experience and she jumped in with the information that her boss needed some advice on his website.   The following day, I responded to two inquiries for small websites and received an email from a designer friend of mine asking if I wanted to work on a project with her.
Even if none of these interactions turns into anything my outlook on my business has changed completely, and this wasn't even something I was looking for out of attending this workshop.   I know now that I have something good to offer and that a potential client choosing to do business somewhere else doesn't mean I'm a failure.  It just means they decided to go with somebody else.  I just have to put myself out there and be present and genuine in the moment.  And of course build kick ass websites.
This week I have been with my children fully and openly, I think for the first time ever.   I was so concerned with my own stuff that I don't really think that I could be present to their lives.  I realized that they are not extensions or reflections of me or my parenting.  They are their own little beings and my job isn't to mold them to force them to be a certain way, but to be with them and stand up for them and be present, I mean really present to their unfolding and growth.   This is a pretty powerful thing and has changed the way I will interact with my children forever.  The whole first day, Ada kept looking at me like an alien had taken over her mother.  The second day, she just hugged me and hugged me and hugged me.   The tears come just thinking about it.
Now, a week later, life has returned to somewhat normal and I sit comfortably in this warm pool of uncertainty, something that would have thrown me into a panic attack just a week ago.   Clearing up all this garbage from the past leaves a lot of clarity and even more empty space, something a little unnerving at first.   What happens next is yet to be seen, but I look forward to tomorrow and for now that is enough.
With all that said, there were a few things about the Landmark Forum that bothered me a bit.  They get really into selling your friends on the forum.  They do this in a fashion that makes you think that this is not what they are doing, but they are.  I think that the final night would have been a lot more meaningful and even a more powerful sales tool if they had concentrated more on what people got out of it and less on why your guests should sign up for it.
I knew this was coming, although it was more than I even thought it would be, and prepped my guests for it.  One of the issues I had was that I never asked for help or support and therefore made it virtually impossible for anyone to feel like they could support me in a meaningful way.  So, it was important for me to ask for my mom and friends to be there for me and for me it was nothing more than that.  Of course, I feel that they may get something out of taking the workshop, but they are grown ups and fully capable to discerning that for themselves.
I have read a lot of "cult" comments on the internet and people saying it was fun, but not life changing and people put off by the enthusiasm of the staff, but I too am a grown up and capable of thinking for myself and making my own decisions and my advice would be like with most things in life, you take what you need and leave what you don't.  Like I mentioned at the beginning, there were all kinds of people there from high school students to stay at home moms, from teachers to CEOs, everyone there for there own reasons and getting only what they got from it.
I found it really interesting that a lot of the concepts were similar to ideas I have been getting from all different directions.   Lately it seems that everywhere I look, even in completely unrelated places, the same information is coming to me.   For me that means that I should be listening.
My experience was very intense and extremely rewarding.  I have a new outlook on life and a whole lot less crap to carry around with me.  All in all a good thing and I am looking forward to the advanced course in October.
After the events of the past week I have come to determine that my frustration over my lack of measurable progress (a.k.a. weight loss) really comes down to the fact that I am jumping the gun.  As long as I have all this emotional baggage the weight will not come off, no matter what I do.  
I just went back and read the emotional obesity chapters of the book and all of it applied to me.    He asks several questions to help you identify whether this issue is holding you back and if it is insists that it be addressed before you ever even discuss eating habits, cravings exercise and past successes and failures.  After the emotional issues have been addressed and resolved then a plan can be put into place to address the rest of it.
The questions go something like this…
Does being thin feel safe to you?
Can you imagine yourself thin?
If someone gives you a compliment on your appearance, does it make you feel happy and confident or threatened and uneasy?
The last two definitely apply to me and the first one just confuses me so I'm guessing that means I can count that one too.  Since I started this whole thing the body visualization has always been the hardest for me.  I just can't see myself as that thin person.  The thing that weirds me out about that is that I used to be thin, at times very thin.  So you wouldn't think that imagining myself like that again would be so difficult.  The brain is a bazaar entity.
I have been noticing over the last couple of weeks (and I think where that desperate sad post from last week came from) that even though I am mentally really dedicated to this and have logically set up my environment for success, I find every way and excuse I can to sabotage the process.
I "forget" to take my supplements
I sneak food.  I will scarf down a burger or milkshake, candy or doughnut and then hide the evidence.
I will make up any excuse I can to avoid exercising, even going to yoga, which I love, or a hike with the dog, which is empowering, relaxing and really rewarding.  If there is some reason I can come up with I will take it.
I tell myself that just going to sleep (without the CD) will feel good and make me more motivated the next day.
I even avoided reading the emotional section of the book with any focus or meaning.  I just skimmed through it.  Today I read every word.
When I have talked to my therapist about my weight, she always says don't worry about it now, you have enough on your plate.   Do the emotional work and then deal with the weight.
Another advisor of mine reminded me that I simply need to find out why it is that I don't feel worthy and correct that and then everything will fall into place as it should.  It is only me that is holding me back.
With the Life Path Integration therapy we are doing it is even possible that we will be able to target whatever the emotional trigger might be and fix it.  It always amazes me how the universe will provide you with all the tools you need if you just listen closely enough.  Many things have been coming to me from many different directions lately and thankfully I am aware enough to be grabbing them.
Karli has also encouraged me to give the emotional stuff more time and stop worrying so much about the physical stuff.  Now that I am feeling better and motivated and productive for the first time in a long time, I am finding it very hard not to want to tackle everything all at once, to take on more than I can handle.  I feel like I am fighting in every direction and that I may simply just need to give into the process.  Pretty hard to do for a total control freak.
I am so grateful that my husband is supportive of me through all this.  He has had his moments of frustration and worry and even a few in anger and hurtfulness, as is only natural when you spouse is going through something like this.  He tries his best to encourage me and prod me to work a little harder.  
Every logical part of me thinks it's fantastic that I have a husband who loves me the way I am and truly cares about my well being.  But emotionally I think I kinda resent him for it and rebel against it.  This is hard to say, a sort of it's not you it's me scenario, but I think I might have to tell him to stop with the encouragement, because just like when we were trying to quit smoking, the gentle nudges and reminders, the words of encouragement in my head remind me that I am failing rather than reminding me that I can succeed.  This is something I need to work on, but in the meantime, I think we just need to drop the whole thing for a while, let me heal what's broken without any added pressure.
Jon says in his book that while he was gaining the weight, his wife never said a word about it and that when he was ready, he felt he was better prepared to lose the weight because of that.
So, I concentrate on the emotional part and keep preparing my body from a biochemical standpoint so that I will be that much more ahead of the game once I can really target my eating and exercise habits.  I just feel like I need to stop putting so much pressure on myself.   
To all of you looking to the Gabriel Method as a magic pill, I am sorry.  I don't have instant results to report, or really any weight loss at all.  I can tell you that it is helping me to change my life, to learn about myself and face my fears and tackle the emotional crap that has had me by the throat for most of my life.   It is also helping me learn what it feels like to be a healthy person, teaching my body that it feels good to be nourished and that eating foods that mess with your chemistry makes you tired and cranky and feel generally icky.
This is my first step and the thought that on the other side of this journey I could be not only thinner and more fit, but also a more whole and emotional healthy person is very exciting to me.
I am going to keep taking the supplements and integrating healthy foods into my diet, but I am throwing out the schedule and week 1 week 2 month 1 stuff for a while until I can answer the questions above with confidence and positivity.  Fixing myself needs to be my priority right now.  I have made huge progress, I just need to finish it before I start worrying about pounds and waist measurements and scheduled regimented programs.  
I'm ok if I stay this weight forever, as long as I don't gain any more.  (those of you who have read the book will understand the meaning and gravity of this statement)
So here is the new plan (because I wouldn't really be me if I didn't have one)…
Keep working hard at therapy and stop distracting us with day to day bullshit.  I have demons to fight so let's get on with it.
Listen to the CD every night, no excuses, no exceptions
Start reading about past life regression
Read the book No Boundary by Ken Wilber (Jon mentions it in a section of the book that really resonates with me)
Actively radiate love, forgiveness and appreciation
Accept the negative and accept myself and my body just as they are.  This includes no scales.
Buy the Gabriel Method Book Now!
It's a funny thing about fear.  Sometimes when you say it out loud and face it directly it recedes and sometimes even disappears all together.  
I would like to thank everyone for the unexpected and very much appreciated outpouring of support.    Your words of  encouragement made a really bad day a whole lot better and gave me the confidence to push past it.  Thank-you.
I wish I could say my fear is gone, but alas that simply isn't how it is in this case.  But, by owning my weaknesses I have come to understand them a little better and can now move forward with my eyes open.
I wish I could snap my fingers and make the self doubt and mistrust go away, but life doesn't work that way no matter how much we wish it could be.  The only thing to do now is take one day at a time and enjoy the good ones and let the bad ones go.  I just need to keep moving and find a way to have some success.
I have several ways of going about this.  My freelance business is doing well and I am having success with my therapy.  The next step is giving over to my ability to be thin again.  
It is time to buckle down and really commit to some way of getting healthy.  I talk about this a lot, but each new thing lasts a couple of weeks and then dwindles slowly until it just stops all together.
So, I am committing to the Gabriel Method, which I believe addresses my personal health issues.  I have come up with a plan and although i am not starting completely over like I thought I would have to, I am starting fresh and considering this day 1.
I made myself a sort of sign that I taped to the kitchen cabinets.  On this piece of paper is my meals planned out for the week.  This is not 'eat this at this time' but really just a list of good healthy meals that I have planned out in advance and have available to me so when I go to think about what I want for lunch, I can look at the list and see several things to choose from, any of which would be just fine, but steering me away from the dangers of standing in front of the fridge or pantry, hungry and vulnerable.
I also have included a daily schedule of stuff that I need to do, like taking supplements, drinking water, eating a snack, doing visualization, eating the sun and taking a power nap as well as a list of things to remember.  
I will make a new one of these each week to help me remain focused.  
In order for these habits to truly take, I need to do the same set of things every day, not just when I feel like it.  I think that because this is not a diet with a regimented food and exercise plan that it is easy to take the eat what you want when you want for granted.  This doesn't work if you aren't listening to what it is your body wants.  
For example, the afternoon rolls around and I always crave sweets then, so even if it isn't what my body wants I still eat it without really even thinking about it.  Where as if I had just listened and tried a couple of techniques to give my body what it really does want, I might have been able to avoid eating that.  And if after all that I still really craved that sweet treat, then I could have eaten it and enjoyed without guilt, knowing that those cravings will go away on there own with time.
It is really a change in the way I think about it.  This is what happened when I finally quit smoking and I am positive that a fundamental shift in my thinking will be necessary with this as well.  
Much like when I quit smoking for the last time, I must give over to it and accept that this is the way things are going to be from now on, that I have made this decision and there is not turning back from it.
Let's get real here.  I feel weak.  I doubt my ability to do this and I am self sabotaging like you would not believe.  Yet one more thing that terrifies me.  I am so tired of being afraid.  I don't even know what I am so damn scared of.  I just walk around wallowing in my own fear.
If you have been reading this blog for awhile then you know that I am recovering from postpartum depression and have been seeing a therapist for the last six months.  Just yesterday she was telling me how fearless I am in my therapy, how strong I am and how dedicated I am to getting better. It is my disgust with this fear and doubt that drives me to do more and dig deeper in therapy, but it is moments like this that also show me that I have so far to go.  Why is it that I can be so fearless and committed to that, but so weak and afraid when it comes to committing to my own health.
I need to remind myself how far I have come.  I am no longer depressed or having panic attacks.  I have down days, but nothing like it used to be.  That is a long way to come from where I was, which was in a very dark hole, alone and broken.  I took no medication to accomplish this, but faced it head on and worked through it.  This is a huge accomplishment and I am proud of it.
But with that said, there are many more issues to tackle, not the least of which is my inability to fully commit.  This is the issue affecting this particular process for me.   When I choose something, I feel very committed to it and it starts off that way, but as obstacles pop up and it gets a little tougher my resolve dwindles and I slowly lose my willingness to do what it takes. 
One of the main tenants of The Gabriel Method is not to bring cheating into it.  Don't think of it as taking away, but as adding.  This is all fine and dandy, but when I break down and scarf a jumbo jack in the car on the way home from a particularly tough therapy session or find myself six deep in mini peanut butter cups after a phone call with my mother, I feel like I have failed, like I cheated and then it all goes down hill from there.  Let the closet binge eating begin.
This is hard for me to say, but last night I was watching the biggest loser and they were talking about the habits that got them to the point where they were when they started the show and I can see those habits in myself.  I am not there yet, still just in the overweight category, but I can see how it gets there.
I weighed myself this morning because I felt I needed to.  I couldn't control my urge to know the bad news, like I needed to feel guilty about it.  Up three pounds.  Now, I do not blame The Gabriel Method for this, in fact he even says in his book that you might gain a few pounds in the beginning as you break the cycle of shame that goes along with food.   This is my fault, I didn't dedicate myself to doing what Jon said every day.  I didn't follow the rules, however simple they were.   I let my life and my fears interfere with my commitment.  Classic me.
There is positive growth to be seen in this first month though.  I have learned quite a bit about eating healthier and think a lot about how to make sure I am getting the main three things in my meals (protein, omega and live food).  I have even been pretty good about breakfast, but not every day.  I have done really all the things he instructs for month one, just not consistently.  Again, lack of true commitment.
I want to commit, I want to give over to the process.  In order for things to truly change you need to commit to the process for the whole month, or 21 days really.  But that doesn't mean half ass for a month, that means every day.
So where to go from here.  I feel like I should start over, because I am not ready to add on at this point.  I don't feel like I have made the month one steps second nature, which is the point or breaking it down that way.  I am already overwhelmed, adding more just seems like a good way to self sabotage at this point.
I do know that I need to go back and read the book from cover to cover again.  I also saw on Jon's website that you can contact Jon directly so I think I might do that.  
Well, sorry that I don't have fantastic news of miraculous weight loss to share at the end of month 1, but I am not giving up.    I am confident that this is the right program for me, I just need to find a way to truly commit myself.  I will update in the next couple of days as I figure out what my new plan is.
Buy The Gabriel Method book now!
For this reading I will use the first ten swords and the first ten major arcana cards to examine what the best strategy is to deal with a particular situation.  With the recent launch of
karinreece.com
and starting to build my business, it only makes sense that I ask what my best strategy for success is.
The Layout
This is a celtic cross reading. It will examine the best comprehensive strategy for the asked about situation.
I will be using the I-X Major Arcana Cards and I-X of Swords for this reading.
Shuffle the major arcana cards while focusing on the questions and then deal out the first two positions.
Shuffle the sword cards while focusing on the same question and deal out the top four cards into positions 3 through 6.
Combine the remaining swords and major arcana cards and shuffle them together, again concentrating on the sames question and deal out the top four cards from this pile into positions 7 through 10.
The Question:  What should my strategy be with regard to my new web development business.
The Spread
1. Covers You (current situation) – X Wheel
2. Crosses You (challenges) – IV Emperor
3. Above You (what is possible) – VIII Swords
4. Below You (how you got here) – X Swords
5. Behind You (recent past) – IX Swords
6. Before You (what's next) – II Swords
7. Who You Are – I Swords
8. Who They Want You to Be – III Swords
9. What You Want – III Empress
10. What You Get – VI Swords
The Answer
This situation requires your full attention and dedication of all your resources, which you should invest wholeheartedly.  Someone wants to assist you in your endeavor.  Be careful of giving over too much power as it may result in a sticky situation.
You experienced utter defeat in the past causing this to be a challenging situation for you.  Just recently your worst fears surfaced, but all will come together in the near future.
You will be successful in the end, but don't expect the full support of those around you.  You want to be profitable and reap the rewards of success.  This success will come by letting go of those things that haunt you from your past and turning to the unexpected for inspiration.
The Cards
X Wheel
My Take*:  The wheel of time keeps moving.  A feeling that fate has taken over.  Remember you have control over many things.  
The Card:  Change, the feeling that some cosmic machine controls our destiny.  Although there is much we can't control, there is also a lot that we do.  There are also things that seem out of our control, but which we actually can control.  Things are changing.
Analysis**:  This card covers you, representing the current state of the situation.  You may currently be feeling like the world is passing you by or simply pulling you along.  You must take control of those things within your power and let go of those you are powerless over.  Use creative means, think outside the box because change is certainly coming.
IV Emperor
My Take:  Order, rules, dominant figure, social justice, watches over and rules the situation, caring for and creating structure in society.
The Card:  Fatherhood, authority, laws and regulation.  Government, social justice, tyranny, social structure, power of life.  Examine the role of power over the situation.  Organization and structure.  Find your own power.
Analysis:  This card crosses you, representing the obstacles faced in the current situation.  Your obstacle is to create structure for yourself or others.  Hold true to your values, find your inner power and get organized.
VIII Swords
My Take:  A prison of your own making, it looks fragile like any sudden move may send those swords plunging in.  But the pattern on the sphere suggests strength and integrity.  The woman is naked, showing vulnerability.
The Card:  Restricted by your own assumptions you have created an inflexible mental map and are now trapped by it.  The bubble is strong, only to disappear when new perspective is gained.
Analysis:  This card is above you, showing what is possible if the circumstances remain as they are.  Reaching your potential will require stepping outside your comfort zone. Look at things from a different direction to gain perspective.
X Swords
My Take:  The man is bent over shielding himself from the descending swords.  The tattoo on his back is protection, but defeat has already occurred.  There is nothing left but to give in to it and move on.
The Card:  Anguish and pain, but relief as well.  The situation is not manageable.  Although things are dire, it is a positive card.  You are at the end and are ready for new opportunities and ready to see the potential.  The extremes of the conscious mind.
Analysis:  This card is below you and speaks to how you got to this point.  Sometime long ago you were utterly defeated and it is affecting this situation.  There is nothing you can do now, it's over.  Let it go and get ready for new opportunities to emerge.
IX Swords
My Take:  The fears we create in our heads, mostly unfounded, but real enough in our minds.
Card:  Stress, tension, anxiety caused by your own mental dealings.  Your mind is wreaking havoc on your emotions.  How we think directly effects our perceptions.  Think negative things and negative things will find you.
Analysis:  This card is behind you and represents the recent past.  You've been letting your fears get the best of you.  Recently your mind has you riddled with stress and anxiety.  Remember we manifest what our mind tells us we are.  Cut out the negative talk.
II Swords
My Take*:  I'm not really sure about this one.  Twos are about couplings, pairs and dichotomies.  Swords are about strategies, struggles, power and strength.  She is blind folded and the sky is stormy with the sun shining through an opening.
The Card:  Comparing, analyzing, contrasting an idea.  Beware of over-analyzing to death, causing the new idea to wither and die.  The blindfold allows the woman to focus without distractions.  You are at a turning point.  It can still go either way.  Don't over-think it.
Analysis:  You may not be able to see it but soon light will break through the darkness.  Soon you will face a Y in the road.  Analyze the choice, but don't wait too long to make up your mind.
I Swords
My Take:  Strength, ready to take flight yet grounded with a good foundation.  New opportunities will bring success.
The Card:  A new idea or aha moment.  New opportunities, freedom of thought even when the rest of us feels constrained.  Opportunity for change and growth.
Analysis:  You are strong and grounded, ready to take off on a new adventure.  You are the one with the big idea.  This is your adventure.
III Swords
My Take: Grief.  She's crying and holding her heart.  The three swords all point toward her heart, like they are piercing it.
The Card:  Heartbreak and disappointment caused by your experience with the situation being quite different thatn you expected.  These problems are mental rather than emotional.
Analysis:  Someone related to this situation is not going to live up to your expectations.  Beware not to set them too high.
III Empress
My Take:  Mother earth, abundance, reaping the benefits of the harvest.  Connecting with nature.  Being a caregiver.
The Card:  Mothering, nurturing, protecting, raising, growing.  Giving birth to and nurturing something. Landscaping.  The project must be carefully taken care of and protected.  Take better care of yourself.
Analysis:  You want to enjoy success and abundance.  You want this to be your baby, something you grow and care for.  You also want it to provide something just for you.
VI Swords
My Take*:  This card is a little spooky.  There is definitely a journey taking place.  Passing through an arch, a transition.  the boat is well protected and the man carries a lamp, lighting the way.  His mask may show that the purpose or end result of the trip may not be clear.
The Card:  Quiet, steady, cautious forward motion.  Proceed slowly and discretely.  No need to declare yourself openly.  You are even and solid and well positioned to access and influence your subconscious.  Think a little outside the box to accomplish the goal.
Analysis:  This card position represents that final outcome or what you will get if you remain on the same path. You are embarking on a journey into the unknown.  This may be scary, but you are well prepared.  Proceed cautiously and quietly.  It may be outside your normal thinking, but put your head down and proceed without announcing your intentions. You are on a journey to wholeness.
Reading analysis
I think this is a pretty insightful reading and a really positive sign for the work on my freelance business being a positive experience.  I always like it when a reading rings especially true and this one did just that.  It picked up on my recent anxiety.  A few weeks ago, I even have a full blown anxiety attack while working on a design project.  I have been curious why I have been so afraid to put myself out there and obviously something happened long ago that is setting that up.  Wish I knew what it was.
I think it is interesting that thinking in new ways, outside the box, outside your comfort zone, came up consistently throughout this reading.  This could mean several things, but really I think it is just speaking to the cocoon I have built around myself and that I am going to have to put myself out there in order to make this succeed and that can be a little uncomfortable for me.
It is just generally good to hear that things in my life are stabilizing and that I am finally in a place where I am ready to take on new challenges and embark on new journeys.  Very encouraging.
---
 *Please remember that the my take sections are my first impressions and feelings about a card.  Since I am exploring a new deck, this is the first time I have taken a good look at some of these cards.  They may or may not be reliable or true to the meaning of the card.  I like to take my feelings from a card and the cards intended meaning and combine them for a cohesive analysis.  In this way I am consistently improving on my knowledge and abilities.
** I have added a new section to my card analysis.  In this section I will combine my thoughts and the intended card meaning and apply them to the position within the reading.  This is a way to expand on the meaning of each individual card in the reading.
For this reading I will use the first ten sword cards and the first ten major arcana cards to examine how I am as a risk taker.   Swords generally deal with struggles, power and strategy and I hope to see how I might best manage the risk and anxieties in my life.  
The Layout
This reading uses a triple cover and cross layout.  I will use three basic cover and cross pairs using the I-X of Swords and the first ten major arcana cards, shuffled separately.
The basic cover and cross layout consists of one card upright (covers you) and one laying across that one (crosses you).  Just like a cross.  The cover card represents the current situation and the cross card represents the challenges you face.
Shuffle the sword cards while asking your question and deal up the first three cards in the covers position.  Then shuffle the major arcana cards while asking your question and deal up the first three cards in the cross position.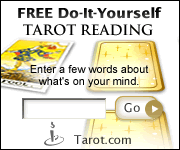 The Question: How can I ensure I take the right risks?
The Spread
Covers:  X Swords
Cross:  X Wheel
Covers:  IX Swords
Cross: IX Hermit
Covers: I Swords
Cross: VI Lovers
Interesting or coincidental that the first two are both nines and then both tens.  Hmmm.
The Answer
You are very capable of making a comeback.  Look to trusted friends for advice, but when the decisions need to me made, take some time to yourself and trust your own gut.  You will have the most success working with a partner.
The Cards
X Swords
My Take*:  A Man cowers under a ring of swords.  He is currently repelling the swords but that situation could change at any time.  He is naked and hides his head. Vulnerable is the word that comes to mind.
The Card:  You have completely lost yourself in the ruminations of your conscious mind.  The chattering monkey mind has obscured your perspective and the ability to see clearly and you are no longer able to manage things productively.  The good news is that there is nowhere to go but out of this situation now.  This is the end of the road and now you are able to see new opportunities and the potential for growth.
X World
My Take:  This card always reminds me of the Wheel of Time.  How no matter what happens time keeps moving on, with or without us.  It represents all the possibilities of the Universe and it is all up to us whether we seize those opportunities or let them pass us by.
The Card:  This card represents the feeling that our fate is determined by some mechanical or cosmic machine.  But no matter how many things are out of our control, there are many many things that we can control.  We just have to look at these things in new and creative ways.  It can represent feeling helpless to your circumstances and most definitely means that change is coming, usually for the better.  We must remember the control that we do have in our lives and not let ourselves believe too strongly in the power of those things outside ourselves.  
IX Swords
My Take:  Afraid of the things that go bump in the night.  A woman lays, afraid.  The swords are all gathered in a point right above her head.  A tree reaches out like a claw.  These are the scary thoughts that run around in our heads.  Being afraid of everything whether it is real or not or should be scary or not.  Letting our thoughts cripple us.
The Card:  Anxiety caused by the trappings of the mind.  How we think about things effects our perception of the world around us.  If we expect bad things to happen then they usually will.
IX Hermit
My Take:  This card is about looking deep within ourselves for the answers to our questions.   It's about removing ourselves from out surroundings in order to gain perspective on a situation.  
The Card:  Seclusion, meditation and removing of oneself to gain perspective.  Self imposed isolation and contemplation.   The lantern brings light into the farthest reaches of the mind.  Make sure that the isolation is for reflection and not simply to escape.
I Swords
My Take*:  An armored and winged woman is the hilt of this single sword.  Light radiates from behind the sword through a dappled cloud sky.  The tip of the sword runs through a golden triangle.  Ones are generally about new opportunities.   This card speaks to me of a renewal in strength.  The woman is ready to take flight like a regal bird, yet grounded by the golden triangle.
The Card:   A new idea or "Aha" moment.  A new  and clearer understanding of the world around us and our personal path.  Great opportunity for growth and change.
VI Lovers
My Take:   Intimate relationships.   Obtaining the ultimate closeness while still retaining your own identity.   
The Card:  Relationships, sharing of self, vulnerability, attraction of opposites.  All types of relationships are represented, not only love relationships.    Sharing of oneself can be frightening, but closeness and a breaking down of barriers can be achieved by being honest and up front.  Communication and understanding prevail. 
Reading Analysis
These three set reading tend to deal with past present and future and the first set seems to hold true with this.  I feel like the last year has been all about giving in and resigning to the situation so that I can finally see past all the anger and pain and fear and move on with my life in a more productive and genuine way.  It is time for me to break myself down and pick through all the pieces to determine who it is I really want to be.  This required getting rid of the negative influences in my life, renegotiating my boundaries and interactions with those closest to me and learning enough about myself to redefine who I am.  With this comes the ability to move forward in a new way that is very exciting and more than a bit scary.  
It is funny that they talked about the chattering monkeys.  My therapist referred to my constant ruminating as chattering monkeys as well.  A big part of this journey for me has been to differentiate between when the monkeys are working on something productive and when they are just being distracting and destructive.  I am working on this and also telling them that this isn't productive and diverting them onto more productive paths.  It seems to be working quite well.  Really dealing with depression, anxiety, fear, chattering monkeys or whatever else is all the same.  You have to look it straight in the eye, accept it and recognize it for what it is, then simply move on with your day.  There is little you can do about your physical reactions or mental wanderings, but you can identify it correctly and chose to live your life anyway.  And eventually the thoughts and physical sensations begin to subside, at least that has been my experience.
For a while now, I have felt really out of control, like the world was spinning out of control around me.  The Wheel card represents that.  But now, I am taking back the control that I do have, by choosing the people who influence my life, facing my fears and slaying the dragons, as I like to say, as well as trying to reconcile, resolve and/or let go of the things that haunt me from my past.
The nine of swords and Hermit pairing make perfect sense for the present with anxiety brought on by the workings of my mind and my resulting self imposed isolation.  I have been going through a lot and have closed rank as a way to cope and work through everything.  Only recently have I really started to reach out again and am beginning to attempt to clear away some of the rubble.  
This is where the risk this reading addresses really comes into play.  In the future set we have the one of swords about new inspirations and opportunities paired with the lovers which deals with open and honest communication and relationships.  To me this means that new opportunities lie in my relationships with others and with open and honest communications, being comfortable with my vulnerability and recreating the important relationships in my life in an honest and meaningful way.   It also may mean that a new relationship in my life will be a rewarding risk.  
Overall an honest and encouraging reading.
* Please keep in mind that I am learning and this is a new deck of cards for me.  The "My Take" statements are my first impression based on just looking at the card.  It is very likely that the first time the card comes up they won't be even remotely close.  Please don't hold it against me.  "The Card" statements are more accurate and based on the meanings that are presented with the card.