Over this last week I have been noticing some subtle, yet important, changes in the way I feel. Because the emotional and self perception issues are so huge for me, I have vowed not to weigh myself or even measure myself until October. I am letting go of numbered results and concentrating on how I feel and healing myself.
Over the Memorial Day Weekend I had a big breakthrough on becoming comfortable with my body as it is.  I even stated out loud that I would be fine to stay this way forever as long as I didn't gain any more,  a very important step according to Jon.  I have listened to the CD before going to sleep every night except one over the last two weeks and have changed the way I do the visualizations.
When I visualize the following days, I concentrate mostly on being happy.  I say "Tomorrow I am going to be happy".  I say this several times and then I see myself doing any really important things I have to get done the next day as well as the habit I am working on right now.  Right now that is remembering to take my supplements.  I also try to fit in the love, appreciation and forgiveness visualizations that Jon describes whenever I can or is appropriate.  As I result I have been feeling a lightness around me, happier, more patient, more feelings.  I even feel more productive in a different way than usual and I find it hard to explain.
I got the idea to change the focus of my visualizations from a book I am reading right now on the 2012 prophesies (The Mystery Of 2012
).   The book is a compilation of essays and book excerpts by many of the people who are studying these prophesies.   All angles are covered, everything from physics, astronomy and archaeology to spiritual and astrological perspectives.  
Although some of the articles are quite dense and others are a little far fetched, it has been really interesting to explore this time we live in as a time of significant change.  One of the essays that is about spirituality talks about being happy versus being good and how being happy and radiating unconditional love into the world (things Jon also encourages) can transform us not only as individuals but also as a global society.    Here are several quotes from the essay "Wild Love Sets Us Free" by Gill Edwards
that helped me change my perspective a little and concentrate my energy more on joy and love and less on being good or bad.   I am hoping I will get a chance to read more from her.
Most of us have internalized a cold, critical, repressive inner voice…that tells us how to behave, constantly criticizes us, keeps our noses to the grindstone, and squashes or denies our true feelings…  To the extent that we give our power to this inner judge, we are tamed and locked away.  We feel trapped and disempowered…The inevitable result is anxiety, depression, physical illness, dysfunctional relationships, or a pervasive joylessness that we cannot explain. — The Mystery of 2012 p. 245
This just struck me like a brick to the head.
Whenever we split the world into good and bad, conflict and neurosis are inevitable.  Our energy becomes split or divided.  Whenever we pride ourselves on saying "no" to a cream cake, working through our lunch break, or pleasing our partner at the expense of our own feelings, we are bowing to the old cosmology.  Trying to be good stems from a dualistic way of thinking.  It is based upon judgement, or conditional love.  It fuels self-righteousness, which means someone is "in the right" and someone else is "in the wrong"–some part of self is right (the judge within) and another part is bad and wrong (our feelings, thoughts and desires).  This inner conflict will be mirrored in conflict with others.  Splitting ourselves internally leads to projecting our shadow onto others…This dynamic creates a huge proportion of the misery in the world and blocks our natural ability to love with an open heart and speak honestly without blame or defensiveness. — The Mystery of 2012 p. 248-9
She goes onto discuss how this can effect us as a whole society and even globally. Our outlook and attitude effects the world around us. Why not give love and positive creative energy to the universe rather than negative unproductive energy. Maybe if I learn to love unconditionally and be truly happy I will also be able to improve the communication in my marriage and be more patient with my kids, have more tolerance with others and less judgement bringing positivity not only to myself but to everyone I interact with.
When we aim to be happy…we give off vibrations of self-love, self-worth, and appreciation, and our relationships mirror this by becoming deeper, happier and more authentic. In other words, much of what we have been taught about "what love means"–self-sacrifice, putting others first, being loyal to others at the expense of our own feelingz or authenticity, or feeling entitlex to have others behave as we wish them to–actually leads us away from loving relationships and into the twilight prison of codependency. It leads us toward tame love, which constantly slips into toxic cycles of control and sacrifice, blame and guilt. Tame love splinters our awareness and strangles our potential. It holds us hostage… — The Mystery of 2012 p. 250-1
I started to think that creating a life that not only makes me happy, but also makes my family and friends happy and leads to living an authentic and giving life, may lie in my happiness, that I have the ability to create change and improvements by loving myself and radiating love outward.
Instead of seeing life as a harsh training school for wayward souls, or a karmic wheel from which we might eventually escape (if we are good or lucky enough), or merely a statistical accident with no inherent meaning or purpose, we instead see life as a wondrous gift. We are not here to be good or perfect. We are not here to prove ourselves worthy. We are not here to serve others (at our own expense) or to save the world. We do not have to earn or deserve love. We do not have to "behave well" or conform to external rules and expectations. In a loving universe, we can relax. We are safe. We are worthy. We are loved without condition. We are cosmic voyagers on a magnificent adventure in physical reality and…we can have, do, or be anything we wish. No limits. No strings attached… The key to doing so is unconditional love–for self, others, and the world. — The Mystery of 2012 p. 256-7
It sounds a little idealistic, even to me, but that is a world I would like to live in. A peaceful, loving, accepting world where we live together with respect and love for one another.
Buy the Gabriel Method Book Now!
I have been taking an Acai supplement for about 6 months now and I will tout its benefits all over town, but let's get one thing perfectly clear…
This is not a diet drug.  If you believe that crap about losing 40 pounds by just taking a pill then you are an idiot, just like I was.
The fact is that I too hoped that it would be some miracle and that I would magically lose all the baby weight in 2 months.  I even combined it with a colon cleanser because I heard that worked better.  No surprise here that I didn't lose even a pound.
But a miracle like that does not exist, it just doesn't.  Losing weight and getting fit is about changing the way you eat and exercise and it is just as simple as that.  There is no magic pill, just like everything else in life.  It is time to grow up and take responsibility for our weight, our health, our kids, our happiness, our fulfillment, our lives.  
That's what this blog is all about and if you want to learn more about what I am doing to take control of and responsibility for my weight then check this out.
Ok, now why is Acai so great?  Acai is chocked full of antioxidants, as much as 10 to 30 times more antioxidants than red wine.  It is also rich in Omega fats, amino acids, vitamins and minerals, and fiber.  A super food so to speak.  These are all essential to our overall health and suprise, your weight loss as well.  
The benefits of all this is better sleep, better digestion, more energy, a more effective immune system and even a better libido.  From my experiences, all of this is a true and accurate representations of the benefits.
I used to have a really hard time falling asleep.  I did not have insomnia or anything like that but it would take me a good 30 minutes to calm my mind and body down enough to go to sleep.  I am not even remotely exaggerating in saying that since I started taking the Acai, I put my head down on the pillow and the next thing I know it is morning.  I fall asleep within minutes and sleep soundly and deeply all night long.   
My favorite part is the energy.  I take my Acai supplements in the afternoon with my multivitamin, because that is when I feel the lowest energy.  I then have the energy to get through the rest of the day and even go to the gym.  And at the gym, I feel stronger and better able to focus on what I am doing.  An the best part is that this is not the jittery energy you get from energy drinks or coffee.  You simply have more energy, simple as that.
So if you are looking for a magic diet pill, this isn't it.  But, if you are looking for a great nutritional supplement that gives you immediate and long lasting noticeable results, then Acai might be just the thing for you.
I personally take and highly recommend Perfect Acai
.  Perfect Acai is organic, sustainably harvested, freeze dried (essential to its effectiveness) and budget friendly.
Wow, this is a tough one. I don't really have anything going on right now to profit from. I am starting to take on some freelance work, but nothing serious until the fall probably. Hmm, well I guess I will ask what is coming that would be financially beneficial to me.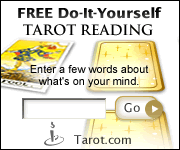 The Layout
This is a celtic cross reading.  This reading will take a comprehensive look at the financial future.
I will be using the I-X Major Arcana Cards and I-X of Coins for this reading.
Shuffle the major arcana cards while focusing on the questions and then deal out the first two positions.
Shuffle the coins cards while focusing on the same question and deal out the top four cards into positions 3 through 6.
Combine the remaining coins and major arcana cards and shuffle them together, again concentrating on the sames question and deal out the top four cards from this pile into positions 7 through 10.
The Question:  What opportunities are coming that I will profit from and how much will I profit from them?
The Spread
1. Covers You (current situation) – XI Justice (in some decks this is VIII and I have swapped them for the purpose of this self inventory)
2. Crosses You (challenges) – VII Chariot
3. Above You (what is possible) – IX Coins
4. Below You (how you got here) – VII Coins
5. Behind You (recent past) – III Coins
6. Before You (what's next) – VIII Coins
7. Who You Are – IV Emperor
8. Who They Want You to Be – II Priestess
9. What You Want – VI Lovers
10. What You Get – X Wheel
The Answer
Make sure you put the time in to thoroughly research the opportunity.  Crunch the numbers and weigh the possibilities.  The answer will not be completely clear, you must ultimately decide.  Look deeply for the answer.
You must enter into this opportunity with enthusiasm and energy.  Make full use of your resources and care well for those things trusted to you.  This has grown out of something you were formerly successful with.
Just recently money was handed out and will be repaid with interest in the near future.  You will remain in control of the situation while others hope that you will solve their problems.
Although you would like to be presented with an exciting offer right now, this is what is needed in your life right now and good or bad the risk is taken.
The Cards
XI Justice
My Take:  An Armored woman holds a set of scales.  She feels for what side is weighted more heavily.  She is without eyes to ensure her lack of bias.  The sky is dark and stormy, her sash blows in the wind.   She is armed against harm and unnerved by the turmoil around her.  It is a trying time and every angle and option must be adequately examined. 
The Card:  Your values and judgements will drive you to change the world around you for the better.  You believe in the underlying fairness as a part of what makes us human.  Be careful not to be too judgemental.  The scale has become one with the judge so that she is the one handing out justice. She has no eyes, showing her complete dedication to being evenhanded and unbiased.
VII Chariot
My Take:  This card always reminds me of charging forward.  The strength of this card is profound.  There is also a balance between riding the wave of life within the structure and constraints of our lives.   The power of the forward motion is hard to control and your inner strength is needed to keep it in check.  You have a firm foundation to build on and are ready to take the next step.
The Card:  You are ready to set off on your journey.  The horses represent the unbridled energy driving forward that must be guided and controlled by the charioteer (you).  You are confident in your abilities but must be careful of being arrogant.   But don't fret, you are correct that you are well prepared and aptly capable of taking this journey and surpassing any obstacles that come up.  You are beginning to lay the framework to build your future on.
IX Coins
My Take:  This seems like a peaceful card with the doves and all the flowers.  A young woman tending her garden, building a comfortable home life.  Her dress is very conservative and traditional which says to me that this deals with the more traditional roles and values of home life.  I can't help but feel something unsettling about her.  The coins surround her like an arch.  This card is saying to me that there is an investment in the traditional home.
The Card:  The lushness of the garden, the abundance of blooms indicates that you have done quite well creating a comfortable environment.  You have worked hard and enjoying the spoils.  This is a peaceful time.  Be careful not to retreat to far into your own world.
VII Coins
My Take:  The coins on the tree are like fruit, hanging low and ready for the taking.  She has traveled far to fill her baskets with the fruit.   The land is lush, the sun rising.  She rests before her harvest.  It feels like you have worked hard and now it is time to gather and save the money you've made.
The Card:  This card is about patience.  She is waiting to harvest the fruits of her labor but is waiting for the time of peak ripeness.  Timing can be everything in business.  This card could also mean that you have nurtured something and now it can grow on it's own.  The woman can also be seen as at a crossroads, deciding what the next move should be.
III Coins
My Take:  This cards speaks to me of artisan work.  A man is blowing glass.  Working with your hands.  Using your creativity and ingenuity.  He is confident in his task and a master of his trade.
The Card:  The glass blower is a master of his craft through hard work and experience and now deserves the respect he receives.  Taking raw materials and creating something beautiful and refined from it.  You have attained mastery in your field.
VIII Coins
My Take:  A man tinkers with a mechanical device.  There are extra parts, plans and books all around him indicating he is still learning and has not yet mastered his trade.  This work is slow and meticulous.  A detailed approach is necessary.  
The Card:  This is time to work slow and steady toward the goal.  This is not time for grandiose schemes.  Rewards will come from dedication and hard work.
IV Emperor
My Take:  Structure and order.  He is building the world he sees in his mind.  He is the master of his domain.  He takes great pride in and is very protective of the world he has created.  Beware of judgement and dominating behavior.
The Card:  Fatherhood, leadership, structure, order.   Social responsibility and tyranny.  This is the card of social constructs.  Although these powers can be misused they are integral and necessary in our lives.  Power is no inherently good or evil but inevitably a mix of both.  Take hold of your own power and use it wisely.  Look for the potential order in your task.
II Priestess
My Take:  This is the card of psychic abilities, of looking inward for answers.   Trust your gut, you know the answers you seek.
The Card:  You must be delicate in approaching the subconscious.  If you meditate and focus your energy on the answers you seek and are open to seeing what your intuition is trying to tell you, you may just get a glimpse.  The priestess' energy is a calming one, as one feels when they trust themselves.  You are reaching toward wholeness.
VI Lovers
My Take:  This is a passionate card.  The feelings of this are are intense.  The lovers are joined, almost becoming one, losing oneself in another.  
The Card:  A relationship of any kind, but mostly love relationships.  Sharing ourselves with others. Considering other points of view.  Be honest and above board, consider the other side in this situation.  The attraction of opposites.  The beginning of a new creative relationship.
X Wheel
My Take: This card shows a mechanical wheel with the signs of the zodiac all around.  This card always reminds me of the wheel of time in that it is always moving forward.  Time continues to go by no matter what is happening in our lives.  Change comes whether we like it or not.
The Card:  This card represents the feeling we have sometimes that our lives are being steered by some mechanism, that we have little control.  Although it may seem that we have no control sometime, there are always things in our lives that we can control with a little creativity and determination.  We must remember that this control and power we wield over our own lives is that which keeps from being vulnerable to others.  The wheel card can represent a feeling of helplessness but it also means that there is change coming, and that is a reason to feel hopeful.
Reading Analysis
The answer section of this makes me think of something I have been considering lately.  A month or so ago, I heard a story on NPR about micro philanthropy and the new ways that people are looking at philanthropy.  He discussed an organization called Kiva.  They enable individuals to provide micro-loans to business owners, individuals, and loan coops around the globe.  The payback rate on these loans are incredibly high and after hearing about it seemed like something I would like to check out.  I did a little due diligence and registered at the site, but haven't taken it much farther.  
From the cards here, it appears this might be something worthwhile for me to pursue.  It also makes sense as it talks about how, although I might like for there to be something big and exciting coming, that these things I can do to take care of myself and others may have a bigger impact.   There may not be a monetary profit, but I think I might be more in need of emotional profit anyway.  It will be good to help people help themselves.
The cards are also telling me that change is in the air, and I always view that as a positive thing.
I also feel there are some things to be said here about my freelancing business, but really, I'm just not in the mood to think about that right this minute, let alone discussing what may or may not get done in the future.
I wish all of you a very happy holiday season.  Have fun and be safe.  Give thought and energy to and be open to all the wonderful things in the coming year.  And most of all be grateful for and show love to those most precious to you.