Wow, this is a tough one. I don't really have anything going on right now to profit from. I am starting to take on some freelance work, but nothing serious until the fall probably. Hmm, well I guess I will ask what is coming that would be financially beneficial to me.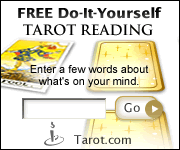 The Layout
This is a celtic cross reading.  This reading will take a comprehensive look at the financial future.
I will be using the I-X Major Arcana Cards and I-X of Coins for this reading.
Shuffle the major arcana cards while focusing on the questions and then deal out the first two positions.
Shuffle the coins cards while focusing on the same question and deal out the top four cards into positions 3 through 6.
Combine the remaining coins and major arcana cards and shuffle them together, again concentrating on the sames question and deal out the top four cards from this pile into positions 7 through 10.
The Question:  What opportunities are coming that I will profit from and how much will I profit from them?
The Spread
1. Covers You (current situation) – XI Justice (in some decks this is VIII and I have swapped them for the purpose of this self inventory)
2. Crosses You (challenges) – VII Chariot
3. Above You (what is possible) – IX Coins
4. Below You (how you got here) – VII Coins
5. Behind You (recent past) – III Coins
6. Before You (what's next) – VIII Coins
7. Who You Are – IV Emperor
8. Who They Want You to Be – II Priestess
9. What You Want – VI Lovers
10. What You Get – X Wheel
The Answer
Make sure you put the time in to thoroughly research the opportunity.  Crunch the numbers and weigh the possibilities.  The answer will not be completely clear, you must ultimately decide.  Look deeply for the answer.
You must enter into this opportunity with enthusiasm and energy.  Make full use of your resources and care well for those things trusted to you.  This has grown out of something you were formerly successful with.
Just recently money was handed out and will be repaid with interest in the near future.  You will remain in control of the situation while others hope that you will solve their problems.
Although you would like to be presented with an exciting offer right now, this is what is needed in your life right now and good or bad the risk is taken.
The Cards
XI Justice
My Take:  An Armored woman holds a set of scales.  She feels for what side is weighted more heavily.  She is without eyes to ensure her lack of bias.  The sky is dark and stormy, her sash blows in the wind.   She is armed against harm and unnerved by the turmoil around her.  It is a trying time and every angle and option must be adequately examined. 
The Card:  Your values and judgements will drive you to change the world around you for the better.  You believe in the underlying fairness as a part of what makes us human.  Be careful not to be too judgemental.  The scale has become one with the judge so that she is the one handing out justice. She has no eyes, showing her complete dedication to being evenhanded and unbiased.
VII Chariot
My Take:  This card always reminds me of charging forward.  The strength of this card is profound.  There is also a balance between riding the wave of life within the structure and constraints of our lives.   The power of the forward motion is hard to control and your inner strength is needed to keep it in check.  You have a firm foundation to build on and are ready to take the next step.
The Card:  You are ready to set off on your journey.  The horses represent the unbridled energy driving forward that must be guided and controlled by the charioteer (you).  You are confident in your abilities but must be careful of being arrogant.   But don't fret, you are correct that you are well prepared and aptly capable of taking this journey and surpassing any obstacles that come up.  You are beginning to lay the framework to build your future on.
IX Coins
My Take:  This seems like a peaceful card with the doves and all the flowers.  A young woman tending her garden, building a comfortable home life.  Her dress is very conservative and traditional which says to me that this deals with the more traditional roles and values of home life.  I can't help but feel something unsettling about her.  The coins surround her like an arch.  This card is saying to me that there is an investment in the traditional home.
The Card:  The lushness of the garden, the abundance of blooms indicates that you have done quite well creating a comfortable environment.  You have worked hard and enjoying the spoils.  This is a peaceful time.  Be careful not to retreat to far into your own world.
VII Coins
My Take:  The coins on the tree are like fruit, hanging low and ready for the taking.  She has traveled far to fill her baskets with the fruit.   The land is lush, the sun rising.  She rests before her harvest.  It feels like you have worked hard and now it is time to gather and save the money you've made.
The Card:  This card is about patience.  She is waiting to harvest the fruits of her labor but is waiting for the time of peak ripeness.  Timing can be everything in business.  This card could also mean that you have nurtured something and now it can grow on it's own.  The woman can also be seen as at a crossroads, deciding what the next move should be.
III Coins
My Take:  This cards speaks to me of artisan work.  A man is blowing glass.  Working with your hands.  Using your creativity and ingenuity.  He is confident in his task and a master of his trade.
The Card:  The glass blower is a master of his craft through hard work and experience and now deserves the respect he receives.  Taking raw materials and creating something beautiful and refined from it.  You have attained mastery in your field.
VIII Coins
My Take:  A man tinkers with a mechanical device.  There are extra parts, plans and books all around him indicating he is still learning and has not yet mastered his trade.  This work is slow and meticulous.  A detailed approach is necessary.  
The Card:  This is time to work slow and steady toward the goal.  This is not time for grandiose schemes.  Rewards will come from dedication and hard work.
IV Emperor
My Take:  Structure and order.  He is building the world he sees in his mind.  He is the master of his domain.  He takes great pride in and is very protective of the world he has created.  Beware of judgement and dominating behavior.
The Card:  Fatherhood, leadership, structure, order.   Social responsibility and tyranny.  This is the card of social constructs.  Although these powers can be misused they are integral and necessary in our lives.  Power is no inherently good or evil but inevitably a mix of both.  Take hold of your own power and use it wisely.  Look for the potential order in your task.
II Priestess
My Take:  This is the card of psychic abilities, of looking inward for answers.   Trust your gut, you know the answers you seek.
The Card:  You must be delicate in approaching the subconscious.  If you meditate and focus your energy on the answers you seek and are open to seeing what your intuition is trying to tell you, you may just get a glimpse.  The priestess' energy is a calming one, as one feels when they trust themselves.  You are reaching toward wholeness.
VI Lovers
My Take:  This is a passionate card.  The feelings of this are are intense.  The lovers are joined, almost becoming one, losing oneself in another.  
The Card:  A relationship of any kind, but mostly love relationships.  Sharing ourselves with others. Considering other points of view.  Be honest and above board, consider the other side in this situation.  The attraction of opposites.  The beginning of a new creative relationship.
X Wheel
My Take: This card shows a mechanical wheel with the signs of the zodiac all around.  This card always reminds me of the wheel of time in that it is always moving forward.  Time continues to go by no matter what is happening in our lives.  Change comes whether we like it or not.
The Card:  This card represents the feeling we have sometimes that our lives are being steered by some mechanism, that we have little control.  Although it may seem that we have no control sometime, there are always things in our lives that we can control with a little creativity and determination.  We must remember that this control and power we wield over our own lives is that which keeps from being vulnerable to others.  The wheel card can represent a feeling of helplessness but it also means that there is change coming, and that is a reason to feel hopeful.
Reading Analysis
The answer section of this makes me think of something I have been considering lately.  A month or so ago, I heard a story on NPR about micro philanthropy and the new ways that people are looking at philanthropy.  He discussed an organization called Kiva.  They enable individuals to provide micro-loans to business owners, individuals, and loan coops around the globe.  The payback rate on these loans are incredibly high and after hearing about it seemed like something I would like to check out.  I did a little due diligence and registered at the site, but haven't taken it much farther.  
From the cards here, it appears this might be something worthwhile for me to pursue.  It also makes sense as it talks about how, although I might like for there to be something big and exciting coming, that these things I can do to take care of myself and others may have a bigger impact.   There may not be a monetary profit, but I think I might be more in need of emotional profit anyway.  It will be good to help people help themselves.
The cards are also telling me that change is in the air, and I always view that as a positive thing.
I also feel there are some things to be said here about my freelancing business, but really, I'm just not in the mood to think about that right this minute, let alone discussing what may or may not get done in the future.