Well, if you have been around this place for a while then you will have noticed that not much has been going on with the site. That hasn't been the case in my real life. Our family has been experiencing the ups and downs and highs and lows of life and death.
About six months ago, we welcomed a new addition to our family. An eight week old Entlebucher Mountain Dog named Dulcinea Berlin de Tierra Alta. We just call her Nea (Nay-a) or as she seems to come to best Nene. Leave it to this family to have a dog that comes to the name of trashy reality TV star.
She is full of beans and very drivey. That means that her herding instinct is very strong. She is super bossy, especially with EB who she sees as that naughty small cow. That naughty cow really needs a lot of management.
So, very sadly, my father died about five months ago when Nea was around 3 months old. So, while she needed us to be strong and stable leaders for her, we were a total mess. This was a very bad combination of events and we ended up in a big mess with Miss Nea. She was out of hand.
My father dying has been a strange and unsettling experience for me. Please don't think me callous or unfeeling, it was very traumatic and sad and heart breaking. But, my father and I had just reunited only a year prior after being estranged for over 20 years. He left me when I was 13 years old and was not a father to me after that. I have very happy memories of my childhood with my Daddy, but that was a long time ago and that man was no more. I had spent years in therapy getting over the anger I had towards him. I had let that anger create havoc in my life for many years. After settling these things with myself, I felt it was time to settle things with him as well.
When I saw him, I was so surprised that he wanted anything to do with me. He had never reached out to me before that, yet according to him he had tried to be there, but my Mom wouldn't let him. As we compared stories, it was extremely upsetting for me. I didn't know whose version of my childhood was true as we had three distinctly different versions. I was really angry with him and my mom because it was really apparent that neither one of them could put their own stuff aside long enough to see what would have been the right thing for me. What happened to going to court and getting shared custody like normal people? I know that they were doing what they thought was best at the time, but as a parent I simply don't understand what circumstances could have led to such a debacle and I don't understand how you can know your child is in so much pain and not do anything to help them.
But, I also know that I will never know the real truth as we all have been steeping in our perceptions for 25 years. My only choice is to forgive and move on and that is what I am doing.
When he died, I learned what grieving was all about. For many years I was so full of anger that I didn't even know what it felt like to be sad. I lost all touch with my emotions. It was just all anger all the time. My therapist has been helping me a lot with sad, that seems to be the hardest for me. I still don't feel like I have had the chance just to miss my dad and be sad. I hope that comes with the settlement of his legal affairs and the final and official removal of his crazy life from mine.
Unfortunately I have had to deal with this crazy woman who fancied herself his wife, although that was not the case and the way my father spoke about her as well as her behavior since his death has proven to me that she is in fact a little crazy, just like he said she was. It is so sad. I tried so hard to do the right thing and be respectful of her and their relationship, even though my dad told me time and again that she would pull all the things that she has and that I shouldn't trust her and should prepare myself for what would happen when he died. I so did not prepare myself and he did not finish what he needed to finish to make sure I wouldn't have to deal with all this.
Death does funny things to people and I have learned more than I ever cared to know about it all. Finally, I just hired a lawyer because it was all just too much. Losing a parent it hard enough without having to deal with someone else's crazy bullshit. It brought up all that anger all over again. It has been really hard. I am looking forward to being able to spend some quite time with my dad and my thoughts and my memories. I am looking forward to letting go of the anger and being able to just remember the short time we got to spend together.
Life has just been crazy. I am working through my grief as the lawyer works through the estate. We are working very hard to help Nea recover from her complete lack of leadership and to become the strong, loving and stable pack leaders that she needs so badly. She has come so far.
On the exciting front, The Fellows is coming to the end of her first competitive gymnastics season. It has been a long and bumpy road, but we are so proud of her and all her work and look forward to years of gymnastics to come. She is our super star.
EB is crazy as ever. He is enjoying soccer and very excited to start Kindergarten in the fall. I can not wait to see who he becomes over the next couple of years.
Welcome to the new and improved Redesigned Mom. This will now serve to chronical our family journey. Take a look at The Redesigned Group to see what else I'm up to.
Take care and talk soon.
Today's email from Isabel De Los Rios and
The Diet Solution
touched on something that rings close to me and that I think is really important.  The mental and emotional side of losing weight.  Anyone who ignores this is only destined to fail.  Yes, you may lose some weight now, maybe even a lot of weight, but if you don't feel that you deserve it, see yourself as a thin person who is happy and active and whole or if you continue with the negative talk, it is very likely you will gain all the weight back and more.
This is something I have really struggled with.  In The Gabriel Method Jon talks a lot about envisioning yourself as a thin happy person.   I have had such a hard time with this.  Not only could I not see myself thin, but I didn't believe I could ever be thin again or even that I deserved to be.  This is the exact reason I took a break from actively trying to lose weight and concentrated on getting my head straight while continuing to improve my eating habits (nutrition and portion control) as well as learning to like exercising because it makes me feel good and not to punish myself for being overweight.
Isabel gets this too and the first chapter of The Diet Solution is dedicated to this.  Today she sent an email that talked directly to this part of the weight loss journey with some really good ideas for changing these patterns.
The strategy that touched me the most was that we should be talking to ourselves like we talk to our children.  Isn't that so powerful?
We fill our children with love and support, we tell them they can do anything they put their minds to, that if they work hard and show passion they can achieve anything.  And when they are scared or nervous or feel insecure, we give them the best, most heartfelt pep talks.  We hold them close and tell them how proud we are of them and how we know that they are capable and brave.
But when we feel those same things, we turn on ourselves.  I would fill my head with doubt and fear, blame and anger.  I would tell myself how lazy and stupid I was for not being able to do it.  I would get angry at anyone who tried to encourage me or support me, because I didn't really deserve it anyway.  Sound familiar?
Well, I'm done with that.  I deserve to accomplish anything in my life that I set my mind to.  I deserve to be happy and healthy and loved and supported.  I deserve these things just as much as my children do and I can see that thin, healthy, happy, fulfilled person now and I'm going after it.  And you can too.
Every day I am more and more impressed with Isabel.  I really encourage you to check out The Diet Solution.
This is the email she sent today in it's entirety.  I hope it is ok that I shared it this way, I just felt it would be important for you to read.
Hey Karin,

I was remembering back several years ago when I used to do one on one client coaching, I had a great call with a client. It was actually her last coaching call with me and I wanted to be sure that I left her with all the "tools" she needed to maintain and continue her incredible weight loss success.

Me: "What do you think will be the most difficult challenge for you moving forward?"

I was expecting an answer like traveling, going out to dinner, maybe even cravings, but that was not the case.

Client: "Isabel, the absolute hardest thing for me is the mental part of losing weight. I see how successful I've been and I clearly see the results in the mirror, but I still find myself doing a lot of negative self talk. It's almost like I know I'm going to blow it, just like I have so many other times."

WOW! Talk about honesty. And I know she is not the only person who is going through the same thing. I can remember years ago when I first lost all of my weight, I would get compliments from people and I would always thing to myself, "Yeah, whatever, let's see how long this really lasts."

But there is a reason why the FIRST chapter in the Diet Solution Program Manual is about MENTAL PREPARATION because this is an ESSENTIAL first step. It doesn't matter how good the information is, how easy I have made it for you, or how delicious the food is. If you're going to talk yourself out of your own success all day, then you might as well just throw in the towel now (in this case, walk away from the computer and stop reading).

So how exactly did I overcome this common hurdle? Here are some strategies I use even today in my life that keep me focused, motivated and always working towards my goal.

1. I start each and every morning with a gratitude list. This is non-negotiable! It takes me no more than 3 minutes and it changes my spirits for the entire day. How's setting aside 3-5 minutes for a joyous rest of the day? Worth it, right? I write "I am so grateful for…" and then just write, write and write. For me that list always includes my family, my health and my work. I wouldn't start any day without this!

2. I go to sleep each night playing my personal mind movie in my head as I go to sleep. What is a personal mind movie? Basically, it's you imagining yourself looking, feeling and doing whatever it is you would do if you achieved your health and weight loss goals. Imagine yourself in a particular outfit, at a party getting compliments, participating in some awesome athletic event. Athletes have actually used this strategy for decades with much success. This approach helps me to fall asleep happy and is much better than lying there thinking about all the things I have to do the next day or harping on stressful events. I sleep so much better at night like this!

3. Only talk to yourself as you would a small child (This one is my favorite and given to me by my best friend Jackie). Would you tell your children all day long that they were never going to achieve their goals, that they should stop trying or that they shouldn't even try in the first place? No, I sure hope you wouldn't. You would encourage them, give them hope, and tell them that anything is possible with hard work. Treat yourself, in your own mind, the way you would want to speak to your children or better yet, the way you would want others to speak to your children or speak to you.

Karin, keep your eye on the prize because the prize of the body you are dreaming about is within your reach! If I can do it, so can YOU! Tell yourself how awesome you are and how this time you are changing your life and there is no looking back.

Speaking of keeping your eye on the prize, I just got the most wonderful celebration email from my friend Joel Marion. He had set his goal to help as many people around the world achieve their own weight loss goals and getting his information out to every person that was ready to take his Xtreme weight loss challenge.

He has accomplished just that and is celebrating the Xtreme Fat Loss Diet system officially becoming the #1 Bestselling e-book on the internet right now!

To celebrate this monumental event in Joel's life, he's decided to keep the $30 OFF offer open for a couple more days.

If you haven't secured your discounted copy, THIS IS THE TIME TO DO IT! (before Saturday).

I couldn't be happier or more proud of him, and if you are one of the 20,000 people that has decided to take him up on his offer, I am proud of you too!

Take a look at Joel's celebration page here:

The Xtreme Fat Loss Diet
And join me as we give Joel a big round of applause. Bravo…(clap, clap, clap).

Keep your eye on your own prize…and you will get there!

In health and happiness,

Isabel De Los Rios
Certified Nutritionist
Certified Exercise Specialist
Author of www.TheDietSolutionProgram.com

PS – If you enjoyed today's newsletter, feel free to forward this email on to any of your friends, family, or co-workers that would also enjoy the information.
Have a really great day and remember to care for yourself, you deserve it.
It has been an interesting couple of weeks since attending the forum.  I have been mourning a part of myself and learning to live in a world where that part me no longer exists.  Of course this is a good thing, but that certainly doesn't mean it has been easy.
I have caught myself falling back into my depression routines which is pretty frustrating.  I am also noticing new layers or levels of issues to deal with.  This is also a good thing as these are the real issues, the rackets I have built up that were hidden beneath my tortured soul persona.  The good news is that now that I am past all the bullshit  I can concentrate on going after the stuff really getting in the way.  It is like all that anger just wrapped me in a blanket of safety and now I am fully exposed, left to look for and examine the real issues I was just hiding from before.
My therapist is thrilled and I am working on being thrilled, but right now I just feel a little let down.  See there, that's a racket talking right there.
I have been finding it hard to write.  This post have been sitting in my draft posts in various stages of undone for about a week now.  I ended up having to write it by hand to break through the block and it hardly resembles what I meant to write when I started.  When I think about it, I wonder if much of my inspiration came from my angst and resentment and blame.  This is a new place to write from for me.  This is a new place to do everything from for me.
Although I see the future in a whole new brighter light from a place of knowing I am not only capable but also deserving, insecurity and fear are still rampant and restraining.
But alas,  life rolls along and time speeds past and there is much to be done.  School starts this week and a new stage of life beings for our family. Ada starts kindergarten on Thursday and Ian will be attending preschool two mornings a week starting next week.    This leads to many new challenges and some great opportunities as well.
I am not the most organized of people, another racket I run to avoid being responsible for my own life — See how those can get in the way?
So, this week I have set myself up to succeed and started a fresh school year with a fresh outlook.
Taking responsibility for my life means many things to me.  Much of the big stuff like the wall I put up between myself and others and how angry I was and generally nasty sometimes are gone – vanished like some sort of magic.  What's left are those things that can make a huge difference in my day to day life.  These include being organized and responsible for remembering what forms need to be filled out, that there is a field trip tomorrow and I need to send snacks to school on Wednesday.  It also means taking responsibility for my health and my body and finally doing what it takes to be a healthy, confident, beautiful woman.
Maybe we can throw in figuring out what I want to be when I grow up as well, but that is the big scary monster in the room right now and a lot of baggage lays between me and that goal, although I have been having some thoughts about what it might look like and that is a surprisingly big step for me.   In the meantime I can concentrate on getting the things I do have under my control under control.
I have already made some big strides.  Today (well actually yesterday but it took me too long to edit this) I have eaten great, exercised, cleaned the house and spent quality time with the kids, while still managing to get some work done.  It is possible to be productive and get everything done.  It's amazing how much time opens up when you stop worrying so much about how overwhelming it all is.
The challenge will be to keep at it for more than a couple of days.  This is another racket I run.  I have great intentions and a strong start, but the follow through tends to go by the wayside.  I have put many tools into place to assist me in overcoming this weakness and I will share them with you over the next couple of weeks as I discover the successes and failures.  I hope that maybe an idea will spark you to create a less overwhelming life for yourself as well.
This process never ceases to amaze me.  The weirdest stuff is happening to me.  I squarely chalk this up to the fact that I must have had some serious stuff built up in my system as well as a significant amount of emotional blockage.
It has taken a while and I even was starting to think that even though I felt great that maybe this wasn't going to work for my weight loss.  I have been at this for a while now and I have experienced some amazing changes in my mood and physical well being, but not much actual weight loss.
Jon even says in the book that the more barriers you have to losing weight the longer it will take for the weight loss to begin.  Even though it has taken a long time,  I just kept going with it.  It wasn't even like I had a lot of choice, my body was making changes and demanding different foods and I just was open to it and let it happen at its own pace.
These last couple of weeks has been really crazy with traveling and multiple dinner guests and the kids being home and Ian having a growth spurt while cutting molars and now finally I have a doozy of a cold that has taken my appetite and any desire I have to move from a horizontal position on the couch.
But in spite of all that these really amazing things have happened and also some weird ones as well.
I forgave my father.  This is the biggest of emotional barriers obliterated and something I wasn't sure I would ever be able to do.  He hurt me so badly and I have been carrying so much anger and pain around with me for such a long time.  But that anger isn't doing me any good, it is just holding me back and so I am letting it go.
Along with this has come a strong desire to search him out.  He is aging and alone and my guess is not too happy and he is my dad and I love him despite his many aggregious acts and faults and I want to fix things between us before it is too late.    I know that he wont want this from me because he can't accept my own acts and faults, but I feel that our life lessons are tied together somehow and that we have a lot to learn from each other no matter how hard that may be for either one of us.
I have also felt some sort of chemical shift has taken place in my body.  I just feel different and my physical body is starting to change.  My clothes are looser and I know the weight is starting to come off.  I look completely different to myself in the mirror.
I have also gotten really sick.  I haven't been sick with any seriousness since before I got pregnant with Ian.   My hair is also falling out.  Nothing to be worried about, but I haven't had any hair in the shower drain since I got pregnant with Ian and now the normal amount for someone with longish hair is there.  I didn't even lose my hair after he was born like you are supposed to.
I know it sounds crazy, but I really think that my body never adjusted to not being pregnant.  The chemicals just kept going.  Jon talks about pregnancy being a time when your body turns on the FAT programs.  Is it possible that those programs simply never got turned off?  That would certainly explain a lot of things;  My hair continuing to be thicker and healthier than normal, my late onset postpartum depression, my bomb proof immune system and my persistent lack of weight movement among many other things too personal to discuss.
But, whatever it was has definitely changed over the last couple of weeks and my weight is finally moving.   Still not getting on the scale until October, but I have a lot more faith that the number when I do will be significantly lower than it was when I began or is now.
Yea!
Get The Gabriel Method Book Now!
For this reading I will use the first ten sword cards and the first ten major arcana cards to examine how I am as a risk taker.   Swords generally deal with struggles, power and strategy and I hope to see how I might best manage the risk and anxieties in my life.  
The Layout
This reading uses a triple cover and cross layout.  I will use three basic cover and cross pairs using the I-X of Swords and the first ten major arcana cards, shuffled separately.
The basic cover and cross layout consists of one card upright (covers you) and one laying across that one (crosses you).  Just like a cross.  The cover card represents the current situation and the cross card represents the challenges you face.
Shuffle the sword cards while asking your question and deal up the first three cards in the covers position.  Then shuffle the major arcana cards while asking your question and deal up the first three cards in the cross position.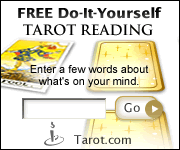 The Question: How can I ensure I take the right risks?
The Spread
Covers:  X Swords
Cross:  X Wheel
Covers:  IX Swords
Cross: IX Hermit
Covers: I Swords
Cross: VI Lovers
Interesting or coincidental that the first two are both nines and then both tens.  Hmmm.
The Answer
You are very capable of making a comeback.  Look to trusted friends for advice, but when the decisions need to me made, take some time to yourself and trust your own gut.  You will have the most success working with a partner.
The Cards
X Swords
My Take*:  A Man cowers under a ring of swords.  He is currently repelling the swords but that situation could change at any time.  He is naked and hides his head. Vulnerable is the word that comes to mind.
The Card:  You have completely lost yourself in the ruminations of your conscious mind.  The chattering monkey mind has obscured your perspective and the ability to see clearly and you are no longer able to manage things productively.  The good news is that there is nowhere to go but out of this situation now.  This is the end of the road and now you are able to see new opportunities and the potential for growth.
X World
My Take:  This card always reminds me of the Wheel of Time.  How no matter what happens time keeps moving on, with or without us.  It represents all the possibilities of the Universe and it is all up to us whether we seize those opportunities or let them pass us by.
The Card:  This card represents the feeling that our fate is determined by some mechanical or cosmic machine.  But no matter how many things are out of our control, there are many many things that we can control.  We just have to look at these things in new and creative ways.  It can represent feeling helpless to your circumstances and most definitely means that change is coming, usually for the better.  We must remember the control that we do have in our lives and not let ourselves believe too strongly in the power of those things outside ourselves.  
IX Swords
My Take:  Afraid of the things that go bump in the night.  A woman lays, afraid.  The swords are all gathered in a point right above her head.  A tree reaches out like a claw.  These are the scary thoughts that run around in our heads.  Being afraid of everything whether it is real or not or should be scary or not.  Letting our thoughts cripple us.
The Card:  Anxiety caused by the trappings of the mind.  How we think about things effects our perception of the world around us.  If we expect bad things to happen then they usually will.
IX Hermit
My Take:  This card is about looking deep within ourselves for the answers to our questions.   It's about removing ourselves from out surroundings in order to gain perspective on a situation.  
The Card:  Seclusion, meditation and removing of oneself to gain perspective.  Self imposed isolation and contemplation.   The lantern brings light into the farthest reaches of the mind.  Make sure that the isolation is for reflection and not simply to escape.
I Swords
My Take*:  An armored and winged woman is the hilt of this single sword.  Light radiates from behind the sword through a dappled cloud sky.  The tip of the sword runs through a golden triangle.  Ones are generally about new opportunities.   This card speaks to me of a renewal in strength.  The woman is ready to take flight like a regal bird, yet grounded by the golden triangle.
The Card:   A new idea or "Aha" moment.  A new  and clearer understanding of the world around us and our personal path.  Great opportunity for growth and change.
VI Lovers
My Take:   Intimate relationships.   Obtaining the ultimate closeness while still retaining your own identity.   
The Card:  Relationships, sharing of self, vulnerability, attraction of opposites.  All types of relationships are represented, not only love relationships.    Sharing of oneself can be frightening, but closeness and a breaking down of barriers can be achieved by being honest and up front.  Communication and understanding prevail. 
Reading Analysis
These three set reading tend to deal with past present and future and the first set seems to hold true with this.  I feel like the last year has been all about giving in and resigning to the situation so that I can finally see past all the anger and pain and fear and move on with my life in a more productive and genuine way.  It is time for me to break myself down and pick through all the pieces to determine who it is I really want to be.  This required getting rid of the negative influences in my life, renegotiating my boundaries and interactions with those closest to me and learning enough about myself to redefine who I am.  With this comes the ability to move forward in a new way that is very exciting and more than a bit scary.  
It is funny that they talked about the chattering monkeys.  My therapist referred to my constant ruminating as chattering monkeys as well.  A big part of this journey for me has been to differentiate between when the monkeys are working on something productive and when they are just being distracting and destructive.  I am working on this and also telling them that this isn't productive and diverting them onto more productive paths.  It seems to be working quite well.  Really dealing with depression, anxiety, fear, chattering monkeys or whatever else is all the same.  You have to look it straight in the eye, accept it and recognize it for what it is, then simply move on with your day.  There is little you can do about your physical reactions or mental wanderings, but you can identify it correctly and chose to live your life anyway.  And eventually the thoughts and physical sensations begin to subside, at least that has been my experience.
For a while now, I have felt really out of control, like the world was spinning out of control around me.  The Wheel card represents that.  But now, I am taking back the control that I do have, by choosing the people who influence my life, facing my fears and slaying the dragons, as I like to say, as well as trying to reconcile, resolve and/or let go of the things that haunt me from my past.
The nine of swords and Hermit pairing make perfect sense for the present with anxiety brought on by the workings of my mind and my resulting self imposed isolation.  I have been going through a lot and have closed rank as a way to cope and work through everything.  Only recently have I really started to reach out again and am beginning to attempt to clear away some of the rubble.  
This is where the risk this reading addresses really comes into play.  In the future set we have the one of swords about new inspirations and opportunities paired with the lovers which deals with open and honest communication and relationships.  To me this means that new opportunities lie in my relationships with others and with open and honest communications, being comfortable with my vulnerability and recreating the important relationships in my life in an honest and meaningful way.   It also may mean that a new relationship in my life will be a rewarding risk.  
Overall an honest and encouraging reading.
* Please keep in mind that I am learning and this is a new deck of cards for me.  The "My Take" statements are my first impression based on just looking at the card.  It is very likely that the first time the card comes up they won't be even remotely close.  Please don't hold it against me.  "The Card" statements are more accurate and based on the meanings that are presented with the card.
I haven't had a bad day in a while and by that I mean a depressed day.  
Yesterday I thought I was getting sick.  Weirdest thing, my nose ran non-stop causing a barrage of sneezes that I thought were going to drive me out of my mind.  Then I popped a 101 fever  with terrible aches and pains for about an hour and then it was gone.  Totally bizarre.
Today, Ian tripped and conked his ear on the coffee table, which threw me into my injury panic and now I am feeling so run down.  My flight instinct kicks in.  I just want to crawl into a hole.  Hmmm.
I also received what I hope is the final final email exchange.  I thought that had happened a couple of weeks ago but my email filter failed and there it was in my inbox.  I guess she just had to have the final word.
I'm not really feeling sad about the whole situation anymore though.  The email was just one more reminder why my decision was the right one.  
I am still having a hard time controlling the physical anger reaction I get when i think about the whole thing, though.  Even though I rationally know and understand my feelings and what the situation means to me, my body just isn't there yet.
I think my body is overloaded with it's own response chemicals right now.  My response?  Wallow and eat.
 Joy, aren't I inspiring.
Until a better day…
Well, I have had another very emotional day.  It's amazing what small things can bring me to my knees these days.  Just yesterday,  I was feeling so good.  I was feeling strong, I was sleeping well (well better anyway), I was having fun with the kids, I felt in control and like progress was being made.  And today, I am back to a puddle of tears and anxiety.
Why is it that I allow something so inconsequential to get me so riled up?  Probably because it isn't inconsequential.  Not because of the specific situation but because of the feelings of loss that it brings up in me.  Loss is a very sad emotion.  It's one that I'm not sure I have ever fully addressed.
The good thing is that I am feeling the sadness, boy am I feeling it.  And it is all muddled with anger and resentment and the need to slug someone in the gut.  The problem with this kind of emotion is that it interferes with everything.
It seeps into all the little crevices of your life and start to mess with you.  It's just wrong.  But it needs to be done.  Opening a nest of pent up emotion is a scary thing and not always the most pleasant for those that you love, but it needs to be dealt with.  I have no choice to but face it all and look it directly in the eye.  Be brave.  Be brave.  Be brave.
I also know what needs to be done to put all this current messy business behind me as well, but doing it is also pretty scary business.  I am wired for flight and turning to face my fears is not something I do with ease.  I am a person who has walked through life in fear.    Not any more.
Sometimes what needs to be done, just needs to be done.  Sometimes there is no salvaging it.  And sometimes, even if you could salvage it, that isn't the right or best thing to do.  I am done with situations that are not healthy for me.  I am done pushing my true self aside to please others.  I am done feeling bad about who I am.  I'm just done.  I want it over with.  I am ready to move on.  Too bad that all comes with a bunch of ugly consequences.
Just for the record, this has nothing to do with my marriage.  Karli is my rock and I would be huddled in a corner right now if it weren't for him.  He is everything a husband should be and so much more.  I wish everyone had the opportunity to walk through life with their soul mate.
Someone told me something really important once and I repeat it to myself often.
I have everything that I need and I am getting better and better every day.
I am grateful and hopeful and full of love.
If your read my post, you have probably figured out that I have having some sort of psychotic break. No no, just kidding. But, I am going through a pretty difficult time. The whole reason I started this blog was to work out why I am feeling so lost and figure out who I am in this new life that I chose.
A couple of weeks ago, a minor incident caused a huge upset in my life. My disappointment and hurt feelings transformed into misdirected and overinflated anger and caused me to stop for a minute and consider what was really going on.
What I said in the post about not letting things build up because years of frustration and pain are really hard to deal with all at once is so true as I feel that much of the intensity of what is happening with me right now comes directly from hiding from myself and my issues for so long. But, there is more than that at work.
Over the last couple of weeks I have done some serious soul searching and have determined a couple of things.
1. It is time for me to find a good therapist. I spent a couple of years when I was younger in therapy to deal with my issues surrounding my parents divorce and also to try and eliminate some pretty self destructive behavior. Although this was crucial to my current success in life, what I learned to do was to set the bad feelings aside and concentrate on the good feelings.
This is sort of the foundation of cognitive-behavioral therapy, which is one of the most common forms and although I can not be certain, I assume the type of therapy I received so many years ago. They take the negative behaviors and circumstances and change the way the you look at them and think about them in a more positive way.
"The objectives of CBT typically are to identify irrational or maladaptive thoughts, assumptions and beliefs that are related to debilitating negative emotions and to identify how they are dysfunctional, inaccurate, or simply not helpful. This is done in an effort to reject the distorted cognitions and to replace them with more realistic and self-helping alternatives." – Wikipedia
This is extremely effective in increasing a person's ability to function in the real world and lead a productive and positive life and may definitely be enough for many, if not most, people. And, as I said, I owe a lot to this type of therapy, which enabled me to put aside the anger and hurt and move on with my life.
But what I am feeling now is like I put all those feelings and consequently most of the negative feelings I have had throughout the subsequent years into a drawer and closing it, seeking to avoid slipping into those hurt feelings and negative emotions, no matter what they involve. The drawer squeaks open now and then and I shove a couple more things in and then close the drawer again.
Well, now the drawer is so full that it won't close any more. It is now time for me to figure out how to empty out the drawer and deal with, live with, or get rid of whatever is in there.
I have been working on finding a therapist since the day, but this is definitely easier said than done. Finding someone who resonates with your belief system (no christian counseling please – geez, is everyone pushing their christianity these days – oops angry words), fits in with your schedule and within your network and actually has time to see you is really difficult. Be patient and active, that's the mantra.
2. I am very much trying to own my emotions and to truly feel them, even if they are not entirely rational. Feelings are real, in any state and they shouldn't be pushed aside. I am very overwhelmed by the emotional state I am in right now, but am crying when I need to cry and expressing my feelings either out loud or with words so that I can embrace all that is me.
Remaining in control and not starting down a destructive path is very important, but so is feeling all of this in a safe supportive environment. I want to feel whole and happy and motivated and inspired.
3. It is time for me to embrace who I am. I am a little quirky, a little introverted, and a lot of other really great things too. I am who I am and although life is a journey of change and hopefully improvement, I am proud of the person that I am. It takes great strength to come from where I was to where I am and I need to stop trying to be what everyone else expects of me and just be me.
In that vain, I am going to stop pussy footing around on this blog and just say what I have to say. That's what this was supposed to be about after all, yet I have found myself tempering myself as to appear in a certain manner and by doing that, not really representing myself.
4. It is time to get my shit together and my life somewhat organized and working more smoothly. I am never going to find the time or energy to do whatever great things my future holds for me if I can't even handle what I have now. Now, I know that more time will naturally come and that I can't underestimate the demands of two kids 4 and 1, but there are self defeating patterns that I have propagated throughout my daily existence and it is time for those things to change. A little determination is in order and I am tired of feeling hopeless. Get moving.
When it comes right down to it, it is about feeling comfortable in my own skin. That is what I am working toward.
I am so angry.
I am not sure I have ever been so angry.
My body is one big knot.  Each day, I wake with a new knotted up muscles.  Today it is in my right shoulder.  Yesterday it was on the left side of my neck.
Yoga last night helped temperarly.  My yoga bliss was a much needed reprieve, even if it only lasted  a couple of hours.  Today, the anger is back in full force.
I can feel it when I breathe, a hallow dullness in my chest, a slight dizziness, my head light, my thoughts muddied.
The tears come at the most inopportune times, when I most need them to stay stuffed down.  I teeter on the edge of control, trying to put on a happy face and keep moving for the sake of my family and many times not too successful.  My poor husband, I'm sorry.
This is a lesson in fear and weakness.  Do not let things build up without saying anything.  Years worth of frustration and bitterness are very hard to deal with all at once.