In the last reading the Pages and Knights warned me what to look out for, but they are also very good at delivering news about messages that may be coming.   This reading will examine what those messages might be and from whom?
The Layout
This card uses the Page and Knight of each suit, the Fool 0 and the World X
Shuffle the cards, concentrating on the question.  When you feel the cards are done, deal them out one at a time until you turn over the Fool or the World then stop.
The Question: What message will I receive?
The Spread
Page Swords
Knight Swords
XXI World
The Answer
A clear and definitive message is being sent right now that will renew your enthusiasm and motivation.
Wow, that would be nice!
The Cards
Page of Swords
My Take*: Young woman, strong eyes, fancy hat.  armored yet beautiful, hard yet refined.
The Card: Curious and fervently seeking knowledge yet scattered and unfocused.  An idea in its infancy.  Focus your energy on gaining knowledge about the situation through messages containing information.
Knight of Swords
My Take*: The knights horse is a pegasus taking flight.  This is echoed through the wings on his helmet.  This card is swift and a little reckless.
The Card: The winged horse represents the flight of the mind and the potential of the minds capabilities.   Intensely focused on the goal, so much so that tolerance and patience go out the window.  This is a card of action.  Patience and determined focus are needed for success.
XXI World
My Take: The coming together of all the elements to bring about the conclusion of something.  The culmination of lessons learned leading to a new cycle.
The Card: The end and the beginning.  We see things as they are.  Enlightenment.   Transformation. Wholeness.  Being aware of your limitations.
Analysis
This book
is fun and silly and sometimes enlightening in its reading, but lets not kid ourselves that it is the most serious or thorough of interpretations.
I do find these cards very interesting though.  If you look at them as a classic three card spread with past present and future represented then they are very encouraging.    I have always know there was great potential for me, but have never been able to focus enough to fully explore it.  I have been scattered and distracted.
All the work I have been doing has seemed to come together around this ability to focus and the meaning behind why I can't and what I can do to reprogram my way of thinking about my goals and success and/or failure.  The combination of my work at therapy and the upcoming Forum Advanced Course give me ample opportunity to improve this situation dramatically.
The goal is wholeness and transformation.  The presence of the World card leads me to believe that this goal is a real possibility.
* When I am first learning a card, the my take section is only based on what I can see in the card and not based in any foundation or previous knowledge.  Do not use these descriptions as being anywhere near the truth.
For this reading I will use the first ten sword cards and the first ten major arcana cards to examine how I am as a risk taker.   Swords generally deal with struggles, power and strategy and I hope to see how I might best manage the risk and anxieties in my life.  
The Layout
This reading uses a triple cover and cross layout.  I will use three basic cover and cross pairs using the I-X of Swords and the first ten major arcana cards, shuffled separately.
The basic cover and cross layout consists of one card upright (covers you) and one laying across that one (crosses you).  Just like a cross.  The cover card represents the current situation and the cross card represents the challenges you face.
Shuffle the sword cards while asking your question and deal up the first three cards in the covers position.  Then shuffle the major arcana cards while asking your question and deal up the first three cards in the cross position.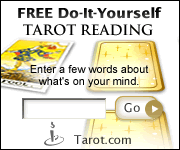 The Question: How can I ensure I take the right risks?
The Spread
Covers:  X Swords
Cross:  X Wheel
Covers:  IX Swords
Cross: IX Hermit
Covers: I Swords
Cross: VI Lovers
Interesting or coincidental that the first two are both nines and then both tens.  Hmmm.
The Answer
You are very capable of making a comeback.  Look to trusted friends for advice, but when the decisions need to me made, take some time to yourself and trust your own gut.  You will have the most success working with a partner.
The Cards
X Swords
My Take*:  A Man cowers under a ring of swords.  He is currently repelling the swords but that situation could change at any time.  He is naked and hides his head. Vulnerable is the word that comes to mind.
The Card:  You have completely lost yourself in the ruminations of your conscious mind.  The chattering monkey mind has obscured your perspective and the ability to see clearly and you are no longer able to manage things productively.  The good news is that there is nowhere to go but out of this situation now.  This is the end of the road and now you are able to see new opportunities and the potential for growth.
X World
My Take:  This card always reminds me of the Wheel of Time.  How no matter what happens time keeps moving on, with or without us.  It represents all the possibilities of the Universe and it is all up to us whether we seize those opportunities or let them pass us by.
The Card:  This card represents the feeling that our fate is determined by some mechanical or cosmic machine.  But no matter how many things are out of our control, there are many many things that we can control.  We just have to look at these things in new and creative ways.  It can represent feeling helpless to your circumstances and most definitely means that change is coming, usually for the better.  We must remember the control that we do have in our lives and not let ourselves believe too strongly in the power of those things outside ourselves.  
IX Swords
My Take:  Afraid of the things that go bump in the night.  A woman lays, afraid.  The swords are all gathered in a point right above her head.  A tree reaches out like a claw.  These are the scary thoughts that run around in our heads.  Being afraid of everything whether it is real or not or should be scary or not.  Letting our thoughts cripple us.
The Card:  Anxiety caused by the trappings of the mind.  How we think about things effects our perception of the world around us.  If we expect bad things to happen then they usually will.
IX Hermit
My Take:  This card is about looking deep within ourselves for the answers to our questions.   It's about removing ourselves from out surroundings in order to gain perspective on a situation.  
The Card:  Seclusion, meditation and removing of oneself to gain perspective.  Self imposed isolation and contemplation.   The lantern brings light into the farthest reaches of the mind.  Make sure that the isolation is for reflection and not simply to escape.
I Swords
My Take*:  An armored and winged woman is the hilt of this single sword.  Light radiates from behind the sword through a dappled cloud sky.  The tip of the sword runs through a golden triangle.  Ones are generally about new opportunities.   This card speaks to me of a renewal in strength.  The woman is ready to take flight like a regal bird, yet grounded by the golden triangle.
The Card:   A new idea or "Aha" moment.  A new  and clearer understanding of the world around us and our personal path.  Great opportunity for growth and change.
VI Lovers
My Take:   Intimate relationships.   Obtaining the ultimate closeness while still retaining your own identity.   
The Card:  Relationships, sharing of self, vulnerability, attraction of opposites.  All types of relationships are represented, not only love relationships.    Sharing of oneself can be frightening, but closeness and a breaking down of barriers can be achieved by being honest and up front.  Communication and understanding prevail. 
Reading Analysis
These three set reading tend to deal with past present and future and the first set seems to hold true with this.  I feel like the last year has been all about giving in and resigning to the situation so that I can finally see past all the anger and pain and fear and move on with my life in a more productive and genuine way.  It is time for me to break myself down and pick through all the pieces to determine who it is I really want to be.  This required getting rid of the negative influences in my life, renegotiating my boundaries and interactions with those closest to me and learning enough about myself to redefine who I am.  With this comes the ability to move forward in a new way that is very exciting and more than a bit scary.  
It is funny that they talked about the chattering monkeys.  My therapist referred to my constant ruminating as chattering monkeys as well.  A big part of this journey for me has been to differentiate between when the monkeys are working on something productive and when they are just being distracting and destructive.  I am working on this and also telling them that this isn't productive and diverting them onto more productive paths.  It seems to be working quite well.  Really dealing with depression, anxiety, fear, chattering monkeys or whatever else is all the same.  You have to look it straight in the eye, accept it and recognize it for what it is, then simply move on with your day.  There is little you can do about your physical reactions or mental wanderings, but you can identify it correctly and chose to live your life anyway.  And eventually the thoughts and physical sensations begin to subside, at least that has been my experience.
For a while now, I have felt really out of control, like the world was spinning out of control around me.  The Wheel card represents that.  But now, I am taking back the control that I do have, by choosing the people who influence my life, facing my fears and slaying the dragons, as I like to say, as well as trying to reconcile, resolve and/or let go of the things that haunt me from my past.
The nine of swords and Hermit pairing make perfect sense for the present with anxiety brought on by the workings of my mind and my resulting self imposed isolation.  I have been going through a lot and have closed rank as a way to cope and work through everything.  Only recently have I really started to reach out again and am beginning to attempt to clear away some of the rubble.  
This is where the risk this reading addresses really comes into play.  In the future set we have the one of swords about new inspirations and opportunities paired with the lovers which deals with open and honest communication and relationships.  To me this means that new opportunities lie in my relationships with others and with open and honest communications, being comfortable with my vulnerability and recreating the important relationships in my life in an honest and meaningful way.   It also may mean that a new relationship in my life will be a rewarding risk.  
Overall an honest and encouraging reading.
* Please keep in mind that I am learning and this is a new deck of cards for me.  The "My Take" statements are my first impression based on just looking at the card.  It is very likely that the first time the card comes up they won't be even remotely close.  Please don't hold it against me.  "The Card" statements are more accurate and based on the meanings that are presented with the card.
Wow, this is a tough one. I don't really have anything going on right now to profit from. I am starting to take on some freelance work, but nothing serious until the fall probably. Hmm, well I guess I will ask what is coming that would be financially beneficial to me.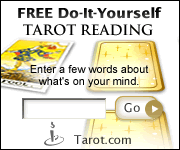 The Layout
This is a celtic cross reading.  This reading will take a comprehensive look at the financial future.
I will be using the I-X Major Arcana Cards and I-X of Coins for this reading.
Shuffle the major arcana cards while focusing on the questions and then deal out the first two positions.
Shuffle the coins cards while focusing on the same question and deal out the top four cards into positions 3 through 6.
Combine the remaining coins and major arcana cards and shuffle them together, again concentrating on the sames question and deal out the top four cards from this pile into positions 7 through 10.
The Question:  What opportunities are coming that I will profit from and how much will I profit from them?
The Spread
1. Covers You (current situation) – XI Justice (in some decks this is VIII and I have swapped them for the purpose of this self inventory)
2. Crosses You (challenges) – VII Chariot
3. Above You (what is possible) – IX Coins
4. Below You (how you got here) – VII Coins
5. Behind You (recent past) – III Coins
6. Before You (what's next) – VIII Coins
7. Who You Are – IV Emperor
8. Who They Want You to Be – II Priestess
9. What You Want – VI Lovers
10. What You Get – X Wheel
The Answer
Make sure you put the time in to thoroughly research the opportunity.  Crunch the numbers and weigh the possibilities.  The answer will not be completely clear, you must ultimately decide.  Look deeply for the answer.
You must enter into this opportunity with enthusiasm and energy.  Make full use of your resources and care well for those things trusted to you.  This has grown out of something you were formerly successful with.
Just recently money was handed out and will be repaid with interest in the near future.  You will remain in control of the situation while others hope that you will solve their problems.
Although you would like to be presented with an exciting offer right now, this is what is needed in your life right now and good or bad the risk is taken.
The Cards
XI Justice
My Take:  An Armored woman holds a set of scales.  She feels for what side is weighted more heavily.  She is without eyes to ensure her lack of bias.  The sky is dark and stormy, her sash blows in the wind.   She is armed against harm and unnerved by the turmoil around her.  It is a trying time and every angle and option must be adequately examined. 
The Card:  Your values and judgements will drive you to change the world around you for the better.  You believe in the underlying fairness as a part of what makes us human.  Be careful not to be too judgemental.  The scale has become one with the judge so that she is the one handing out justice. She has no eyes, showing her complete dedication to being evenhanded and unbiased.
VII Chariot
My Take:  This card always reminds me of charging forward.  The strength of this card is profound.  There is also a balance between riding the wave of life within the structure and constraints of our lives.   The power of the forward motion is hard to control and your inner strength is needed to keep it in check.  You have a firm foundation to build on and are ready to take the next step.
The Card:  You are ready to set off on your journey.  The horses represent the unbridled energy driving forward that must be guided and controlled by the charioteer (you).  You are confident in your abilities but must be careful of being arrogant.   But don't fret, you are correct that you are well prepared and aptly capable of taking this journey and surpassing any obstacles that come up.  You are beginning to lay the framework to build your future on.
IX Coins
My Take:  This seems like a peaceful card with the doves and all the flowers.  A young woman tending her garden, building a comfortable home life.  Her dress is very conservative and traditional which says to me that this deals with the more traditional roles and values of home life.  I can't help but feel something unsettling about her.  The coins surround her like an arch.  This card is saying to me that there is an investment in the traditional home.
The Card:  The lushness of the garden, the abundance of blooms indicates that you have done quite well creating a comfortable environment.  You have worked hard and enjoying the spoils.  This is a peaceful time.  Be careful not to retreat to far into your own world.
VII Coins
My Take:  The coins on the tree are like fruit, hanging low and ready for the taking.  She has traveled far to fill her baskets with the fruit.   The land is lush, the sun rising.  She rests before her harvest.  It feels like you have worked hard and now it is time to gather and save the money you've made.
The Card:  This card is about patience.  She is waiting to harvest the fruits of her labor but is waiting for the time of peak ripeness.  Timing can be everything in business.  This card could also mean that you have nurtured something and now it can grow on it's own.  The woman can also be seen as at a crossroads, deciding what the next move should be.
III Coins
My Take:  This cards speaks to me of artisan work.  A man is blowing glass.  Working with your hands.  Using your creativity and ingenuity.  He is confident in his task and a master of his trade.
The Card:  The glass blower is a master of his craft through hard work and experience and now deserves the respect he receives.  Taking raw materials and creating something beautiful and refined from it.  You have attained mastery in your field.
VIII Coins
My Take:  A man tinkers with a mechanical device.  There are extra parts, plans and books all around him indicating he is still learning and has not yet mastered his trade.  This work is slow and meticulous.  A detailed approach is necessary.  
The Card:  This is time to work slow and steady toward the goal.  This is not time for grandiose schemes.  Rewards will come from dedication and hard work.
IV Emperor
My Take:  Structure and order.  He is building the world he sees in his mind.  He is the master of his domain.  He takes great pride in and is very protective of the world he has created.  Beware of judgement and dominating behavior.
The Card:  Fatherhood, leadership, structure, order.   Social responsibility and tyranny.  This is the card of social constructs.  Although these powers can be misused they are integral and necessary in our lives.  Power is no inherently good or evil but inevitably a mix of both.  Take hold of your own power and use it wisely.  Look for the potential order in your task.
II Priestess
My Take:  This is the card of psychic abilities, of looking inward for answers.   Trust your gut, you know the answers you seek.
The Card:  You must be delicate in approaching the subconscious.  If you meditate and focus your energy on the answers you seek and are open to seeing what your intuition is trying to tell you, you may just get a glimpse.  The priestess' energy is a calming one, as one feels when they trust themselves.  You are reaching toward wholeness.
VI Lovers
My Take:  This is a passionate card.  The feelings of this are are intense.  The lovers are joined, almost becoming one, losing oneself in another.  
The Card:  A relationship of any kind, but mostly love relationships.  Sharing ourselves with others. Considering other points of view.  Be honest and above board, consider the other side in this situation.  The attraction of opposites.  The beginning of a new creative relationship.
X Wheel
My Take: This card shows a mechanical wheel with the signs of the zodiac all around.  This card always reminds me of the wheel of time in that it is always moving forward.  Time continues to go by no matter what is happening in our lives.  Change comes whether we like it or not.
The Card:  This card represents the feeling we have sometimes that our lives are being steered by some mechanism, that we have little control.  Although it may seem that we have no control sometime, there are always things in our lives that we can control with a little creativity and determination.  We must remember that this control and power we wield over our own lives is that which keeps from being vulnerable to others.  The wheel card can represent a feeling of helplessness but it also means that there is change coming, and that is a reason to feel hopeful.
Reading Analysis
The answer section of this makes me think of something I have been considering lately.  A month or so ago, I heard a story on NPR about micro philanthropy and the new ways that people are looking at philanthropy.  He discussed an organization called Kiva.  They enable individuals to provide micro-loans to business owners, individuals, and loan coops around the globe.  The payback rate on these loans are incredibly high and after hearing about it seemed like something I would like to check out.  I did a little due diligence and registered at the site, but haven't taken it much farther.  
From the cards here, it appears this might be something worthwhile for me to pursue.  It also makes sense as it talks about how, although I might like for there to be something big and exciting coming, that these things I can do to take care of myself and others may have a bigger impact.   There may not be a monetary profit, but I think I might be more in need of emotional profit anyway.  It will be good to help people help themselves.
The cards are also telling me that change is in the air, and I always view that as a positive thing.
I also feel there are some things to be said here about my freelancing business, but really, I'm just not in the mood to think about that right this minute, let alone discussing what may or may not get done in the future.
You may have noticed that this blog has been a little dormant lately.  This has a little to do with the holidays and the continuous stream of family visits, but I think I have been feeling a little blocked up because I have been avoiding writing this post, which I sketched out several weeks ago, but has been sitting unattended in my notebook since then.  It's amazing the things you will do while avoiding.  The house is clean and I am getting really good at Zen Gems. 
Why avoid it though?  Maybe because if I actually say it out loud, I will finally have to follow through and hold myself accountable?  That's a tough one, you see I tend to talk big and fail to follow through.  I want this to stop and that is why I am sucking it up, taking a deep breath and writing it all down for the world to see and hold me accountable for.
This is going to get a little lengthy and I apologize for that ahead of time.  You can stop reading now if you want because this post is really for me anyway.
A few notes before I get into the nitty gritty.  The goals on this list are intended to be year long goals not to be implemented immediately but taken one step at a time and built upon as the year progresses.  This is a year of change and forward movement for me though and I fully intend on working on each and every one of the items on this list.
This really isn't a post about my new year's resolution as much as laying out my goals for this year, but if I had to sum it up into one resolution, I would say that it is to not get overwhelmed and paralyzed by the enormity of it all.  I think I tend to look at the big picture too much and it just freaks me out and keeps me from being effective at the step by step, day by day stuff.  So, my goal is to get organized, get motivated and tackle one thing at a time.
Ok, so here we go.
In my old book club, I had the pleasure of knowing a well known hypnotherapist and a really great woman Diane Sewell. A few weeks ago, she sent out an email (I assume to her mailing list) that really inspired me to take this year's goal setting seriously.  Here is her list of 10 things you can do to be successful and get off on the right foot in 2009.
How You Think is Everything:  Always be positive.  Think success and not failure.   Also beware of negative environments.
Decide Upon Your True Dreams and Goals:  Write down your specific goals and develop a plan to reach them.
Take Action:   Goals are nothing without action.  Don't be afraid to get started.  Just do it.
Never Stop Learning:   Go back to school or read books.  Get training and acquire skills.
Be Persistent and Work Hard:   Success is a marathon, not a sprint.  Never give up.
Learn to Analyze Details:   Get all the facts, all the input.  Learn from your mistakes.
Focus Your Time and Money:   Don't let other people or things distract you.
Don't be Afraid to Innovate; Be Different:   Following the herd is a sure way to mediocrity.
Deal and Communicate with People Effectively:   No person is an island.  Learn to understand and motivate others.
Be Honest and Dependable; Take Responsibility:   Otherwise, #'s 1-9 don't matter.

– Diane Sewell, Master Hypnotist and Weight Loss Expert
In the past year I have struggled and worked very hard to improve my mental and emotional states as well as remove the negative environments that were contributing to my depression and life paralysis.  Now, I look at my future as a clean slate, a place to start and it is time for me to take control, set goals and direct my own future.
I have an affirmation that I say all the time.  I say it when I am feeling overwhelmed or sad or stressed, during Savasana, before I go to sleep – really any time that it seems appropriate to do so.  It calms and focuses me.    It goes something like this.
I am whole, I am happy, I am healthy, I am beautiful
With all this in mind, I have laid out this years goals into those four categories and listed them out below.  Some of the items are pretty simple and straight forward, but many will required detailed plans to accomplish.  Over the next couple of weeks, I will be posting these plans as well and will link to them from the appropriate items below.
These lists are not in any particular order.  Just as they came to me.
I Am Whole
Things that are healing and contribute to my overall mental health and fulfillment
What are my true dreams?
Work hard and accomplish enough that by the end of the year I am attending therapy once a month rather than every week.
Complete and full 21 day manifestation. 
Read my tarot cards once a week for insight, guidance and awareness.
Be contributing $500 per month to the family budget by the end of the year.  
Find or create a mommy support network.
Create and maintain a comforting and manageable home environment
Be the best mom that I can that day, every day.
Start writing my book.
I Am Happy
Things that are simply for my and my family's pleasure.  The things that just make life more fun.
Have one great family adventure every month.
Take time for fun just for me – book club, girls nights etc.
Find a babysitter
Have more sex
Kiss my husband passionately every day
Give myself a break sometimes
Laugh out loud with my kids every day
I Am Healthy 
Things to improve both my body and mind
Achieve a slim, fit and healthy body – this means to me…  Look and feel great naked and goal weight of 135.
Experiment and incorporate more healthy foods into diet
Sleep better
Walk the dog more
Garden and landscaping projects
Generally by more active and productive – just get up and do it, when you think about doing it.
Reduce TV watching by 1 hour per day
Be reasonable with the puzzles and online games – have a picture and a crossword puzzle printed out to work on during downtime.  Online games only during designated relax time.  Get a grip.
Complete PHP certification
I Am Beautiful
This is as much mental as physical for me.  I want to feel beautiful in my own personal and distinct way.
I am terrible at  forming good habits and have neglected much of the womanly maintenance over the years.  As many moms can probably relate – I have let myself go a little.
Now, I am not really into a lot of the girly stuff and looking perfect all the time doesn't even reach my radar, but it is important that I begin to feel good about myself again and keeping up with some physical improvements will generally lead to that I think.  You'll notice, this is pretty basic stuff here.
Wash my face every night
Shave my legs once a week (I have very blond fine hair so this is all I need to do), even in the winter.
buy some quality makeup
Get a haircut regularly
Lotion all over, every day
Figure out my own personal style
Buy new clothes that fit well and make me feel good about myself.  Don't just buy what's cheapest.
Look in the mirror and say you are beautiful inside and out, every day
This is a classic Celtic cross spread using the major arcana and wands cards we have been using so far to get a little more detail about the state of my career.
The Layout
The Celtic cross layout is one of the most classic and popular layouts. It generally give you a good overview of the past, present, future and how you can expect things to go.
Here is the general layout
       3         10
 5     1     6    9
       2          8
       4          7
Shuffle the wands and the major arcana cards separately while asking your question.
Deal the top two major arcana cards into positions one and two. These two cards are a cover and cross duo (this is really hard to represent without creating a separate image), but use your imagination.
Deal the top four wands into positions 3 thru 6.
Shuffle the remaining cards together, again asking your question, until the cards are finished and then deal the top four cards into positions 7 thru 10.
Here is some detail about what each position means.
1. Covers You – The current situation
2. Crosses You – The challenge you will need to confront and overcome
3. Above You – The best you can hope for, given the current conditions
4. Below You – The past foundation that needs to be considered
5. Behind You – Something that just happened the is influencing the situation
6. Before You – Something that is just about to happen that is influencing the situation
7. Who You Are
8. Who they want you to be – represents all the people around you and what they want for you.
9. What You Want
10. What you get – The end result, the answer.
The Question: What can I expect from my career this year?
The Spread
1. Covers You – IV Emperor
2. Crosses You – XI Justice
3. Above You – III Wands
4. Below You – X Wands
5. Behind You – IV Wands
6. Before You – VIII Wands
7. Who You Are – V Wands
8. Who They Want You to Be – II Priestess
9. What You Want – VII Chariot
10. What You Get – VI Wands
The Answer
Right now you are dealing with strong personalities, high expectations and power plays. Be strong and resolved. You need to make your own decisions. Your challenge is to set the right priorities and then go for it.
Success lies in joint undertakings. You must overcome past defeats and get out from under the things that burden you. Just recently, you cemented a deal. Just coming up, you are tying up loose ends.
You are the one on the front lines, you have good skills. Others want you to give input and read their minds. You want to be recognized. You have the opportunity for career advancement.
The Cards
IV Emperor – Covers You (the current situation)
My take: Order, ruling over things. Things are laid out before you in a straightforward manner.
The card: Fathering, law and order, social responsibility, power and structure. You have great power, use it carefully and thoughtfully. Be careful not to misuse it as you may be seen as tyrannical.
XI Justice – Crosses You (the challenge you must face and overcome)
My take: The scales are balanced. The skies are dark, she is blinded and armored. Whatever is in the scales shines brightly. You may not see what you are seeking, but all is as it should be?
The card: Fairness, being too judgmental, fighting for those less fortunate. The blindness indicates an unbiased approach to situation.
III Wands – Above You (the most you can hope for if circumstances don't change)
My take: A man sits waiting on a rock as a ship sails in through the sky. The man is naked and vulnerable, yet surrounded by three rods, protectively. Something speeds toward you. You have the strength to handle it, but you must be patient.
The card: Waiting for signs of success and a return of your investment of energy. Beware not to become to wrapped up in initial success. There is still much work to do. The man is naked to show the purity of his intentions. You have chosen the path and set the wheels in motion and now must wait to see what happens next.
X Wands – Below You (past foundation)
My take: A naked man is crouched, 10 rods hovering above him. Very strong force of power. A triangle is at the top of the card, shining light down . His head is bowed as if in prayer or submission. Surrendering to situation, knowing you have done what you can and now it must play out on it's own.
The card: The man is weighed down by the obstacles, problems and crumbling of his idea. This plan may have run it's course and it is now time to look forward to new ideas. Beware of becoming a slave to your own ambition.
IV Wands – Behind You (just happened)
My take: The door is ajar, seen through the woods. Four towering wands surround the door. A fiercely bright light is just beyond the door. It's so close you can taste it. You have all the strength you need, just reach our and take what's yours.
The card: Stability, solid foundation. All plans and good ideas must eventually be acted upon or they just disappear. It is time to take action.
VIII Wands – Before You (coming soon)
My take: Eight wands fly through the air along with 8 doves. Things are in motion. Spirits are high and all is flowing well.
The card: High energy. Everything is clicking in high gear. You are inspired and can see your path clearly.
V Wands – Who you are
My take: Battle, Men with wands fight, stand guarded and ready against attack. You are armed and ready for the battle ahead.
The Card: There are several possible meanings to this card depending on the context. Most obvious is that there is a battle. Others include that the group is armed and ready to fight together, or they are ready to work creatively together. Each man is isolated from the rest of the group, indicating that the group is either fighting or working together from their own isolation.
II Priestess – What you are to others.
My take: She is mystical, psychic. She looks for higher meaning in things and finds comfort in the mystery of life.
The Card: The ability to tap into the subconscious and yet stay grounded in the present. It's a delicate balance. A withdraw from the norm of the day to day.
VIII Chariot – What You Want
My take: This is a swift moving card. There is a man in a chariot with two white steeds and they are riding a wave. There is a huge steel contraption in the background reminiscent of an oil rig. This grounds the card and takes away some of the otherworldly qualities. I feels of being swept forward and taken for a ride. But, you must make sure to remain grounded in real and secure things.
The Card: Confidence, willpower, pride, arrogance, youthful energy, anger, insecurity. The path has been contemplated and chosen and now it is time to set forth. The road is not set in stone and you must keep your eye on the ball and not be distracted by the emotional forces acting here. With the right focus and dedication, you have the willpower, energy and confidence to fully succeed. The oil rig represents the beginnings of creating our mental framework, of pulling up ideas and thoughts from our subconscious and beginning to turn those into tangible attainable products of the real world.
VI Wands – What You Get – Then end result or answer
My take: A man stands on a balcony, 5 wands holding him up, his arms held up in victory, a bright light shining from the top of the remaining wand, which he holds firmly. This is reminiscent or roman times. This man looks like a leader and definitely a victor.
The card: Victory, plain and simple. A moment of elation and enjoyment of your accomplishment is in order. Just be aware that this feeling is temporary and the wheel of fortune will soon begin to move again.
Reading Analysis
Well, it seems like things are going to start moving and that success is definately possible and even probable. There is a group aspect to what I will be doing, but maybe not directly. It indicates that the decision has been made and now it is time to move on it. This still confuses me as I don't know what decision has been made. A couple of things have happened over the last week or so. A friend of mine mentioned a part time web gig for a friend of hers that does cranial sacrum work and then I got this sinus infection (ouch and sucky) and did a bunch of research on holistic ways of approaching sinus infections, and from several other directions I am getting bombarded by the alternative medicine thing. I have a horticulture degree and herbology and holistic medicine have always been great interests of mine. It is worth looking into and exploring, but I can hardly say that I know for sure about that. If I know anything for sure, it is that I would really like to be a yoga instructor and that I don't want to do the web thing forever. With the yoga thing, i am a good year away from even having that discussion with my instructor so I can't see that this is it. The only thing I can think of is that the events of the last week or so have put something I'm not quite aware of into motion. I'm going with that.
It took me about a month to figure out how to write this post. I just couldn't find the right words. Whatever I wrote seemed contrived and not as meaningful as it should. But when it really comes down to it, this is Sheryl's story and I think she tells it best. Just a note for background. Sheryl and Rick are lifelong friend's of the parents of some of our best friends from College (did you get all that?). Back in college we began going camping over Memorial Day weekend with our friends and their parents. Now, 13 years later, this is as much our tradition as it used to be theirs. The group has grown large and many children and grandchildren have been born and we look forward to our time spent in this loving circle as our most cherished.
And now, Sheryl's story.
I Am Not Alone
By Sheryl Baker
I am a 52-year-old survivor of a ruptured brain aneurysm. I would appreciate sharing my story with you in hopes that you will feel it inspiring enough to share with your family and friends.
It was Monday, May 27th, 2007. My husband, Rick and I were camping at Steamboat Rock State Park in Washington State. We had spent a glorious Memorial Day weekend with lots of friends. Rick and I had enjoyed the prior day riding our motorcycles with another couple, in a very remote part of Eastern Washington. That Monday morning we woke up early to winds and looming rain clouds in the distance. We decided to take the jet ski out of the water before the rains came, and before the boat ramp got busy with other campers doing the same.
Rick walked me down to the lakeshore and watched me jump on the jet ski to head out into the water. There were no other boats out on the lake yet, but I wasn't worried, as I had done this hundreds of times in the past by myself. I waved goodbye as Rick walked back up the hill where our motorhome was with the jet-ski trailer attached. As he started his drive to the boat ramp I eased the jet ski through the no wake zone and then gave it gas to get it up on a plane. I had a 10-minute ride to the pier where I knew Rick would be waiting on the boat ramp. Just as I hit the throttle, a huge wave from nowhere slammed me in the face and all down the front of me. It was cold, but not nearly as cold as the thunderous headache that immediately followed. I still had the longest part of the ride facing me. I knew I was in trouble, but I could not focus on what was happening.
A few minutes later I awoke sitting in the lake on the boat ramp. How did I get there and why was my head still pounding? Rick was telling me that help was on the way. Apparently, after getting hit by the wave, I continued on my way. I have no memory of this. The route was due north, then a sharp turn into another no wake zone at the boat ramp. Rick said he was standing on the dock watching for me. Finally I appeared, but he said I was coming into the no-wake zone too fast. As I approached closer he said my eyes were "blank" and he knew something was wrong. A few feet from the pier I fell off the jet ski backwards into the water. Rick came into the water to pull me to shore. When I regained consciousness he told me help was on the way, an ambulance had been called.
I was taken to a small hospital in Grand Coulee, WA. A CT scan revealed blood on the brain, but the origin was unknown. The emergency room doctor suspected a ruptured aneurysm. A brain aneurysm is a weak, bulging spot on the side of a brain artery, like a thin balloon. When this ruptures it causes the blood to be released into the head. The result of a ruptured brain aneurysm can lead to brain damage, paralysis, or in some cases death. I feel so very blessed to have had Dr. Schnyder on call at the hospital that day. His recommendation was to fly me to Sacred Heart, a larger hospital in Spokane. The winds were too high to send me by helicopter, so the decision was made to medivac me by airplane. I did not remember being at this hospital until months later when I returned to give my thanks to Dr. Schnyder. I do have a vague memory of being put on a plane, but no memory of the flight or of my arrival at the next hospital.
When I finally came to, my son was standing at the foot of my bed. I remember wondering if I had died, and if so, why was Jeremy here? Oh wait, Lindsey, Jeremy's fiancée, is here too. They both live in Maryland, but why were they here? It was all so confusing. Rick was there also, and once again reassured me that all was going to be fine. I attempted to wipe the hair out of my eyes, but my hands would not budge. It was then that I heard for the first time that I had three brain aneurysms and one had ruptured while I was on the lake. I was also told that I had surgery and then suffered a stroke. Dr. Hirschauer, a neurosurgeon, had met with Rick upon my arrival. After confirming there were three aneurysms, he recommended that I have each aneurysm coiled. Another specialist, Dr. Zylak was called in to perform the procedure. There are only two radiologists in the state of Washington who do aneurysm coiling, and I happened to be at a hospital where one of them was on staff. The coiling procedure consists of having a tiny catheter threaded from the groin upward into the brain artery and then into the aneurysm. A small platinum wire (the size of thread) is fed through the catheter and forms a 'yarn ball' in the aneurysm to seal off the blood flow. My surgery was successful, but I suffered from a vasospasm, and then apparently a stroke on my way to ICU. A neurologist, Dr. Geraghty was on call, and I am so thankful to have received the wonderful skills that each of these Doctors possess. I truly feel blessed to have had this dream team caring for me.
I spent a month in Spokane at both the hospital, and then at a rehabilitation facility. I remember lying at night during my stay at the hospital and wondering why I was still alive. I knew the answer; God has bigger plans for me on this earth. I still have something to do. Over the next month I continued to ask him what it was that He wanted me to accomplish. One of my dear friends told me to quit asking, as He would lead me in the right direction. I would soon find that out. I am also extremely thankful to be surrounded by a wonderful family and the best circle of friends ever possible! They were there with me every step of the way. When you marry someone, you just always expect him or her to stand by you, you know, "for better, for worse, for sickness and in health…" Rick never let me down. He kept my spirits high and watched out for me when I wasn't able to. Jeremy and Lindsey returned to the East Coast, and their upcoming wedding was the inspiration for my commitment to recovery. My parents who are strong in their faith put out prayer requests for my healing. My sister put her life on hold to be with me and aid in my recovery. I was encouraged by my many countless friends and family members who made the 12-hour road trips to see me. I can't express in words my gratitude for their love and prayers for my recovery. My survival is nothing less than a miracle.
The week following my surgery, Rick was invited to attend a lecture that Dr. Zylak was giving about coiling procedure of brain aneurysms. Rick has since presented three brain aneurysm awareness classes at his workplace, the submarine base in Silverdale. His Power Point presentation is a short class to share our experience with fellow workers. Our mission is to raise awareness and hopefully prevent brain aneurysm ruptures and the difficulties associated with them. One of the supervisors who attended Rick's class shared the information with another co-worker who had been having extreme headaches. She explained to the co-worker my story, and suggested that she be tested for an aneurysm. The co-worker contacted her insurance company for approval to have an MRI. While waiting for the approval she suffered a ruptured brain aneurysm. She had a coiling procedure done, and I am happy to say that she is doing well. We need to get the message out
On August 22, Rick and I were on our way to visit my parents. Rick drove by a parked car along side the highway. As he drove by, I looked back and saw a man lying in the gravel on the other side of the car. Rick quickly turned around and went to help him. I phoned 911 as Rick was trying to get a response from the man. Rick couldn't feel a pulse and started CPR. I was still too weak to help Rick in the resuscitation therefore I flagged down a passing motorist to assist him. Paramedics arrived and took over the resuscitation. We left and continued to my parents. I stayed awake most of that night, praying for this man. Four days later I telephoned the newspaper and inquired as to any info that they might have about the incident. The editor told me that he knew the man, Rich Oien, and he had been airlifted to Harborview Hospital in Seattle. The editor asked for my name and number, and he forwarded it on to Rich's family. About 30 minutes later I received a call from Rich's brother, Conrad. I was told that Rich had passed away the following day and the family had the opportunity to say goodbye to him thanks to my husband. I asked if he had suffered a heart attack, to which Conrad replied "no", Rich had died from a brain aneurysm. I was beginning to know my purpose for living.
My dear friend Julie, who happened to be the friend who told me to quit seeking my purpose here on earth, lost her mom in October… to a ruptured brain aneurysm. I had never known anyone who had a brain aneurysm before and now my life has become engulfed with brain aneurysm events. I don't believe in coincidences. I think there is a purpose for everything. I know that God is calling on me to raise awareness for brain aneurysms.
I am not alone. God was with me on the jet ski. I am not alone. I have the best support group of family and friends. I am not alone. There are many people that are unaware who have brain aneurysms. I am not alone. Together we all must stand up to bring awareness to this cause.
I want to make a difference. I will make a difference. And so, I'm sharing my story with you, in hopes that you will pass it and the following information to people you know and love.
The following facts have been provided by the Brain Aneurysm Foundation. Their web address is www.bafound.org.
Brain Aneurysm Statistics:
An estimated 6 million people in the USA have an unruptured brain aneurysm. That is about 1 in 50 people.
About 50% of people who have a ruptured brain aneurysm will die as a result.
4 out of 7 people who recover from a ruptured brain aneurysm will have disabilities.
Brain aneurysms are most prevalent in people ages 35-60 but can occur in children as well.
Women, more than men, suffer from brain aneurysms at a ratio of 3:2.
Warning Signs:
Cranial nerve palsy
Dilated pupil
Double Vision
Pain above and behind the eye
Localized headache
Drooping eyelid
Detection methods:
CT Scan (Computed Tomography)
This scan takes a picture of your brain. It is a fast and painless test, which requires you to lie on your back, very still, while you are pushed into a large, tubular machine that creates the images. This test shows whether any blood has leaked around or into the brain.
MRI (Magnetic Resonance Imaging)
An MRI is a safe, painless diagnostic scan that examines various areas of your body, in this case, your head. Through the use of a large doughnut-shaped magnet and a computer, magnetic signals are seen through a computer as radio waves. The computer is able to transform these radio waves into images. An MRI helps locate the aneurysm.
MRA (Magnetic Resonance Angiography)
This scan combines a regular MRI with the contrast dye, which is injected into a major vein. Like the CTA, this dye travels to the brain arteries, and images are created using an MRI. This creates a more enhanced image.
Angiogram (Arteriogram)
This test allows doctors to see the size, shape, and location of the aneurysm, as well as reveal any bleeding or vasospasm. A small incision is made on one side, or both sides, of your groin after it is locally numbed and prepped. Then, a thin tube (catheter) is threaded through arteries from the groin to the neck. A contrast dye is injected and travels to the brain arteries, X-rays are taken, showing all your arteries and any abnormalities, such as an aneurysm.
And how am I doing now? Well I'm pleased to say that I am still progressing in my recovery. I have a slight paralysis in my left hand and a continuous low grade headache. At times it gets more severe, but I'm on new medication that the Doctors are hoping will help. Stress seems to make it worse, so I'm now on a stress-free diet. My cognitive skills are still somewhat slow, but I'm coping with it. I continue to make the 12-hour round trip to Spokane to see the Doctors and their associates who first treated me. I have so much confidence in them. I am asking for your help in educating people about brain aneurysms. Let's get the word out. We need to have more awareness and more research that will lead to early detection. As this, is the key for better treatment and better recovery. Thank you for allowing me to share my story.
Fondly,
Sheryl Baker
This reading will include the I-X of Wands as well as the first 10 major arcana cards that I used in previous readings to ask about work related activities.
Layout: Cover and Cross
I am keeping the wands and major arcana cards separate, shuffling each pile while asking my question and then dealing the top wand and crossing it with the top major arcana card.
Question: What changes can I look for in my work life?
The Cards
Covers: IV Wands
Cross: I Magician
The Answer: Cooperation is paramount. You will seal a deal.
Examining the Cards
IV Wands
My take: There is a large door ajar, surrounded by four towering wands. There is forest in the foreground and sunshine streams through the open door. It's like seeing the forest through the trees. The door awaits, but you must make your way through the forest first. The light may represent an answer or resulting matter. The four wands surrounding the door? Maybe guarding it, providing safe passage through the doorway.*
The card: Safety, security, taking concrete action. The door and the pillars represent safety and stability. The number four traditionally represents stability. There are also very unreal elements to the card, the size of the doors and pillars, the red moon in the background. All ideas and creative endeavors must at some point become real by taking action or they will forever remain dreams. The time is now to open the door and take action to make your dreams a reality.
I Magician
My take: The magician sits in a chair with the four suits (wands, cups, swords, and coins) laid out in front of him. All the tools are present to accomplish the task. Things seem to magically happen the way they are supposed to, you are ready to take action.
The card: Education, teaching, common sense, taking action. The magician represents teachers, mentors and our inner voice. He guides us and inspires us and gives us the courage to set out on our personal journey. Often, like magic, this inspiration comes to us in a flash as if he touched our shoulder with his staff, imposing on us just the right amount of intervention. The four suits represented on this card stand for different approaches to tackling a task. The magicians influence helps us to combine these in just the right delicate combination.
Reading Synthesis
Well, it appears that the time to take action is coming shortly and that whether I know it or not, I have all the tools and support necessary to make my way through the door. I hope that the magician will touch me with inspiration and a flash of clarity when the time comes, because I am still lost. I do not see the clear path, it all seems very foggy still. I ask for clarity and courage.
* I should note that the "My take" sections are my impressions as I look at the card before reading the answers or about the card in the book. I am trying to learn the cards, to form relationships with them and commit their meanings to memory. My take may change and hopefully evolve as my readings go on and should not be taken on any authority.